Black Tiger Spring
Black Tiger Spring, also called Heihu Spring, is located by the south moat in Jinan, Shandong Province, east of Springs Plaza, and opposite to the Liberation Pavilion. It is one of the four largest spring groups in Jinan together with Baotu Spring, Pearl Spring, and Five Dragon Pool. The Black Tiger Spring Group is further formed from the Agate Spring, Pipa Spring, Bean Sprouts Spring, Wave Spring and another 10 springs. The babbling springs flow into the moat, and the river, in return, replenishes the spring water. The surrounding rockery, corridors, pavilions, leafy trees and the sound of twittering birds is also a beautiful natural resort and the spot is open to the public for free all day long.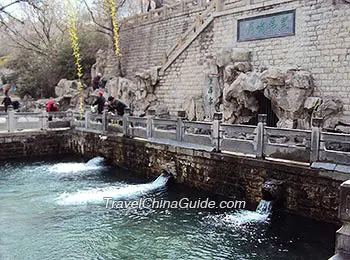 Black Tiger Spring
The spring originates from a naturally-formed cave, where lies a giant stone covered by moss. Looking from outside, it is dark and black. Besides, the water gushes from the spring and strikes upon the stone together with the sound of the wind blowing inside, a tiger's roar is heard, hence the name Black Tiger Spring.

The Black Tiger Spring has two parts, that is, the springhead and the spring pool. The springhead is located in a deep natural cave measuring 3 meters (9.8 feet) deep, 2 meters (6.6 feet) high and 1.7 meters (5.6 feet) wide. Bluestones pile up by the entrance. A blind pass connects both the springhead and the spring pool. After the water leaves the source, it flows through the pass and into the pool via the three stone tiger heads, stirring up layers of waves, which can reach over 1 meter (3 feet) long. The maximum spouting volume of the spring is up to 410,000 cubic meters (1,400,000 cubic feet) per day, only second to the Baotu Spring.

During the Ming Dynasty (1368-1644), the Black Tiger Temple was located above the cave encasing the springhead although now a courtyard rests in its place. The tea pavilions and terraces also provide a sightseeing platform for visitors to enjoy the scenery.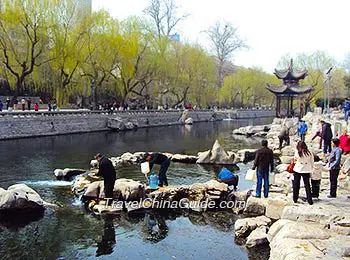 From the north of the pool, you can see a water lock, out of which the water flows down the rock and forms a water curtain. It's like a waterfall. The pleasing view will refresh both your body and spirit. At times, the locals get together around the pool bailing the spring water, which is also a unique sight.

How to get to Black Tiger Spring
By Bus
Take Bus 5, K5, K36, K91, K109 or You 777 to Heihuquan (Black Tiger Spring).
By Cruise Boat
Take the sightseeing boat and get off at Heihuquan Chuanzhan (Wharf at Black Tiger Spring).
| | |
| --- | --- |
| Entrance Fee | Free |
| Opening Hours | All day |

You may like:
Top 10 Things to Do in Jinan
- Last updated on Jul. 04, 2022 -