Traditional Mooncakes in China - 12 Types of Regional Variations
In China, traditional mooncakes are classified into 4 types depending on the origin, sales volume and features: Cantonese-style, Beijing-style, Suzhou-style, and Chaoshan-style.
Some people once categorized the Chaoshan-style and Hong Kong-style mooncakes into Cantonese-style, and came up with another classification: Cantonese-style, Beijing-style, Suzhou-style, and Yunnan-style. This kind of simple classification by region is unscientific. Hong Kong-style mooncakes are similar to Cantonese-style mooncakes, but Chaoshan-style mooncakes are very different from Cantonese-style ones in terms of materials, cooking methods, appearances and flavors.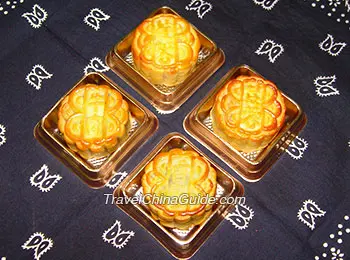 Cantonese-style Mooncake

By flavor: Sweet, Salty, Salty sweet, Spicy


By filling: Osmanthus, Prunes, Five nuts, Red Bean Paste, Rose, Lotus Seed Paste, Rock sugar, Ginkgoes, Dried meat floss, Black sesames, Ham, Yolks, etc.


By crust: Pulp crust, Sugar mixed crust, Crisp crust, Cream crust, etc.


By appearance: Smooth, Laced


12 Types of Traditional Mooncakes - by Region
At present, the most widely known classification of traditional mooncakes is by the place of origin, ignoring the characteristics of the moon cake itself.

1. Cantonese-style Mooncake

Flavor: sweet or salty with thin crust
The characteristics of Cantonese-style mooncake are thin crust and large fillings. The stuffing is mainly of lotus seed paste, coconut paste, yolks, bean paste, jujube paste or various meat. Cantonese-style moon cakes taste soft, and it is better to eat them together with tea.

2. Chaoshan-style Mooncake

Flavor: soft with crispy crust, oily but not fatty, sweet or salty but not greasy
The Chaoshan-style mooncake, or the teochew mooncake, is a famous traditional flaky mooncake in the Chaoshan area of Guangdong Province. According to the different types of stuffing, it can be divided into mung bean mooncake, black bean mooncake, seafood mooncake, yolks mooncake, etc. The kernel inside stuffing is commonly yolks or seafood.

3. Beijing-style Mooncake

Flavor: sweet
The most distinctive feature of the Beijing-style mooncake is the cooking method handed down from ancient royal palace; the process of selecting materials and making is quite complicated. The fillings are usually made from nuts, sweet-scented osmanthus, and rock sugar, etc. It is exquisite in appearance, and the crust is thin and crispy, attracting a lot of foodies.

4. Shanghai-style Mooncake

Flavor: salty
It is a kind of baked flaky mooncake, and it tastes the best soon after it is cooked. The stuffing of it is entirely fresh pork, which tastes smooth. The crust is crispy, and the rich gravy penetrates into it, making it extremely delicious.

5. Hong Kong-style Mooncake

Flavor: salty sweet
The traditional mooncake representative in Hong Kong is stuffed of white lotus seed paste with double yolks. It is exquisite of the materials and making process. The crust is thin, the thickness is even, and the two salted golden yellow yolks are neatly centered with silky red oil. The mooncake tastes smooth and delicious. There are also other popular Hong Kong-style mooncakes, such as five nuts, salty meat and ham mooncake.

6. Suzhou-style Mooncake

Flavor: sweet or salty, heavily oily but not greasy
Suzhou-style mooncake is featured with crispy taste. As for the sweet ones, the stuffing are mainly rose petals, five nuts and bean paste, which is tightly pressed. And it is sweeter than mooncakes of other regions. For the salty ones, Suzhou-style mooncakes can be divided into spiced salt mooncakes, ham mooncakes, shallot mooncakes, shrimp mooncakes, etc.

7. Yunnan-style Mooncake

Flavor: sweet and a little salty, oily but not greasy
Yunnan-style mooncake is also called ham mooncake because the stuffing is made from Xuanwei ham, a specialty in Yunnan, with honey, lard and white sugar. Made of purple wheat flour from Chenggong in Kunming, the crust is a little hard. After baking, its surface is golden yellow or brownish red, oily and gorgeous. This traditional mooncake has a fragrant flavor of ham.

8. Anhui-style Mooncake

Flavor: sweet or salty
Auhui-style mooncake is featured with its thin crust and full stuffing. It is a smaller than other types of mooncake, which makes it delicate. The crust is made by mixing of fine flour and vegetable oil. The stuffing is made of various vegetables which are marinated and mixed with fresh pork oil and white sugar. The representative one is the prune mooncake.

9. Quzhou-style Mooncake

Flavor: sweet and crispy with a flavor of sesame
Sesames is the most important material of Quzhou-style mooncake. People use sesames as the stuffing or decorate the skin with sesames. On the larger-sized ones, people would paint auspicious images with colored sesames.

10. Shaanxi-style Mooncake

Flavor: sweet but not greasy
Shaanxi-style mooncakes are mainly vegetal, locally called Crystal Cakes. The stuffing is the mixture of sugar, nuts, animal oil or vegetable oil, preserved fruits, roses and orange peels. It is more desiccated and the crust is thicker than other types of mooncake.

11. Shanxi-style Mooncake

Flavor: crispy, mainly sweet
For traditional mooncakes in Shanxi-style, the ingredients of crust are mainly oil, sugar and eggs, and the stuffing can be jujube paste, five nuts, red sugar, osmanthus, etc. Shanxi-style mooncake is featured with its sweet taste. The most common and most popular is the sugar mixed mooncake; different sugars are added into both crust and stuffing.

12. Fengzhen Mooncake

Flavor: sweet
There is no stuffing in Fengzhen Mooncake of Inner Mongolia. People mix the fried linseed oil, syrup of red sugar and flour into a dough, and grow it. Then it is divided into smaller doughs, pressed and baked with sesames and linseed oil on the surface. The Fengzhen mooncake tastes better two or three days later after baking, when the color becomes darker.

Further Reading on Non-traditional Mooncakes

Snow Skin Mooncake: It is called so because the crust is transparent milky white, made with steamed glutinous rice powder. It tastes better after being stored in refrigerator for 2-3 hours.


Jelly Mooncake: The jelly mooncake is like a round crystal, with a smooth and chewy taste and a glittering appearance.


Chinese Tea Mooncake: Green tea powder is added in to the crust or stuffing, giving the mooncake a slightly tea fragrant.

Besides, there are mooncakes made from fruits and vegetables, coconut milk, seafood, mustard, miscellaneous grains, and even ice cream; health care mooncakes containing nutrients such as ginseng, calcium, and Chinese herbs; pictographic mooncakes and mini mooncakes that loved by children; and French mooncakes and Japanese mooncakes, which are becoming more and more popular.



Further Reading
10 Best Mooncakes in China - Have you ever tried?
10 Most Popular Mooncake Flavors - Which one do you like?
Halal Mooncake - Features, Fillings, Recipe
3,000 Years' Timeline of Mooncake History, from its Origin 'Taishi Cake'
Mooncake Recipe - How to Make Chinese Mooncakes at Home
Mid-Autumn Festival Food in China - Top 10 Dishes You Must Try
- Last updated on Sep. 07, 2023 -
Questions & Answers on Traditional Mooncakes in China - 12 Types of Regional Variations
Asked by Pat Hislop from UNITED KINGDOM | Sep. 05, 2023 13:51

Reply
Which variety of moon cake comes from city of Huai'an
Answers (1)
Answered by Ivy | Sep. 07, 2023 02:05

0

0

Reply
Suzhou-style mooncake is the most popular in Huai'an.