Mooncake Recipe - How to Make Chinese Mooncakes at Home
Mooncakes
is the essential Mid-Autumn Festival pastry in China. How to make mooncakes at home? There are many Chinese mooncake recipes of different flavors and types. Below is an easy mooncake recipe for beginners to make red bean paste mooncake with yolk, one of the most popular flavors.
Cooking and Nutrition Information
Flavor:
salty sweet
Method:
baking
Level:
easy
Serving Size:
3 persons
Prep Time:
4h
Cooking Time:
40m
Energy:
411calories/100g
Nutrients (per 100g):
protein: 8.2g; carbs: 65.6g;
fats: 13.6g; fibers: 3.1g
Mooncake Ingredients
flour 80g, invert syrup or honey 50g, peanut oil 20g, alkaline water 2g or baking soda 2g, red bean paste 180g, 6 eggs



Note: This is a traditional mooncake recipe to make 6 mooncakes, each about 70g. If you want to make more, use more materials according to the proportions.

Preparation

1. Make Crust: Mix invert syrup or honey, alkaline water and peanut oil well, add flour and mix well again, then knead the mixture into a dough, and let the dough grow for about 3 hours. If there is no alkaline water, you can make 2g of baking soda dissolve in a little water and use it.


2. Make Egg Yolk: Crack the eggs, take out the egg yolks and bake them for 5 minutes at 150℃ (300℉) in an oven.


3. You can also make red bean paste by yourself: soak about 100g red beans a day in advance, boil them in a pressure cooker, then add 50g brown sugar to the cooked red beans and crush them with a spoon. If you want it to be drier, fry it.

Directions

Step 1. Divide the dough into smaller pieces each 25g and divide bean paste each 30g.


Step 2. Flat the bean paste, put in an egg yolk and wrap it into a ball. A filling ball is fine. Make the rest fillings like this.


Step 3. Flat the flour dough, put in a filling ball, wrap it and shape the whole into an oval.


Step 4. Sprinkle some flour into the moon cake mold evenly, then put the oval dough into the mold and shape the dough. Follow step 3 and step 4 of this mooncake recipe to make the rest.


Step 5. Put a piece of oil-absorbing paper on the baking tray, then put the shaped mooncakes on it.


Step 6. Preheat the oven for 5 minutes, bake them for 5 minutes at 170℃ (340℉).


Step 7. Brush egg liquid on the mooncakes and then bake them again in the oven for 15 minutes.

Ready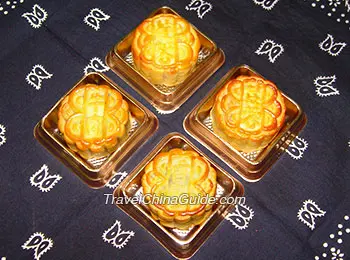 Take them out of the oven and serve them on a fine plate. The red bean paste mooncake with yolks are ready to be enjoyed. It tastes better after being stored in sealed fresh-keeping bags for 2 days.

Tips on How to Make Mooncakes

1. You can marinate egg yolks in cooking wine for a few minutes to remove the unwanted smell before baking them.


2. If you don't like eating egg yolks, you can wrap only red bean paste as filling.


3. The red bean mooncake recipe provide a common cooking method. You can replace the red bean paste with green bean paste, lotus seed paste, jujube paste and many others to make mooncakes of other flavors.



Further Reading
Traditional Mooncakes in China - 12 Types of Regional Variations
10 Most Popular Mooncake Flavors - Which one do you like?
10 Best Mooncakes in China - Have you ever tried?
Halal Mooncake - Features, Fillings, Recipe
Snow Skin Mooncake – Non-Baked Mooncake
Jelly Mooncake - How to Make Colorful and Crystal Mooncakes


More Chinese Staple Food & Snacks:
- Last updated on Aug. 01, 2019 -