Persimmon Cake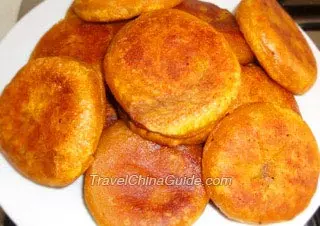 Chinese name: 柿子饼 (shì zi bǐng)
Characteristics: Cooking the Persimmon Cake by following the recipe below, the skin of the cake can be crispy with an attractive golden yellow color, while the inside is soft and tasty.
Persimmon Cake (Shi Zi Bing) is a well-known local snack in Xi'an. It can be found everywhere in the city especially in Moslem Street. It is also a popular dessert listed on the menu of many local restaurants. According to traditional Chinese medicine, eating it can help relieve thirst, strengthen the spleen and reduce phlegm.
Note: This is a seasonal snack because of the availability of persimmons only in autumn and winter from October to the next January.

Video of Making Persimmon Cake
The ingredients are very simple, including some fresh persimmons, wheat flour, white sugar, and red bean paste.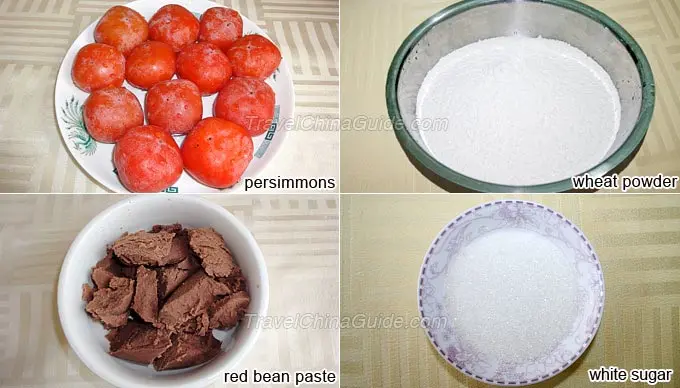 Methods:
STEP
1
Wash the persimmons, strip the skin, and mash them into pulp. Please note that persimmon itself is sweet, but not that heavy, so you may add 1-2 tablespoons of white sugar into the pulp if you have a particular fondness for sweets.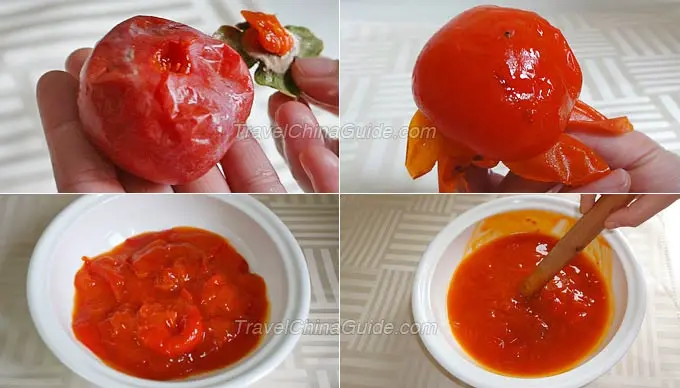 STEP
2
Add small quantities of wheat flour into the pulp while stirring with a chopstick until it feels thick. Stir by hand to form a paste, smooth it, and leave in the basin to ferment.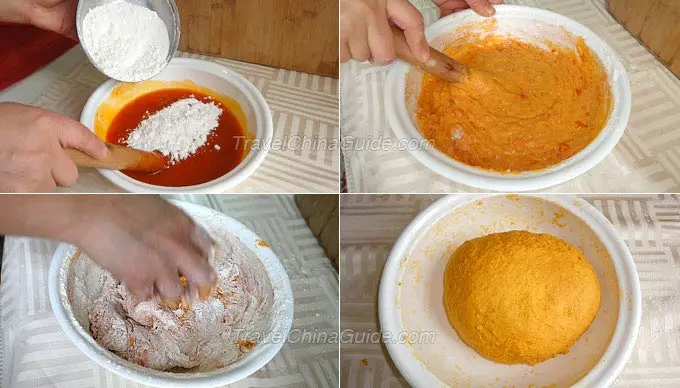 STEP
3
Take out the flour paste and place on the board. Roll into a stick, and cut the flour stick into small pieces. Roll them into small thick cakes with a rolling pin.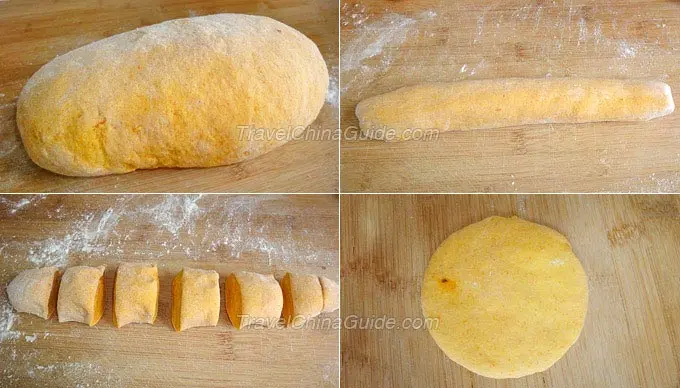 STEP
4
Put some red bean paste in the center of each thick cake. Fold and pinch the cake from the outside. Firmly press to flatten it into a thick cake again.

STEP
5
Place a pan over medium heat until hot. Brush a thin layer of oil in the pan, and place the cakes in the pan. Turn over after 2-3 minutes when you smell the fragrance and the bottom of the cakes turn golden yellow. Cook the other side for another 2-3 minutes, until they are nicely browned and cooked through.

STEP
6
Turn off the heat, remove the cooked cakes from the pan, and serve on a plate.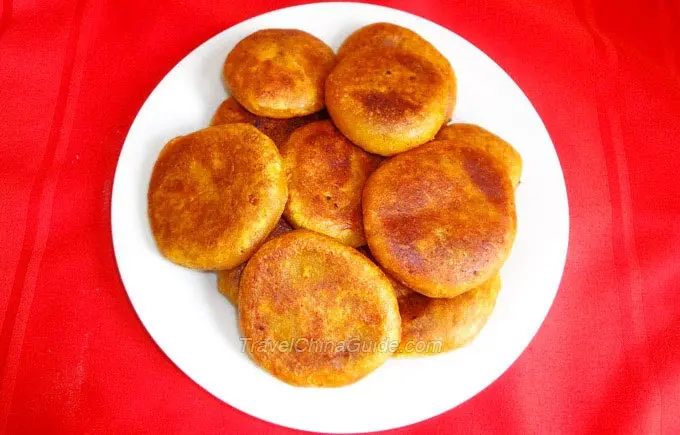 Story about Shi Zi Bing
A legend among the local people has it that at the end of the Ming Dynasty (1368 - 1644), Li Zicheng, a famous leader of the peasant uprising, mounted an expedition to Beijing, capital of the Ming Dynasty, at a time when Xi'an was in famine. To cheer up the insurgents, the local people invented a kind of cake made with persimmon and wheat flour. Quite unexpectedly, the cake was favored by the insurgents and said to be delicious and hunger-satisfying. After eating it, the insurgents became very energetic and brave. As a result, they seized Beijing with great ease, overthrew the Ming Dynasty, and established a regime of peasants. Thereafter, persimmon cake was spread around the country.
Our Guests Attending Cooking Class
Our Guests in the Cooking Class


Mr. David, Ms. Jeanne, Ms. Kathy and Ms. Ann from the United States joined our private family visit in Xi'an, and took part in our cooking class there offered by the a kind Chinese hostess. They told us that it was really fun and enjoyable to make the dumplings for the first time. Also, they learnt to cook a local snack - Persimmon Cake and Potato with Vinegar Flavor. It was interesting that all of them enjoyed watching the hostess cutting up potatoes very finely.

Our Guests Learn to Make Dumplings


A small tour group including Ms. Lauren and Ms. Valerie from Australia, Mr. David and Ms. Jocelyn from USA, Mr. Jaco and Ms. Nicola from South Africa joined a visit to a local Chinese family during their tour in Xi'an. They took part in Chinese cooking class and learnt to make dumplings and cook a Chinese snack - Persimmon Cake. Also, they had a lunch served by the gracious hostess with all home-made Chinese dishes.

Ms. Cynthia Learning to Make Sweet and Sour Pork Fillet

Ms. Cynthia & Mr. Marc from Malaysia paid a visit to a local Xi'an family, accompanied by a guide of our company. They knew much about Chinese cooking from the host while learning to cook

Kun Pao Chicken

,

Sweet and Sour Pork Fillet

& Persimmon Cake, and had a pleasant talk with the family when enjoying the truly home-cooked lunch. They said in their feedback it was a fantastic experience.
More Staple Food and Snacks in China:
- Last modified on Jun. 18, 2019 -
Questions & Answers on Persimmon Cake
Asked by NIna from USA | Dec. 07, 2013 18:17

Reply
Persimmon Cake Recipe
I have been dreaming of making these cakes that I had when we visited Xi'an. Does anybody know the exact measurement of the ingredients and when the instruction says ferment, how many minutes will that be? Thank you.
Answers (1)
Answered by Shan from GERMANY | Dec. 10, 2013 03:04

1

0

Reply
There is no exact measurement of the ingredient. You can just refer to the measurement in the pictures above and properly change that a little for your taste/flavor.

As for the time for ferment, it should be around 15min.