Chinese Food Recipes - Vegetables & Eggs
Vegetable dishes are cooked by cooking oil, vegetables, beans, wheat gluten, bamboo shoots, mushrooms and seaweed. They are characterized by freshness, variety, colorfulness and healthiness. They were originally used for sacrifices and grand ceremonies. Later, they have become an important part of Chinese food and food culture since the Northern and Southern Dynasties (386-589) along with the introduction of the Buddhism.

Vegetable dishes in China are divided into three groups: temple, palace and folk/home-style vegetable dishes. Buddhists eat vegetable dishes are to propagate refrains from killing and protect lives, and cultivate merciful Buddha-nature. Palace style is exquisite with a great variety. In ancient times, emperors had to sit alone after bathing, abstain from wine and eat vegetable dishes to make their hearts pure and sincere, when met significant events or before making sacrifices to their ancestors. Chinese folks eat vegetable dishes for they practice simple and mild lives.
Potato with Vinegar Flavor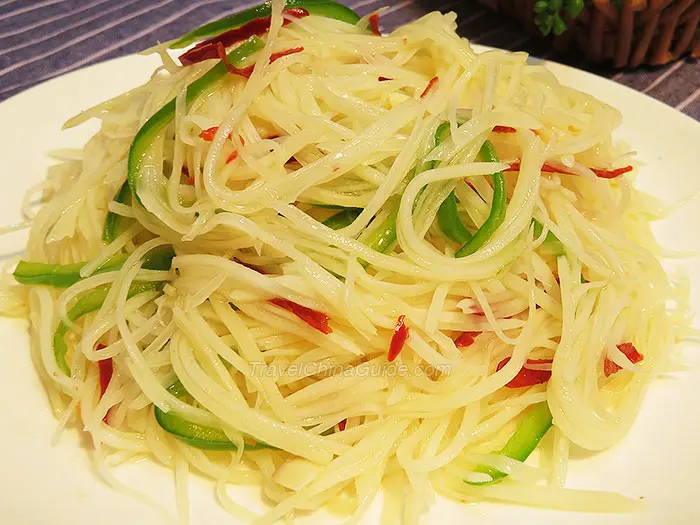 Chinese name: 醋溜土豆丝 (cù liū tǔ dòu sī)
Style: Sichuan(Szechuan) Cuisine
Characteristics: it is a good appetizer with bright color, tasting refreshing.
As one of the popular home-style dishes in China, this dish seems to be simple, but it is the archetypal vinegar flavor dish. Making this dish requires a good cutting technique, a well-controlled fire together with the proper seasonings. Potato with vinegar flavor can help lower blood pressure and prevent blockages in the arteries.
2 potatoes, 150 g each
1 green pepper, 50 g
green onion (spring onions, scallions)
ginger
white vinegar
salt
red chili shreds
Note: the amount of the ingredients especially the seasonings listed above can be appropriately used according to one's personal taste.

1. Peel the potatoes with a peeling knife, wash them. Then slice and cut the slices into thin and homogeneous shreds.
2. Put the shreds into a basin filled with cold water to soak.
3. Cut the green pepper into shreds.
4. Cut the green onion and ginger into chopped pieces.

Methods:
STEP
1
Place a wok over a high heat until hot. Add some cooking oil, swirling to coat sides. Add in the red chili shreds, chopped ginger and green onion to fry over a high heat until fragrant, about 20 seconds.

STEP
2
Pour in the potato and green pepper shreds, add in some white vinegar, stir-fry it for about 2 minutes on a high heat until it is 90% cooked. Then add some salt and stir it for another 10 seconds.

STEP
3
After all the steps of this recipe, a plate of refreshing potato with vinegar flavor comes out of the wok with bright color.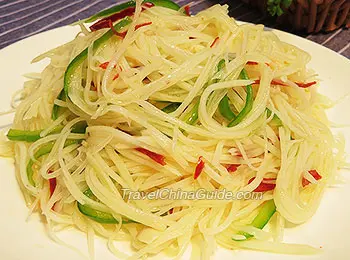 More Chinese Food Recipes:
Meat & Poultry

Cold Dishes

Seafood

Staple Food

Our Guests Attending Cooking Class
Our Guests Learn to Make Dumplings


On Mar. 29, 2013, Mr. Edgar's five family members from Mexico & Mr. Sharada and Ms. Bisnu from Nepal joined our cooking class in Xian during a family visit. Just as they said, this is a unique way to spend some time with local family in China, make new friends and learn new skills of cooking Chinese dishes. They love dumplings a lot and learnt to cook Potato with Vinegar Flavor – one of the most favorite dishes among Chinese.

Our Guests Dining in a Chinese Family

On May 25, 2012, Mr. Andrew, Ms. Mary & Ms. Virginia from USA paid a private visit to a local family in Xian under the special arrangement by our company. The hospitable host received them with great enthusiasm. Then the host gave them a hand-by-hand Chinese food cooking class through cooking Potato with Vinegar Flavor,

Green Onion Pancakes

&

Yangzhou Fried Rice

. They said that it was a lovely experience and the easygoing host made them feel very welcome and at home.

Our Guests Making Dumplings

On Apr. 6, 2010, Mr. Carlos, Ms. Maria, Ms. Carla, Mr. Luis, Ms. Maria & Ms. Estefania from Mexico made a family tour specially arranged by Travelchinaguide, during which they learned to cook three well-known Chinese dishes from the skillful hostess -

Dumplings

,

Sweet and Sour Pork Fillet

& Potato with Vinegar Flavor. They admired the meal at the local family the best during their China trip in the feedback:"...For the best meal, we choose in Xian that served in the department of one person...."