Broccoli with Garlic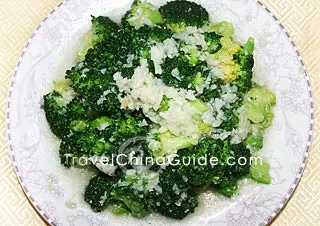 Chinese name: 蒜蓉西兰花 (suàn róng xī lán huā)
Characteristics: it tastes cool, refreshing, crispy and tender, with healthy green color.
This is a home-style dish using simple cooking methods. Broccoli is a very notorious vegetable but with low heat.
In addition, it has the function of preventing and resisting cancers. Hereunder is just the common cooking recipe of Broccoli with Garlic for your reference.
broccoli, 300-400g
5 cloves of garlic
cooking oil
salt
chicken essence (chicken stock/bouillon) or monosodium glutamate (MSG)
wet cornstarch
Note: the amount of the ingredients especially the seasonings listed above can be appropriately used according to one's personal taste.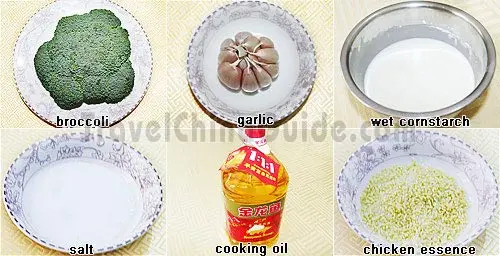 1. Shred the broccoli with scissors and place into a plate.
2. Remove the garlic skins, clean them and then finely chop them, and place on a small dish.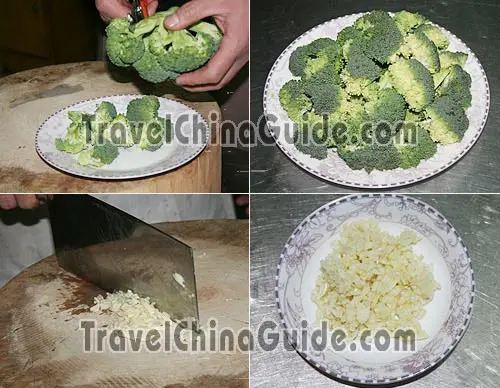 Methods:
STEP
1
Place a wok on low heat. Add half a wok of water and a little bit cooking oil. Add the broccoli shreds when it boils. Boil it for 1-2 minutes until 60% cooked. Turn off the heat, and strain the broccoli through a colander and place it into a small basin.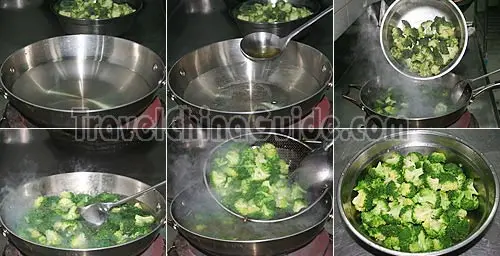 STEP
2
Pour away the water, and place the wok over a high heat until hot. Add some cooking oil, swirling to coat sides. Add the chopped garlic, and stir-fry for about 10 seconds until fragrant. Add in the boiled broccoli shreds and stir-fry for about 1 minute. Add some salt, chicken essence and 1/3 bowl of water. Stir-fry it for 10 seconds on high heat.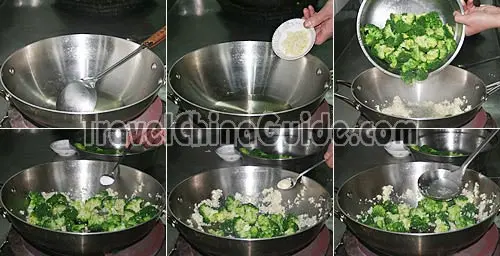 STEP
3
Turn off the heat, and remove the broccoli shreds out and place onto a plate. Add the wet cornstarch into the remaining juice in the wok. Stir it well over high heat. Spoon it out and pour onto the cooked broccoli shreds on the plate.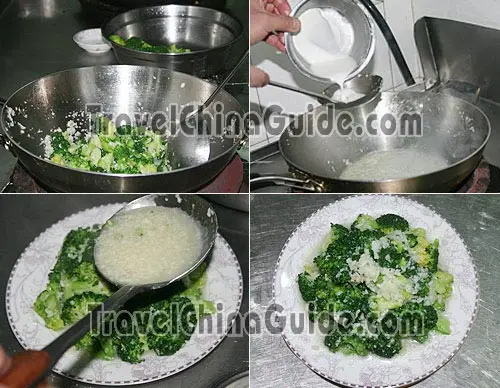 Broccoli with Garlic is made. Take it to the dinning table finally.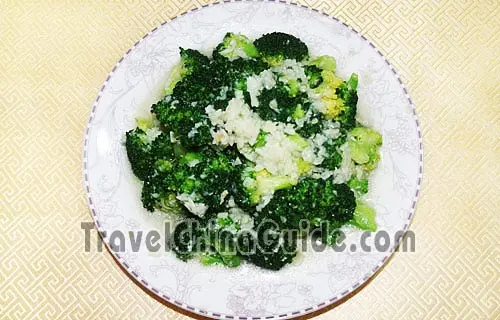 Our Guests Attending Cooking Class
Our Guests Learn to Make Dumplings


On Sep.18, 2012, a small tour group including Mr. Richard and Mr. Richard from USA, Mr. David and Ms. Sheila from UK, Mr. Steven and Mr. Brett from Australia, and other guests from New Zealand, Canada, Philippines and South Africa visited a local family in Xi'an where they learnt to make dumplings and cook Broccoli with Garlic. Facts proved that it was easy and straightforward to learn Chinese cooking with practice under the guidance of an able cook other than to learn from the cuisine books.

Our Guest in a Chinese Family

On May 17, 2012, Ms. Christine & Mr. Trevor from Australia joined our China food tour in Xi'an, which is involved with a Chinese food cooking class, a free chat with the host and a true home-made meal with the family. Mr. & Ms. Cooper succeeded in learning to make

Pan Fried Dumplings

,

Sweet and Sour Spare Ribs

& Broccoli with Garlic thanks to the host's great patience. They appreciated this special offer very much and said they would recommend it to their relatives and friends planning to travel to China.

Vicki and Tina's Families Dine in a Local Chinese Family



On Oct. 1, 2010, Ms. Vicki and Ms. Tina's families from Australia together made a family visit to a local family especially chosen by our company in Xi'an. Vicki and Tina also learned to make Chinese dumpings and Broccoli with Garlic while talking with the hostess cooking dishes for them. Finally, the two families enjoyed a home-cooked Chinese meal together.

Further Reading:
10 Quick and Easy Chinese Food Recipes for Beginners

More popular vegetable dishes in China:
- Last updated on Dec. 02, 2019 -