Pan Fried Dumplings (Guo Tie)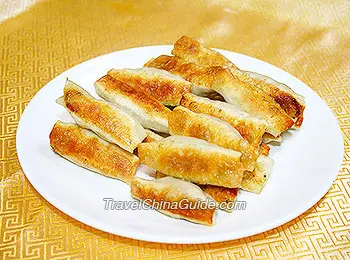 Chinese name: 锅贴 (guō tiē)
Characteristics: Pan Fried Dumplings are fresh and tasty. The wrapping is crispy and with attractive deep yellow and white color, while the fillings are fragrant and delicious.
Pan Fried Dumplings (Pot Stickers), sister food of
fried dumplings
, are popular throughout China. They are made of a simple flour dough wrapping filled usually with pork mixed with all kinds of seasonal vegetables. The shape differs from area to area, and the most unique are the pouch-shaped ones in Tianjin.
Note: Aside from the fillings mentioned in the recipe, using shrimp, beef or some other minced vegetables can also be acceptable.
Ingredients:
leek, 200g
chopped lean pork, 250g
wheat flour, 250g
green onion
ginger
soy sauce
Cooking wine
salt
pepper powder
Note:
1. The amount of the ingredients listed above serves two people.
2. The amount of the ingredients especially the seasonings listed above can be appropriately used according to one's personal taste.

Preparation:
Wash and clean the leek, green onion and ginger, chop them on the chopping board, and place into separate plates.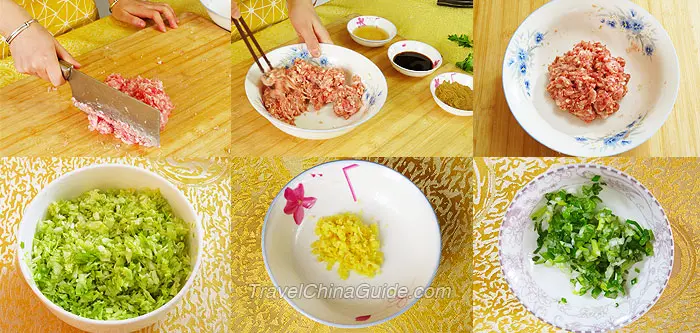 Methods:
STEP
1
Pour the flour into a small basin. Add in some salt and stir it well. Make a hole in the middle and gradually add small quantities of water until it forms into small pieces. Sprinkle some more water on the flour pieces and stir by hand to form a paste on a board and smooth it out. Put it into the basin to be fermented.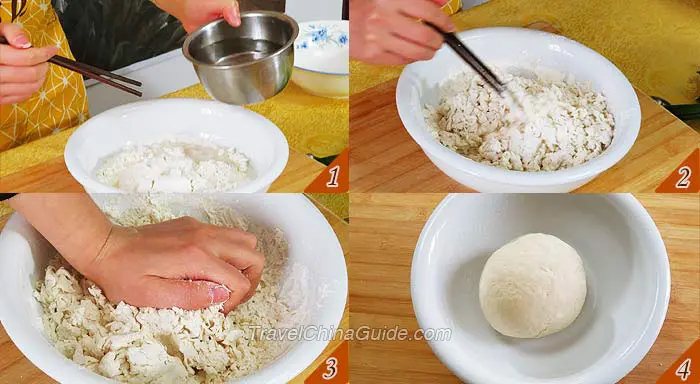 STEP
2
Place the chopped lean pork in a small basin or a bowl. Add in the cooking wine, salt and pepper powder. Stir well. Add in the chopped green onion and ginger, and stir well again. Add in some soy sauce and the chopped leek. Stir well once more.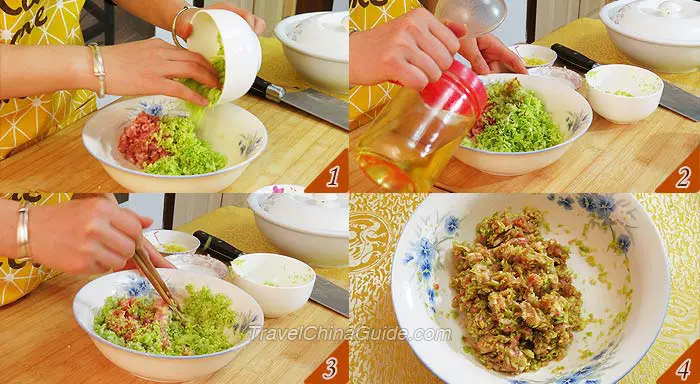 STEP
3
Place the flour paste on the board. Sprinkle some corn starch on it. Rub it by hand again. Cut a small section from the paste to be rubbed into a stick. Press the flour stick into a small dough ball. Roll it flat with a rolling pin. Put some of the prepared filling in the center of the wrapper. Fold and pinch the wrapper from the middle to the two outer sides. A crescent-shaped dumpling is the result. Repeat to make more dumplings.

STEP
4
Place the pan over a medium heat until hot. Brush a thin layer of oil in the pan, and place the dumplings in the pan one by one. Sprinkle some water on the dumplings evenly, and cover to steam for about 8-10 minutes. Remove the cover and sprinkle some water and pour in some oil again. Cover and steam it for another 5 minutes until the bottom of the dumplings turns golden yellow and the wrappers turn yellowish white.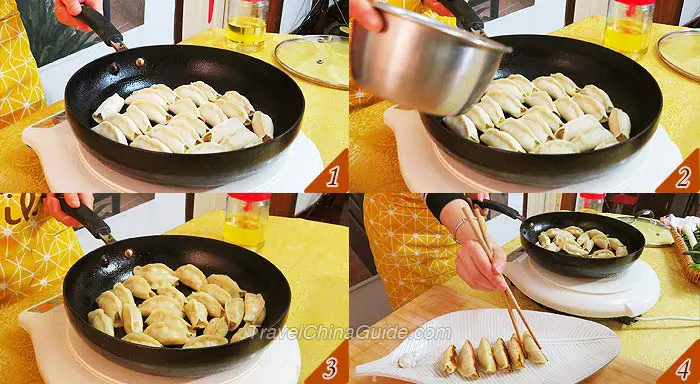 STEP
5
Now, turn off the fire, pick the delicious Pan Fried Dumplings out of the pan, and serve.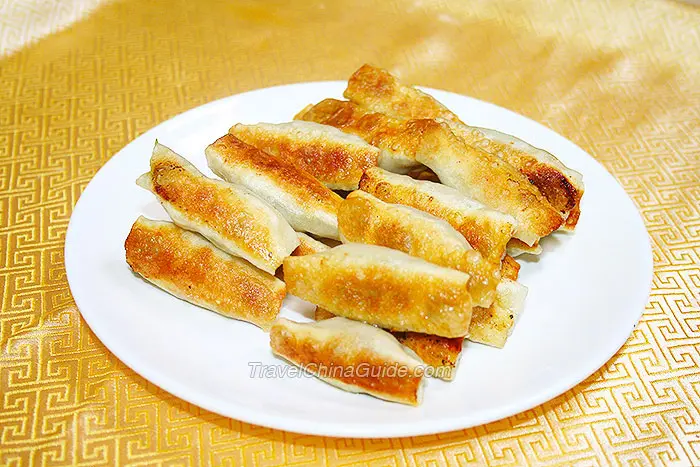 Our Guests Attending Cooking Class
Learn to Make Dumplings in a Local Family


On Oct.2, 2012, Ms. Kylie & Mr. Criag from Australia paid a private visit to a typical family in Xian, where we arranged a wonderful cooking class for them. They had heard so much that Chinese are dainty about their food, so they both showed great interest in how Chinese food was cooked. They learnt to make dumplings and picked out Pan Fried Dumplings to prove how Chinese cook staple food by wide variations. And finally, both of them were satisfied with the outcome, as well as other dishes offered by the hostess.

Ms. Sally Making Dumplings

On Sep. 23, 2010, Ms. Sally & Mr. Richard from Canada paid a visit to a local family in Xian under the arrangement by TravelChinaGuide, and learned to cook Pan Fried Dumlings and

Kung Pao Chicken

there. They enjoyed the meal very much and recommended it in their feedback:"... Having the family visit and helping cook lunch was fun and the food delicious..."

Ms. Linda & Ms. Jennifer Learn to Make Dumplings

On Jun. 8, 2010, Ms. Linda & Ms. Jennifer from USA joined our

family tour

during their visit to Xian, and learned to cook

Kung Pao Chicken

and Pan Fried Dumlings in a typical local family. They had a good time during the visit with meal and wrote in their feedback:"...Sometimes there was too much food, often actually. But when asked, that was adjusted for us. My favorite meal was the one in the home we visited in Xi'an. I would recommend that meal to anyone!..."

More Staple Food and Snacks in China: