Zongzi
Chinese Name: 粽子 (zòng zi)
Characteristics: The flavor of Zongzi varies with the fillings, usually tasting salt or sweet. Those stuffed with meat are very nutritious, and fat but not greasy; those made of Chinese dates and sweet bean paste are aromatic, soft and delicious, especially being added some honey while consuming.

Zongzi, also named Glutinous Rice Dumplings, is traditional Chinese food of the Dragon Boat Festival, which is on the fifth day of the fifth Chinese lunar month in memory of a famous Chinese patriotic poet - Qu Yuan. Nowadays people also make and consume it in everyday life as snack. The cooking methods differ from areas and there are various shapes, such as pyramid, quadrangle and cube. Aside of the main filling – glutinous rice, other stuffing is in diversity, including Chinese dates, sweet bean paste, peanuts, ham, egg yolk and meat. These abundant fillings make Zongzi worthwhile chewing slowly and savouring every piece of it. Even a popular TV program named A Bite of China shows the cooking method of the Jiaxing Meat Sticky Rice Dumplings. Read the Zongzi recipe below to learn how to make it.

sticky rice, 500g (amount for about 20 Glutinous Rice Dumplings)
some reed leaves or bamboo leaves
pork, 400-500g
Note: It should be noted that the reed/bamboo leaves are not available all the year around. You are suggested to buy some half a month ahead in Chinese grocery.

soy sauce
cooking wine
white sugar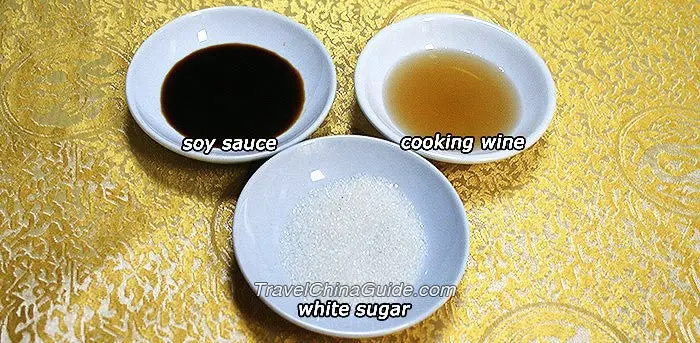 1. Soak the sticky rice in a large bowl or a basin for 2-3 hours. Then scoop out and drain off the water in a colander.
2. Boil the reed leaves for 5 minutes or soak in warm water one day before. Keep the leaves wet.
3. Clean and slice the pork. Place on a plate. It is also fine to cut the pork into 3-4cm cubes.
4. Prepare twine in advance which will be used to fasten the rice dumplings after being wrapped.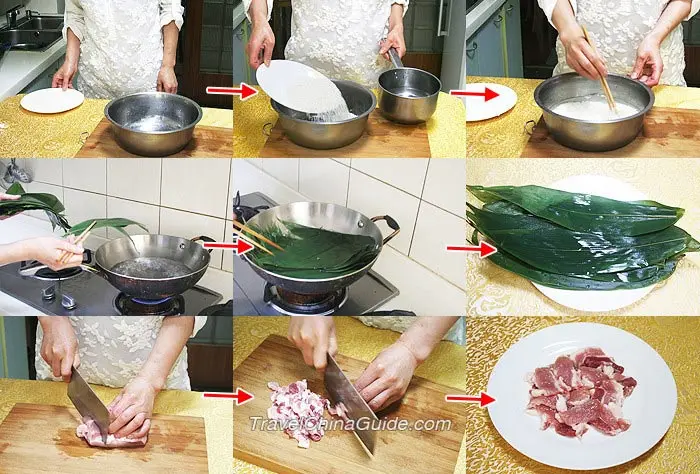 Methods:
STEP
1
Add a little cooking wine on the pork, then the white sugar and soy sauce. Combine them thoroughly with a pair of chopsticks. Put aside.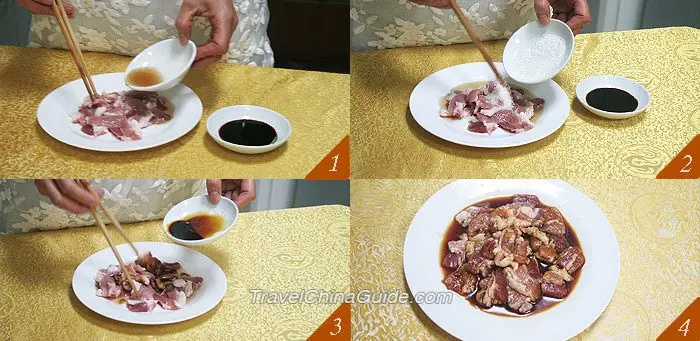 STEP
2
How to Wrap Zongzi: Layer 3-4 leaves together and carefully fold the bottom into a cone. Hold the leaves at the bottom by hand. Scoop some sticky rice to fill the bottom, and then add meat. Cover the meat with more rice. Fold down the reed leaves and adjust to cover all stuffing, keeping holding it tightly. After that, tie up with twine and fasten the leaves in case of leakage. Now a cute Zongzi is finished. Make more in the same way.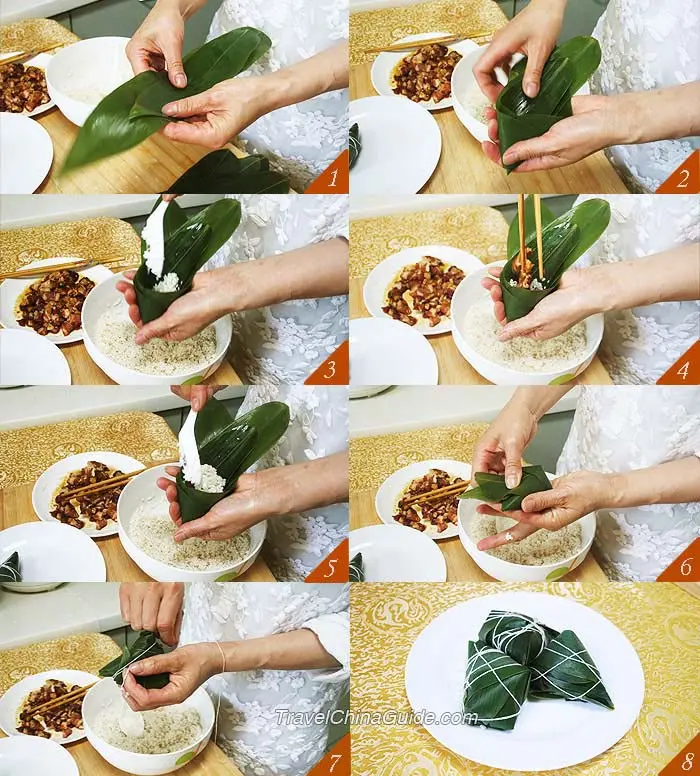 STEP
3
Place a wok with cold water over high heat until boiling. Put the Zongzi in, cover the wok with the lid and boil for 1-2 hours. Larger ones with much stuffing may require 2-3 hours. During the cooking, keep the Zongzi soaked in boiling water so that you may need to add hot water for several times. Prepare a kettle with hot water at hand for your convenience.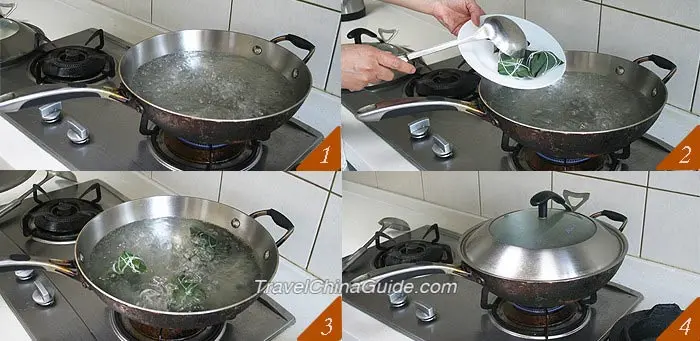 STEP
4
Turn off the heat. Serve them on a plate with a kitchen ladle to cool down a little.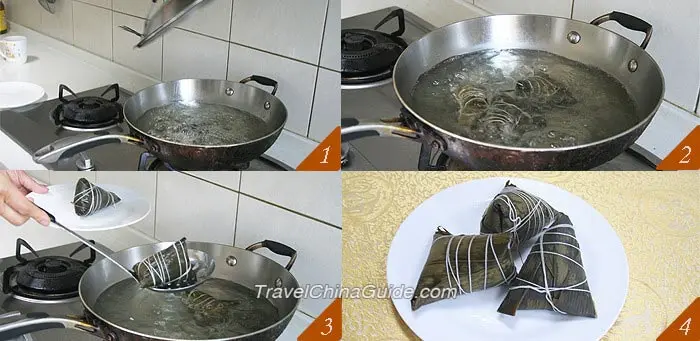 STEP
5
Look at these adorable Glutinous Rice Dumplings. They smell so good. Get rid of the leaves and eat with a spoon, or slightly strip off the leaves and enjoy by holding it.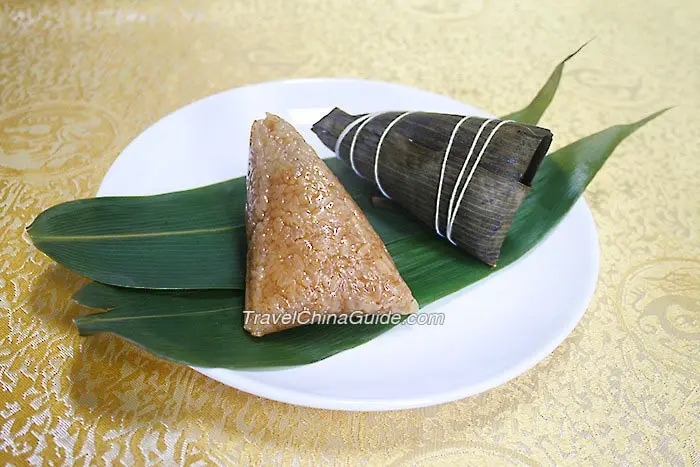 The way above teaches how to make Zongzi with meat fillings. Those of other flavors can be made in the same way, only adding different stuffing together with the sticky rice.
Making Sweet Vegetarian Zongzi:
STEP
1
Ingredients Preparation:

STEP
2
Wrapping sweet Zongzi: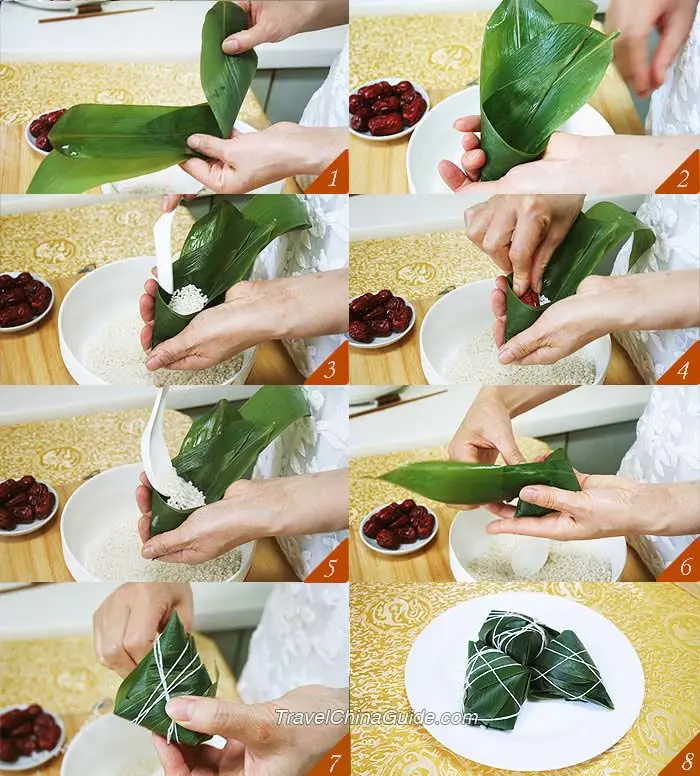 STEP
3
After being boiled and served on a plate, remove the leaves and add some honey to improve the flavor.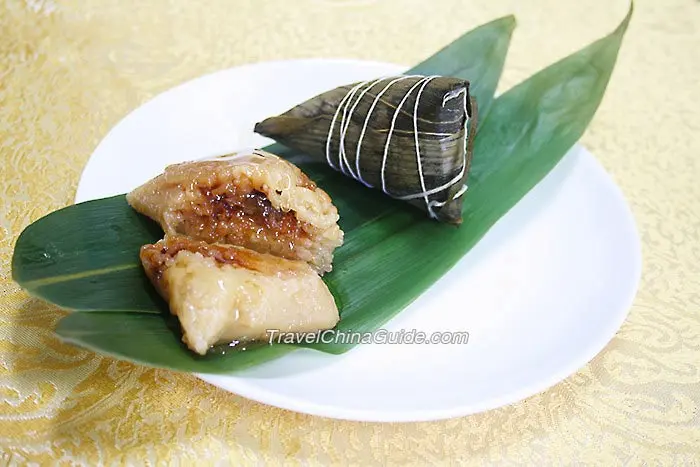 More Chinese Staple Food & Snacks:
- Last updated on Jul. 31, 2019 -