Egg Fried Rice
Although rice is a common staple food in southern China, Egg Fried Rice is quite popular throughout China due to the simple cooking method.
Chinese Egg Fried Rice, Dan Chao Fan in Chinese, is regarded as the original form of
Yangzhou Fried Rice
. Currently, they are thought of as sister dishes. The rice in the dish is really soft and savory, and the egg has high nutritional value containing much protein and amino acid. Read the recipe below, and you will know how to cook fried rice with egg.
Recipe of Cooking Egg Fried Rice

1 bowl of cold cooked rice; an egg; ham, 50g

Tip: In addition to ham, other ingredients also will do, such as shredded pork, beef or chicken, minced pork or beef, lettuce, green pepper, pickles, seafood, mushrooms, bacon and vegetables.

cooking oil
salt
Note: The amount of ingredients and seasonings above can be adjusted according to one's personal taste.

1. Dice ham finely.
2. Crack an egg into a bowl. Add a little salt. Beat it up with eggbeater or chopsticks.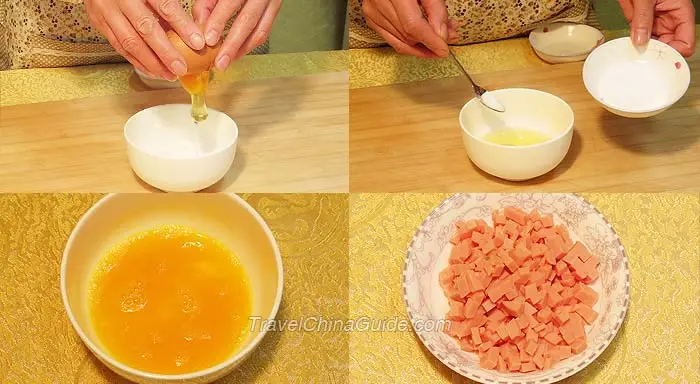 Methods:
STEP
1
Fry the egg: Preheat a wok. Add cooking oil and heat it until 150 C (300 F). Pour the beaten egg into the wok. Let it expand for half a minute without stirring. Then stir gently and turn it over until both sides are golden. Turn off the heat. Cut the egg into small chunks with the cooking spatula.

STEP
2
Add a little more cooking oil and heat it up. Add diced ham and stir-fry for half a minute.

STEP
3
Add rice. Press with a cooking spatula to make sure that the rice is completely covering in the wok. Turn up the heat to very high and fry for 2-3 minutes. Add salt.

STEP
4
Add in the fried egg and mix well with the rice and diced ham. Switch off the heat. Serve the rice on a plate or in a bowl.

The Egg Fried Rice is done. It looks bright and tastes fresh. Chopped green onion can also be added during cooking according to individual's taste.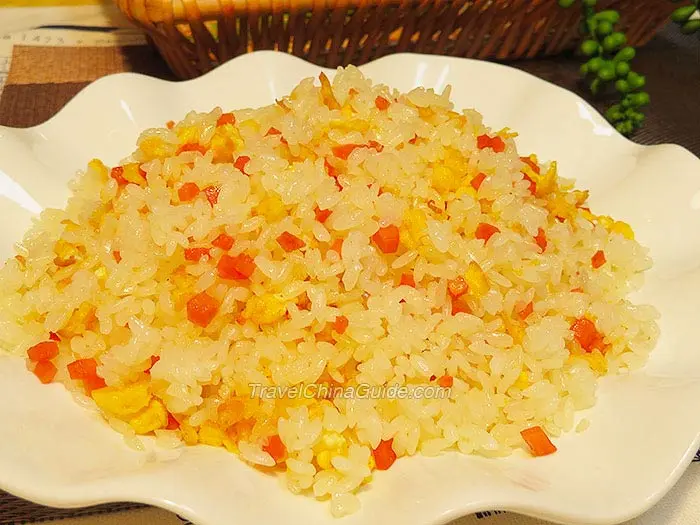 How to Cook the Best Egg Fried Rice?
Use cold rice which has been cooked half to one day in advance.
Add a little salt when beating the egg. Then it will taste fresh.
Fry the rice quickly over high heat until it becomes transparent.
1. Rice: Carbohydrates are the main constituent, so that consumption of rice means that you won't gain much weight. The amino acid is easy to digest.
2. Egg: It contains rich protein, vitamins and mineral elements, like iron, calcium and choline. The DHA and lecithin are good for the brain; therefore, mothers would cook eggs for their children every day. The vitamin B and microelements might help to prevent cancer.

Further Reading:
12 Chinese Rice Dishes You Can Make at Home
10 Quick and Easy Chinese Food Recipes for Beginners
More Staple Food and Snacks in China:
- Last updated on Dec. 02, 2019 -