Green Onion Pancakes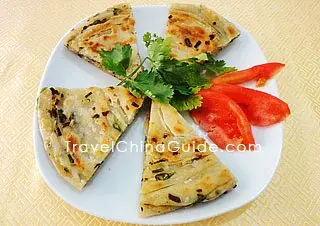 Chinese name: 葱花饼 (cōng huā bing)
Characteristics: Green Onion Pancakes appear golden outside, and taste tender, soft and chewy, heavy with the fragrance of green onion.
Green Onion Pancakes, also called Scallion Pancakes, have been popular throughout China especially in Beijing for years.
They are simple to cook, but have unique taste - the special aroma of green onion blended into the pancake, greatly stimulating one's appetite.
1 bowl whole wheat flour or white flour
sesame oil
chopped green onion
cooking oil
five-spice powder
salt
Note: the amount of the ingredients especially the seasonings listed above can be appropriately used according to one's personal taste.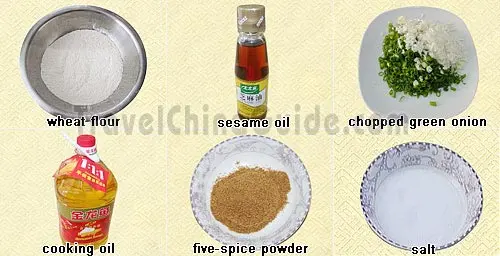 Methods:
STEP
1
Pour the flour into a soup bowl or a small basin, and sprinkle some salt in. Stir it slowly with chopsticks while gradually adding small quantities of boiling water until it forms into small pieces. Stir by hand to form a paste on a board and sprinkle some cooking oil on it. Smooth it out, and leave it to ferment for 20-30 minutes.
STEP
2
Place the chopped green onion on a plate, add in some sesame oil, salt and five-spice powder, and mix it well.
STEP
3
Take out of the flour paste and place on the board. Sprinkle some corn starch on it. Rub it into a big, round pancake by hand. Roll it flat and thin with a rolling pin.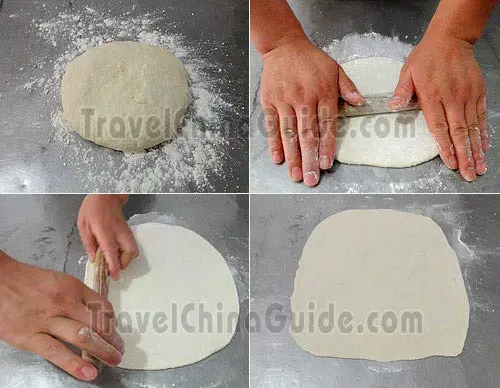 STEP
4
Use some oil to lightly and evenly coat the surface of the pancake, and scatter the seasoned chopped green onion over the pancake. Cut it into two parts, and roll them into a plump log respectively from the cut side. Shape the log into a fat spiral, and tuck the loose end under and firmly press to flatten it into a big, thick cake. Roll it gently into a 7-inch pancake with a rolling pin. Repeat to make the other.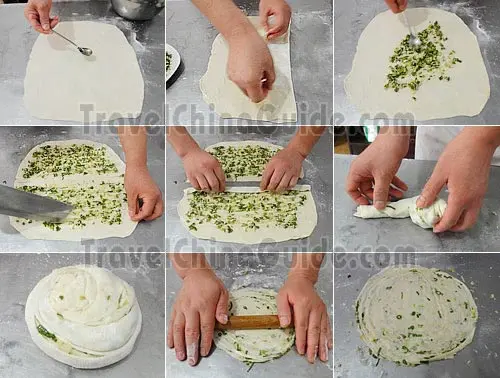 STEP
5
Place a pan over medium heat until hot. Brush a thin layer of oil in the pan, and place one of the pancakes made in step 4 in the pan. Turn over when you smell the fragrance and the bottom of the pancake turns golden yellow, 2-3 minutes. Cook the other side for another 2-3 minutes, until it is nicely browned and is cooked through. Repeat to cook the other.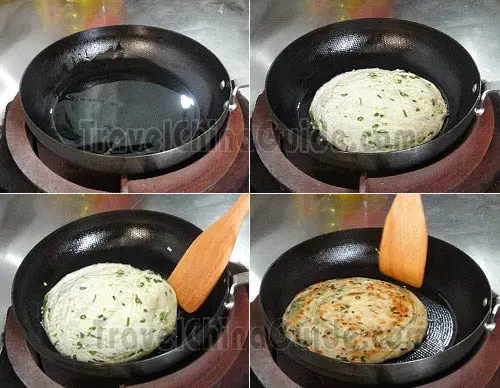 STEP
6
Turn off the heat, and remove the cooked pancake from the pan. At the end of the recipe, it is suggested to cut the pancake into quarters, garnish with tomatoes or parsley if desired, and serve hot or warm.
Our Guests Attending Cooking Class
Our Guests in a Chinese Family

On Sep. 21, 2012, Mr. Royden & Ms. Teena from Australia paid a private visit to an ordinary family in Xi'an, and had an on-the-spot cooking class by the hostess through learning to cook Green Onion Pancakes &

Stir-fried Shaanxi Pasta

. They said that it was the most memorable part of their China trip, since it provided an opportunity to closely approach the locals and their daily life.

Nelson's Family Having a Meal in a Chinese Family

On Jun. 18, 2011, Mr. Nelson, Ms. Corinne & Mr. Matthew from USA tasted our new product -

family visit tour

in Xi'an. They were also given a chance to learn to cook the Chinese food they ordered - Green Onion Pancakes &

Eggplant in Sichuan Style

in the home of the family during the special tour.

Christopher Making Dumplings

On July 20, 2010, Mr. Christopher & Ms. Judith from New Zealand made a home visit, and learned to cook Green Onion Pancakes,

Chinese Dumpling

&

Black Pepper Beef

in a local family in Xi'an when they join a tour group organized by Travelchinaguide. They complimented it the most unique and interesting part of their China tour in their letter to us.
More Staple Food and Snacks in China:
- Last updated on May. 14, 2019 -