Chinese Leek Pancake
Chinese name: 韭菜煎饼 (jiǔ cài jiān bing)
Characteristics: Chinese Leek Pancake tastes soft and delicious, with attractive color.
Chinese Leek Pancake was originally only popular among the general population, but now it has been a feature dessert on the dinning table of most hotels restaurants.
Mainly made of flour, leek and egg, it can be eaten alone, or with sauce like this recipe, or as a wrap for other dishes.
1 bowl flour, 200-250g
fresh leek, 150g
1 egg
salt
soy sauce
salty bean sauce
red chili oil
Note:
1. The amount of the ingredients above serves two people.
2. The amount of the ingredients especially the seasonings listed above can be appropriately used according to one's personal taste.
Wash and clean the leek, and chop on the chopping board. Place in to a plate or a bowl.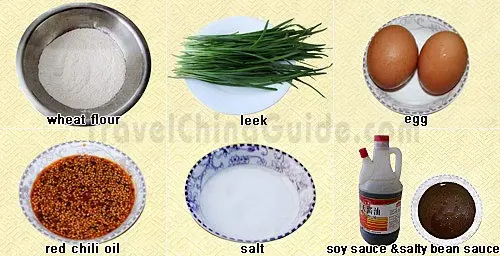 Methods:
STEP
1
Pour the flour into a soup bowl or a small basin. Use a spatula or chopsticks to scrape any elusive bits of flour from around the edge into the center, while gradually adding small quantities of water until the batter is smooth, with the consistency of thin cream.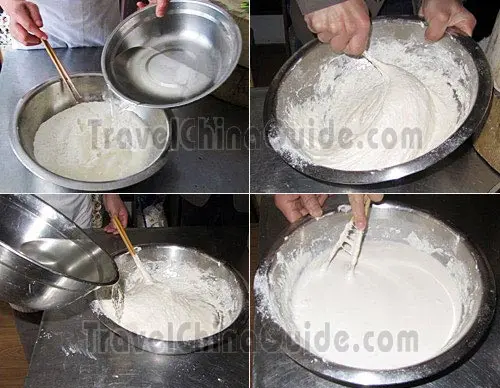 STEP
2
Crack the eggs into the flour paste, and stir it well. Add in the chopped leek, and stir it again until well mixed. Add some salt, and stir it well once more.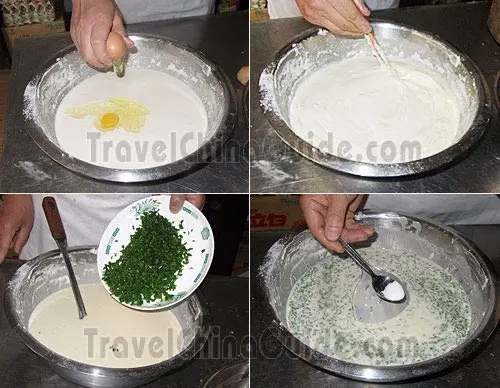 STEP
3
Place a pan over high heat until hot. Brush a thin layer of oil in the pan. Take half a ladle of the flour and water mix and pour in the pan. Shake the pan to make the mix fully cover the pan. Turn over when the edge rises. Change to medium heat and fry pancake for 1 minute on both sides until cooked. Remove the cooked pancake from the pan and put on a plate. Repeat to cook more pancakes.
STEP
4
Find a small dish. Add in some salty bean sauce, red chili oil and soy sauce. Stir it until well mixed. Making the special sauce is an indispensable step of the recipe so that the pancake shall taste better.

STEP
5
When the pancakes are ready, cut them into your favorite shapes such as triangle, square, or diamond, and then serve on a plate. Decorate the pancakes with some celery leaves or carved carrot. Leave the pancakes whole if you plan to use them as a wrap. Serve with the sauce prepared in above step.

Our Guests Attending Cooking Class
The Patels in a Chinese Family



On Oct. 26, 2012, Mr. Ritesh, Ms. Priya, Mr. Vishal & Ms. Pallavi from USA called at an ordinary apartment in Xi'an to learn to cook Sautéed Potato, Green Pepper and Eggplant, Ma Po Tofu & Leek pancake and to see the true family life of the local residents. It is a very popular activity among our customers, and has received a number of favorable comments.

Our Guests Dining in a Local Family

On Jul.10, 2012, a group including Mr. Peter and Ms. Ilse from Gemany, Ms. Rose, Mr. James, Ms. Marilucy and others from USA took part in a family visit with cooking class in Xi'an. They learnt to make dumplings and found out that making dumpling wraps is not that hard as imagined. Some of them learnt to make Chinese Leek Pancake because it is truly a homemade snack and they had little opportunity to see it in restaurants. It was an interesting experience to know that Chinese staple food can also be cooked by wide variations.

Mr. Soe's Family in a Chinese Family

On Aug. 5, 2010, Mr. Soe from Burma did a special home visit with cooking class in Xi'an when joining in Travelchinaguide's tour group. They learned to cook two Chinese pastas -

Chinese dumplings

& Chinese Leek Pancake, and praised it an ingenious service which provided them a true environment to know about the Chinese people's daily life and to experience Chinese cooking.
More Staple Food and Snacks in China:
- Last modified on Apr. 17, 2019 -