Chinese Wonton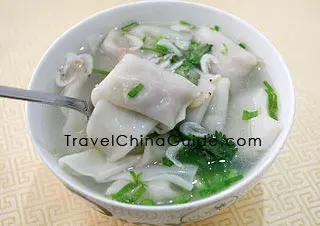 Chinese name: 馄饨 (hún tun)
Characteristics: The wrapper is thin and tastes soft and smooth, the filling is rather fresh, and the soup is clear and tasty.
Originating in northern China, wonton is a traditional food in China. In ancient times, Chinese people regarded it as a kind of sealed meat bun without any opening and named it 'Hun Dun' (chaos).
At that time, it is the same as a dumpling. Since then, the dumpling hasn't been changed too much, but the wonton has been developed a lot in southern China, having its own style.
chopped lean pork, 150 g
wrappers (made of flour), 150 g
dried small shrimps
salt
chicken essence (bouillon/stock) or monosodium glutamate
cooking wine
sesame oil
chopped ginger
chopped green onion
Note: the amount of the ingredients especially the seasonings listed above can be appropriately used according to one's personal taste.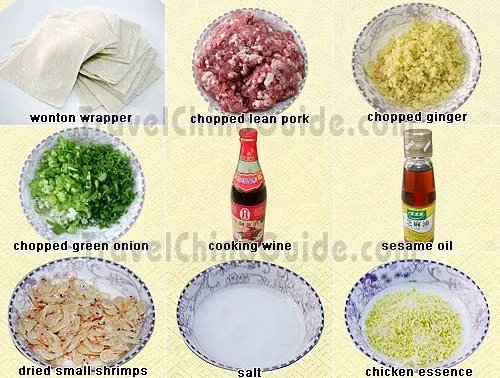 Methods:
STEP
1
Place the chopped lean pork into a bowl. Add in some cooking wine, chopped ginger, chopped green onion, salt and chicken essence. Stir it well with chopsticks or a teaspoon.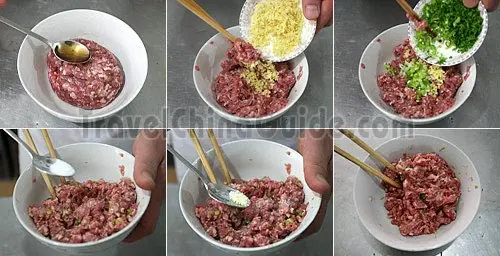 STEP
2
Take one piece of wrapper, and smooth it in one hand. Pick some of the fillings, and put at the corner of the wrapper (the filling should be less than that of the dumplings). Roll it up and pinch the two sides together. The result is a hat-like wonton.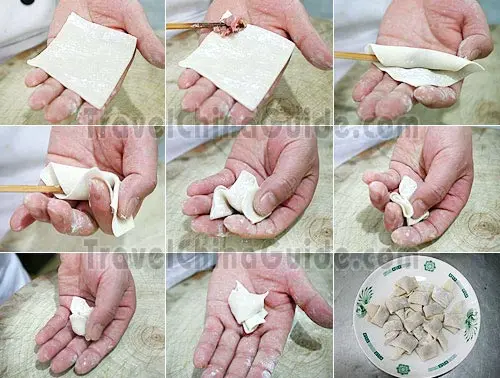 STEP
3
Place a wok over high heat. Add in half a wok of water. Add the wontons one by one till the water is boiling. Add in 1/4 table spoon of water when it boils. Repeat this twice. Turn off the heat. Scoop out 1 tablespoon of soup and pour in to a soup bowl. Pick out the boiled wontons with a table spoon or a colander and add to the bowl.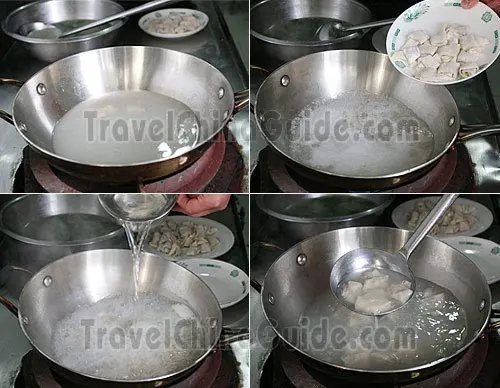 STEP
4
Add in salt, chicken essence, chopped green onion, sesame oil and dried small shrimps. Stir slowly and thoroughly with the teaspoon.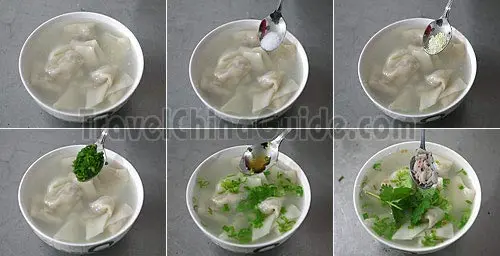 Wonton now is ready for you to enjoy.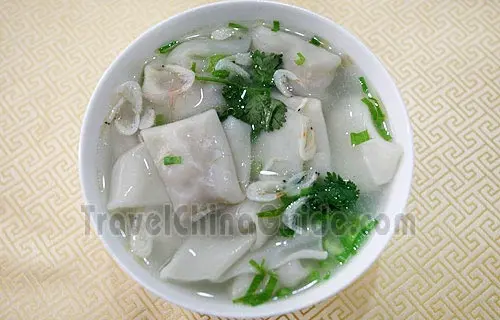 Tips:
The fillings of wonton can be varied, either meat (pork, mutton, beef, chicken, shrimp) like this recipe, or vegetable (carrot, preserved vegetable, celery, cabbage, mushroom, leek), or meat with vegetable. They can be made into various shapes, such as round, tube, semi-cylinder, rectangular, triangle or gold ingot.
Origin of Wonton
Story has it that in the
Han Dynasty
(206BC-220), the Huns in northern China often invaded the northern border of the country where the people were always tormented. At that time, the Huns had two leaders named 'Hun' and 'Dun', both of whom were cruel. The northern Chinese hated them bitterly, so they wrapped dumplings filled with meat, named them 'hun dun', and cooked and ate them in the hope of having a peaceful life.
Our Guests Attending Cooking Class
Our Guests Learn to Make Wontons


On Oct.1, 2012, Ms. Katherine & Mr. James from USA paid a visit to a local family in China where our cooking class was offered. They understood that there were eight major cuisines in China with different styles as they traveled with us throughout the country. They Not only made dumplings, but also learnt to cook Chinese Wonton – the other traditional pasta originated from northern China. We really appreciate it when they said they enjoyed this family visit.

Ms. Maria Learn to Make Wonton

On Apr. 17, 2012, Ms. Maria from USA stepped into a local family in Xi'an under the elaborate arrangement of our tour operators and guide. Since Maria was very curious about the difference between Chinese wonton and

dumplings

, the warm-hearted host especially showed her the whole process of making wonton and dumplings on site. Maria said she felt very privileged to have had this opportunity.

Ms. Iride Making Wonton

On July 8, 2010, Mr. Jorge & Ms. Iride from Venezuela joined a

family tour

arranged by TravelChinaGuide and learned to cook

Cold Celery and Dry Bean Curd

, Chinese Wonton &

Kung Pao Chicken

in a local family in Xi'an. They were very impressed by the meal and especially mentioned it in their feedback: "... The lunch that we had with the Chinese Lady in Xi'an was memorable and delicious. My wife had such a good time cooking the dumplings and they eating them...."
More Staple Food and Snacks in China:
- Last updated on Aug. 30, 2019 -