Kung Pao Chicken
Style:
Sichuan Cuisine
Characteristics: The Kung Pao Chicken smells good, with the diced chicken tasting tender, and the peanuts being crispy. Thanks to the various seasonings and the fresh ingredients, the dish presents four features: crispy, aromatic, sweet and spicy.
Kung Pao Chicken, also Gong Bao Ji Ding or Gung Po Chicken, is a traditional dish of Sichuan Cuisine famous both at home and abroad. The mixture of the seasonings makes the dish taste special, and its flavor can be either spicy or mild, which is decided by the amount of chili peppers. Mainly made of diced chicken and peanuts, Kung Pao Chicken also has medical and health preserving value, including nourishing the marrow and replenishing the essence, promoting mental health and preventing the hypertension and heart diseases.
Recipe of Making Kung Pao Chicken:
chicken breast, 150g
peanuts, 50-100g
cooking oil, green onion, garlic, ginger, 3-5 dry chili peppers, prickly ash seeds, salt,
cooking wine
soy sauce, white sugar, vinegar, starch
Note: The amount of the ingredients and seasonings can be appropriately used according to one's personal taste.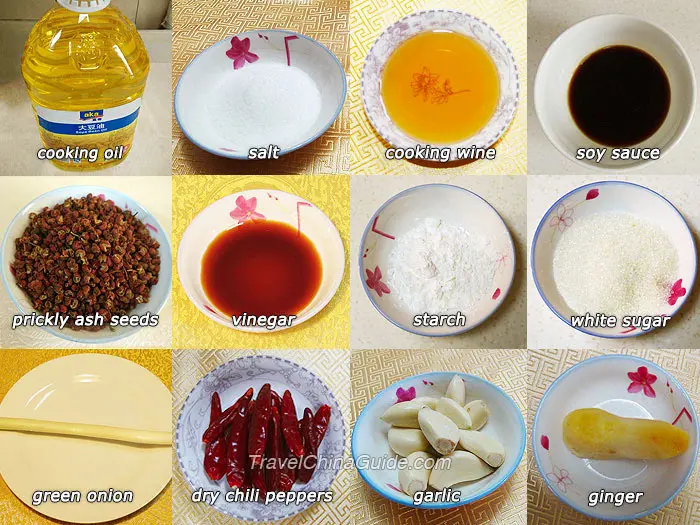 1. Rinse the chicken breast, and dice into 1.5cm cubes; preserve the chicken dices for 10-15 minutes with salt, cooking wine and starch.
2. Trim and clean the green onion and cut into 1-2cm sections; peel the ginger and slice it; get rid of the husk of garlic and slice it; cut the dry chili peppers into 1.5cm sections.
3. Make the seasoning sauce with salt, white sugar, vinegar, cooking wine, soy sauce and a little starch.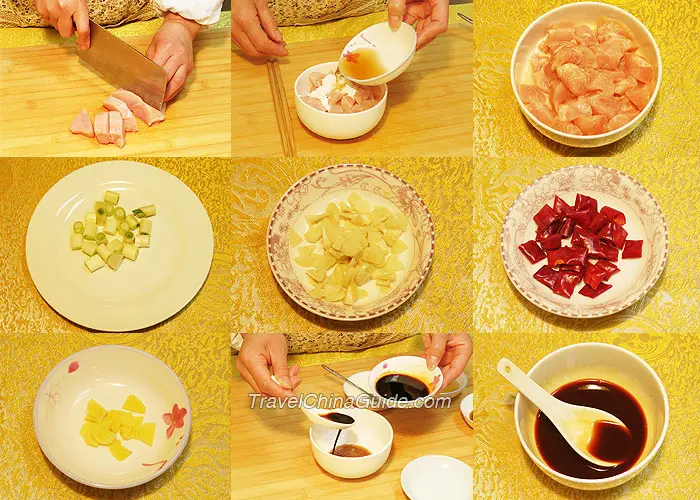 Methods:
STEP
1
Fry peanuts: Pour some cooking oil into a wok, and fry the peanuts above low fire until they taste crispy and appear bright. Take them out for later use.
STEP
2
Fry chicken dices: Heat the some cooking oil over medium fire. Add the dry chili peppers, prickly ash seeds, and garlic and ginger slices. When the aroma appears, switch to big fire and pour in the chicken dices. After the chicken dices turn white, add in green onion sections. Stir-fry for 5-10 seconds and fully mix with the chicken.

STEP
3
Sauce the chicken dices and add in peanuts: Pour in the prepared seasoning sauce and combine with other ingredients. Fry over big fire until the sauce becomes dense and sticks to the chicken dices. Add the fried peanuts. Stir to mix them all.

STEP
4
Turn off the heat and dish up.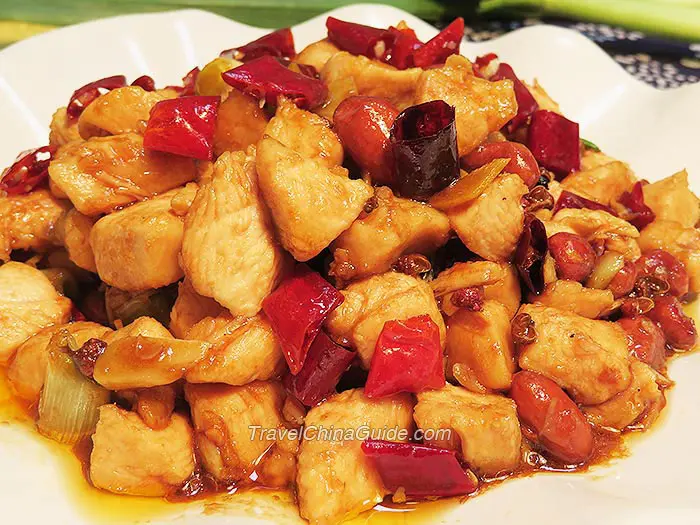 Stories about Kung Pao Chicken
Legend among the Chinese folk has it that Ding Baozhen of the
Qing Dynasty
(1644 - 1911) loved eating dishes made of chili, pork and chicken. He was a jinshi (third-degree scholar) in the beginning and was assigned as the provincial governor of Shandong Province. Later, he worked as the governor-general of Sichuan Province. It's said that he often let his cook make diced chicken with soy sauce when he was in Shandong, but the dish was not popular then. After transferring to Sichuan, he often ordered his cook to make the dish with peanuts, chili and young chicken to treat his guests. Gradually, more and more people fell in love with the delicious dish. Thereafter, he was given the title of 'Tai Zi Shao Bao' (junior guardian of the prince) and was also dubbed as 'Ding Gong Bao' (palace guardian). Thus, this dish is so named.
Another legend said that this dish originated from Zuo Zongtang, another provincial governor of the Qing Dynasty, who also liked to eat diced chicken matched with peanuts. During that period, the provincial governor was also named 'Gong Bao' or 'Shao Bao', hence the dish he loved was given the name Gong Bao Chicken, pronouncing as Kung Pao Chicken in English.
Our Guests Attending Cooking Class
Mr. Debal, Ms. Joyeeta Learn to Cooking Chinese Dish



Mr. Debal, Ms. Joyeeta & Mr. Kirit from India enjoyed a true home-cooked A la carte meal in a local Xi'an family, which is especially provided by TravelChinaGuide. The most impressive was that the food they ate was part of their own labor particularly the Kung Pao Chicken completely cooked by themselves under the help of the hostess.

Ms. Skye with the Kung Pao Chicken Cooked by Herself

Mr. Donald & Ms. Skye from USA took part in our

family visit

in Xi'an and learned to cook the delicious Chinese dish. They were very satisfied with the meal ate in the family and commented it as the best Chinese food that they have ever had.

Christina with the Well-Cooked Kung Pao Chicken

Mr. Scott & Mrs. Christina from USA made a family visit under the arrangement by TravelChinaGuide and learned to cook

Broccoli with Garlic

& Kung Pao Chicken in a local family in Xi'an. They commented it as their favorite in the feedback:"...The meals were great. I was most nervous about the home visit and that turned out to be my favorite..."

Further Reading:
12 Best Chinese Chicken Recipes You Can Try
Top 10 Chinese Dishes You Must Try
More popular meat dishes in China:
- Last updated on Dec. 09, 2020 -
Questions & Answers on Kung Pao Chicken
Asked by John from CANADA | May. 23, 2014 10:27

Reply
MSG (monosodium glutamate) causes cancer
Haven't you guys heard? MSG (monosodium glutamate) causes cancer !!!
Answers (2)
Answered by John from CANADA | May. 23, 2014 10:32

3

0

Reply
That being said, Kung Pao Chicken from a local restaurant is a favourite dish of mine. Believe they don't use MSG.

Regards,
John
Answered by Warlizard from USA | Jul. 26, 2014 11:54

3

0

Reply
No it doesn't and perpetuating that myth just ruins good food.
Asked by Ms.BECKYLEE from CHINA | Sep. 13, 2009 10:07

Reply
hot pot is my favorite
Answers (1)
Answered by Mr.Zhang from CHINA | Oct. 11, 2009 04:18

3

0

Reply
hot pot is not hard to cook actually.
Asked by Mr.WESTNORWOODGAS from UNITED KINGDOM | Aug. 25, 2009 14:49

Reply
I will have to give a try.

Alan
Answers (1)
Answered by Mr.Dartagnan from FRANCE | Aug. 25, 2009 22:08

3

0

Reply
Dear sir, I'm sure you will be never tired of eating it.
Asked by Mrs.kate from USA | Aug. 24, 2009 02:14

Reply
It looks delicious! I'll have a try tonight.
Answers (1)
Answered by Mr.Dante from ITALY | Aug. 25, 2009 22:06

3

1

Reply
Yes, it is very delicious. I ate it almost every trip to China.