Shredded Pork With Sweet Bean Sauce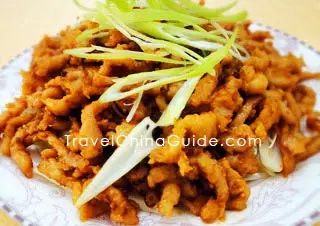 Chinese name: 京酱肉丝 (jīng jiàng ròu sī)
Style: Beijing Cuisine
Characteristics: this dish is reddish in color, with distinctive Beijing sauce flavor.
A well-known traditional Beijing specialty, this dish, also called Jing Jiang Rou Si, is made with lean pork and sweet bean sauce produced by Liu Bi Ju, one of the famous old soy-sauce shops of Beijing.
Green onion adds a necessary finishing touch to the dish, served raw to both garnish and accompany the cooked pork shreds. The recipe below presents a popular cooking way of the dish.
lean pork, 350-400g
green onion, 100 g
Cut the lean pork into shreds after rinsing with water, and place onto a plate. Clean the green onion and cut into shreds, arranging two thirds of them in a layer on a plate and placing the rest on a separate plate.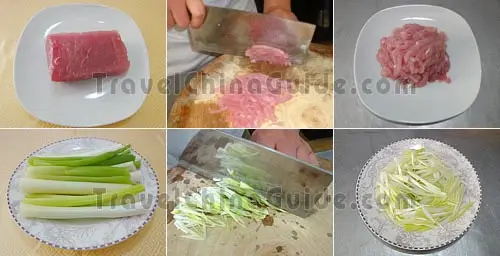 ginger shreds
egg
cornstarch
pepper powder
salt
sweet bean sauce
cooking wine
soy sauce
sesame oil
tomato ketchup
white sugar
Note: the amount of the seasonings listed above can be appropriately measured according to one's personal taste.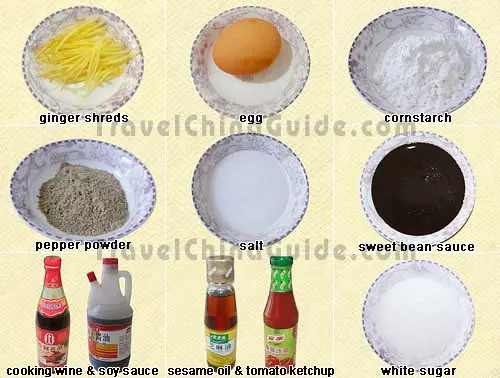 Methods:
STEP
1
Coat the lean pork shreds by placing them in a mixture of salt, pepper powder, cooking wine and soy sauce. Mix the ingredients well and pour into a soup bowl or a small basin. Add a small amount of water, mix again and let stand for 10-15 minutes. Then, crack the egg into the mixture, add some cornstarch and cooking oil and stir well.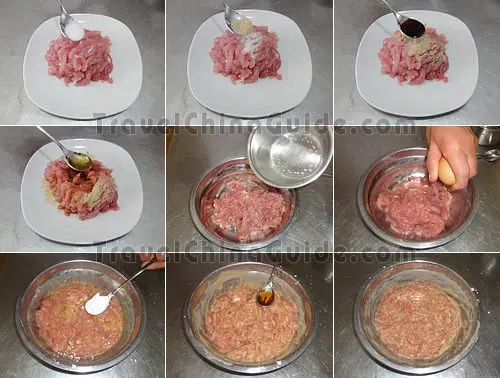 STEP
2
Prepare the sweet bean sauce in another bowl by mixing sesame oil and white sugar, and set aside.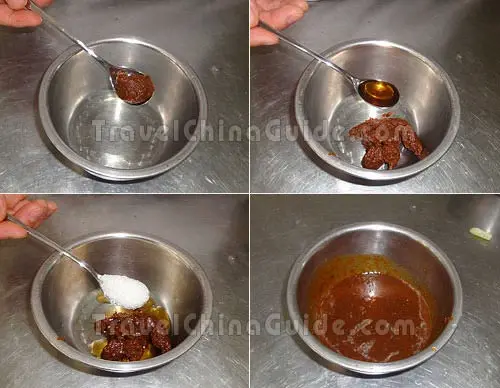 STEP
3
Place a wok over high heat until hot. Add some cooking oil and wait until the oil is hot before adding the coated pork shreds. Stir-fry on medium heat for about 2 minutes until the shreds turn yellowish-white. Turn off the heat and remove the shreds from the wok and place into a colander, which should be left to stand in a bowl to remove the excess oil. Leave some cooking oil in the wok and swirl to coat the sides. Turn on the heat, add in the ginger shreds and stir-fry for about 10 seconds until fragrant. Add the fried shreds, sweet bean sauce and tomato ketchup. Stir-fry for 1-2 minutes until all the shreds are reddish and thoroughly cooked.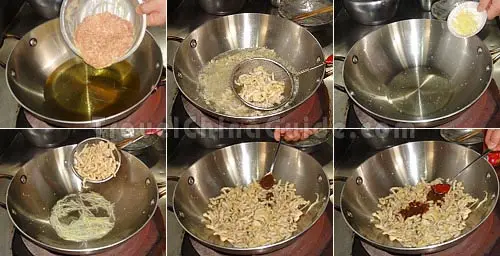 STEP
4
Turn off the heat, remove the pork with ginger shreds from the wok, and place them onto the plate with the layer of shredded green onion, and sprinkle the remaining green onion shreds on top.

STEP
5
This dish is ready to be served. It is traditionally served and eaten with dried bean curd sheets, which are used to wrap up the ingredients.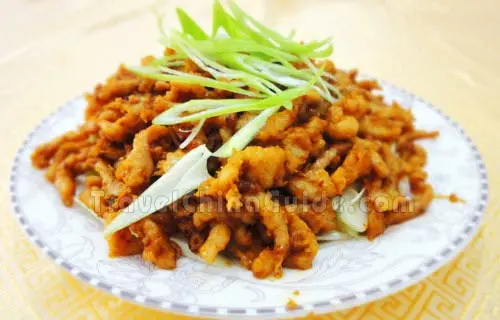 Origin of Shredded Pork with Sweet Bean Sauce
A popular folklore among the Beijing people has it that in 1930s, an old man commonly known as Lao Chen lived alone with his grandson in a small courtyard in Beijing. They earned a meager living by making and selling tofu and skin. Lao Chen followed the high quality meals for customers all the time. As a result, his business won great favor among the folk including a duck restaurant which asked Lao Chen to send the tofu and skin to their restaurant every day.
One day, Lao Chen brought tofu and skin to the duck restaurant with his grandson. Having been sustained on a poor diet for a long time, the smell of the roast duck from the kitchen made the boy's mouth water, and he asked Lao Chen to buy one for him. Although roast duck seemed like an unattainable dream for them, Lao Chen was determined to have duck on the Eve of Chinese New Year.
Soon, the Spring Festival came, and Lao Chen still couldn't afford the roast duck. Instead he bought some lean pork and prepared some dumplings, but his grandson still asked innocently for his long-expected duck innocently. Not wanting to disappoint his grandson, Lao Chen shredded the lean pork, and stir-fried it with bean sauce. Having no pancake, he used tofu skin instead to roll up the cooked shreds with some green onion shreds. To his delight, his grandson enjoyed the 'roast duck' very much.
Later, the grandson grew up and served as a chef in the duck restaurant. He could eat roast duck every day, but he always felt the duck was different from what he ate years ago. He then went to ask his grandfather, and was deeply touched when his grandfather told him the truth. Thereafter, the grandson built upon his grandfather's recipe and it became most popular and iconic dish of Beijing.
Our Guests Attending Cooking Class
Mr. & Ms. Dresner at the Dining Table



On Apr. 5, 2012, Mr. Bruce & Ms. Ilene from USA visited a typical Xi'an family and had a cooking class there as what they've reserved from our company. Ms. Ilene even learned to cook two popular Chinese dishes - Shredded Pork with Sweet Bean Sauce & Eggplant in Sichuan Style from the hostess. They said that it was the best lunch of their travel in China.

Ms. Betty Cooking Shredded Pork With Sweet Bean Sauce

On Oct. 1, 2011, Mr. Guy & Ms. Betty from New Zealand visited a typical family in Xi'an privately during their China tour through our company. Not just had a face-to-face talk with the family, they also got a chance to learn to cook two popular Chinese dishes -

Sautéed Potato, Green Pepper and Eggplant

& Shredded Pork With Sweet Bean Sauce from the hospitable hostess.

Mr. Michael, Ms. Annette & Ms. Sally in a Chinese Famlily

On May 24, 2011, Mr. Michael, Ms. Annette & Ms. Sally from Australia joined in our especially offered family visit in Xi'an. Everything went smoothly as what scheduled before. They had a cooking class by the hostess at the kitchen of the family through learning to cook Shredded Pork With Sweet Bean Sauce,

Hot and Sour Soup

&

Eggplant in Sichuan Style

.

Further Reading:
Top 10 Chinese Pork Recipes to Satisfy Your Taste Bud
More popular meat dishes in China:
- Last updated on Aug. 30, 2019 -