Shredded Pork with Green Pepper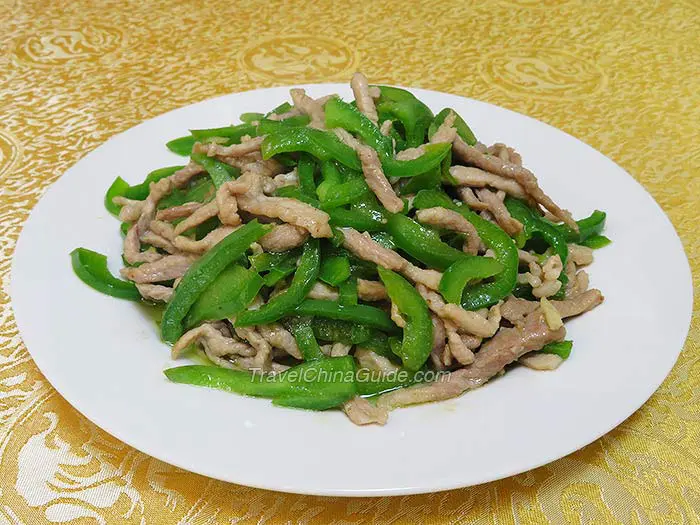 Chinese name: 青椒肉丝 (qīng jiāo ròu sī)
Style: Sichuan (Szechuan) Cuisine
Characteristics: This dish owns green-yellowish color and the pork shreds taste tender and delicious.
One of the popular home-style dishes in Sichuan Province, China, the Shredded Pork with Green Pepper was originally made of thin and spicy green pepper instead of the present so-called strong sweet pepper. People used to enjoy its special mixed taste of the green pepper's delicate piquancy and the pork's tenderness. It is a good dish to go with the rice, helping to stimulate the appetite.
Ingredients:
lean pork, 300-350g
green pepper, 150-200 g
Preparation:
1. Discard seeds from the green pepper. Clean the lean pork and the green pepper with water.
2. Cut the lean pork and the green pepper into shreds on the chopping board, and then put the shreds into separate plates.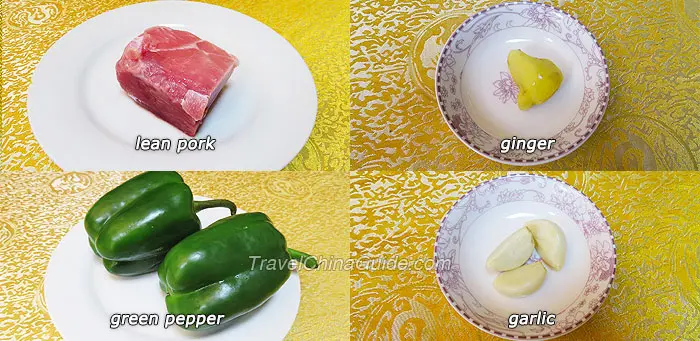 Seasonings:
salt
chicken essence (chicken stock/bouillon)
wet cornstarch
cooking wine
soy sauce
sesame oil
pepper powder
ginger
green onion (spring onions, scallions)
Note: the amount of the seasonings listed above can be appropriately used according to one's personal taste.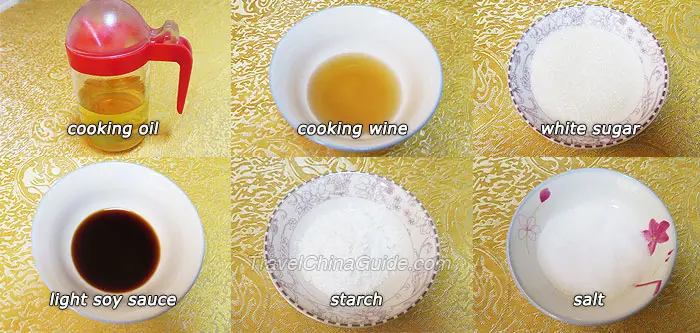 Coating:
The pork shreds have to be coated before they are cooked. Coating the meat has a direct bearing on the quality of the cooked dish. The coating way is add in cooking wine, sauce, salt, chicken essence or monosodium glutamate, wet cornstarch and egg white and stir well it with chopsticks until you feel it is a bit sticky.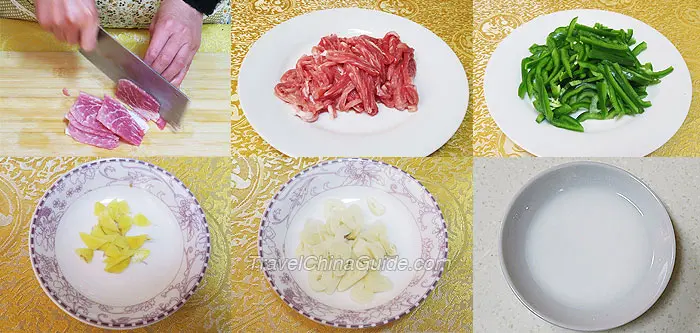 Methods:
STEP
1
Place a wok over high heat until hot. Add some cooking oil and add in the coated pork shreds when the oil is hot to be fried on medium heat for 2 minutes. Turn off the fire and pick the shreds out of the wok when they look yellowish-white and put them in a colander quickly.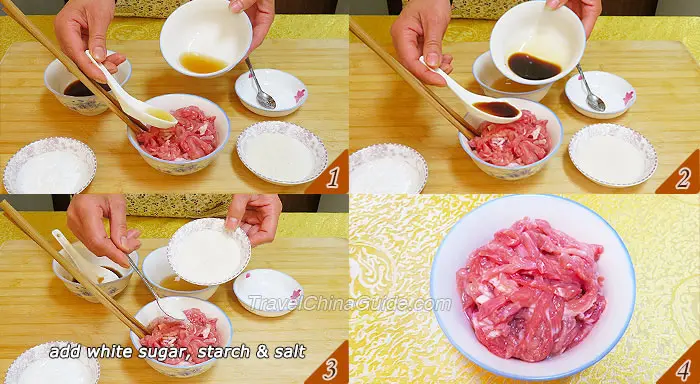 STEP
2
Leave some cooking oil in the wok and swirling to coat the sides. Add in the green onion shreds and the ginger shreds when the oil is heated back up to 70 centigrade (158 Fahrenheit). Stir-fry it over high heat for about 30 seconds.

STEP
3
Pour in the green pepper shreds to be stir-fired for 1 minute on high heat until they are mixed with the green onion shreds and the ginger shreds and are 80% cooked. Add in some salt and pepper powder, and stir-fry it for another 10 seconds.

STEP
4
Pour in the fried pork shreds and stir-fry for a furthur 3 minutes when they are mixed evenly with the other materials. Add in some chicken essence or monosodium glutamate and sesame oil. Stir it for 10 seconds again.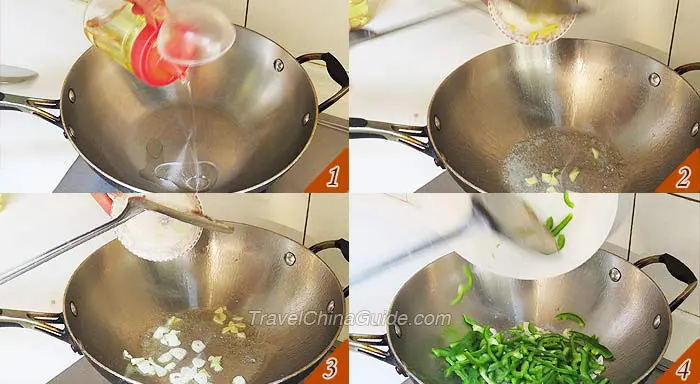 STEP
5
Now, turn off the fire, pick the shredded pork with green pepper out of the wok. And put it into a fine porcelain plate.

This dish is done by following the recipe. It is quite suitable for going with the rice.

Our Guests Attending Cooking Class
Our Guests Learn to Make Dumplings


On April 30, 2013, Rudolf and Alieke from Netherlands and a group from the USA including Ms. Diana, Ms. Mary joined our cooking class specially prepared in a local family during their tour with us in Xian. Diana told us in her feedback that it was a great surprise to take part in this class. She not only proposed to learn the dish - Shredded Pork with Green Pepper, but also joined other members in making dumplings. They really had fun there!

Our Guests in a Xian Family



On Apr. 30, 2012, Mr. David & Ms. Marilyn from USA took part in our China food tour in Xian. They were taken into a local family where they had a pleasant talk with the family and learned to cook two popular Chinese dishes - Kung Pao Chicken and Shredded Pork with Green Pepper from the host. They praised it their most mememorable experience of their China trip.

Ms. Menaka Learn to Cook Chinese Food

On Oct. 12, 2010, Mr. Mitesh from UK & Ms. Menaka from India had a family visit in Xian during their 12-day China tour organized by our company. The hospitable hostess cooked about 10 dishes to entertain them. For the first time in her life, Menaka learned to cook her favorite Chinese dish

Kung Pao Chicken

& Shredded Pork with Green Pepper face to face from a Chinese housewife.

More popular meat dishes in China: