Steamed Pork with Rice Powder (Fen Zheng Rou)
Chinese name: 粉蒸肉 (fěn zhēng ròu)
Style: Jiangxi Cuisine, South China Cuisine
Characteristics: This dish looks mouthwatering and tastes fat but not greasy. The fragrant sauce and meat match perfectly.
Steamed Pork with Rice Powder (Fen Zheng Rou in Chinese), a renowned dish in Jiangxi Province, is popular in many areas of south China, including Sichuan, Hubei, Hunan, Zhejiang and Fujian Provinces. With streaky pork and glutinous rice powder as the main ingredients, this dish is healthy and nutritious. It can be spicy or sweet depending on how it is prepared. In Jiangxi Province, it is traditional to eat it on the the day of the Beginning of Summer (Li Xia on
24 Solar Terms
) to prevent from miliaria.
Recipe of Making Steamed Pork with Rice Powder:
pork: 500g,
one-third of a bowlful of uncooked glutinous rice,
1 potato
Note: In addition to pork, one can also make this dish with beef, lamb, and fish.

chili sauce, green onion, ginger, dark soy sauce,
cooking wine
, white sugar,
salt, sweet flour paste, star anise, chili oil, sesame oil
Note: The amount of the seasonings can be appropriately applied according to one's personal taste.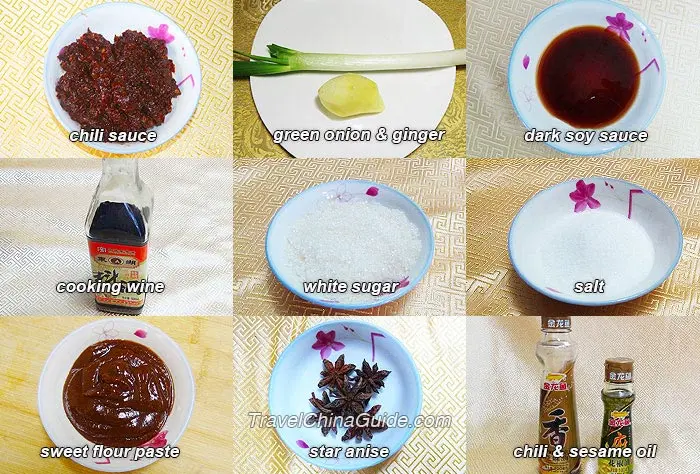 1. Cut the pork into 5-mm-thick slices.
2. Cut the potato into 5-mm-thick slices and scatter them on the bottom of a bowl.
3. Chop the green onion and ginger.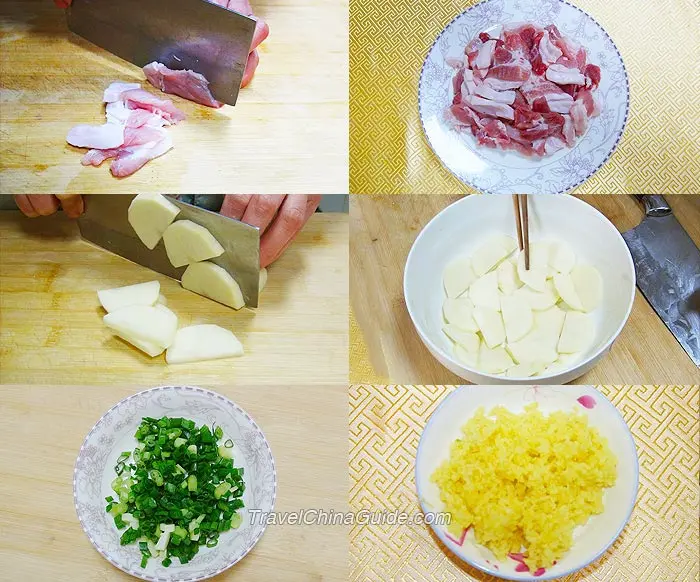 Method:
STEP
1
Preserve the pork: Add ginger, green onions, dark soy sauce, chili sauce, cooking wine, chili oil, sesame oil, sweet flour paste, white sugar and salt into the pork. Stir them well and let the mixture stand for half an hour.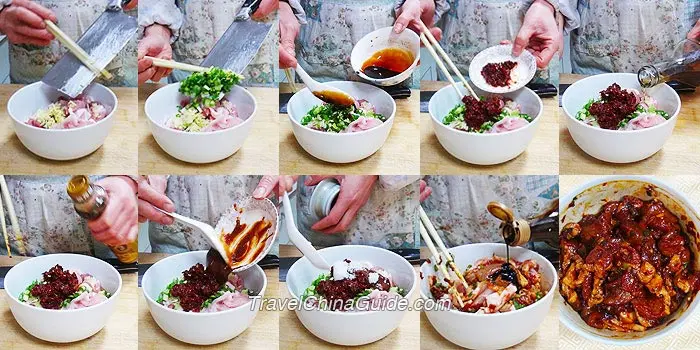 STEP
2
Make rice powder: Pour the glutinous rice and two star anises into a pan and fry over low heat. When the rice turns yellowish, pour it into a food processor and grind it into powder.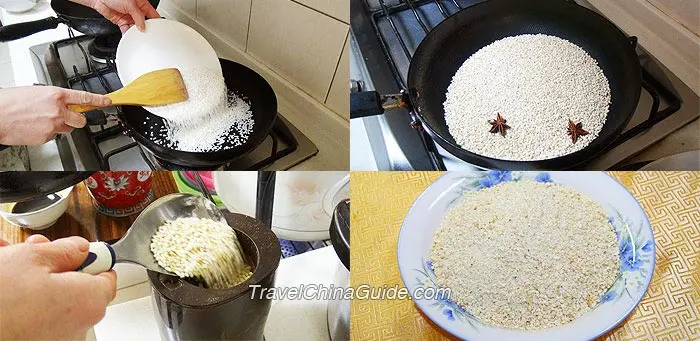 STEP
3
Mix the rice powder with preserved pork. Put the mixture into the bowl with potato slices.

STEP
4
Steam the pork and rice mixture with potato slices. It needs about 80 minutes over high heat.

STEP
5
Serve the Steamed Pork with Rice Powder on a fine plate.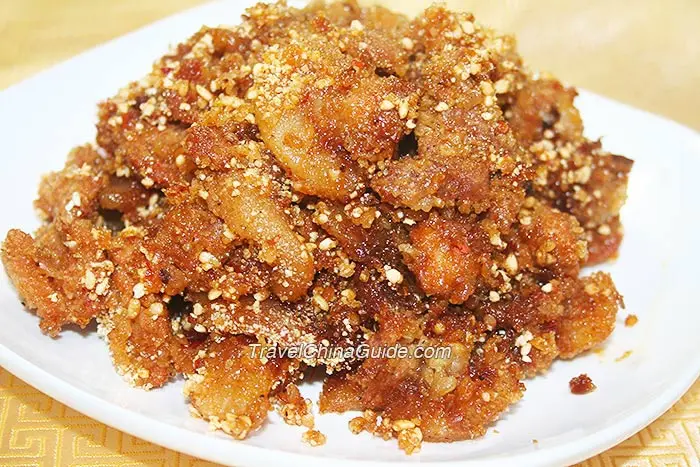 Recommended Eating Method
The Steamed Pork with Rice Powder is popular in many Chinese restaurants throughout China. The above recipe is the traditional and popular cooking method. People usually eat the dish by putting some steamed pork into steamed buns like sandwiches. In this way, it tastes delicious and but not greasy at all.
A Legend about Steamed Pork with Rice Powder
The Emperor Chonzhen of Ming Dynasty (1368-1644) was on a secret inspect to south China. One day, it was too late to return to his staying place, he then lodged into a local's. The couple was very friendly that they made the emperor a dish with the pork prepared for Chinese New Year. Chongzhen liked the dish very much and asked what it was. After getting to know it was steamed pork, he liked the dish even more. He then unveiled his identity and credited the husband as a royal chief. Since then, the steamed pork has become well-known and been carried down one generation after another.

Further Reading:
Top 10 Chinese Pork Recipes to Satisfy Your Taste Bud
More popular Chinese dishes cooked with pork:
- Last updated on Aug. 30, 2019 -