Sweet and Sour Pork Fillet
Chinese name: 糖醋里脊 (táng cù lǐ ji)
Style: Zhejiang Cuisine
Characteristics: Sweet and Sour Pork Fillet is reddish in color, and tastes sweet and a little sour. After the pork fillet is fried twice, it tastes crispy outside and quite tender inside.

The Sweet and Sour Pork Fillet, Tang Cu Li Ji in Chinese, is popular among many people at home and abroad with lean pork as the main ingredient. Although belonging to Zhejiang Cuisine, the dish also has a great fame in Shandong Cuisine, Sichuan Cuisine, and Cantonese Cuisine. People love its special flavor of sweet mixed with sour, its freshness and crispy taste. Read the recipe below to grasp the essence of cooking the Sweet and Sour Pork Fillet.

Recipe of Cooking Sweet and Sour Pork Fillet
lean pork, 300g
one egg

cooking oil, salt, white sugar, white vinegar,
cooking wine
, tomato ketchup, starch, white sesame seeds
Note: The amounts of the ingredients and seasonings listed above can be appropriately adjusted according to one's personal taste.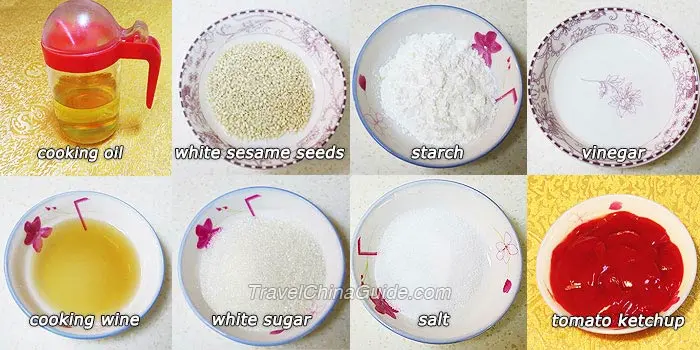 1. Cut the pork into thick strips. Add in salt, cooking wine and egg white. Preserve for 20min. Add starch into the pork and pour in some water. Thoroughly combine them in order that all pork strips are coated with starch. You can also use flour to replace the starch.
2. Combine tomato ketchup, vinegar, white sugar and a little water to make a sauce.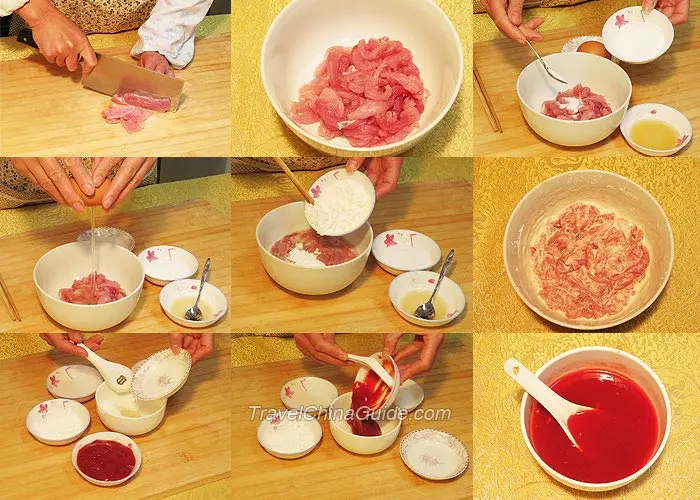 Methods:
STEP
1
Fry the pork strips: Heat a wok and pour in some cooking oil. When the oil is hot, switch to low heat and put in the pork strips one by one. Fry them for about 1min and pick out. Turn to big fire and re-fry the pork until golden. Pick out to drain off the oil.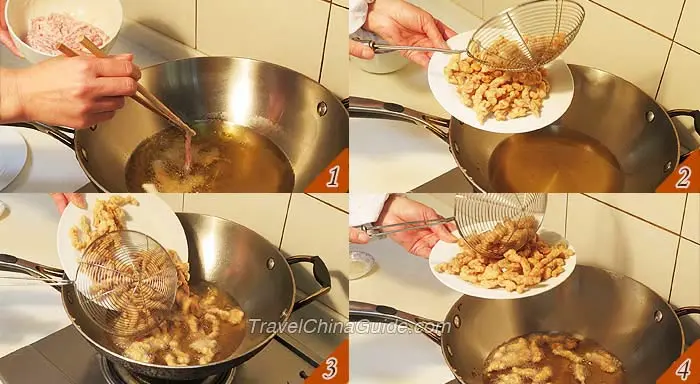 STEP
2
Fry the seasoning sauce and add in the pork strips: Leave some cooking oil in the wok and heat it. Add in the prepared sauce, heating until dense. Pour the fried pork strips into the wok. Fry over high heat for 1min to make sure the sauce coats them all.

STEP
3
Sprinkle some white sesame seeds and stir to mix with the pork. Turn off the heat and dish up.

Serve the mixture on a fine plate. The Sweet and Sour Pork Fillet is ready.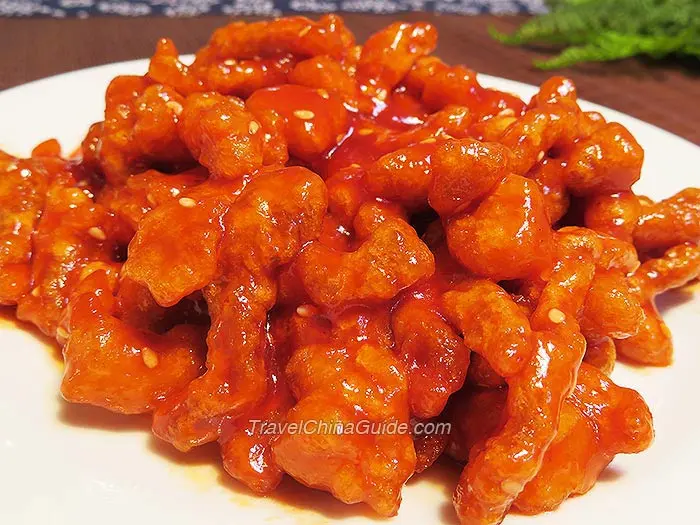 Tips on Making the Best Sweet and Sour Pork Fillet
1. The key to crisp outside and tender inside is that the lean pork strips have to be fried twice.
2. The proportion of salt to white sugar is critical. It must be perfected over time according to one's personal taste.
3. Frying the pork strips in the sauce must be quick.
Legend of Sweet and Sour Pork Fillet
It is said that Emperor Qin Shi Huang, the first emperor in Chinese history, was fond of the sweet and sour flavor. A mother in hope of her soldier son being promoted cooked the Sweet and Sour Pork Fillet and presented it to the emperor. Qin Shi Huang liked the dish a lot and highly praised it. Later, the dish was widely spread.
Our Guests Attending Cooking Class
Our Guest Cooking Chinese Dish


A group of Australian guests including Mr. Scott, Ms. Julie, Mr. Raymond and Ms. Helen joined our private tour with the chance of learning to cook Chinese food in Xi'an. Sweet Corn Soup was an easy Chinese soup recipe selected by them as beginners. Without doubt it came out successfully and tasted flavorful. They also tried to cook Sweet and Sour Pork Fillet, which is more challengeable. We were so proud of them when the delicious, color-flavor dish was served for lunch that day.

Ms. Tina & Ms. Heather Dining with the Hostess

Ms. Tina & Ms. Heather from USA had a Chinese food cooking class in the kitchen of a local family when they took our private China family tour in Xi'an. They learnt to cook Sweet and Sour Pork Fillet from the hostess. They said it was a vacation they would remember for their lifetime.

Our Guests in a Local Family

Mr. Johnathan from UK paid a personal visit to a typical family in Xi'an arranged by Travelchinagide and learned to cook Sweet and Sour Pork Fillet and Chinese Dumplings in the home of the family. He had much fun during the cooking and gave high praise to the special experience after the tour.

Further Reading
Top 10 Chinese Pork Recipes to Satisfy Your Taste Bud
Top 10 Chinese Dishes You Must Try

More popular meat dishes in China:
- Last updated on Dec. 25, 2020 -