Shredded Pork with Garlic Sprouts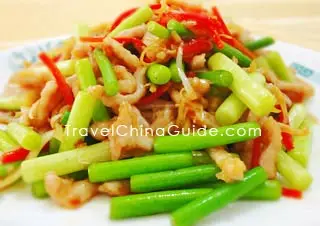 Chinese name: 蒜薹肉丝 (suàn tái ròu sī)
Characteristics: Cooking with this recipe, the pork in this dish is smooth and tasty, and the garlic sprouts are fresh and tender.
A seasonable home-style dish, this dish is rich in high quality protein, multiple minerals and vitamin C.
Garlic sprouts, flowering stems of garlic, have good effect for invigorating blood circulation, preventing cancer and killing germs.
lean pork 300-350 g
garlic sprouts 150-200 g
1 small carrot
1 egg
salt
pepper powder
soy sauce
cooking wine
green onion shreds
ginger shreds
cornstarch
Note: the amount of the ingredients especially the seasonings listed above can be appropriately used according to one's personal taste.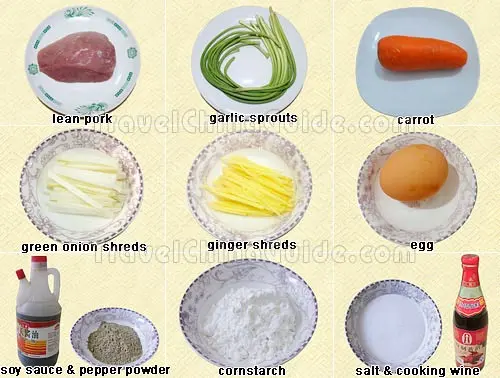 A. Clean the loin pork. Cut into thick slices that are cut into thin shreds. Put into a dish.
B. Snip the stalks of the garlic sprouts. Cut it into 2-3 cm long sections. Put into a dish after washing.
C. Wash and peel carrot. Cut into thin strips. Put into a dish.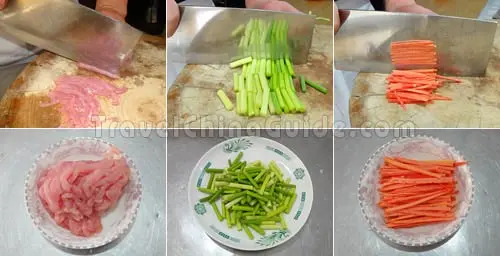 Methods:
STEP
1
Coat the lean pork shreds by adding in salt, cooking wine, soy sauce, egg white and cornstarch. Mix well and let stand for 10-15 minutes.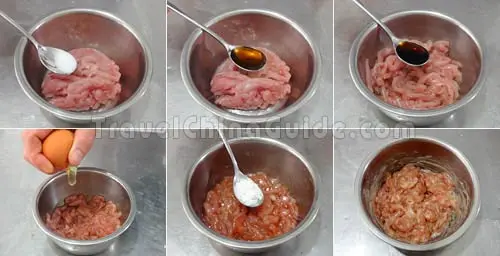 STEP
2
Place a wok over high heat until hot. Add some cooking oil, swirling to coat sides. Add the coated lean pork shreds and stir-fry until the meat turns pale yellow in color. Remove them from the wok through a colander, put into a dish, and set aside.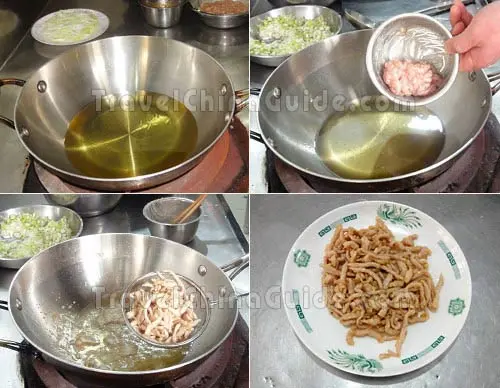 STEP
3
Add more cooking oil into the wok. Add green onion and ginger shreds when the oil is hot. Stir-fry for about 10 seconds until fragrant. Add the carrot strips and garlic sprouts sections and stir-fry for about 2 minutes. Add some salt and pepper powder, and stir-fry for 10 seconds more. Add the stir-fried lean pork shreds, and stir them well.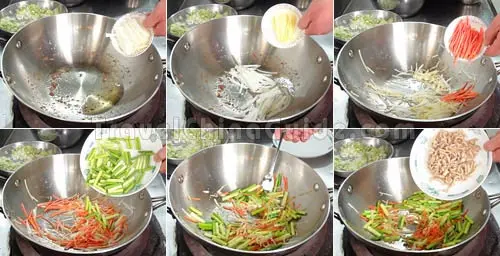 STEP
4
Turn off the heat. Pick all the materials out of the wok, and serve in a fine porcelain plate.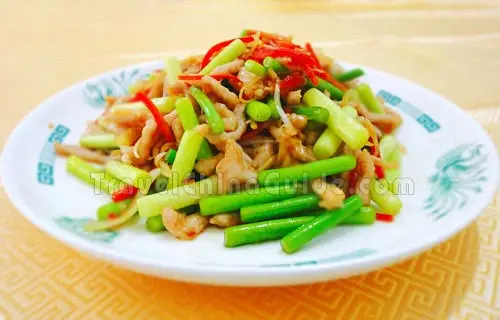 Story about Shredded Pork with Garlic Sprouts
A popular story from a Chinese magazine
Womanfriend
has it that there were a couple of lovers in a university. Every time they went out for meal, the boy would order this dish and jasmine tea. Day after day, the girl couldn't bear the boy's invariability and the smell of garlic sprouts finally, and she left the boy when he ordered the same dish again before the graduation. Later, they didn't contact each other for a period of time, but they were still missing each other in their deep heart.
One day, the boy sent a letter to the girl, in which he told a story – in a small town, a boy went to the market opposite his school to buy food after the class. On crossing the road, he saw a senior peasant throw out a load of garlic sprouts into the air, crouch down, and tears couldn't help flowing from his aged eyes. In that year, many family planted garlic, and had a good harvest thanks to the favorable weather. As a result, the price was rather low. Peasants had no choice but to sell them at a loss after hard work. The peasant was actually the boy's grandpa, and the boy was in fact himself.
After reading the letter, the girl went to the small restaurant where she often went with the boy when they were in the university. She ordered and savored thsi dish and jasmine tea again. Surprisingly, she found that they were such a perfect match. She then ran to the railway station to look for the boy.
Our Guests Attending Cooking Class
Our Guest in the Kitchen


On June 18, 2013, Mr. Scott, Ms. Julie, Mr. Raymond and Ms. Helen from Australia visited a local family during their tour with us in Xi'an. As what they said it was a rare chance to step into a Chinese family while traveling in China. They learnt from the hostess to cook Shredded Pork with Garlic Sprouts and Yangzhou Fried Rice. They were all beyond happy because they learnt how to prepare those healthy Chinese foods at home.

Ms. Julie Learn to Make Dumplings

On Dec. 11, 2012, Ms. Julie from USA entered a typical family in Xi'an with our guide to experience the locals' lives. In addition to a pleasant talk with the family, she also had a hand-by-hand cooking class through learning to cook

Kung Pao Chicken

, Shredded Pork with Garlic Sprouts &

Chinese Dumplings

. She favored this special offer so much that she said she would recommend it to the people around who have plans to travel to China.

Ms. Peggy & Mr. Douglas Having Meal in a Chinese Family

On Sep. 25, 2011, Ms. Peggy & Mr. Douglas from USA experienced our family tour with Chinese food cooking class in Xi'an. The couple couldn't wait to began their cooking class after a short greetings exchanging with the family. The hostess taught them to cook Shredded Pork with Garlic Sprouts and

Eggplant in Sichuan Style

first, and then she cooked six other dishes to entertain them. After the tour, they wrote to us in their feedback:"...Our best tasting meal was the one that we had with the local family in Xi'an..."

Further Reading:
Top 10 Chinese Pork Recipes to Satisfy Your Taste Bud
More popular meat dishes in China:
- Last updated on Aug. 30, 2019 -