2011 Customer Reviews
Clients: Mr. Tadeusz Krzywokulski & Ms. Krystine Danuta Krzywokulski
Country: Australia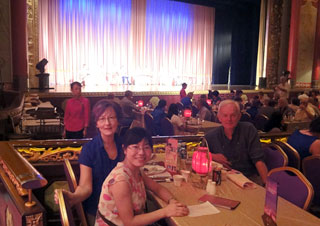 Dear Kelly,
Greetings from Australia,
It is hard to believe we have returned to Australia, after our wonderful journey. 
Firstly let me say that without our English speaking guides we would not have been able to enjoy it as much as we did. They were great. Our guide in Dunhuang was in our mind, the most knowledgeable but that is because he had a Masters degree, and his thesis was on the Tang Dynasty and his University major was Anthropology. He was amazing. He had so much knowledge.
We also found that our guide in Urumqi, Stella, was so amiable and seemed to go out of her way to make our visit so interesting and memorable. She was a really lovely girl. In fact, I think a female can sometimes do a better job than a male. They seem to have a sixth sense about the comfort and requirements of their clients.
We did however, like all our male guides and cannot say anything negative about them but somehow I think Stella was my favorite. Rahman in Kashgar was such a gentleman. We found he spoke very good English and was very easy to communicate with.
We found that in each city the guide who met us gave us information about the city we were visiting which we liked and then when we visited sites they were all very knowledgeable about them offering lots of information. We also found them very willing to answer our questions offering much knowledge and information which we liked very much. Every guide had a wealth of knowledge about each place we visited. All were different but all were very good. We were able to communicate with every guide quite well and without them we would not have enjoyed our trip as much as we did.
We enjoyed the local food which you organized for us very much because as foreigners we would not know what to order. They were very tasty. The environment and service at the restaurants was very good. We really enjoyed the Tang Dynasty Dinner in Xian very much.
When we first arrived at Urumqi we were disappointed with the quality of the vehicle and we rang you about that and were very impressed that our request for a car with good air conditioning, seat belts which worked and one which could accommodate out two suitcases in the boot, was attended to so promptly and the next day we had a 'better' car. We note that you also continued to make sure that our vehicles of the best standard. Thank you for that.
The hotels were of a 'good' standard. The breakfast which was buffet style certainly offered a huge variety of food, Asian and Western so we were able to find some food which we could enjoy.
The "Silk Road" Hotel in Dunhuang, was the highlight of all of our hotels. A real Oasis in the Desert. We would recommend it 100% to all travelers especially foreign travelers. We have already recommended it to our son who lives in Beijing; we were so impressed with it. It is a beautiful hotel. We found that if we had a complaint such as in Urumqi at the Hoi Tak Hotel where we requested a room change due to the strong unpleasant smell in the room, they were very obliging and moved us to another room. The hotel service was also very good, especially when you consider that areas we were traveling in are not so often frequented by foreigners. The rooms were clean, the sheets were white and clean and we understand that were the best standard available in those cities.
It is hard to pick just one place we liked but our visit to the Southern Pasture was so interesting because we interacted with so many of the local people there. The visit to Jiaohe Ruins was great as well, not to mention the Terra Cotta Warriors. It is hard to say which was the best. They were all so interesting.
It was certainly very nice to meet you personally and thank you once again for your excellent service and assistance in making our trip of the Silk Road so successful.
With kindest regards
Krystine Krzywokulski
Clients: Mr. James Lewis Deckebach & Ms. Rebecca Jean Deckebach
Country: United States
Email:
Hi Anny Lee and Ruby,
We enjoyed our trip and would like to thank you for the good job you and TravelChinaGuide did. It was remarkably easy working with you on the planning of the trip and we felt comfortable booking the trip with you online, which I would never have believed prior.
The guides were very knowledgeable and fluent in English. Sarah in Beijing did a great job. She took us to a great restaurant for lunch first day which was a la carte and had our first of many fantastic experiences with Chinese cuisine which is the world's best. That comes from a great cook who also lived in France's gastronomic capital for a year. The tours in Beijing were very well done. Sarah also took us to a fantastic restaurant for lunch the second day. The concierge also made a great recommendation the first evening for dinner. 
The next leg of the journey was Hangzhou on our own and we think it's beautiful enough to be included in tours of China. We had a memorable hot pot lunch then visited the silk market where we made many purchases. We also were part of a traditional Chinese wedding as the parents of the groom. We had red silk jackets made for us, a tea service ceremony and then a banquet.
The train to Shanghai was fantastic, 218 miles per hour, 352 kilometers per hour. I have been on the bullet train in Japan but this was better. A train ride should be a must for every tour you plan. Tracy was an excellent guide for the Shanghai. All of the tour event were great and she along with your other guides picked up on our enjoyment of food and we customized each meal at our expense. She added the Chinese Arts and Crafts Museum which was excellent.
Kevin was a great guide in Guilin and Yangshuo. He then suggested the "Impression Show" on the river which was great performance and we also took the river cruise in Guilin along the restored water front. The Li River was memorable and the bicycle ride in Yangshuo was a good introduction to the countryside and Chinese traffic. The farming village was fascinating. Kevin took us to some very good restaurants and helped us order the meals.
Hong Kong was mostly on our own except for a half day with Ben. Hong Kong is very user friendly for a westerner. The dining experiences there were first class. We saw the evening laser show from a restaurant 20 stories high.
Hotels met our expectation as 5 star with the InterContinental Grand Stanford being the best. We would be glad to recommend your services.
Sincerely,
Jim and Becky Deckebach
Clients: Ms. Lovella Goot Bernardo & Ms. Marevelyn Villacorte Matic
Email:
Hi!
This is marev matic. I am so sorry for my late reply. I just got the time to sort out all my emails. Hopefully Lovella was able to respond to you in an earlier capacity.
Although I have found Chinese food in china to be far different from what we known here in the Philippines, it is a little salty for my taste but I am satisfied with the places and meals that you have arranged for us. I am so glad that the meals were not what we feared (packed lunch) instead they were in good high quality restaurants. Portions were generous, tasty and clean. Although it would be better if someone in the restaurant would understand English and we would not need to ask our very efficient guide "ken" to translate everything we need. Our favorite meal would have to be the Peking duck dinner. I have tasted a lot and I can say that it was the best.
Our guide ken was absolutely excellent. He has an excellent with the English language. He was very knowledgeable and offered tidbits to every destination. I suggest that you always give him to tourists who are English speaking. Your clients would always be satisfied making them refer your company to many other interested parties. I have recommended your company to a lot of my Filipino friends and so have Lovella and have specifically told them to request Ken.
Our driver "Mr. Lee" kept the car clean and was always smiling every time he would see us after our walking tours.
Hotels were satisfactory and the rooms were kept clean.
Also I would like to commend The Crowne Plaza Hotel for the housekeeping's honesty and trustworthiness. After we checked out by lunch time, we left our things at the concierge. After about 5 hours, my friend remembered that she placed her newly acquired jade earrings which cost $500 in the vault which she forgot. We were still able to get them from the lost and found and the earrings were returned to us. That was absolutely amazing.
Thanks,
marev matic
Clients: Ms. Jane Kathleen Jeffries & Mr. Andrew John Lee
Country: New Zealand
Email: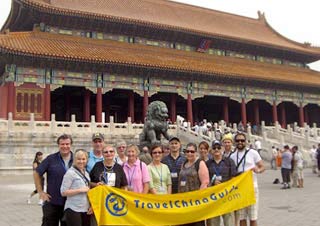 Hi, I do apologize for not replying many months ago. Unfortunately when we got home from our afterwards Vietnam vacation I was very sick and ended up in hospital. I'm much better now, and being on Xmas leave just catching up on a few things.
Generally the time spent at each site was about right for us. I just felt there was too much packed in to each day. We had one chap in our group from America who kept insisting we spent longer at a number of sites, especially the Great Wall, which meant most of us sitting around waiting for him to turn up so we could move on to the next site. We asked the guide to get a consensus of what everyone wished for, not just catering to one person and she did this successfully when again he requested longer time at various places.
The meals were all very good and having drinks included was much better than most tours. Perhaps instead of people choosing courses it would be quicker to have a set menu. With only one menu at each table it took quite a while for everyone to read and choose. The Dumplings meal was my favorite.
Both guides were very knowledgeable and informative. They were very good at imparting information about the sites visited and answering questions. I appreciate it must be hard speaking many languages, but I did find the repetition became quite annoying. Both guides would make a comment and then repeat the main words 2 or 3 times. The guides kept in touch with other colleagues and were good to change the program so that we didn't get stuck in long queues of traffic or large numbers of people at various sites, mainly in Beijing.
Both guides were very good, we could understand them well. It did probably take a wee while to get used to the first guide, not because of how she spoke, but listening to people who have leant English as a second language is always different to native speakers. I'm sure listening to people who have learnt Chinese is just as different for you. The drivers were very good; I didn't feel concerned at any time.
All hotels were better than expected for a 4 star. All had very good breakfasts. The Beijing hotel however was really not in an area of much interest. We had 3 nights there before the tour started and I wouldn't recommend it if doing that, but it was fine once the tour started. The Chinese Restaurant in the Beijing hotel wasn't very nice but the restaurant where we had breakfast was great.
The tour required a far greater level of fitness than I thought. This should be noted on the info for this tour. I felt there was too much added in to each day. The Kung Fu Show and the Theatre Show and dinner were a wonderful surprise and very enjoyable. Travel China Guide is a company I would recommend to friends and family should they be traveling to China.
Regards
Jane
Clients: Mr. Michael Dunning & Ms. Rhonda Frances Dunning ( a group of 14 members)
Country: Australia
Email: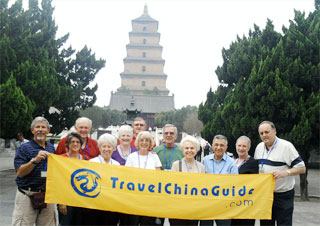 Hi Bruce,
What an awesome 15 day visit of an amazing country, so different from Australia in many ways.
The meals were all excellent and I was pleasantly surprised by the quality of food, excellent service by staff and the locations were wonderful, I have no idea how you would find such great restaurants on the 5th floor of so many buildings. I would recommend all meals and restaurants, however, it was easier on us if the Chinese meal was a set menu and we didn't have to make choices from the extensive menu ourselves as often we didn't really know what to order. Carol in Xian had a list of the recommended dishes and we found it very easy to follow her suggestions.
All of the guides were wonderful, in particular I felt Carol in Xian and Michael in Guilin exceeded their required duties, they were particularly happy and helpful and certainly well informed about their area. All guides spoke English at a very good standard, we were able to communicate our needs and wants and I felt very confident in their hands.
Our trip to Guilin was enhanced by the amazing guide Michael. A few of the ladies were interested in buying silk quilts and after a long day out with the group, Michael arranged taxis to take us to the silk factory where he negotiated on our behalf for excellent service and guaranteed quality of product, he then ensured we arrived safely back at our hotel, all of this was done in his own time and with no thought that we were taking him away from his family time. His efforts were greatly appreciated; in Australia we call this exceptional customer service and also going the extra mile? Thank You Michael.
Our guide in Xian was Carol, she has a ready smile and we found her attitude to be warm and friendly, she also went the extra mile when we had some spare time before dinner she took us to a tea house that was absolutely fantastic and gave us the opportunity to experience additional cultural activities, the young lady in the tea house was also a treat, she was very knowledgeable and we had a fun and educational time.
All buses were clean and tidy, they were always on time and were pleasant in their greetings. I was very happy that I was not responsible for driving in the cities and was able to trust your experienced drivers.
All hotels were wonderful, rooms were very clean and the breakfast was always very tasty with exceptional service offered at all times. All was made very easy for us with the guides arranging a group check in with our passports and baggage.
It was fascinating and certainly well worth the visit. Our guides made sure we were well looked after at every turn. I would certainly recommend TCG for quality and service; we felt very safe and looked after at all times.
Cheers
Mike and Rhonda Dunning

Tour reviews from group members Mr. Mihran Miranian & Ms. Yvonne Urciolo Miranian
Clients: Mr. Stephan Carl Jankowski, Ms. Louise Ann Jankowski & Mr. Adam Stephan Jankowski
Country: United States
Email:
Hello,
I have nothing but very high praise for the services provided by travelchinaguide.com!! Everything has worked out perfectly. We only have several more days in left in China and our experiences have been nothing but positive. The train tickets you provided us with were delivered to our hotel as promised. We encountered no problem with our air tickets. The tours, guides and drivers we arranged through you were wonderful. The guide's language skills were excellent. They provided so much information for us. They were very flexible and when a special request was made there was no hesitation. The vehicles and drivers were equally good.
It is always a little scary to conduct business over the internet. When my many inquiries were answered promptly, I knew that it was a sign that I had chosen a good agency to have made some of our arrangements. Without hesitation, I would definitely recommend travelchinaguide.com to anyone traveling to China. Although we did not book an entire tour, what you provided us with will always be remembered. Please feel free to post these comments as well as the email address. We would be happy to answer any questions from potential clients.
Respectfully,
Stephan
(USA)
Clients: Ms. Wynne Men Yee Ma, Mr. Patrick Yun Lung Louie, Ms. Monica Wan Ying Louie and Ms. Sharon Jung
Country: Canada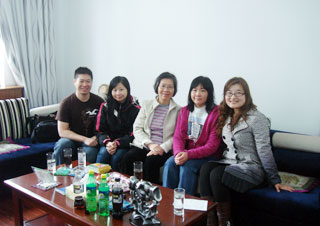 Hi Amanda/Wendy,
It was fantastic and was organized very well! Thank you again!
We were looking for a flexible private journey, since we had heard how difficult it can be in a country if you cannot speak the language, but at the same time we did not like the restrictions of large group. Your company gave us the perfect balance of structure and flexibility, and we had an absolutely incredible experience.
The lunches and dinners arranged by the tour were mostly very good. Overall, the best meal we had was the a la carte lunch on Nov 2 (after the Forbidden City tour). However, we are very surprised with how little English the restaurant staff had, especially being in the tourism business. 100RMB budget for each person for a meal was too much food. We would have preferred that meal budgets were not included, and we pay the bill ourselves according to what we eat and order instead.
Most of the guides surpassed our expectations. Their English was very good and most of them were very helpful, sincere, and considerate to make sure our travel experience was the best it can be. We had great conversation with most of the guides. They took their time showing and telling us about each attraction, and offered great knowledge about China (past and present).
The guides who we felt were excellent are:
Brian - Beijing
Carol - Xian
Sarah - Shanghai
The guides who we felt were exceptional and went above and beyond our expectations are:
Sally - Yichang
Mico - Suzhou
Evelyn - Guilin
Please let these 6 guides know that we appreciate all their time, efforts, and hard work to make our trip amazing. Please forward my email address to them, and let them know that they can send me an email if they wish.
Most of the drivers were great and very skilled. They made sure the car was clean, and that we got in and out of the car safely.
The hotels in Beijing, Shanghai, Guilin, and Guangzhou were excellent in terms of comfort, hygiene, and atmosphere, except the location of the hotel in Beijing was poor, because it was too far from city central and it was difficult to call taxis. The breakfast quality at most hotels were fair, but the breakfast at the Holiday Inn Central Plaza in Beijing had the best food. The staff at most hotels were not very helpful. We were surprised at the lack of service and the extremely low level of English of the hotel staff, especially at the Western chain hotels (such as Holiday Inn).
At first, we were worried about the legitimacy of an online tour company. Transferring a large sum of money to a company that we had not heard of before definitely takes a tremendous leap of faith. However, we were assured by testimonials and emails from previous travelers.
We would definitely use Travel China Guide again for future trips to China, and we would absolutely recommend this tour company to other travelers.
- Wynnie and Patrick
Clients: Ms. Say Po Yeo & Mr. Ban Keong Kee
Country: Singapore
Hi,
Thank you for your service. We enjoyed our time very much.

We loved the food that the guides had arranged for us, as it allowed us to taste the flavors of the different cities we visited. The restaurants and service of the restaurants were adequate, and we particularly liked the one in Lijiang's Baisha Village. That environment of the restaurant was nice and the food was also delicious.

The guides were all very knowledgeable of the history and culture of the cities and attractions. All of them had very good knowledge of the cities and attractions. Most of them provided a lot of interesting information. We could understand the information that all the guides shared in English. Our guides in Lijiang (her name is Angel) and Kunming (his name is Evan) were both very proactive and shared with us information in an interesting manner and also allowed us to taste very unusual food. They made our trip particularly interesting and fun. They shared with us the local culture by introducing different food and also shared with us interesting stories about their own way of life and experiences. Angel's bubbly personality demonstrated her passion for her work and made our trip very enjoyable. We are very happy being with them.
All the drivers were excellent! They were patient and friendly, and all were safe drivers. Their cars were always tidy and clean everyday.
The hotels were all clean and comfortable and the breakfast was acceptable.
Thank you!
Say Po
Clients: Ms. Michele
Country: United States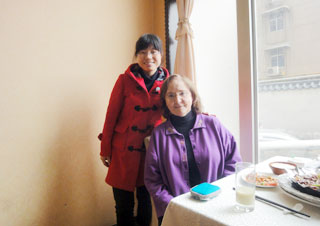 Comments:
See comments below. It was nice to meet Kelly at lunch in Xian. Thank you.
The meals/food were good and the atmosphere in the restaurants was pleasant. The entertainment at lunch was also interesting and enjoyable. The guides helped with the selection of food. Many Americans drink beverages with meals and having water available at meals could be considered. I liked having a good breakfast with several choices to start the day.
The guides were knowledgeable and offered much information about China, the culture, practices, history and the visited sites as well as answering any questions. It was an advantage of your tour/service to be able to ask my questions directly about China, its history, current practices, etc. The guides had very good English and were easy to understand.
The first driver in Beijing had an exceptionally good service attitude and also the Beijing guide had a very good service attitude. All drivers and cars were good.
The hotels were all very nice with good hygiene. It was important for me to have Internet access and that was available. I liked having a good breakfast each morning with several choices. The hotels in Beijing and Hong Kong were helpful in answering questions and arranging taxis. I liked the hotel in Beijing but considering the taxi situation in Beijing which both the guide and the hotel told me about it was not so convenient for getting around on the day I had free in Beijing.
Both the guides were very open about sharing information about China, Chinese culture, and history. The guide in Beijing provided suggestions about things to do in my free time and other sights I wanted to visit. Also the day I left Beijing there were many flight delays and cancellations. The guide in Beijing managed to get me a seat on the only scheduled outgoing flight to Xian. The guides were patient and understanding with me as a senior citizen and sometimes being slow.
Also, since there was a problem with flights from Beijing to Xian and I took a different flight than originally scheduled, it was necessary to call the 24-hour number when I reached Xian as the guide was not yet at the meeting/waiting point. The 24-hour number worked and I was able to connect with the Xian guide in a few minutes. Having the 24-hour contact number is a good safety net for any issues that might come up during the tour ... it is a big plus for your tours.

Please do not publish my name and email address on your website. I do not like to publish my name/email address because of "junk" email. I learned of your organization through the recommendation of friends. I would give a similar personal/private recommendation or referral to others (singles, women, senior citizens, etc.) for your services.
Michele
Clients: Mr. Max Leslie McFadzen (a group of 10 members)
Country: Australia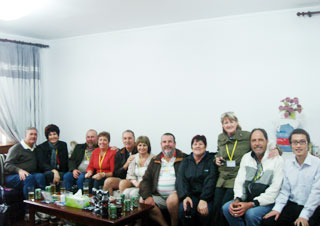 Bruce,
Our group would like to thank your company for a fantastic experience. Everything was well organized. We have been telling everyone who asks us about our vacation to contact your company for a well organized visit.

All meals were good; we did not dislike any meal. Enjoyed all. The restaurants you arranged were fantastic. Thank you. All our guides were good and enjoyed their company. They were very informative and we couldn't have asked for better guides and their knowledge was good. Buses were used and very clean. Good drivers and we enjoyed their driving. Breakfasts were good, and everyone in our group enjoyed. Hotels were good but the hotel in Beijing was a bit smelly otherwise the rest were very pleasant and comfortable. You are welcomed to use this guided China tour review on your column.

Thank you!!!

Max & Patricia McFadzen