2004 Customer Reviews
Clients: Ms. Christine U. G. & Mr. Dietmar G.
Country: Germany
Itinerary: 8 Days Shanghai - Beijing - Xian - Kunming
Dear TCG Team,
We would like to thank you and especially your guides Hua, Emma and Scott for the wonderful days which we enjoyed in your country. We learned so many new things and got a good impression of your wonderful country.
All of you took so much care on us and answered the questions we had with great knowledge and a deep understanding of the context. Naturally there are so many places which we have not seen during our trip and therefore we will try to visit China again. In any case the travel service of Travel China Guide will be then our first contact.
We wish you Merry Christmas and a Happy New Year !
Christine & Dietmar G.
P.S. Please find enclosed a few of our pictures we took during the trip.
Clients: Mr. Malcolm Macbride
Country: UK
Email:
Itinerary: 11 Days Beijing - Xian - Wuhan - Yangtze River Cruise - Chongqing
To the Management, Bessie Zhao and the Team
Thank you to all for your efforts in making my trip to China a very special experience. Your dedication to your clients is of the highest standard and the service you provide is second to none. Thank you for your seasons wishes and in particular your thoughtfulness to celebrate my birthday while in Chongqing. The knowledge and friendliness of each of the guides you provided made me fell very much ease and has increased my understanding of China and its history greatly. The skill of your drivers also needs to be commended as they made me feel very safe and comfortable in what I could only describe as a very hostile driving environment. Again thank you to all your staff, and I will return. Wishing you all a very merry Christmas and a prosperous New Year.
Your friend and very satisfied client
Malcolm MacBride
Clients: Ms. Elizabeth L. E. & Mr. Robert W. S.
Country: United States
Email:
Itinerary: 24 Days Beijing - Lhasa - Xian - Chengdu - Chongqing - Yangtze River Cruise - Wuhan - Shanghai - Huangshan - Suzhou - Shanghai
Hello Hebe,
Sorry for the delay in reply.
We just came back home, almost exhausted after 25 days trip with you. In the final days in China, we were just reluctant to return. We are planning back to China in a not remote future. I and Bob just want to say "a big thank you" to all staff at Travel China Guide that made our China vacation so smooth and impressive.
We have met so many beautiful and friendly Chinese, we think we will keep those faces and eyes and lovely smiles forever in our hearts. To be frank, initially, we felt a little bit uncomfortable by contacting a travel company in the other side of the world, we read the "testimonials" pages and contact a few who did business with you, what we received were all praises and strong recommendations which, of course, were unexpected. All the email responses were so efficient and prompt and informative.
We were lucky to have Nancy, Echo and many other nice young people as our guides, their knowledge of their hometown and command of English just amazed us! All of them were punctual and went out of their way to make our tours enjoyable and informative. It is hard for us to pick the "best" of all. All the drivers were very polite and always ready to help, one of them (I can't remember where) even understand and speak some simple English. You just can't imagine how happy we were with so many young and hard-working people. We saw China's future from these people.
We will recommend Travel China Guide to our friends who intend to visit China.
Again, thank you very much!
Elizabeth & Bob
Clients: Mr. Donald Harry Starr, Ms. Susan Cassey Starr, Mr. John Patrick Forsyth, Mr. Eugene Alcala, Mr. Charles Herbert Pulse & Ms. Beverly Ann Pulse
Country: United States
Itinerary: 4 Days Lhasa
Nyima- our guide in Tibet went out of her way to make our trip comfortable & fun. She shared a lot about local culture & helped to make it one of the best tours we have taken. We definitely will use TravelChinaGuide again! Good service, excellent sensitivity to our preferences & wonderful knowledge of the area.
Clients: Mr. Berner S. & Ms. Siegwart C.
Country: Switzerland
Itinerary: 18 Days Shanghai - Xian - Chengdu - Lhasa - Shigatse - Gyangtse - Tsetang - Zhongdian - Lijiang - Kunming - Guilin
Hello @ travelchinaguide, dear Ms Zhao & Ms Wang
We have safely returned to Switzerland. Thank you for organizing our trip across China.
We enjoyed it very much. We met many friendly people, guides and drivers. If I had to select one guide to award him/ her "best guide", I'd choose the Zhongdian guide - his knowledge about tibetan buddhism was unbeatable, very impressive.
If you have clients from Switzerland who need some good reference about you, you may forward my mail address to them. I will gladly act tell them about our great trip & excellent organization.
The meals were very good. In general, there was too much food served - we could not eat everything... However, we had to learn that this is quite usual in China to serve too much - we're just not used to this, as in our culture, usually, much smaller portions are served. But as I mentioned, the food was excellent. Nothing to complain at all!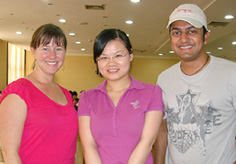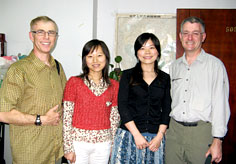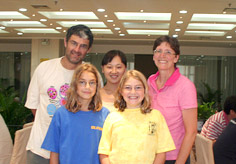 Our customers with our travel consultants