2017 Customer Reviews
Clients: Ms. Karolina
Country: Poland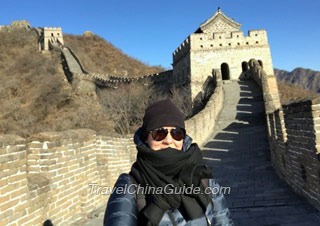 Hello Vera,
Thank you for your mail. I was about to wrote a mail to you with my opinion about the tour, Steven and of course your service.
I would like to thank you very much for your service.
Whole booking procedure was super advanced. Your team's respond was fast and easy with all necessary information. Payment procedures were easy as well. I received all information on time and was able to book the trip in few minutes. Contact with your office was excellent.
Great wall trip was a fun day. We spent really great time with Steven - your guide. He is very funny with good English skills young men. He gave us a lot information both about the trip itself and China. He took care of us perfectly and made this day very efficient.
I would like to thank you for your service and highly recommend your office as well as Steven as a guide.
Karolina
Clients: Ms. Krapp
Country: Germany
Email: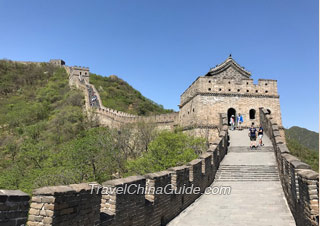 Dear Ms Linda Jing,
I am very happy that I booked with Travel China Guide. The whole booking procedure and the travel consultant was very good. Due to the excellent job of the guide, whose English was very good and due to the driver, I have seen and learned so much about Beijing and the Chinese great wall. Furthermore, it was a very pleasant day. I am glad that I booked this tour with TCG and I would recommend this trip to everybody who has only one day in Beijing between the arrival in the morning and the departure in the night. Thank you
Ms. Thea Krapp from Germany
Clients: Mr. Pauline Vela
Country: United States
Email:
Hi Angela,
Here is the China tour review:
First, even before the trip Angela, the travel consultant, was very professional and helpful. I had so many questions and was worried that I might miss the tour, because I was a transit passenger first time in Beijing trying to catch the trip, but she was very patient understanding.
Second, when I arrived at Beijing, I got lost trying to find the hotel, but the hotel receptionist actually came to get me. The guide, Ivy, was already waiting for me at the hotel. She picked me up. From there we picked another passenger and started the trip.
Ivy was very knowledgeable and considerate. She actually brought some morning snacks for me in case I was hungry since my flight has just landed. She was very knowledgeable. I really enjoyed the stories and history she told us about Tiananmen, the Forbidden City and the Great Wall. She walked a little fast, but I am glad, because we got so much covered in 1 day.
I will book another trip from TravelChinaGuide if I get another opportunity.
Thanks,
Pauline
Clients: Mr. Corey Schumacher & Ms. Hidemi Schumacher
Country: Japan, United States
Email:
Hi Kelly,
We had a wonderful vacation! Our Guides Candy, Susan and Amy were all Amazing! They explained the history of each city and had incredible knowledge of everywhere we saw. All guides gave us the survey and our drivers were excellent.
The hotels were very nice. The service at the hotels was excellent.
We really enjoyed all our tours especially the Terra Cotta Warriors. It was absolutely amazing!
Our travel consultant Kelly Wang put together a wonderful memorable trip. Kelly did a fantastic job and was an absolute pleasure to work with.
Thank you so much Kelly, Candy, Susan and Amy! You all made our China experience absolutely wonderful!!!
Best Regards,
Corey Schumacher
Clients: Mr. David Robinson (4 travelers)
Country: United States
Email: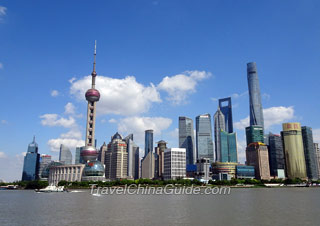 Hi Wendy,
We had a great tour and found our Shanghai guide, Ocean, to be especially good. He was our favorite guide this trip. He provided great information on the history Yu Garden and the symbolism in that garden. He was also excellent with our two daughters and really engaged them in practicing their Chinese language skills. I can't say enough good things about Ocean.
Also, all of our guides provided feedback forms to us and we filled them out and returned them to the guides.
We also enjoyed the gardens in Suzhou and our side trip to Tongli. Tongli was another favorite visit this trip. We loved the canals and boat rides on the canals.
Your tours and guides have been great and we always recommend TCG to friends and strangers. I've also provided a review on TripAdvisor under the Shanghai section.
Both of our trips (2015 and 2017) with Travel China Guide have been great and we are already starting to think about a trip in 2018.
Thanks,
Dave
Clients: Ms. Kimberly Warner
Country: United States
Email:
Dear Vera Yu,
Please forgive my tardiness in replying.
I have nothing but good things to say about all my experiences with TravelChinaGuide. The small group tour in Xi'an was excellent and my guide, Tracy, was top notch. Tracey confirmed my place and when I would be picked up by calling my hotel the night before the trip. On the drive to Terra Cotta Warriors, she gave a thorough history of their discovery and the historical context, enriching the experience for all of us. She correctly gauged how long to spend at each place and made clear plans on where to meet before going to the next site. I especially appreciated the opportunity to meet the man who discovered the astounding Warriors site while searching for water. I very much enjoyed visiting the Xi'an wall and the Small Goose Pagoda, as well and being introduced to the Muslim quarter. The driver was safe and patient with the traffic. It was a delightful trip- thank you, TCG!
Thank you,
Kimberly Warner
Clients: Rob Aitken & Mark Edwards
Country: UK
Email:
Dear Emily,
I'm now back in the UK after my trip to China. Carol and her driver were great - my colleague and I had a great experience in Xi'an and would definitely recommend using TCG to anyone else planning to visit your fascinating country.
I'll put a review on Trip Advisor.
I also used TCG for a train booking along with the travel agent that I use through work. Booking tickets through your company was also very easy - I was particularly impressed with the speed of response - and would also recommend the excellent high speed train network to anyone moving between Chinese cities. It is so much easier and more comfortable than flying.
Thanks for your part in creating a memorable week.
Best wishes
Rob
Clients: Mr. Roger McNulty & Ms. Veronica McNulty
Country: UK
Email:
Hi Emily,
I just wanted to let you know how much we enjoyed our holiday in China.
It was a terrific experience. You have some amazing scenery not experienced in other continents and wonderful historic sights. The engineering was also impressive. The people we met were all very helpful and enthusiastic, and our guides and drivers extremely knowledgeable and good at getting us to see what we wanted to see at a pace that suited us. Also, I was pleasantly surprised at seeing lots of the wording on signs repeated in English (particularly helpful at airports) and embarrassed that we do not have so much Chinese translation on signage in the UK. I did miss seeing any contemporary art venues and should have thought about this when planning but you can only do so much in 10 days.
All of the accommodation was good and some like the Wyndham at Xian and the Yangshuo mountain retreat were outstanding.
We had a fantastic and hectic time and should have come for longer.
Thank you for all your guidance and helpful advice in planning, arranging and during our visit. It was much appreciated.
With very best wishes
Roger and Veronica
Clients: Mr. francisco asensio & Ms. maria casado
Country: United States
Email: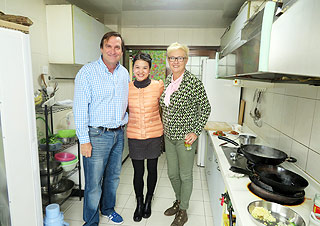 Hi Lydia,
It was a pleasure met you in Xian.
We are impressed by the trip. Everything was very well organized, good hotels, guides were very polite, educated and gave us the information we need. Cars and drivers were according to expectations. I would suggest less time in Beijing and more in other spots. It looks like1 a trip to the country side to Guilin is a must do.
Guides were beyond expectations. Martin in Shanghai took us to a nice acrobatic performance, and Wendy in Guilin came with us to a night lake tour. We appreciated this outstanding service.
Memorable highlights: Terracotta warriors, great wall, Shanghai night's skyline, Li River cruise, Hong Kong night sky line.
Javier
Clients: Mr. VINCENT YU
Country: United States
Email:
Hello Linda,
Thanks again Linda for requesting our China tour company reviews.
TCG has all the booking needs for the tourist like me, from scenic tours to transportation options. My trips at Zhangjiajie and Badaling Great Wall went very smoothly greatly due to the efforts of the Travel Consultants like Linda and Christina. I had a great time during both my trips because the Guides were all very attentive to my schedule and informative about each location visited. I received my train ticket at the hotel as notified by Christina via email. I also enjoyed the high speed train ride from Shanghai to Beijing. I will definitely browse TCG Website for future tours.
Vincent--