2007 Customer Reviews
Clients: Ms. Karen A. Hitchcock-Mort
Dear Judy: I am sorry I have taken so long to get this back to you.Everything about our China trip was wonderful and I enjoyed meeting you in Xian very much. The Beijing peking duck restaurant was an outstanding event and very enjoyable. I also very much enjoyed the lunch at the "auspicious restaurant"--the restaurant was beautiful and the food was wonderful. I also enjoyed the food very much at the small sichuan restaurant where we ate just before leaving Guilin. I enjoyed the food very much and the intimate atmosphere of the small restaurant gave me the impression that I was actually in Guilin rather than an onlooker. So for me it is a tie between the auspicious and the sichuan restaurant for my favorite. I do think that for a tour group of just the two of us, we often had way more food than we could possibly eat-- a menu that must have been designed for 4-6 people. You were absolutely right about the Holiday Inn in Beijing. I was very impressed with their facilities. Eating breakfast there every morning was so much fun -- we got to try so many Asian breakfast foods presented so appetizingly and still could fall back on our own western cuisine when we needed to have something familiar. It is an excellent hotel. All of our guides were wonderful. Their English and knowledge of the areas being toured were excellent. I can say very nice things about all of them. Winnie and Mr.kong were helpful, flexible, and stalwart against the Beijing traffic. Lily chan and Mr. wong were really good. Again the were flexible and enjoyable to be with. Lily's English is excellent and her knowledge of Xian made our visit there better than if we had been there on our own. Ting Ting chu and Mr. lu gave us a great short tour of Shanghai and then drove us out to Wuzen for the day. It was a lovely outing and Ting Ting shared with us what treats to buy for families to celebrate spring. We got to try things we would not have eaten on our own.Ting Ting helped me ship some souvenirs home at the post office and got me to the museum and dinner and to the portman acrobatic show all ontime. Ting Ting was sympathetic and when we told her, I had a certainty that she would let you know not to send people there any longer. Paul tong and Mr. liang showed us a marvelous time in Guilin and Yangshuo. I could not have asked for a better guide. He was very willing to discuss subjects that interest me like the Chinese and English languages, food, and culture. We felt very comfortable and in good hands in Paul's company. We were very sad to say goodbye to both Paul and Liang when it was time to get on the airplane for Hongkong. Every one of your tour guides English was excellent. We had no problem communicating with them and with their help anyone else in china. I know that each of your guides enhanced our experience of the places we saw. The cars we drove in were immaculate at all times. There was always a nice cold bottle of water for us morning and afternoon. I must say I enjoyed riding in the "red flag" sedan in Xian because it is a Chinese car and one I had never seen before. However familiar the other cars and vans were, they were perfect for their jobs and I always felt secure in them. Your drivers have great skills -- I went to China looking forward to amazing traffic and I was not disappointed! It is difficult for a tourist to get to know the people of the country in which they are traveling, especially with a strong language barrier. I feel that spending several days in each city with your excellent English speaking guides gave me a sense of the young people of China and I am most impressed. Winnie in Beijing went our of her way to find me a popular singer's CD to take home, Lily took me to a Chinese pharmacy when I caught a cold (I still have some golden drops), Ting Ting and corrie and I sampled the rice wine in wuzen and paul showed us his beautiful city, the li river, and yangshuo with skill and charm. I know we could not have done as much or felt as connected to china without your efficient organization and your wonderful guides. I hope to go back to China someday and I will certainly make arrangements through your agency. Thank you so much for a lifetime experience. I can't stop talking about my trip to China! Corrie
Clients: Mr. Xavier E. Santiago-Albizu, Ms. Coralee Perez-Pedrogo & Mr. Johnathan Caldera
Country: United States
Email: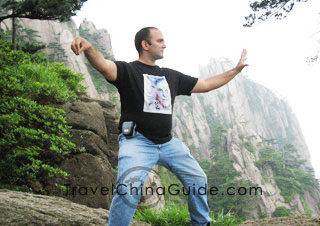 Photo offered by our client Mr. Xavier Santiago
Dear Maggie,
Sorry for having taken so long to get back to you. School started and I have been very busy. However I will be sending you feedback on your services during my vacation city by city with links to some photo albums you can feel free to copy and paste on your web page.
Guangzhou:
Meals: All were excellent. Cantonese food is the most famous type of Chinese food overseas. I liked each and every one of the restaurants I went to, especially the lunch restaurant. A suggestion I would like to give is that one of the meals be a Cantonese Dim Sum (Dien Xin) meal.
Guide: Lin was an excellent guide and would recommend her anytime to anybody traveling to Guangzhou. Very attentive, knowledgeable, and provided great service. She had excellent domination of the English language.
The hotel in Guangzhou was excellent and comfortable. It was in a good location with a shopping mall next door.
In terms of the Guangzhou tour itself I would like to offer the following suggestion. It would be nice to include a day trip to Foshan, especially to the Wong Fei Hung Museum. People who are fans of Chinese Wu Shu would love that.
Huang Shan:
Meals: The meals at Huang Shan were OK, but I definitely liked the food in other cities better.
Guide: Appart from the incident for which I have forgiven Phillip, his service otherwise was very good. His English and knowledge of the sites was excellent.
Hotels: They were OK.
The sites at Huang Shan itself are so beautiful. The landscape is so unforgettable. I would reccommend this tour to anybody.
Xavier Santiago
Clients: Mr. Adrian Ouvry & Ms. Iveta Ouvry
Country: UK
Email:
Dear Michael and Lynne,
Sorry for being so slow to give you feedback on the China tour you helped arrange for us last month. Of course we have been busy getting back into our work here in Sri Lanka so not much time to enjoy holiday memories! Here are our comments:
Meals were in general fine, especially the Beijing Duck and pork dishes and the dumplings in Xian. One criticism was that we do not like to be in the kind of restaurant where you are left on your own in a separate room (some Chinese restaurants are like this) - this is very boring, so the best restaurants were always the ones where we were sitting outside or together with other people.
There were no complaints about any of the guides, though some were better than others. Chen Jiali (in Xian) and Lobsang (in Lhasa) were the best - very outstanding guides, and Rebecca (in Guilin) was also very nice. The best was when they were able to take the initiative to adapt the program slightly to be flexible. This is very important, because like many independent tourists, we wanted to see extra things sometimes, or to take more or less time at different places. For example in Lhasa, there was one extra monastery that we wanted to see which was not on the itinerary, and in Xian we wanted to see some examples of peasant art (also not in the plan). So when Lobsang and Jiali were able to accommodate our wishes, this was very nice. On the other hand we were disappointed with the Badaling Great Wall of China - we would have preferred to see a more interesting part of the Wall (such as Simatai where there are less tourists) but Newman was not able to change the schedule to accommodate this, so we were disappointed.
Briefly, here are the highlights and disappointments of each place:
BEIJING: Forbidden City amazing, also the parks and lakes north of the Forbidden City were very nice. However, the Great Wall at Badaling was much too full of tourists -impossible to appreciate. We would have preferred to go to Simatai.
LHASA: wonderful, the highlight of our China trip, I wish we had had more time to spend there. The only problem was the altitude - we were sick for the first 24 hours - you should tell other visitors to bring paracetemol or other pain killer with them when they go, otherwise first night is no sleep!
XIAN: also very fascinating place, much much better than Beijing, we liked it here. National museum, terracotta army, wild goose pagodas, City walls, Juma Mosque all very interesting.
GUILIN: nice place for one night, but YUANSHUO was really amazing, we would have liked to spend a night here and more time instead of having 2 nights in Guilin. Li River tour was very beautiful.
SHANGHAI: a big disappointment, we did not like Shanghai at all. Very little character or history left, all modern buildings and construction, extremely boring. We wish we had not come there and spent more time in the other places instead (Tibet, Xian and Yuanshuo). The Shanghai Acrobats were spectacular, and there were some nice exhibitions at the central Museum and art galleries, but not enough to keep us occupied for three days.
We had 4 drivers in the different locations we were visiting. They were all friendly enough and the car was clean, however the most friendly and helpful of all was the driver in Xian (sorry, can't remember his name!)
Chen Jiali and Lobsang Tsukphu were both very nice people and excellent guides. They showed real interest in what we wanted to do and in us in general, so we quickly felt we could trust them. It seemed that this was more than just a job for them, they really cared about the places that they were showing us, and also looked after us very carefully. In many ways they were the highlight of our holiday and I would highly recommend them to any other visitors looking for tour guides.
Thank you once again for helping arrange such a wonderful China trip for us.
Adrian and Iveta Ouvry
Clients: Mr. Stephen Jessel & Ms. Jane Jessel
Country: France
Hi Judy and Brenda,
I should begin by saying that we were thoroughly satisfied with the services provided by Travel China Guide. We had some problems but they had to do with the flights of China Southern and were not your fault. Perhaps the itinerary we asked you to arrange was too ambitious.
Meeting and greeting. Perfect: from arrival at Guangzhou to departure from Beijing we were met and seen off at airports and railway stations promptly and politely.
Hotels. Xian excellent, Dunhuang fine (though they refused to give us a drink with the lunch we had there). Turpan was fine. Because of late planes (we arrived at Kashgar at 06.00 instead of 22.25 the previous evening and had four hours sleep at the hotel there; we got to Urumqi at 03.00 instead of 23.00 the previous evening and spent three and a half hours at the hotel there) it was hard to get much of an impression of hotels in Kashgar and Urumqi. Bamboo Garden in Beijing is pure delight.
I would suggest that if you have a late arrival from Kashgar and an early departure from Urumqi the next day you should use an aiport hotel rather than the Grand Xinjiang which is fine but about 25 minutes from the airport.
Guides. Three out of four were A+. Miss Zhang in Xian, Miss Shan in Turpan/Urumqi and Mohammed Ali in Kashgar were first class: spoke good English, were helpful and knowledgeable and did not keep steering us to factories and shops. The only disappointment was David in Dunhuang who is very pleasant but his language skills were yet to be improved.
Meals varied from the excellent to the adequate.
To be honest when you are travelling and after a big hotel breakfast you do not need much lunch: often too much was provided. One meat plate, some vegetables, rice/noodles is really enough. Westerners eat less than you think, perhaps.
But overall we have nothing but praise for your organisation and we would be very happy if you want to use us a reference.
Thank you again.
For our information the French agency Voyageurs du Monde charges US$1944 just for the Xian-Dunhuang-Turpan-Urumqi-Kashgar-Urumqi trip (six days, five nights) with two people sharing.
So your prices are very reasonable.
We hope to return to China soon and will unquestionably use Travel China Guide.
Very best wishes
Stephen Jessel
Clients: Maria Vranken & Anais Waumans
Country: Belgium
Dearest Sally Si & William Ye,
Thank you very much for taking good care of this wonderful 'China Experience' we had during this trip. The planning was -as the overall comment- very good ! It was also very nice that we were able to meet you (shortly) in Xi'an and we were happy so meet 'the face behind our emails' :-) We are happy to give our comments so that you can help other customers in the future with your services. You can publish these comments on your site if would like to do so. If you would need more information, don't hesitate to contact us.
general :
The communication during the planning of the trip was comforting and to the point. You always gave very accurate info on the planning and the changes. Pricing was very fair and followed correctly. We had no surprises during the trip, which was a very good 'low-stress' factor. All of the local guides were at the meeting point (airport, station) and they had a good name-tag in their hands. They clearly knew who they had to expect. All of the flight (train) tickets for the connecting travel were given in time and correctly. All of the drivers we had in all the different places were very professional and friendly. Another big PLUS for the organization is the provision of some bottles of water during the day. Many thanks for this complete service !
Beijing :
The local guide was formal and correct. Sometimes she was a little bit too fast in showing us around, but she had a very good understanding for us having our 2year old daughter with us. She took good care of her while we were taking some pictures. The Hotel was PERFECT ! The peking-duck diner and the peking opera was for us a little bit disappointing; The show in Xi'an was much better !
Datong:
Here was the local guide miss May (English name) and she was very, very good. She had a very good knowledge of history and society, she was discrete and yet always there when we needed her. She also gave us good tips for having a dinner in the evening. It was a real pleasure having her as guide and we would like to recommend her to all the other visitors of Datong ! The hotel on the other hand, was poor and we would like to recommend you to choose an other hotel in the future.
Night train:
all went wel, but it was a little bit late (23.30h)
Xi'an:
The local guide was very professional. The tour program was changed (upon our approval) and this was much better : first some history in the provincial museum and after that all the sights to visit. A good point of the guide. She took us also to another restaurant than planned (again with our approval) and this turned out to be a very good thing to do (The Prince restaurant is absolutely great). She also combined the Tang dynasty show with the dumpling dinner at that same place which was OK for us ! The show was very beautiful ! The Hotel was good !
Night train:
a great experience
Guilin:
Here we had William as guide. He is also a TOP guide. He is gentle, well informed, gave good information, gave us options for the day (the water in the Li-river was rather low so we could not complete the whole cruise). We like to recommend William as the guide to ask for when visiting Guilin. The hotel was good but perhaps a little bit too 'western' for a China-trip.
Kunming:
Here our local guide was the young Linda. She will be a good guide but still has a lot to learn. Her background information is not yet so big. She also took us to 3 'obligate' shops (Pearls, tea, local collector) because she 'had to'. (This to our big surprise, but she seemed very honest). She was very friendly with our daughter and took good care of her (we trusted her).
Clients: Mr. Jerome Libbin and Ms. Raquel Libbin
Country: US
Hi, Maggie and Ruby,
Thanks for your great help! We have a wonderful tour in your country. Both the guides in Kunming and Xian are excellent, who are friendly and knowledgable. Very sensitive to our demands. All arrangements are perfect. We have enjoyed everything. Beijingtrip has done a wonderful job.
My best regards to you and those two guides.
Thanks again.
Tom Li
Clients: Mr. Tan Eng Beng, Mr. Ho See Jui and other 10 members
Country: Singapore
Email: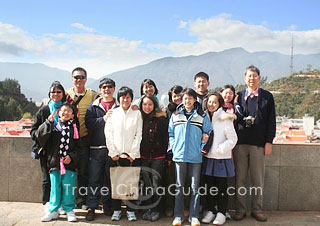 Photo offered by our client Mr. Tan Eng Beng
Dear Cynthia/Irene,
Sorry for this late reply, as I just returned from Shanghai yesterday afternoon. Thank you for the excellent arrangements for our vacation, and everyone in our group enjoyed themselves very much. We will certainly go through your company for any future customised itineraries we need in your country :)
On the specific areas that we have comments on:
1) Meals - the food was good and the the variety of dishes very wide. There was more food than we could finish every time :) We liked the chance to try the local dishes, and every meal that you catered for gave us this opportunity. It was unavoidable that after 7 to 8 days, some of the children craved for their own Singaporean food, but this is unavoidable on any longer trips :) If there is one meal that we have to highlight, it was the dinner at Lijiang on the second day there, on Tues 11 Dec 07. The deep fried (or barbecued) meat slices was especially tasty :)
2) Guides - we spoke in Chinese throughout, and occasionally the guides do use the English terms where they find that we are unfamiliar with a particular Chinese term. We are very happy with the services provided by all the guides, and the trouble they took to fill us in on the local history, culture and customs. Special mention must be made of Yanmei (Dali) and Mr Tuan (Lijiang), though the other two also gave good commentaries and were helpful towards all our requests. Please convey our regards and appreciation to them, and can you also give all of them my contact should they wish to contact us or come by Singapore in future.
3) Buses and drivers - we spent most of the trip with Yang Shi Fu (Dali to Zhongdian), so it is natural that we have a deeper impression of him. He was most helpful and humorous in his own way :) We really appreciated his company and useful advice from time to time. We spent only one and a half day with Wu Shi Fu in Kunming, in far more challenging traffic conditions, so it is hard to compare the two.
In conclusion, the services you have provided is the best way we could have travelled and experienced the local sights and rich culture in places such as Yunnan, where it would have been difficult for independent travellers like my group to move around on our own. The features, such as a local market and traditional houses, that the guides introduced to us gave us a much deeper understanding of the land and peoples we move through than we could otherwise have known. I attach a group photo of the 13 of us at the Erhai Park at Xiaguan (Dali), on the day we arrived.
Thanks again for you assistance and efficient service and best regards.
Clients: Ms. Lina Ngo and Mr. Christopher Pellarin
Country: Canada
Hello there,
Here is the completed comment sheet. Please DO NOT publish my email address, but yes, it is okay to publish any comments I make.
We had one guide (York) and a driver during our whole Tibet tour and both were excellent and treated us very well. York's English was good and we did not have any problems communicating. He was knowledgable about the places we visited.
The driver's attitude was great, and he helped the tour guide point out different things every now and then. The car was very clean and we had no problems. It was very comfortable.
Our tour guide, York, was very helpful and we especially enjoyed his ability to bargain for us at Barkhor street. Being foreigners, we knew that we would be overcharged for things. York helped us and told us when we were being overcharged and tried to help us bargain and lower prices, which he did effectively. We bought a lot of souvenirs in Lhasa and were able to get more for our money with York's help, which we appreciated very much. He was very patient when we stopped to take hundreds of pictures!! Never appeared annoyed or impatient, he was a very good tour guide. When we told him our meals were not very good for dinner, he tried to arrange with the restaurant manager a guaranteed good meal for us on our last night and ordered different dishes that we would like. We appreciated his efforts, but are sorry to say that although York did all he could to ensure a good meal, the restaurant did not and what York placed on our order was not what was served to us.
Overall we enjoyed our trip to Lhasa, Tibet and will remember it as a once in a lifetime amazing trip!
Thank you, if you have any more questions, please feel free to email me.
Lina Ngo
Clients: Ms. Tanaz Shroff and Mr. Yezdi Rustomji Shroff
Country: Australia
Email: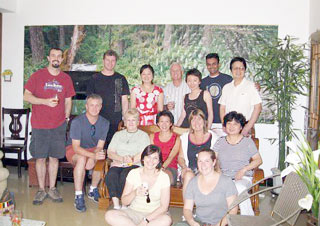 Dear Judy,
We have had such a wonderful time. I have recommended you to 4 of my friends and they are going to come down in 2008. We had the best time and both me and my husband find this to be the most memorable vacation of our lifetime. Our guide Ray in Beijing was WONDERFUL. He brought the whole group alive and kept us laughing and amused. His knowledge is very vast and could answer all our questions. We also saw that he is proud of his country and was very happy whenever we asked him anything about China. Our best stay was ofcourse at the Holiday Inn....where we never for once felt uncomfortable. When we went down for breakfast at the "Salt & Pepper Restaurant" the staff were very very efficient, prompt and friendly. We loved every single day and thoroughly enjoyed our stay at the hotel.
Or stay in Xian was also very very enjoyable and the place was also very interesting. Our guide was young and had good knowledge. She did not have the same jovial nature like Ray but she was always smiling and friendly. She also had good knowledge of the places she took us to and the best part about her was the way she selected the food for us at all the restaurants in Xian. The hotel in Xian was good but not the service. When we went down for breakfast the staff were not attentive and gave us the impression that they could not be bothered if we ate or not. While at holiday Inn in Beijing the staff came to ask if we wanted tea or coffee or anything more than twice. We felt like strangers at the hotel in Xian.
We enjoyed the shows very very much. Guess what !!?? my husband, me and 4 of our good friends are going to do this tour ONCE AGAIN but will also include the other places like Tibet, Hong Kong and Macau. If you have a trip that includes all these places PLUS Beijing, Xian and Shanghai. Please forward the information to me.
Thank you very much.
Regards
Mrs Tina (Tanaz) Shroff
Clients: Ms. Alysa Jayn Baker and other 7 members
Country: Canada
Email:
Dearest Cynthia Xiao/ Irene Zhou,
Thanks for the excellent vacation you arranged for us. We did have a wonderful time in Beijing. Here I am pleased to provide our happy comments for you.
The meals that were arranged for us were ok but we would have preferred to choose our own options more. The best meal that we had was the one where we got to choose our own menu.
Our driver was very accommodating and the vehicle was always clean.
Our tour guide was Cindy and she was great and conscientious! She was very knowledgeable about the places we went on the tour. Her English was as good as native speakers and we definitely had no problem in communicating. She was also offered us advice on the things we wanted to do on our free time. It was great to have our own vehicle and to choose our own schedule. I would definitely recommend Travel China Guide to my friends and I would use it again in the future if I were to return to China.