2018 Customer Reviews
Sep 21,2018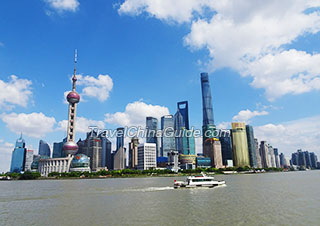 Hi Wendy,

Nice to meet you in Xi'an! Overall, it was a great trip and I will highly recommend it to my friends and family.

My favorite guide was Mulan in Shanghai and I really liked Maggie in Beijing too. Both of them did outstanding jobs! Mulan was very personable, I found out that she also served my friends who I had recommended your company. Our group in Shanghai was small (only 4 of us), we got to go at a slower pace because I'm overweight. She would answer all of our questions and took her time with us and even helped us get tickets for the Shanghai Acrobatic show and thank Maggie for helping us get a discounted ticket price.

And Maggie always made sure we had water available, especially when we were going to do much walking on the Great Wall. In Xi'an, we had Jacky. I liked his personality and he was very informative as well. I loved seeing the Terra Cotta soldiers and meeting the farmer who found that first piece of Terra Cotta Warriors, which was awesome!

The highlights of the journey for me, was climbing the Great Wall, visiting the Terra Cotta soldiers, and seeing modern city Shanghai. Besides, on my last morning in Shanghai, I did make it to the Shanghai Tower and was able to take the elevator up to the top. The view was amazing.

I were definitely pleased with the tour and our experience, and highly recommend TravelChinaGuide to anyone.

Thanks,

Kris
Clients: Mr. Yvan Van Gansen & Ms.Inge De Muyer
Country: Belgium
Email:
Itinerary: Yangtze River Cruise
Sep 20,2018
Dear Ms. Emily Xin,
Thank you for your arrangement for our Yangtze River Cruise tour, and we just want to say that you did a very great job. Everything in our journey on the mighty Yangtze River went smoothly, and we really had fun. Also your booking system runs as it should be. Nice work!
Being a European visitor, I come to China so as to get in touch with Chinese People and their culture and traditions, their fabulous religions and landscapes as well as their fascinating cities and lovely countryside... The cruise on the mighty Yangtze River was a must-do part of our journey through which we had a look at the graceful natural landscapes, such as the three gorges. It was really fantastic.
We have had some Chinese food, and eating the local food is part of the discovery of the unknown places. That is what travelling is all about. In a few months, I plan to part on a 6 to 8 week journey to the Silk Road and I will certainly contact TravelChinaGuide and you again.
See you,
Yvan van gansen
Clients: Mr. Mccain & Mrs. Mccain
Country: United States
Email:
Itinerary: 3 Days Suzhou - Hangzhou
Sep 17,2018
Dear Ms. Lexi Yang,

We have just returned from your country for about one week and our tour this time combined business and pleasure. We took one day in Suzhou with a private guide and a driver and another two days in Hangzhou. In each trip, your consultant is very helpful to customize the itinerary that we wanted. To ensure that our needs for pickup and drop off smoothly, we received confirmation and information faster and more efficiently than our expectations.

Chris in Suzhou was knowledgeable and personable and we were pleased with his help. What is pleasantly surprised, Derek in Hangzhou, was absolutely awesome! He not only knew the history and description of each place that we visited, but also had a great ability to put the places in historical context with the rest of China and even the world. He was very personable as well as interesting with a great sense of humor. We wanted to spend even more time in Hangzhou just to continue to chat with Derek!
This is the second time we have used TravelChinaGuide services (two times in Beijing before) and we would certainly do so again and recommend you highly!
Thank you,
Mccain
Clients: Ms. Janelle Baird (3 travelers)
Country: Australia
Email:
Sep 15,2018
Hi Wendy,
My husband and I had a 8 days trip with my father through your company recently. I just wanted to pass on that both Mulan in Shanghai and Maggie in Beijing were excellent representatives in your company. They were both attentive to the needs of the group, showed us interesting things about the city and were full of knowledge about the areas.
Maggie was great at helping us find great places to photograph monuments and we have an excellent bunch of photos to remember our trip by. She was fabulous at ensuring the group saw everything and highlighting things of interest. She made our Beijing visit very fun with her bright and welcoming personality. Maggie also made sure that the group had cake and sang to celebrate my father's 60th birthday. I want to say a special thank you for this as it was the highlight of my trip.
Mulan went above and beyond! From getting us the tickets to the acrobatic show to ensuring everyone saw what they wanted to in shanghai. I really felt that when she took the four of us around, she catered to our needs and really cared about us as individuals.
I was most impressed with the catering by Mulan while Maggie also ensured that there was plenty of vegetarian food for my husband available. Mulan really went the extra mile ensuring Scott really got to taste a lot of what Chinese cuisine had to offer. Her selections for the meat eating guests were also interesting and allowed us to experience unique Chinese food in a way we could not at home. Delicious!
I want to thank the whole team for enabling this trip for my dad's birthday. It really has given us some memories that we will cherish. It was fantastic fun and we made loads of friends. I will be recommending TravelChinaGuide whenever I talk about my holiday.
Regards,
Janelle Baird
Clients: Simon & Kim
Country: Canada
Sep 13,2018
Emily,
Our tour with your company was excellent. We felt it was a fabulous introduction to China, both in the sights and the culture. It also gave us the opportunity to see all of the primary iconic sights in each of your cities.
All of the guides were excellent, very friendly, knowledgeable and well-organized. They told us lots of historical information as well as showed us the real Chinese daily lifestyles. Besides, the drivers and the vehicles with air condition were also good. I really appreciated that ample water was provided on the car.
What's more, the breakfasts provided by the hotels were good. And all of the lunches and dinners provided through the trip were excellent. There was always a large variety of food for all group members. Personally, food was one of the important concerns going into my trip arrangement. To be honest, the food was truly wonderful during this journey.
All in all, we were very pleased with our trip and the TravelChinaGuide. We loved our time in your country and will certainly go back in a few years to explore this country further. Thanks for all your help planning for the trip.
Best Regards,
Simon & Kim