2001 Customer Reviews
Clients: Rose Franco
Country: United States
Email:
Itinerary: 11 Days Beijing - Xian - Yangtze River - Shanghai
"Marsha and I had a wonderful time on our visit. I must compliment the local guides because they were so kind to us and helpful. I dont remember the name of the young woman who picked us up in Chongqing, but she was very helpful when we had to wait for an extra suitcase that the airline had accidentally left behind in Beijing, and she was able to tell us so much about the city of Chongqing. Charlie in Wuhan was very helpful also. Our boat was late getting in to Wuhan, but he was there to meet us and gave a great tour of a temple and the bonsai rock garden.He also told us so much about Wuhan that Id like to return there in the future to see more of the city. The boat tour was wonderful.
We were treated very well and loved the shore excursions. Thank you so much for all your help. I will definitely use your services again the next time I go to China."
Clients: Bob Dinger
Country: United States
Email:
Itinerary: 4 Days Beijing
"My Son and I had a very nice tour of Beijing and the Great Wall! Your tour guide, Vivian, was very efficient and made our visit very enjoyable."
Clients: Mike and Marcia Follin
Country: United States
Itinerary: 7 Days Beijing - Xian
"My wife Marcia and I just want to thank you for a wonderful experience in China. We could not have asked for better guides or travel arrangements. Your employees, Shu in Beijing, and Dorothy, in Xian, were just great!
We were so fortunate to have found you. Our friends on board the ship who made arrangements via the ship line and other agencies had a very difficult time arriving in Beijing, but because of your employees and their helpfulness we were able to arrive in Beijing early. Our shipmates unfortunately did not arrive until four hours later! We appreciated so much all the help and information that was given to us by your people. We have and will continue to highly recommend your company to our friends who frequently travel to China.
Thank you again for making this a life long memorable experience. We wish you well in the future and perhaps will be using Travel China Guide again in future travels."
Clients: Bobby J. Moon
Country: United States
Email:
Itinerary: 8 Days Beijing - Xian
"I have enjoyed working closely with you nice ladies via the internet. You have always been so professional and promptly responsive to any and all of my inquiries about the tour you arranged for my party of ten covering the ancient and modern day capitals of China (Xian and Beijing) during the period of October 16-23, 2001. Overall my group rated the tour an exceptional value for money spent; it met or exceeded most of my groups expectations. Both of our English-speaking guides were exceptional: Ms. Nicole Xuemei Su and Ms. Peggy Blue Jing Lan in Beijing and Xian, respectively. The drivers were neat and the air conditioned minibuses were first class. The Gloria Plaza Hotel Beijing was excellent as I was already familiar with it; the Jinguo Hotel in Xian did not measure up to my groups expectations since it was musty due to smoke and mildew and is showing its age.The food was generally good but some thought should be given to adding more variety in the form of noodles, dumpling and more seafood/fish items. The Dynasty Restaurant (our first night in Xian) was a disaster since we were promised Cantonese food.Cantonese food it was not since we had five Cantonese people in our group who definitely knew better.Dynastys food is too oily also for Western taste; noodle soup and dumplings would be a big change of pace by then.
Special praise for Ms. Peggy Blue for helping one of my group recover left-behind articles in the Gloria Plaza Hotel Beijings room safe. We were very impressed with her getting all the details taken care of. We glad to see Ms. Nicole Sus familiar face greet us upon our return to the Capital City from Xian in order to catch our going-home flight too.
Other suggestions: having a tourist map of the cities to show the tourists the orientation of hotel location to various sites would be helpful; taking the "representative house" off the Hutong tour since it is not a true representation of Hutong life; add more free time for shopping away from the factories; and keep doing a wonderful job. Overall on a scale of 0 - 10 with 10 being the highest or best rating, I would give the tour 9.0- 9.5 - superb, in fact!!!! Not bad since this was my third trip to China in the last 1 1/2 years!!! Your company is as good as Ritz Tour in most respects but they use ALL ***** hotels.
I will definitely consider Travel China Guide my first choice for my next trips to China and look forward to working with you all again very soon!"
Clients: Kenny D
Country: United States
Itinerary: 4 Days Beijing
Food: excellent.. could have used a bit more variety...
Itinerary: A bit long on pagodas.... and old guys palaces....Great Wall... WOW... a must see. Could have used another hour there in my opinion... The constant funneling toward shopping is overplayed. Its painfully obvious they want you to spend money... which is fine... but gives the trip too much of a commercial slant in my opinion. The "representative" house... as you pointed out... is simply a joke....anyone can see thru that.
Guides: English was adequate, overall well qualified....
Transportation: well done....
Hotels: Gloria Plaza in Beijing...excellent; Jinguo in Xian...smoke smell in rooms was bad.
Overall Agenda: Could have used a couple of 3 hr. downtime breaks every 3 days or so. Personal time for napping, reading, excercise etc.The trip could have used more cultural experience...rubbing shoulders with nationals. A little Tai Chi lesson.....and/or a little bike ride. These could have been fun.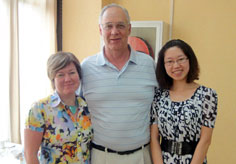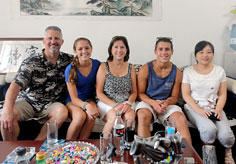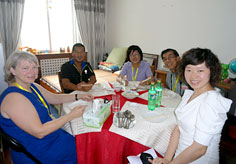 Our customers with our travel consultants