2003 Customer Reviews
Clients: The Cogen Family
Country: United States
Email:
Itinerary: 17 Days Beijing - Xian - Guilin - Shanghai
Mr. Chen and Dragon were most accommodating. We always felt very safe and comfortable in the van. They were always prompt and cheerful. We asked to make a stop at the Motorcycle City and they arranged the visit easily. Dragon had many extra stories to tell us to help made the history come to life!
All in all, our trip to China was quite wonderful! Thank you!
Clients: Ms. Inmaculada Ruiz
Country: Spain
Itinerary: 3 Days Xian
This is Inmaculada Ruiz writing in the name of the six people that traveled to Xian last weekend with the spanish-speaking guide, just to thank you and congratulate you for the perfect trip that you organized for us. We would like to specially congratulate the guide for the great job she made.
Clients: Mr. Nelson Tharp & Ms. Ellen Estelle Tharp
Country: United States
Itinerary: 5 Days Yangtze Cruise of Chongqing - Wuhan
Thank you for your holiday greeting message. We did not go to Beijing but did take the Yangtze River trip and enjoyed it very much. The boat only had 21 passengers on this trip so we had plenty of service.
We greatly appreciated your efforts to make all the arrangements. The guides you provided in Chongqing(John Lu) and in Wuhan (I forgot his name) were both very good and made the visit interesting.
Best wishes for the coming year.
Clients: Mr. Thomas Jude Tewey & Mr. Stephanna M Tewey
Country: United States
Email:
Itinerary: 15 Days Shanghai - Xian - Wuhan - Yangtze Cruise - Chongqing - Beijing
We highly recommend Travel China Guide for visiting China. Our guide Miss Zhao was a very good teacher. We will be very glad to share our experiences with anyone who wants to take a China trip.
Dear Miss Zhao,
Thanks you for your excellent tour of Xian. We learned a lot about the history of China, even though we read books. Your explorations helped us to understand what we were seeing. You have a very pleasant way of being a guide which we greatly appreciated. We really enjoyed he museum and visiting the Terracotta Warriors. Xian truly presents a world wonder. All in all, we like all the arrangements your agent made for us.
Xie Xie!
Stephanna & Tom Tewey
Clients: Mr. Roger David Bancroft
Country: Australia
Email:
Itinerary: 11 Days Wuhan - Yichang - Yangtze River - Chongqing - Xian - Shanghai
I arrived home last night, and as promised am responding to your request, relating to my tour with your company.
I will start with a most sincere thank you. I found my dealings with your company excellent, and would have no hesitation recommending your company most highly to any one and everyone who would wish to know.
The only very minor points, I could suggest to improve my journey would have been:
1. The English speaking guide in Wuhan was less than perfect, communication was a little difficult, but we got by OK.
2. Chongqing was a lost day. No ones fault, but an earlier flight out would have been better.
These comments are offerred in good faith. I am very impressed with your company, and would rate you 99/100. I will happily use you again.
Thank you for your wonderful service.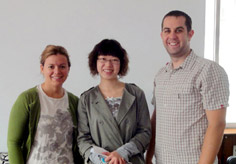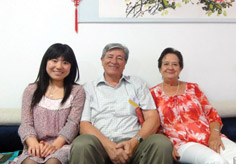 Our customers with our travel consultants