2014 Customer Reviews
Clients: Mr. Jason Murphy & Ms. Kathleen Murphy
Country: United States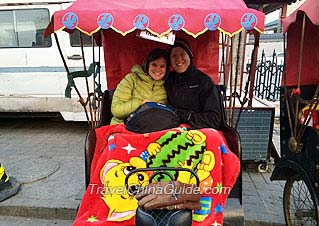 Kelly and Wendy-
My husband and I enjoyed our trip to China. Both our guides, Selina and Carol, were very knowledgeable about the places we visited and personable to feel free to ask any questions and didn't rush us along at any of the sites. The accommodations were great and it was so nice not having to worry about driving, directions, or entrance fees! On our drive to the hotel from the Beijing airport Selina mentioned the night market in downtown Beijing which my husband and I went to our first and last night in Beijing -- really enjoyed getting out to see the city! We also explored the night market in Xi'an. One suggestion would be to give people maybe a list of local attractions they could check out if interested in getting out and exploring on their own at night instead of just staying at the hotel or places to check out for dinner located around the hotel as well. Only recommendation maybe make time to stop and visit the Olympic venues...we thought that was really cool from the street but would have loved to see it up close!
I have already recommended your tour and would recommend to others as well!!
Also recommendation for your site if you have space:
Thanks
Katie Murphy
Clients: Ms. Chiara Padovan & Ms. Marta Escudero
Country: Italy, Spain
Email:
I am totally satisfied about the service. Tina, our guide was amazing! She was totally prepared about Chinese culture and we even had fun together. The driver was really kind and punctual. They both totally took care of us. All the trip was awesome, me and my flatmate had a great time in Beijing!
Thank you so much for your service.
Best regards,
Chiara
Clients: Ms. Ann Chia (a group of 9 members)
Country: Japan, Malaysia
Email:
Dear Ms. Selina Wu/Lydia Meng,
First of all, it was an honour to be able to get such great services from you! My e-mail was always replied on time even though most of the time I was late.
I also had to thank Ms. Tracy who had waited for us and for picking us up from the airport; our guide Ms. Li Yang was very detailed and patience when explaining to us about the story, fable and history of buildings and so on; and our driver for driving us around the town safely.
The food recommended was great! We all enjoyed the stay and food in XiAn.
Besides, China has an interesting culture and a beautiful scenery. We would definitely love to visit this country again with Travelchinaguide in the future. And also, we would be happy to recommend this tour to our friends.
Thank you for giving all of us unforgettable sweet memories.
Till then, we hope to visit the country again with you!
Yours sincerely,
Chia Ri
Clients: Ms. Priscila Collier & Mr. Tiago dos Santos
Country: Brazil
Email: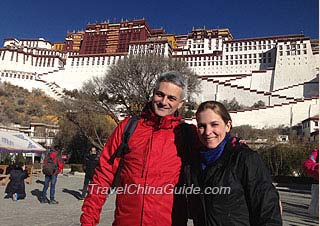 Dear Kina Lu,
We surely enjoyed our trip very much, and we realize that Travel China Guide was of great assistance in every step.

First, we would like to congratulate you for your dedication in answering all of our questions regarding so many topics of our trip and helping us choosing from many options. We recognize that you answered some of our same questions more than once. We would also like to thank you for the dedication in providing so many different activities and schedules to choose from. Your help in determining how many days we would spend in each city is also greatly appreciated.
All of our guides, drivers and cars were satisfactory. We would like to point out that all of them were very punctual and our guides spoke fluent English. We had meals arranged by your agency in Xian, Lassa and Kunming, and all of them were very good. Most of the restaurants had English menus or we got help from our guides.
We would like to congratulate Tenzing, our guide in Lassa, for his broad knowledge of Tibetan history and religion, which seemed to be detailed to the point of providing interesting information in every room in every palace and temple. We especially appreciated when Tenzing and our driver welcomed us with traditional scarves on arrival in Lassa.
We will definitely recommend TCG to relatives and friends who may plan to visit this huge country in the future.
Best regards,
Priscila and Tiago
Clients: Jayaseelen's Family
Country: Singapore
Email:
Lydia & Selina,

I am very glad to provide the escorted China tour reviews. The holiday went really well. My family was very pleased with the trip.

All 3 guides were good. Proficient in English and very helpful. The drivers were timely and courteous and helpful with the luggage.
One of the novelties I found was the home cooked food provided. It's easy to arrange a restaurant but to go to someone's home and eat their food is a different experience altogether. To top it off, with Lydia coming to check on us in Xian to see if everything was ok was something of a personal touch.
Great...This has been my second trip with your company with positive experience. Would definitely do another tour with your company in future.
Thanks for all your help and timely response to queries.
Jayaseelen & Family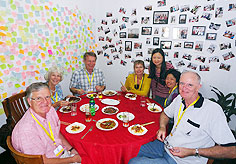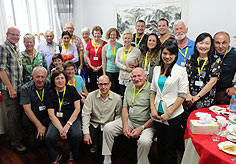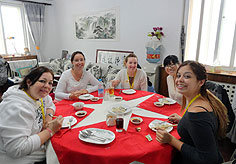 Our customers with our travel consultants