Small Group Tours Reviews
Clients: Ms. Janelle Baird (3 travelers)
Country: Australia
Email:
Sep 15,2018
Hi Wendy,
My husband and I had a 8 days trip with my father through your company recently. I just wanted to pass on that both Mulan in Shanghai and Maggie in Beijing were excellent representatives in your company. They were both attentive to the needs of the group, showed us interesting things about the city and were full of knowledge about the areas.
Maggie was great at helping us find great places to photograph monuments and we have an excellent bunch of photos to remember our trip by. She was fabulous at ensuring the group saw everything and highlighting things of interest. She made our Beijing visit very fun with her bright and welcoming personality. Maggie also made sure that the group had cake and sang to celebrate my father's 60th birthday. I want to say a special thank you for this as it was the highlight of my trip.
Mulan went above and beyond! From getting us the tickets to the acrobatic show to ensuring everyone saw what they wanted to in shanghai. I really felt that when she took the four of us around, she catered to our needs and really cared about us as individuals.
I was most impressed with the catering by Mulan while Maggie also ensured that there was plenty of vegetarian food for my husband available. Mulan really went the extra mile ensuring Scott really got to taste a lot of what Chinese cuisine had to offer. Her selections for the meat eating guests were also interesting and allowed us to experience unique Chinese food in a way we could not at home. Delicious!
I want to thank the whole team for enabling this trip for my dad's birthday. It really has given us some memories that we will cherish. It was fantastic fun and we made loads of friends. I will be recommending TravelChinaGuide whenever I talk about my holiday.
Regards,
Janelle Baird
Clients: Mr. Evan Chang & Mr. Andrew Chang
Country: New Zealand
Email:
Itinerary: 2 Days Beijing VIP Small Group Tour
Jul 18,2018
Hi Emily,
Thank you so much for helping to organize what turned out to be a fantastic experience! Booking it went really smoothly and contact between me and your company couldn't have been better. The trip itself was very well organized, our guide Helen has good English and our driver was very good, we didn't have to ever wait around excessively or anything like that.
Having no shopping stops was definitely a plus, as it meant more time to see the sights. If I were to come back to Beijing I would definitely book with your company again!
Many Thanks,
Evan
Clients: Mr. Ken Wong & Ms. Marie Wong
Country: Canada
Email:
May 2,2018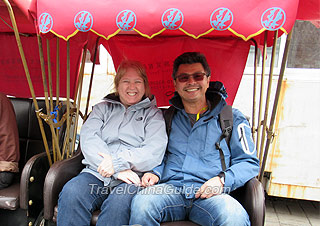 Rickshaw ride in Beijing
Hi Wendy,
My wife and I really enjoyed the complete package your tour company put together for us. Every day was filled with adventures from the Great Wall to biking on the City Wall in Xian to all the restaurants and lunch in a people's homes. The entertainment was very diversified from a kung fu show to an opera.
We were extremely satisfied with the guides & drivers. Our days were very organized and our very limited time was used efficiently. Our first guide, Selina in Beijing, was extremely knowledgeable about the history and culture of China. She ensured that our needs were looked after. She was very personable and made us feel comfortable each day that we were with her. Carol, in Xian, was also very knowledgeable, especially with the Terracotta Warriors. The drivers throughout the trips were patient, experienced and also made us feel comfortable with the travel.
The excursions that were mentioned in our itinerary exceeded all our expectations. There are so many things to list, such as: the small size of our group allows us to ask more questions with the guide. We were with a good mix of people. The pickups/drop-offs from the airports were especially helpful along with the assistance in obtaining our boarding passes. The transportation made it convenient for us when we attended an event or a venue. The unnecessary walking was kept to a minimum. We love the dragonboat, Rickshaw ride.
Overall, we would rate our experience as excellent! The package was well priced for all that the itineraries included. We felt it was great value for the money.
Thanks,
Ken and Sylvia
Clients: Mr. Steven Simington
Country: United States
Email:
Itinerary: Beijing VIP Small Group One Day Tour: Tiananmen Square - Forbidden City - Mutianyu Great Wall
Apr 27,2018
Hi Emily,
I want to say that I really enjoyed the Forbidden City and Great Wall trip. Rocco was an excellent guide. He was able to give explanations and history behind all of the sites. I learned a great deal about Chinese history and saw the sites that I never expected to see.
In addition, it was great experiencing the trip with other experienced travelers, Mike, Jenny and Phil. We had common background in travel and all agreed it was one of the best tours we have ever been on.
I plan to write a 5 star review (out of 5 stars) in Trip Advisor when I return to the US.
Thanks and kind regards,
Steve C Simington
Clients: Mr. Louis Roberge & Ms. Kristie Roberge
Country: Canada
Email:
Apr 16,2018
Selina,
We had a great time on the tour.
We were happy with every hotel that we stayed at, and the meals which were provided were exceptional. We enjoyed the restaurants as well as the home meal.
All of our guides did a very good job, Selina was very professional, Tracy was very efficient and Candy was lots of fun.
We enjoyed the trip very much and will recommend Travel China Guide to everyone.
If we were to recommend one small change, it would be a little time to shop in some of the most popular markets in each of the cities.
Louis and Kristie