Customer Reviews
Private Itineraries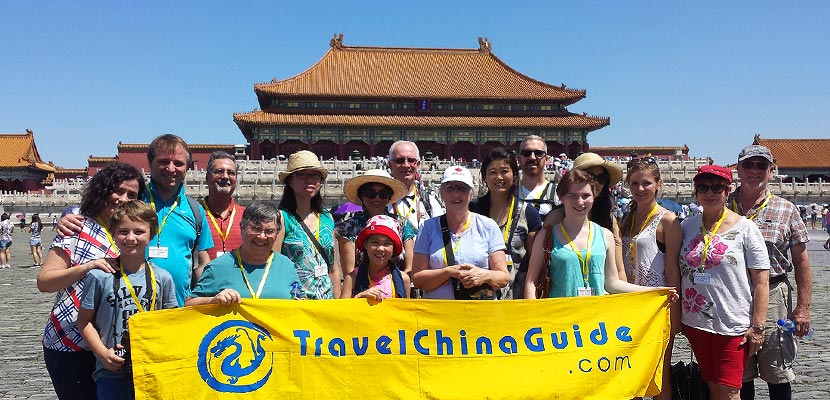 Small Group Tours Reviews
Clients: Melanie
Country: United States
My feedback on my China tour (Beijing, Xian, Yangtze, Shanghai):
I felt the meals were quite lavish, and food was always plentiful. I noticed that others preferred non-chinese food, after our second day on tour, but I enjoyed the meals throughout the tour. I enjoyed trying each region's cuisine from the Beijing KaoYa in the pancake, to the dumpling dinner in Xian. Unfortunately, we didn't fire our tongues with Chongqing Hot Pot which I've heard is fantastic!
Our tour guides were very helpful and knowledgeable about the history and current events of the places we visited. Our Beijing tour guide was conscientious about keeping us altogether. Our Xian tour guide was very informative about China's history. More importantly, I enjoyed asking our guides how China's current economic growth has impacted their lives. Their candid responses were fascinating and helped me understand the value of open communication and dialogue among people from different cultures. Thank you!
The drivers were excellent, and conscientious about cleanliness and safety. After leaving wallet and camera in the bus, the guide suggested I return to the bus to retrieve those valuable items. She phoned the driver from atop the Wall, while I ran down to get my things. The driver remotely opened the door, allowed me to get my bag, then closed the door behind me. I felt my belongings were safe in the bus, but I appreciate the effort the guide and driver went through to accommodate me. In my own country, thieves can break into tour buses and take personal belongings.It's a poor example for other tourists wanting to come to Hawaii. I really appreciate the safer environment in China.
Finally, I appreciated the "lecture" with the guide in Xian. Her explanation was informative and factual, and she did not try to paint a rosy picture of China's history. Her experiences in China and the US made her facinating to listen to and observe. I would have enjoyed spending more time with her, It provided all of us with a better understanding of China's people, its history and values and hopes for the future.
Clients: Krystine K
Country: Australia
Firstly let me say that without our English speaking guides we would not have been able to enjoy it as much as we did. They were great. Our guide in Xian was in our mind, the most knowledgeable but that is because he had a Masters degree, and his thesis was on the Tang Dynasty and his University major was Anthropology. He was amazing. He had so much knowledge. We also found that our guide in Shanghai, Stella, was so amiable and seemed to go out of her way to make our visit so interesting and memorable. She was a really lovely girl. In fact, I think a female can sometimes do a better job than a male. They seem to have a sixth sense about the comfort and requirements of their clients. We did however, like all our male guides and cannot say anything negative about them but somehow I think Stella was my favorite. Rahman in Chengdu was such a gentleman. We found he spoke very good English and was very easy to communicate with.
We found that in each city the guide who met us gave us information about the city we were visiting which we liked and then when we visited sites they were all very knowledgeable about them offering lots of information. We also found them very willing to answer our questions offering much knowledge and information which we liked very much. Every guide had a wealth of knowledge about each place we visited. All were different but all were very good. We were able to communicate with every guide quite well and without them we would not have enjoyed our trip as much as we did.
We enjoyed the local food they organized for us very much because as foreigners we would not know what to order. They were very tasty. The environment and service at the restaurants was very good. We really enjoyed the Tang Dynasty Dinner in Xian very much.
The hotels were of a 'good' standard. The breakfast which was buffet style certainly offered a huge variety of food, Asian and Western so we were able to find some food which we could enjoy. The Guilin Grand Bravo Hotel was the highlight of all of our hotels. We would recommend it 100% to all travelers especially foreign travelers. We have already recommended it to our son who lives in Beijing; we were so impressed with it. It is a beautiful hotel. We found that if we had a complaint such as in Xian where we requested a room change due to the strong unpleasant smell in the room, they were very obliging and moved us to another room. The hotel service was also very good, especially when they consider that areas we were traveling in are not so often frequented by foreigners. The rooms were clean, the sheets were white and clean and we understand that were the best standard available in those cities.
Our visit to the Great Wall was so interesting because we interacted with so many of the local people there. The visit to panda base was great as well, not to mention the Terra Cotta Warriors. They were all so interesting.
Highly recommend this tour!!
Clients: Janice
Country: USA
We are here pleased to give our comments on our recent China travel by offering some tour details. Generally, we were satisfied with this tour organization, for example, food, hotels, tour guides etc. Overall we very much enjoyed the meals provided, the most enjoyed was the Dumpling Dinner on day 5, although Chinese food was not to our western taste. We found the Dumpling Dinner not only delicious but our waitress explained the meal and pointed out the humorous shapes of the dumplings. We had our guides, John, Susan, Helen and Ryan. They were so knowledgeable about the history of their country and offered us valuable information in a timely, professional manner. Helen in Guilin was especially very helpful in relation to my slight disability and both her and the driver, Mr Chen, ensured my safety when getting in and out of the vehicle. Our Shanghai guide Ocean's knowledge of the English language and pronunciation was easy for us to understand, and where there was slight difficulty Ocean would repeat with patience so that we did understand. The drivers are very safe, patient and experienced driver. The traffic in China is more chaotic than we are used to, but we never felt unsafe in their hands. The cars were clean at all times and there was more than sufficient bottled water provided. The hotels we stayed at is worth mentioning as they were very comfortable and clean, with lots of choices for breakfasts (and other meals). We have traveled extensively and have a lot to compare this tour with and TravelChinaGuide should be pleased to have John, Susan, Helen and Ryan on board.
Now that I am back home, this trip was absolutely great! Everything about it more than met all my expectations. The stay in Chengdu before getting to Shanghai was a highlight of the tour for me as Lewis (who took care of the stranded group) took us to visit the Panda Preserve! The small size of the groups is really a plus. In our case, we were even more fortunate in that the 13 of us really got along great. And the mix of nationalities made it interesting. The hotels were outstanding. And the guides Candy in Beijing, Carol in Xian, Lewis in Chengdu, and the guide in Shanghai not only spoke English very well but were also all very informative, personable, and accommodating. As an example, when leaving Xian, our bus broke down about 1/2 mile from the airport and Carol got us to the airport by flagging down taxis (including some with passengers already in them!). Instead of a bad moment, it became another one of those great stories to tell about our visit! It was great to actually meet Wendy, as we have enjoyed our E-Mail contacts with her over the past 8 months. This company does a great job of keeping us informed! Thanks so much for a very memorable time! This trip to China will always be one of my favorite journeys!
Clients: Wayne
Country: United States
It has been about 2 months since we returned, and we can finally offer some comments for you if you are considering to take this tour.
In the tour, the lunches and the dinner we had at restaurants were of excellent quality. The best of these was the farewell lunch at Shanghai, with both an extensive selection and high quality. In general, we found the quantity of food offered at these meals was far too much! We were always disappointed that so much food was left. As the trip progressed, we told the guides that we would order one or two dishes fewer than we could have ordered. The dumpling banquet in Xian was excellent, but the quantity of food was overwhelming! There was enough to feed a platoon of PRC soldiers! Regarding the hotel breakfast buffets, the quality slowly deteriorated as the tour progressed. The hotel in Beijing had a great buffet. By the end of the trip, we found the buffet at the hotel in Shanghai was not very good, with a small selection and disorganized staff (but a very good room).
All the guides had English language skills that ranged from good to excellent.
All the drivers were excellent and their cars were clean and in excellent condition.
As it turned out, we had some extra time before leaving Shanghai. It was a rainy morning, and Linda had recommended some good places to us for that extra time. We found a few great, unusual souveniers of our self trip.
We were deeply touched by the prompt and passionate work of our guides, drivers as well as other staff who made their efforts to serve us in China. 5 stars marks for TravelChinaGuide!
Clients: Glenn
Country: Canada
I have just came back from China. Would we recommend this tour? Certainly, yes. There were many surprises along the way. We came with certain ideas about China and the people, and were pleasantly surprised that many of them were wrong. We came to see for ourselves. Even in 16 days, it was more than we could see and fully understand. It took us a couple of weeks after we returned home to really appreciate and understand all we had seen. At some future time, we would like to return to China again. Thanks, travelChinaguide.
Clients: Marianne
Country: France
First, let me express how much I enjoyed my vacation. Their planning and thoughtfulness truly made my journey to China a memorable treasure that I will often remember fondly. I especially want to thank my tour consultants for their time, hard work, dedication, expertise and kindness, which made my journey both delightful and pleasurable. Secondly, let me assure that a very important reason for me choosing TravelChinaGuide was, because they offer small group tours. I personally don't like to travel with large groups. I think this is a very strong selling point, which sets their company apart from other tour business groups and I know many people will be willing to take advantage of small group option. Also, I believe the guides finds the small groups more to their preference because, they can establish a greater, stronger customer relationship. I enjoyed my tour very much and am looking forward to my next vacation.
Clients: Max Garrick
Country: United States
We have just returned from our journey. It was even more fantastic than we had hoped. Our thanks and appreciation. Our guides and drivers were excellent and dedicated. The vehicle was stout and strong. Hats off to our drivers. We have only praise about everything. All the accommodations were far, far better than we anticipated, and everyone was kind and gracious. No unfriendly people were ever encountered. China was fascinating, but chokingly polluted. The tour guides there and transportation were excellent, and I shall never forget a minute of the constant surprises and enchantment of the entirety of our adventure. Thank you. It was the "wow" of my life.
Clients: Helena Afonso
Country: Portugal
Very perfect organization on our tour! The days spent in Beijing were wonderful and even an extra dinner was given to us to compensate the disappoitment time of arrival in China. We loved the capital and I was fascinated with the extraordinary great wall scenery full of people from all over the world! The food we ate after the visit, I remember a sichuanese speciality, very hot but delicious...... In Xian Celine was awaiting for us at airport. The food was first class in every restaurant, the massage center she indicated to us was also excellent and recovered our dead feet...... after so much walking around the places. The night-show with the traditional ancient chinese dances were superb, we enjoyed every minute. The last 2 days in Shanghai were also fascinating, I loved this modern city also. I feel like mention as well the perfect hotels everywhere, not only in the capitals but in Xian and Shanghai. Also the clean public surfaces, in airports, hotels, banks, shopping centers etc...were outstanding. I must copngratulate Chinese people for the extraordinary service they are offering to tourists and foreigners, I will dare to stay, this country is a poential NO.1 tourist place in the future. Many many thanks for everything you have given to me!
Clients: Margaret
Country: UK
This organization was helpful to the very end of our trip. We were satisfied with all our guides. We also were very pleased with their selection of the hotels for our stay in China. The facilities were excellent and the management of the hotels were extremely helpful. They also had done a very good service in providing for our restaurant meals during our tours. The food was very good and we enjoyed the atmosphere of the places they had selected. We have traveled to a great many countries of the world and we have never received better assistance! Thanks for all of the help..