2000 Customer Reviews
Clients: John Sanders, Juanita Ladyman
Country: United States
Email:
Itinerary: 15 Days Beijing - Urumqi - Kashgar - Turpan - Dunhuang - Lanzhou - Xian - Shanghai
"My wife and I very much enjoyed our journey. It was clear that it would not have been reasonable to attempt such an itinerary without your organization handling the complicated logistics. Having both a local guide and driver allowed us to maximize the amount of time we had. It was clear that you have had experience with our itinerary, and have designed it well to provide a good balance of escorted and free time, and a comfortable number of activities to attempt per day.
We were happy with our local guides. Mr Wang Chun Lee in Urumqi and Turpan was excellent. Also exceptional was our guide and driver (Mr. Sun and Mr. Wang) in Lanzhou. We were somewhat disappointed with our guide Ben in Xian. He was very inexperienced. We were unhappy with the raw attempts to profit by only allowing us to visit "special shops" in Xian, particularly after it was clear that there were no governmental restrictions.
However, our time in Xian and elsewhere was very enjoyable, and I was surprised at how smoothly everything went. What attracted me to your company was having a tour with a very close match to our interests in (and time for) seeing both the Silk Road, and Tibet. We feel that your tour provided a good introduction to those areas, for a reasonable cost. My experience has shown me that the more one travels, the more places one learns of to visit next. We look forward to our next opportunity to travel with your company to explore the Silk Road west from Urumqi, through Kashgar and beyond."
Clients: Sarah Salmon
Country: Japan
Email:
Itinerary: 4 Days Beijing
"I just wanted to write and thank you very much for a wonderful trip to Beijing. Jill Smith and I had a truly memorable time seeing some of the sights and we would like to thank you for organising the whole holiday so well. Please also pass on our thanks to our guide, Richard and driver who were so accommodating with our schedule and helped us to make the most of the short time we had. "
Clients: Miel and Claude Heimo
Country: Switzerland
Email:
Itinerary: 10 Days Beijing - Xian - Shanghai
"Thank you so much for your Xmas card I received just before we are leaving the country. We return to Switzerland, my husband closed the project he has been working for over the last 16 months. We will have fond memories of our journey here, too short to our idea, but maybe 1 day we will be back ...... Anyway, Xian has been 1 of the most extraordinary experiences, and I would certainly come back for another visit. Have a merry merry "last"Xmas of this century, and hope the next millennium will bring you all you desire."
Clients: Vicki
Country: United States
Email:
Itinerary: 9 Days Beijing - Xian - Guilin
" I had a wonderful time in China! And the tours I had through you helped make it that way. I really appreciate your help so much. The tour guide I had in Xian (Ling?) was very nice, knowledgable, and spoke English well. She was a bit immature and a little disorganized, but those were small things. I felt that she pressured me a bit to buy things at the tourist spots, and that made me feel less that she was looking out for me. I heard a similar complaint from other tourists about their tour guides. There will be more trust in the tour guide if nothing is said about making purchases unless the guide is asked for advice. - The dumpling dinner was great and I enjoyed the lunches I had. Our tour guide in Beijing was absolutely super! (She said her name was Lee/Li - I dont know the spelling) She was obviously experienced, mature, and very professional. Nothing was ever said to encourage us to buy anything, and she was great about getting us places before the biggest crowds hit. She was always very courteous and upbeat, and her English was good. I would recommend her very highly to anyone. I liked her a great deal as a person and respected her professionalism and know-how. The Peking duck dinner was great.
Both tours went smoothly without any problems and all of my flights went well. In Guilin, I immediately went to Yangshuo and stayed there the whole time in a hotel/farmhouse about 8km outside Yangshuo. (I wanted to get away from cities for a while.) The area was very beautiful and a girl at the hotel was extremely helpful and acted as my tour guide for most of the time.
And again, I appreciate all the help that you gave me. I sent you so many emails and questions and you were just so helpful and patient. Please feel free to use me as a reference if you have any fretting customers (like me!) in the future."
Clients: Peter and Gwen
Country: UK
Email:
Itinerary: 16 Days Hongkong - Guilin - Xian - Chongqing - Yangtze River - Wuhan - Shanghai - Beijing
"We had an excellent trip to China! Thank you for all your help in putting it together. We enjoyed Hong Kong, and Guilin, and the 3 Gorges, and Beijing, and Shanghai, and Hong Kong again! Our air tickets were waiting for us in Hong Kong, just as you said. Everywhere we went we were met by guides who looked after us very well. Our first guide, Christina, in Guilin was especially good. And you arranged for the guide in Shanghai to meet us earlier than scheduled and at the other airport, in response to our phone call - thank you, we were impressed. And the conference in Beijing, which was the central purpose of the trip, was worthwhile. Some people in the UK think it is risky to use a travel agent in China who is not "known" except over the Internet. We felt confident that you would not let us down, and that has proved to be the case. Perhaps it would help your credibility to give more prominence to being part of Xian Foreign Languages University?"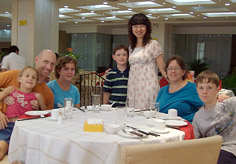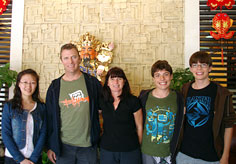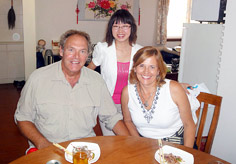 Our customers with our travel consultants