2009 Customer Reviews
Clients: Ms. Nancy Claxton & Mr. Marcel Claxton & Mr. Alexander Claxton
Country: United States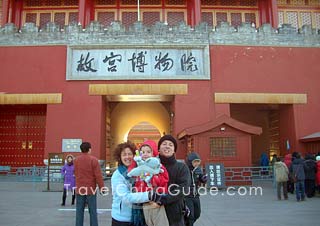 Photo offered by our client Mr. Marcel R. Claxton
Hi TCG there!
Thanks for the great service provided and the excellent guides. Both Tina (Beijing) and Joe (Shanghai) were wonderful and very very helpful. Below we've given more details.
1. Meals: The meals in general were good. It was a little hard to judge whether the secluded rooms in which we had our meals and/or the quality of service (friendliness of staff/flexibility of meal items) provided by the restaurants are typical to Chinese dining or related to tour-accomodating restaurants, but it took a little getting used to. I think in general that the quantity of food was very good, sometimes a little too much.
2. Guides:
1) Both guides (Tina and Joe) were very very helpful, always considerate to our specific needs and even went out of their way to help us when we needed it. Tina made sure that our 4-year old son Alex was accommodated in hotels with his own bed and Joe helped me translate a cold medicine I needed to Chinese and helped buying tickets and getting on the train to Ningbo. They were also both very good at adjusting the amount of attractions we would see, because of time constraints when we needed to take it easier due to our son (hot chocolate rests and a slower walking pace).
2) Both Tina and Joe's English were outstanding and on the occasional mispronunciation they were very eager to accept corrections, although these were very few. I even had fun with Tina practicing my Japanese and German. She was very funny.
3) Joe and Tina both showed an exceptional flexibility in knowledge ranging from the practiced historical and cultural explanations of sights and places to teaching me how to pronounce words in Mandarin and explaining mythological and spiritual contexts of various statues, symbols and signs. More importantly they both knew when not to tell too much as it could have been easy to overwhelm us with information that then would have just become too much to remember anyway. A right balance I would say.
3. Cars: The cars were very clean and we enjoyed the friendly attitude of the drivers. Both were always helpful in helping our son (or ourselves for that matter) get in and out of the van. Our driver in Beijing was even so concerned about our son staying warm he went out of his way to help us buy clothes to keep him warm. A really good initiative rarely seen in tour personnel (in my experience). They both made sure the van was nice and warm so we could warm up quickly after being out in the cold and they both drove very safely yet quickly to get to the next place in time. I was impressed!
As stated above we were very impressed with all people involved with TCG Tours. Our guides were very professional and friendly to a point where I consider them friends. The drivers were very good and went above and beyond their regular duties to make us comfortable and let's not forget both of you, Miss Tina Wang and Maggie Ye, who have so very very good in providing the right information and quick responses to our own queries, which is always important to reassure visitors that they are being taken well care of. Thank you so very much! I've sent a couple of pictures along, but would prefer not to have our e-mail address published. Thank you!
Thanks!
Marcel R. Claxton
Clients: Mr. Carl Benjamin Volinski, Ms. Jeanine Kay Volinski, Mr. Benjamin Volinski, Mr. Jay Mathew Volinski & Mr. Jonathan Mark Volinski
Country: United States
Email:
Dear Abbey, We were thrilled with the arrangements that you made for our family while visiting Beijing and the surrounding area. I think my favorite meal was the Peking duck dinner followed by the Opera. What a great night of food and entertainment that was.
Both our guide Cindy and our driver Mr. Lee and his 7 passenger Mercedes Van were wonderful. They were very prompt, very accommodating and very thoughtful. Cindy even arranged a birthday cake at dinner for my brother's birthday. We had asked for one "free" day on our own and my wife Jeanine had such a nice relationship with Cindy that they went shopping together that afternoon.
The driver was very professional and safe. We felt right at home with Mr. Lee. He even made a special trip to take one of our group back to the hotel when they did not feel well and then picked him up later for dinner.
The Crowne Plaza was an excellent and very comfortable hotel. All the food, all the various sights that we were taken to we great! We really enjoyed our stay.
Carl Volinski
Clients: Mr. Peter Henry Savage & Ms. Julie Mary Savage
Country: New Zealand
Email: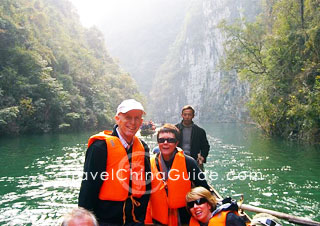 Photo offered by our clients Peter and Julie Savage
Hi Tina
We have now returned to NZ, and reflect on our fond memories of your country.
We are happy for our names and email address to be published by TCG. Should you require higher resolution pictures for any of the above please let me know. Our overall experience of TCG is: "more than exceeded our expectation, easy and safe way to journey, outstanding food, excellent accomadation, have seen all the main attractions and were well informed about the culture, history and lifestyle by outstanding guides"
In general we were in a small group of 5 which reduced to 3 in Guilin. we all got on very well and had very similar tastes in food and sites to visits: the time spend to some extent was managed by us as we were such a small group we could move on when we were ready. The guides all recognised this and so it work very well.
The one meal that was average was on the boat on the Li Jiang river, however we were aware from your briefing notes and so it did not worry us. Outstanding meals there were many - the best meal was kept to last - central hotel in Shanghai fabulous!!!!.
Without exception the guides all made a real effort to ensure that we were safe, well informed, kept warm and on time for all the times for the schedule that we had to met. The finishing touch that was so helpful was checking us in at the airports and making sure we made the departure gate - absolutely hassle free.
The drivers were all fine and we understood that they didn't speak English.
Angela in Guilin showed huge compassion to fellow citzens which we felt was very admirable.
She also suggested that we go to the show in Yangshuo - this was outstanding and is certainly one of our highlights of China - we would suggest that you show this as an option for all future tours going to Yangshuo. The hotel in Yangshuo was a bit average but was worth the discomfort to see the show.
In Bejing we would suggest that you also include a visit to the Birds Nest (Olympic games venue) we visited in our own time and it was great.
All the guides spoke exceptional English and had very good manners.
We stayed on in Shanghai at the end of the tour and Yi your guide in Shanghai arranged at our request a taylor who was fantastic and recommended a number of restuarants that proved to be excellent.
Thank you for a wonderful adventure, we will be back
kind regards
Peter and Julie Savage
New Zealand.
Clients: Mr. Geoffrey Suranyi & Ms. Margaret Ann Baker
Country: Australia
Email: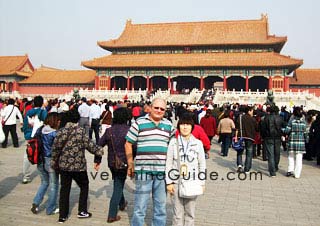 Photo offered by our client Mr. Geoffrey Suranyi
Dear TCG,
Thank you for your request for feedback on our journey to your country.
Meals - were excellent and the recommendations demonstrated extensive local knowledge.
Guides - were conscientious with very good language skills and local knowledge.
Cars - were very clean and the drivers were very competent and demonstrated great skill.
Compliments - I would like to compliment in particular our guides, "Rose" in Beijing, "Tracy" in Xian and "Peter" in Lanzhou for exceeding that which could be normally expected from any guide.
Their dedication to making our travels a wonderful experience cannot be adequately expressed.
Also I would like to acknowledge to great work done behind the scenes by our travel consultants Kina Lu and Flora Cu.
Without their expert knowledge and organizational skills our travels could not have progressed as effortlessly as it did.
A great job all - round. One which Travel China Guide should be very proud of.
Thank you.
I have attached a photo of our guide "Rose" and myself in Beijing.
Please feel free to use this feedback as you see fit and also please note that I have no hesitation to use / recommend your services.
Clients: Ms. Deborah Jean Shimizu & Mr. William Michael Androsiuk & Mr. Allan Harold Jackson & Ms. Wendy Anne Mckee-Jackson & Mr. Stanley William Jackson & Ms. Janet Mary Jackson
Country: Canada
Email: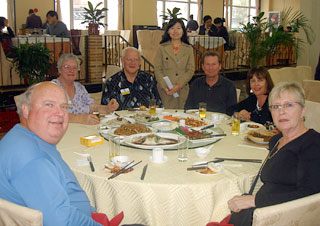 Greetings to our friends at TCG:
My wife Janet and I would like to compliment you and all of our guides and drivers on our recent journey to your country.
Our guides, Brian, Annie, Peter, Anna and Julia were all wonderful. I cannot imagine any experience that would have been any better or more enjoyable for our purposes. We were members of a group of six travelling together and all of us enjoyed visiting your country. You must be very proud of the very professional and organized itineraries you provide and of your wonderful country. We will recommend you to any friends and fellow travellers whenever possible.
We first approached your travel company based on the very high praise given by a couple from Texas who had travelled with Travelchinaguide (we met them on a cruise). They were correct in everything they told us.
The food choices were well thought out and reflected a good balance between regional Chinese dishes and some more "western friendly" choices. We do not have any clear favourite meal since one or another of us was often heard to say "this is the best meal yet!" All of our hotels were very good and we appreciate your choices. Our cruise on the Yantze River was memorable and the cabins were more than adequate. We had heard so many stories about very small and cramped Riverboat cabins that we were very pleasantly surprised by our accomodation.
One comment we must make is that one of the group we travelled with left a very important back-pack with personal belongings and important documents, valuables and money in an airport restaurant. The back-pack was turned in at the airport lost-and-found with all of its contents intact. Your travel company and your staff helped her locate her bag and helped her to recover it. Thank you Tina Wang/Maggie Yee!
Our last comment is that we found the tour was a very good value for the money spent.
Well done all;
Janet and Stanley Jackson (from Canada).
****************************************************************
The comments from another member of the group:
Content : I wanted to thank you for our wonderful trip. We were traveling with TCG from Oct. 23-Nov 6. We were a group of 6 and I am the lady who left her backpack in the Shanghai Airport. If it wasn't for your immediate response and efforts to locate the backpack I am sure it would have been lost forever. Instead we were able to retrieve it. So thank you TCG very, very much. Apart from that we cannot brag enough to our friends (and also anyone we met along the way in China) about your organization and how wonderful all your guides are. I have never been on a trip with a tour group that gave such outstanding service. All our guides: Brian, Annie, Peter, Janna and Julia were beyond professional, well informed and a joy to spend time with.
Many Kudos to TCG our group gives you a 12 out of 10 and at least 10 stars *********!!!
Rest assured that we will recommend you highly to anyone planning a trip to China.
Thank you so much.
Wendy McKee-Jackson
Clients: Mr. Hamilton Ronald Haldane, Ms. Rhona Isobel McCallum, Mr. Alan William Speed & Ms. Eleanor Ella Samual Speed
Email: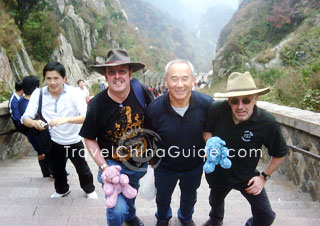 Photo offered by our client Mr. Hamilton Ronald Haldane
Greetings once again from Scotland.
Please let me apologise for my slow response.
I would like to take this opportunity to thank you most sincerely for the excellent service you gave to my friends and I during our recent visit to your country.
The level of organisation, attention to detail, the courtesy and knowledge of your guides and drivers were of the very highest standard. Both Carol and Ben were excellent.
In most cases the food was acceptable. A point to bear in mind is that in the United Kingdom we prefer our food to be served very hot. Unfortunately this was not always the case.
A memorable part of the trip was you helping us arrange to climb mount Tai Shan. I enclose a picture of us at the South Heaven Gate with Ben our guide. We did this climb for charity and raised over £6,000 for a Natalie Lowrie a local girl cruelly struck down with meningitis.
Please feel free to use any of this letter on your website.
Once again thank you and be assured when we return to China we will contact you again.
Best regards
Ron Haldane
Clients: Mr. Ernest Johnston & Ms. Sadie Johnston
Country: UK
Email: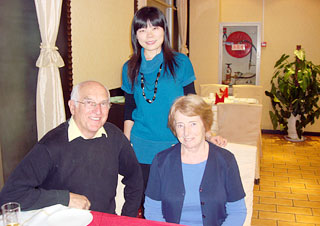 Dear Dora,
Since our return on Sunday evening 1st Nov. my husband and I have been busy sorting out souvenirs and photos of our journey to your country.
Thank you for organising our itinerary of Xian and the Three Gorges which we found very enjoyable and also for forwarding the photo taken with you in the restaurant.
Overall, your planning services were carried out to our satisfaction though our first day's experiences with that dangerous" substitute" driver were ones we would rather forget!
Our Xian guide, Julia,spoke good English and was well-informed,though we felt she should have taken time to explain the procedure for dining at the Silk Road restaurant, Xian airport. If we had been better informed,we might have enjoyed the meal.
That evening, we had an excellent meal after we met you, and this is the venue we would recommend to our friends. Our only suggestion to improve that meal would be that you offer a wider selection of beverages to include orange and perhaps pineapple juice in addition to beer, coke, sprite and tea.
The next day we were delighted to see a new driver and a clean car for our trip to the Terracotta warriors-- he was careful, pleasant and punctual at all times.
The Dumpling Banquet on the final night was an interesting and enjoyable experience though once again it would have been helpful if Julia had hinted that the most interesting ones were served at the end. As it was, we had eaten enough and cancelled the remaining course which Julia later informed us had the best filling!
I hope my comments are helpful and will be useful in improving the experiences of others when visiting China. We enjoyed our travels on this tour and look forward to returning in the future when we would be pleased to use your Company and have Julia as a guide.
Many thanks for all your attention throughout the planning,
Yours sincerely,
Sadie Johnston.
Clients: Mr. Keith Tarlo, Ms. Lynette Byrnes & Mr. Noah Tarlo
Country: Australia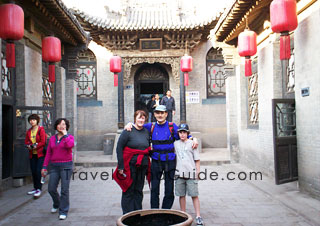 Photo offered by our client Ms. Lynette Byrnes
Dear Nicole and Dora,
Thank you for your email, sorry for the delay in replying. We got back from your country on 1 November.
It is with pleasure that we can answer your email.
Firstly you may not know, but we got quotes from a number of agencies and we chose you not only because it was good value but also because we asked a lot of questions and you always answered promptly, honestly and with good information. This is really useful to have prior to the vacation. You also showed flexibility with the itinerary and changes we wanted to make.
We don't usually book travel online, so we were worried at first, but very pleased with your services. At all times you were responsive and professional.
The format that we got with us travelling between cities by train with a new guide to meet us in each place was excellent. We enjoyed ourselves very much on the trains which were comfortable and clean. It was fantastic to have a guide meet us in each new city.
1. In our trip we mostly had breakfast and some lunches included. All the meals were of very high quality with more than enough food, especially breakfast. The hotel in Xi'an - Union Atravis Alliance probably had the best meal if we had to nominate one, but we also enjoyed the lunch and dinner that our Pingyao guide took us to.
2. We have the utmost praise for the guides. Each guide was excellent, spoke English very well and was very informative. In particular our guide in Pingyao was very informative and his experience was evident.
3. The drivers were all very capable and safe and the cars were extremely well kept and clean. All the drivers were great and in particular the driver in Datong was good as the driving conditions were very difficult - wet with fog.
We are very happy for you to publish any comments we have made because we wholeheartedly enjoyed our trip and were very pleased that we took it. Usually we travel independently, but I am pleased that we used your company in China. We would recommend your company to anyone who is travelling to China and if we were to go again we would certainly use your company again.
I will attach some photos.
Regards
Lynette Byrnes
Clients: Ms. Pilar Nobleza Debuque & Ms. Melissa Nobleza Debuque
Country: Philippines
Email: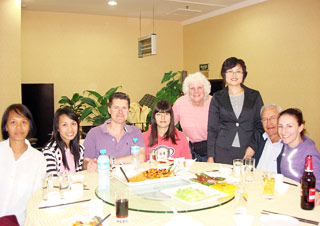 Hi Ruby/Dora,
Thanks for taking time out to send me these pictures.
The times allotted were quite enough given the schedule. As can be expected, some spots may not be interesting to all members of the group but we have to make considerations to others as we chose to journey with a group. I like the schezuan food. I was wondering why during the entire journey, we never had any noodle serving except for 2 meals and these were not good. I was expecting Chinese noodle soup as this was China but never tasted one. We tried going to a local restaurant for a bowl of noodles but since nobody speaks English we didn't pursue this activity. We went to McDonald's with the mindset that this might be a place where the staff can speak and understand English but to no avail. We ended up with the standard McDo offers.
The guides in Beijing and Guilin are very knowledgeable about the places we visited and they make it a point to make the bus rides interesting by telling stories about the tourist places, about its people, and about themselves and how they live here in China. Their manner of delivery is very interesting and appealing to us. It's as if we are long time friends and we are just making fun conversations. I think they need to increase their English vocabulary to add more to their exceptional talent of making the tour members feel at home during the tour. The guide in Xian is very professional and speaks good English but lacks an appeal like the guides in Beijing and Guilin. The drivers were polite and yes the buses were kept clean and comfortable. Maria in Guilin was very helpful and compassionate especially when some of the tour members got sick.
Regards,
Pilar
Clients: Ms. J Manuela Yu, Ms. Ashley Dawn Beaton, Ms. Carmen Lia Beaton & Ms. Jane Fazakas
Country: Canada
Email:
Hello Dora/Nicole,
Thank you very much for the Xian pictures. I meant to write sooner to commend what excellent jobs your company and your guides did for our journey. As I had been on a similar experience before I have some reference to the level of service you provided. In all, I am very impressed by your organizations of our activities and the professionalism your guides and drivers shown us. The hotels were excellent although the meals in some cases can be adjusted somewhat (I have noted those in our evaluation forms at each location). My daughters and I have had a great time.
Personally I think the time spent at each location was sufficient. Although I would have liked to see the model of the circular structure at the Temple of Heaven (I've shown that in the last tour).
I found the lunches at Beijing and the first lunch at Shanghai the best; also breakfasts at all the hotels were good. One suggestion I would like to make is to have less or no deep fried food. We didn't care for the deep fried food at all as your guides might have told you that the group left most of the greasy food untouched. Being cognition of our budgets we thought it might serve the guests better to forgo the high end restaurants in order to have quality menu items.
All your guides went beyond the call of duty to make us welcome. They have good command of the English language and they also tried very hard to make sure we understand. Drivers were excellent and their vehicles were always spotless. While all your guides have shown high level of professionalism and did excellent jobs in looking after us, I found Ray's sense of humour and Maria's personal touch very endearing.
Travel China Guide has exceeded my expectations both in service level and quality, I highly recommend this company to anyone interested in touring China
Regards,
Manuela