2021 Customer Reviews
Clients: Kenneth
Country: Malaysia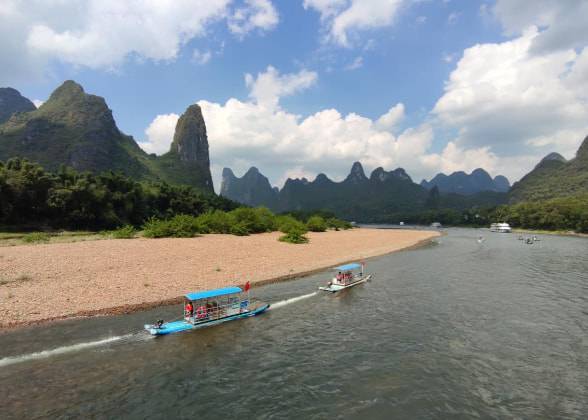 I engaged them to arrange Li River cruise during national day holiday. It is rather difficult for foreigners to book the cruise ticket during pandemic period. Ashley has been very helpful and helped us to deal with the cruise company and sorted out all relevant documents with them. The driver arrived at our hotel on the agreed time and collected the cruise ticket for us. Very well organised tour company. Will surely use them again in the future.
Clients: Ale Alviani
Country: Italy+Ukraine
The tour was simply great!
Xi'an is wonderful and the Terracotta Warriors is such an experience.. with the new museum near the Emperor tomb, wow, one of the most beautiful building I've ever seen.
Carol, our guide, made the difference. She is so professional with a friendly attitude but above all, she does her work with passion. So she transferred to us great feelings about Xi'an history.
Surely recommend!
Thanks
Clients: Somezaki
Country: Japan
Thanks to TravelChinaGuide for arranging such a remarkable Beijing day tour for us.
Our actual arrangements were consistent with the introduction on the websites and we were clearly informed where we would go and what we would do. Our guide Gloria was lovely and capable to explain scenic spots in detail. Thumb up!
Clients: Brenda Maranon
Country: Finland
We were very satisfied with this China tour!
All the guides were well-trained and had a high sense of responsibility. We were surprised at their abundant knowledge reserve. We were also offered the good service.
In short, we were satisfied with everything that the TCG arranged for us! We speak highly of your company and recommend your company to our business colleagues and friends and we will continue to do so!
Clients: Amy
Country: Spain
It was an excellent 4 days Shanghai tour! Superb quality and reasonable price.
Clients: Sharon
Country: Israel
This 11 days best China tour took our child to experience the cultures of the ancient cities and we benefited a lot!
The guides were experienced and professional. They had a nice attitude and planned a reasonable itinerary for us. Thanks for a very enjoyable and interesting tour!
Clients: Dashrath Pliskin
Country: Ireland
I had a superb Beijing day trip to Forbidden City.
The guide was knowledgeable about every scenic spot we visited and something about real life in Beijing. Her explanation was so attractive that it drew our attention all the time. I really enjoyed this trip and left many joyful memories.
Clients: Jorge Senanayake
Country: the United Kingdom
We were not disappointed from our first moments in Beijing until we left Shanghai. We had flexibility with every city, and all of our experiences on this Silk Road tour were good.
Clients: Christina
Country: Germany
Hangzhou was a beautiful city. We had great flexibility of visiting with the group together and exploring the city on our own on this 2 days Hangzhou tour.
We tasted many delicious Hangzhou dishes and snacks in a restaurant recommended by our guide. The hotel was outstanding and provided a great breakfast with many selections.
Clients: John Caccavale
Country: Netherlands
Everything was good. Responsible tour guide, reasonable itinerary and excellent explanation... I thought highly of the Luoyang tour!