2016 Customer Reviews
Clients: Ms. Andrea Ford & Mr. Grady Ford
Country: United States
Email:
Hello Sophie,
Thank you for the opportunity to express our appreciation for the service your company provided. The booking process was simple and efficient. The communications were clear, specific and complete.
Helen Cho, our guide was prompt, knowledgeable, and provided over the top customer service. She made sure we're satisfied and appropriately engaged at each stop. When our flight was delayed Helen wanted to wait on line with us at the ticket counter to make sure we had alternate arrangements and were compensated if warranted. She only left the airport when we absolutely insisted. We could not have asked for a better guide to assist us on our first venture into Hong Kong.
Our hotel was very nice.
I would highly recommend Travel China Guide.
Clients: Mr. Umashankar Venkatesan & Ms. Patricia Bryson
Country: United States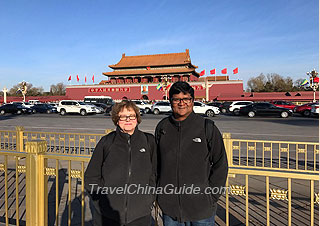 Dear Emily:
We are finally back in the US. We really enjoyed our tour with Travel China Guide.
The hotels were very convenient and breakfast was excellent in every place we stayed.
Kevin was wonderful in Beijing. We enjoyed his detailed explanation of every place we visited. I really liked it when he talked about his family - having two kids after the one child policy was changed.
Peter in Xian was excellent. He made sure we were comfortable in every way. I really appreciate his concern and making sure that we were safe by getting the boarding pass at airport and directing us to the security gate.
John in Guilin is another great guide. He took the time explain minute details. Suggested a cruise for the evening and took care of us in an excellent manner. John also got our boarding pass and accompanied us until the security gate.
Rachel in Shanghai was really really good. It is obvious that she knows Shanghai inside and out. She took us to a tea shop in a tucked away place when we asked her about a tea pet. Once again she stayed with us until we got the boarding pass and were ready to go to the immigration counter. Rachel is a really caring guide.
Each one of our guides was very professional, knowledgeable and extremely courteous. I cannot say enough good things about each one of them.
Thank you arranging this trip which went off without a hitch. I really appreciate it.
Thanks
Umashankar
Clients: Mr. Brian Tyers & Ms. Janice Neal
Country: Canada
Email: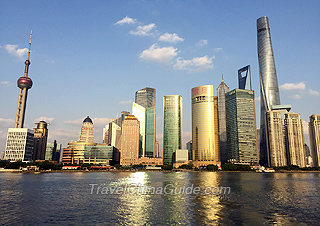 Greetings, Abbey!
It has been a busy month for us since we returned from our wonderful trip. Here is our China tour small group reviews.
We have been telling our friends about what a great trip we had, and showing them some of our many wonderful photographs. Our tour with Travel China Guide was excellent in every way, and you helped us very much with our planning and preparations.
It was easy paying our deposit with PayPal, and our final payment by wire transfer went very smoothly as a result of the detailed information you gave us. We were able to get our visa easily through the Visa for China service in Vancouver, using the letter and information you supplied. We found a lot of very useful information on your website about the local attractions at each destination, as well as information on what to pack and the weather we could expect. All of this helped us feel comfortable that we were well prepared for our trip.
We had excellent guides and drivers at each of our destinations. The guides were all very helpful, friendly and knowledgeable about the local sights and history. We were always met promptly at the airport and they helped us check into our hotels. The visits of each city were excellent, and filled with wonderful attractions. All our guides made an extra effort to make sure we enjoyed our time, and they all requested our feedback on the form you supplied, and gave us privacy to fill it out.
We found the hotels to be very comfortable, with delicious and extensive breakfast buffets included. The restaurants we were taken too were excellent as well, and it was nice to be able to enjoy the local food in each area. We especially liked the meal at the local family home in Xi'an, the dumpling dinner (with the Tang Dynasty show) in Xi'an, and the traditional hot pot restaurant we went to in Chengdu.
We are glad we chose you and definitely recommend your company. Thank you so much for making our vacation a memorable one!
Audrey Neal and Brian Tyers
Kelowna, Canada
Clients: Mr. Jorge Rubalcava & Ms. Yesenia Rubalcava
Country: United States
Email:
Hi Wendy,
Well I would like to say a big thank you for making this trip a memorable one with my girlfriend. We really enjoyed this trip, thanks to you and travel china guide. I am very satisfied with your service and would definitely use your company again whenever I visit your country again. One of the first impressions I had was how quickly you responded when I first inquired information about the places I wanted to visit. I don't see how you did to have an itinerary set up the next day for me! To this day, is still can't believe how responsive you were initially with a detailed itinerary. This is beyond good service so I really appreciate that!
All the cars were clean, good drivers, and great food, and the especially good guides. Our favorite guide was candy by far! Candy was simply amazing, funny, knowledgeable, and sweet. She collected all of our ticket entrances and gave them to us and the end of the trip in an envelope. That was very nice of her that she went above and beyond. You can share this information on your column, unless I have to but either way I'm willing to do it if you'd like.
Again, thank you very much Wendy!!
Clients: Ms. SARITHA ZACHARIAH (a group of 7 members)
Country: India
Email: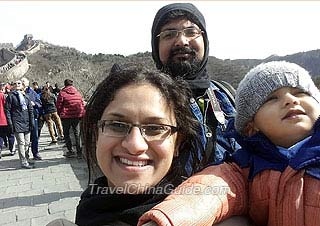 Dear Sophie,
Highly recommended Travel China guide tour agent. We had joined the group in Nov for 8 day trip (Beijing- Xian- Shanghai) with family and friends. The hotels selected were high end hotels (4*/5*) with continental and Chinese breakfast, rooms and ambiance were perfect. Guides were knowledgeable. They would even help us with recommendations to buy souvenirs, how to bargain, and food to try. Lunch and dinner mentioned in the itinerary were high end restaurants selected with wide spread of authentic food. All in all, we loved the trip and special thanks to you for making our visit a memorable one.
Kudos to TCG for the professional service extended.
Best regards,
Saritha Zachariah