2013 Customer Reviews
Clients: Ms. Kyrstne Gordon & Mr. John Walker
Country: Australia
Firstly, thank you so much for your assistance planning and booking our trip. You were very helpful and knowledgeable and made the process so easy and calmed my nerves about booking online and not through a local travel agent. It is also great that you are asking for reviews of our escorted China tour.
Overall we had an amazing holiday, better than any of us were expecting. The private trip made it so easy and we loved the flexibility.
All our guides spoke very good English and were easy to understand and went out of their way to make sure our needs were met however our guide Celine in Xi'an was a standout, her positive attitude made our days that little bit more enjoyable.
All the meals that were included or were recommended by our guides were delicious. We tried lots of different food that we would never usually eat and I can say gladly we did not have a bad meal.
I would highly recommend TCG, the booking process was so easy and the trip itself was amazing. We felt like we saw a broad range of what china has to offer and did it at our own pace which made it very enjoyable.
Thanks again for all your help.
Clients: Mr. Emad Aljumah
Country: Kuwait
Email: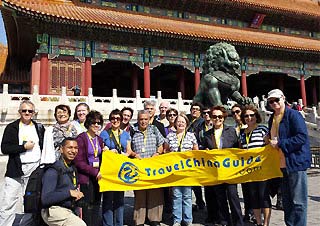 Dear Vicky,
I am extremely satisfied with the service provided by TCG and I would highly recommend your company to any one visiting China. The guides were extremely helpful and wonderful. Drivers, car and meals were all excellent.
The hotels were all of high quality; however, I would prefer that you select hotels in the city center which make it easy to wonder in the city at night when there is no activity. This is especially true for the hotels in Beijing and Xian, they were very good hotels but far from the city center. The hotels in Xian and Shanghai are in excellent location. Howard Johnson in Shanghai is excellent for is location and service, don't change it.
Some attraction we were rushed, Hutong Alleys, Bird Nest. I suggest to allow more time to walk in the Hutong Alleys and get close to the Bird Nest in Beijing.
Thanks for wonderful tour. I have taken many photos but I need to process them before I can share them.
Regards,
Emad Aljumah
Clients: Mr. Ian Evans & Ms. Irena Evans
Country: UK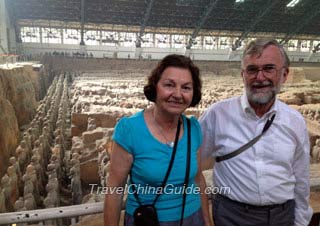 Dear Eileen,
All arrangements went precisely as promised, with occasional flexibility where we requested.
Guides and drivers turned up on time and there were no delays. We compliment all of our Guides, who spoke good English, were well-informed and went out of their way to be helpful.
We heard of others whose tours were merged with larger groups, and are grateful that your promise not to do this was fulfilled.
Even with hindsight, there are no parts of the trip we would have dropped.
For us, the inevitable highlight was the 4-hour boat trip down the Li River through the cone karst. We greatly appreciated being taken to Mutianyu, where there was plenty of space on the Great Wall, after hearing from others who had been crowded at Badaling: also the drive there through the mountains from the Ming Tombs was very pleasant.
Likewise we probably would not have booked the three evening shows on our own, but once we got there we greatly enjoyed each.
Hotels were excellent except for being well outside the centre in Beijing and Xi'an: food and drink prices were rather high at the Holiday Inn and Days Hotel & Suites. These locations gave guides long days, reaching and leaving them.
Being driven by car was convenient, if sometimes rather slow. Given the traffic congestion in cities, which is not going to reduce, you might eventually consider more use of public transport - subways in Beijing and Xi'an - for small groups.
Our trip was good value for money. The worst aspect was the nerve-wracking 24-hour uncertainty about payments getting through by PayPal - direct payment by credit or debit card is so much easier.
Given our advanced ages, this may have been a one-off visit to China, but we will not hesitate to recommend your services to friends.
Dr Ian S Evans
Clients: Mr and Mrs. L. Toronto
Country: Canada
Email:
Hi,
We are finally back from our trip since Beijing was only our first stop. This was an amazing high quality tour of Beijing. Our guide-Sunny and our driver--Mr. Wong were wonderful. We felt comfortable from the minute we arrived at the Beijing airport. There was the right balance of structure and free time. The Crowne Plaza Hotel was a great choice from the comfortable 5 star room to an excellent breakfast. Sunny was informative, helpful, and professional. She is an asset to Travel China.
We met others who tried to Beijing on their own and did not have the fantastic experience we had. This was a custom 4 days --specifically tailored to our requests and needs including our transfer to Tianjin. What can we say--except Thank you, Thank you Thank you!
Mr. and Mrs. L. Toronto
Clients: Mr. Alan Earnest
Country: United States
Email: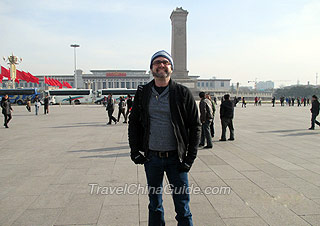 Hello,
I apologize for not getting back to you sooner. I am currently in Helsinki, Finland. First, I very much enjoyed my trip with your company. Doreena was superb. She was very knowledgeable - particularly the places we visited. Knowing when a building was built and exactly how many rooms there were in a building showed me that she really knew her subject matter.
Everyone back in the US asked about the smog - well, I saw smog only one day, otherwise, it was crystal clear blue skies.
I highly recommend anyone from the US that is coming to China for the first time to use your company. The guides, drivers, meals, cars, and everything else was superb. Little details like having the driver have a bottled water ready for me was most helpful and thoughtful. Doreena was patient as I asked for hundreds of photos - and she took some really great photos. The shopping trips were a nice experience as I purchased Christmas presents for family back home.
Doreena was exceptional. I can't say enough good things about her guide skills. Your company was superb. I felt like I was in good hands the entire time I was there. I highly recommend your tour company.
Thank you for a most memorable experience!
Warm regards,
Alan Earnest
Clients: Ms. Suzan Kendall (a group of 8 members)
Country: Canada, Germany, Russia
Email: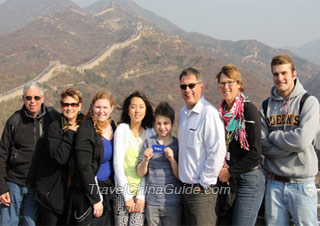 Dear Kelly and Wendy:
I am writing to you today to thank TCG for the awesome 4 day Beijing trip for Fulford Academy (4 Adults and 4 Students). I have attached a few pictures for you.
Sara was the best guide explaining so much of the culture and took such good care of us. She was funny and entertaining.
Again, thank you for such a great tour and great service from Sara!!!!
Sincerely
Suzan Kendall
Clients: Mr. Brant Schulz
Country: United States
Email: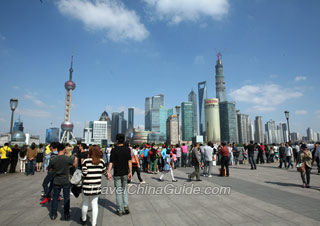 Dear Abbey and Wendy,
I am sorry to take so long to reply to your email. I have been very busy since my return from your country. I am happy to tell you that I enjoyed my TCG Vacation very much! The Guides did a great job and the cruise company for my Yangtze River Cruise was excellent!
My Tour started with the airplane ride from Nanjing to Chongqing. Everything went very well and I arrived and was greeted by my guide Jasmine at the airport. Jasmine is a really great guide and very knowledgeable about the city of Chongqing. And our driver was great at getting us to the various destinations.
Jasmine told me many things about the city as we drove to our first destination, the Panda Center. The Panda Center was very interesting and it was fun to see the Pandas. Next we visited General Stillwell's house. I have read a lot of history books about World War II and met many people of my parent's generation while growing up who fought in the War. I found General Stillwell's house to be really interesting! The house contained a lot of pictures from the War and had a lot of great information about what happened in this country during the conflict! It was really fun to see American and China as allies during that difficult time in history. After we left General Stillwell's house it was too early to go to the Cruise Ship so Jasmine asked me if I wanted to add an extra stop and I said yes and selected a stop in a historical part of Chongqing. This stop was a really interesting look into historic Chongqing. The architecture was really historic and beautiful and it was fun to learn about and see Chongqing's past. After this stop it was still about fifteen minutes early to board the cruise ship but Jasmine arranged for me to board anyway. As this was my first cruise I really appreciated the opportunity to look around the ship before many of the other passengers arrived.
For my Yangtze River Cruise I chose the Gold Cruise Line. This was an excellent choice! The room was really nice with comfortable beds and a balcony that had two chairs that were nice to sit on while watching the shore go by. The cruise had three included excursions the Ghost City, the Three Lesser Gorges, and the Three Gorges Dam. There were two other optional excursions the White Emperor Palace and a very historic Pagoda. All five excursions were lots of fun and were either very beautiful or very informative. The cruise line made sure that I was seated at a table with other English speaking people and on each excursion I was a part of a group led by an English speaking Guide. The cruise Director spoke great English and was the perfect high energy and enthusiastic person for the job. His name is Vincent and he helped make the cruise really special! I really enjoyed the cruise!
I was met in Yichang by Mr. Qing and a very capable driver. Mr. Qing waited for me with a sign with my name on it and I did not see him and walked to the top of the landing. It was my fault that I missed him and when we finally got together we were late. But Mr. Qing did everything he could to make time for me to eat lunch and catch my flight to Shanghai. We made it thanks to Mr. Qing's great organizational abilities!
When I arrived in Shanghai I was met by my guide Kevin. The hotel in Shanghai was great and just as I requested, right next to a subway station so on my open day I could ride the subway around town. On my guided day Kevin and our very excellent driver took me to the water city Zhujiajiao. Kevin was a very knowledgeable about the city and helped make my time there a lot of fun. Next, at my request we visited a pearl factory and I was able to find some very nice pearl necklaces to give to family members as gifts. We also visited the Temple of the Jade Buddha, which were really beautiful and spent time on the Bund and Nanjing Lu. I am a Boy Scout Leader in the USA and Kevin helped me pick out several varieties of small cakes to bring back for our Scouts to sample and to learn more about Chinese Culture. The Scouts loved it! For my "on my own day" Kevin gave me some really great tips on places to go where I could do some antique shopping. Thanks to his advice the day was a lot of fun and I found several great items to buy as remembrances of my time here. For my trip back to the USA my Guide for that day made sure that I was properly brought to and checked in at the airport. His help was greatly appreciated.
This is my third TravelChinaGuide trip and it was truly great! I will definitely use your company again should I get the chance to take another trip!
Sincerely,
Brant
Clients: Mr. Abhijit Gole,Ms. Leena Gole & Ms. Sonali Chahal
Country: India
Email: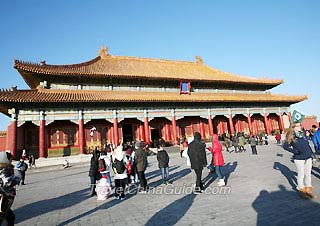 Hi Nicole & Eileen,
We had a wonderful trip and enjoyed all four locations Beijing, Xian, Guilin & Shanghai.
Nicole thanks for coming and meeting us while we were at the show in Xian.
Your guides were very good at all places and made our vacation memorable.
Your arrangements on internal flights and Hotel bookings, and restaurant selection for food were also very good and unto the mark.
We did not face any difficulty at anytime during the 10 days that we were there.
I am sure I could recommend your services to any one travelling to China.
Thanks Once again for all the good arrangements & warm regards.
Abhijit & Leena Gole
Clients: Mr. Kallianpur Baliga & Ms. Laxmi Baliga
Country: India
Email:
Dear Kelly Wong,
Thank you very much for such an excellent tour arrangements taking care of every details on a daily basis in every place we visited. I appreciate your efforts to make our visit to China a memorable one.
The guides were very efficient especially Joseph in Beijing. Even Phoebe and Wilson were very good. But Joseph was very energetic enthusiastic very flexible and understanding. Convey our best regards to all of them and I would like to have their opinion about us as tourists. I Thank Phoebe for her efforts in getting back our camera. Otherwise we would have lost all photographs from Beijing and Xian. I think she was little bit reserved and shy, quite natural for a lady, which reflects her rich cultural upbringing. Otherwise she very communicative knowledgeable and courteous friendly person. Wilson too was equally very good tech favi person but needs a bit more experience and knowledge about Shanghai markets. Could not find cottton textile shop which we wanted to visit to purchase Chinese cotton material.
The restaurants selection was extremely grand choice. The food was good in all, except that the menu should be in English (Xian restaurant had English menu). Pls keep this for improvement in future. The vehicles were very comfortable and all drivers were safe drivers and friendly. Wong in Beijing was the best among all. Please convey our best &Kind regards to all guides and drivers.
Congratulations for you and your excellent team for the best trip put in together which is far excellent and efficient. Thank you once again and thanks for sending my camera to Ms. MEI Xui. I'll keep you informed once I receive the camera in Dubai. If you are visiting Dubai for holidays pls give me an opportunity to help you in your visit . It will be a pleasure to meet you in Dubai.
Regards
Dr. Suresh Baliga
Laxmi Baliga
Clients: Mr. Wayne Hayward, Ms. Marie Hayward & Ms. Kira Hayward
Country: Australia
Email: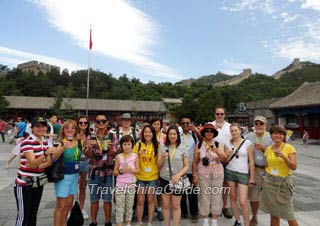 Hi Kelly/Sophie,

First of all, our apologies for taking so long in sending our feedback. Very happy with the services provided by your guides.

Re. drivers: Courteous and helpful (particularly the driver in Beijing).

Cars: Would have been better if the van used in Xian had carried a cooler box to keep the bottle water cool at that time (as it was very hot then). Beijing cars/van had a cooler box.

Meals: More satisfied with Beijing Hotel as they offered a large variety for breakfast whereas Xian hotel didn't have as much.

Hotels: Hotel in Xian, taking the suitcases up the escalator to the lift was quite awkward. Both Beijing & Xian hotels had good sized rooms and nice beds.

No problem at all with your travel consultants during the booking. They were quite helpful in providing info even after I ended my trip with TCG.

With regards to the tour in Xian, there was a day when both lunch & dinner/show were supplied on the same day. Both meals were delicious but too much food in 1 day. Lots of food was wasted at dinner time as most of us were still full from the big lunch. Would have been better if the lunch was provided on another day.

Overall, very happy and wouldn't hesitate to recommend your services.

Kind regards
Marie Doris Hayward