2002 Customer Reviews
Clients: Ms. Julia Marilyn Hockey
Country: United States
Itinerary: 2 Days Xian
Thank you for all your help with my visit. I completed a customer satisfaction questionnaire that I passed to Linda, my guide, at the end of my tour in Xian. The questionnaire was very complimentary about your service - Linda was an excellent guide and although my delayed flight due to the fog had an impact on what I could visit in Xian, everyone was very helpful.
Thanks again though for all your assistance - I had a very interesting and enjoyable holiday and I cannot wait to come back to China again.
Merry Xmas and a Happy New Year.
Clients: Mr. William Wahl
Country: United States
Itinerary: 10 Days Beijing - Xian - Shanghai
I am very pleased with this tour. Everything has been very nice, well organized and planned. Thank you for your service!
Clients: Mr. Rick Downing
Country: United States
Email:
Itinerary: 9 Days Beijing - Xian
EVERYTHIGN INVOICED WITH TRAVELCHINAGUIDE HAS BEEN VERY FRIENDLY AND HELPFUL. ALL FOOD HAS BEEN EXCELLENT. GUIDE AND DRIVER WERE BOTH FANTASTIC. I WOULD STRONGLY RECOMEND TRAVELCHINAGUIDE.
Clients: Karin and Gerd Cornils
Country: Germany
Email:
Itinerary: 6 Days Chongqing - Wuhan
Many thanks. The trip at the Yangtze River was really great, we enjoyed it very much and you and your company people did a very good job.
We send our good wishes for the holiday season to all of you.
Best regards.
Clients: Ms. Sandra Kempers
Country: Netherland
Email:
Itinerary: 8 Days Hong Kong - Guilin
I have enjoyed my trip to China very much. Many thanks for your excellent service. There is actually nothing what I could suggest to be improved.
You provide a very good service and I was very satisfied at any point of time. Without organized travelling and a guide on someones side it is very difficult to travel in China for someone who does not speak Mandarin.
I certainly will recommend your organization further.
Good luck and success.
Best regards,
Sandra
P.S. My best regards to my guide Holly.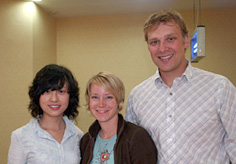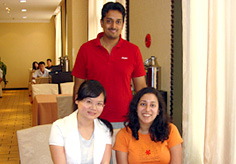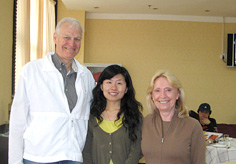 Our customers with our travel consultants