2012 Customer Reviews
Clients: Mr. Arlen Entsminger, Ms. Catherine Entsminger, Ms. Allison Entsminger & Ms. Lindsay Entsminger
Country: United States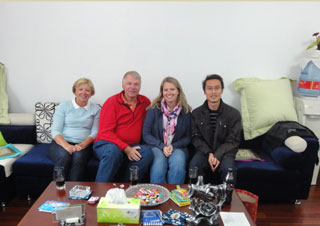 The meals were all very good. We liked having some choices, for example at the lunch in the local condo in Xi'an (this was one of the highlights ) and we liked that the guides explained the dishes so we could chose things we may not like to eat. Hotel breakfasts were outstanding. All restaurants were clean and service was very good. Amazed at how well the service people got so many people fed at the evening performance in Xi'an. Our favorite is the lunch prepared by local family in Xi'an.
Our guide Waldner in Xi'an was our favorite. His English was very good; he went out of his way to satisfy all our requests. He had so many facts on the area and attractions we visited, it was very hard to keep up with him. He was fun to talk with about how Chinese people lived and what they thought. We did not feel he was pushing any of the "souvenir shops" which we appreciated. Peter in Guilin was also very good. Our flight was 2 hours late but he met us with a smile at 10:00 pm at the airport. His attitude was equally as good as Waldners.
Both Waldner and Peter overwhelmed us with relevant knowledge. It's clear that they were trained to NOT just answer our questions, but to provide a rich background of the historical aspects of the cities. In fact, I now am planning to study areas of Chinese history that they brought to my attention. We really think that is a positive of your company and both guides did great in this area.
Our last day in Guilin, Peter gave us several options on what to do. It was a little hard choosing as we had no concept of the choices. Perhaps a more structured itinerary that day would have been better for us, although other people might like the open choices. This is not a "disappointment" at all, just an observation.
Both drivers were great, always where they were supposed to be. Vans were clean and we had plenty of room.
Both hotels exceeded our expectations. Frankly, I was worried about what level of quality we would have in the "Standard" category, but both were exceptional. Breakfasts at both were exceptional in terms of quantity and quality. Service and room hygiene great...equal to most Western hotels.
In two days with Waldner, we felt we got to know each other very well. He is someone I could be friends with. He changed my perception/stereotype of Chinese people as being withdrawn and unhappy... Waldner is an outgoing, happy, personable man and being a tour guide seems to be a great fit for his personality. He is a credit to your company.
We would not like to have our email address posted. Feel free to use any of our comments. We would very definitely recommend your company to any of our friends who might be planning a trip to China in the future.
Arlen
Clients: Ms. Berandine Geldenhuys (a group of 9 members)
Country: South Africa
Email: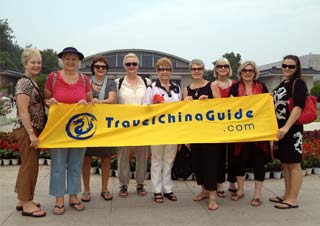 Dear Abbey/Carol
You, together with Wendy, were exceptional to work with on this trip. It was pure joy to be able to communicate with you at all times of day and night and get a quick response.
Bottle of Great Wall Wine when visiting the Great Wall very nice gesture and added a nice touch to the day. Midday boatride on the Huangpu river most enjoyable and a nice way to see the architecture of this beautiful city, Shanghai. I would recommend to always include this on the city tour. Zhouzhuang Water village –loved this excursion and village not as busy as we expected. Zhangjiajie is an amazing place and we are so grateful we were able to see the wonderful nature. Our absolute highlight was the day at Tianmen Mountain + the Glass Skywalk + the truly wonderful show (The Fox Fairy Show). It was a bonus to see the newly born babies in Chengdu.
Please treat the comments I make in the following as positive criticisms. My main concern is the quality of the guides provided. Sara in Beijing was good and considerate of our needs. David in Xian was an excellent guide - am so grateful we had him - he ensured that we made the most of our limited time in Xian. He was by far the best guide we had on the trip - it would have been wonderful if all guides could have been as professional, well-organized, knowledgeable and fluent in English. I did stress the importance of guide a few times in our correspondence and the fact that we had some really bad guides is disappointing. Leedan in Hangzhou was very young and seemed totally inexperienced. Lily, Zhangjiajie guide was a very young girl with little knowledge and knows little English. I had a really hard time to communicate with her. Jiuzhaigou guide was a terribble guide, such a disappointment.
We also concern the large increase in visitor numbers to sensitive areas like the parks and Lijiang. The Lijiang town has lost its appeal for us. It seems a lot of the other visitors we have spoken to are also disappointed and people feel confused - how is it possible that such a charming old world place could be invaded by thousands of tourists mostly interested in eating? Where before the various canals had crystal clear mountain water running through the town, it is now all dirty and horrible. The infrastructure of the town simply cannot cope with the numbers of people eating and moving around - gone are all the ladies and girls dressed in traditional clothes, the yaks, ponies and farmers on the main square, the sound of running water in the canals. The main impression one now gets is of thousands of people pushing through the narrow streets, very noisy, eating and drinking everywhere and at all times, loud modern music filling the streets at all times(also during the day) and by 17h00 when everybody gets back from the excursions it becomes a nightmare to move around. So really terribly sad.
An easy solution to address at least the noise pollution would be for the guide and groups to use earphones and a small mouth piece for the guide to talk to pax instead of the megaphones being used at the moment.
Last but not least - we were all incredibly impressed by the progress that has been happening in China. The beauty of Shanghai was an absolute surprise and highlight for us.
The government is certainly investing a lot of money in infrastructure - all the beautiful new roads, bridges, airports and cities being cleaned up and modernized.
I do hope they also succeed in finding a way to protect the amazing natural beauty and history for generations to come.
Thank you for the last minute rearranging of the trip to Zhangjiajie instead of Lhasa - it was a very good alternative. I do appreciate all the time and effort you have put into arranging this trip as well as your commitment to professionalism.
Many thanks once more.
Best regards
Benny Geldenhuys.
Clients: Ms. Teresa Muszak-Myers & Ms. Teri Muszak
Country: Canada
Email:
Dear Nicole,
Hello, I apologize for the long delay but I returned to Canada with a horrible cold and have been recovering in bed for five days. Not sure if it is a China thing or a Canada thing, but being as I got it on the plane, I think I have spread it across two continents. Not good.
The meals you arranged on our tours were absolutely fabulous. I liked the variety of atmosphere and food. I think the best restaurant was the last one, the Western style...unfortunately it closes to prepare for dinner in the early afternoon so we were rushed a bit, but not sent away, they did accommodate nicely.
All three of the guides were very special in their own way. We enjoyed each and every guide and recommend you use them frequently in the future.
The guides were all knowledgeable and friendly. We felt they were all three more our friends than guides. Sherise, in Shanghai was the most knowledgeable, we would ask a random question about a building we drove by and she knew what it was. Coco was the most loving and we felt that she was like family. She knew her stuff and she took care of us like we were family. Brian and Mr. Bye were fantastic in their knowledge and their ability to bend over backwards to accommodate us for our personal needs.
The best driver was in Beijing with Brian Ma...Mr. Bye. He was as much a part of our experience as our guide Brian was. The drivers in Xi'an and in Shanghai did a great job driving and left the guiding up to the guides. All vehicles were as warm and comfortable as we requested.
I requested to stay at the Howard Johnsons Paragon Hotel in Beijing. This hotel met every expectation. Although the breakfast was similar every morning, there were enough significant changes as to not make it boring. Our room was very comfortable and the service of staff was sufficient. Our guide Brian Ma helped to check us in, making this easy. The maid service was sufficient.
We went with the Yafan Longmen Hotel in Shanghai and it was not as successful. Although we appreciate the fact that they had no problem changing our reservation and adding a couple extra nights to accommodate my son visiting, it is expected as well being off season for tourists. Although this hotel is lovely on the outside and the front entrance and halls look wonderful, it seemed everything in our lovely room was broken. The breakfast was similar to the one in Beijing but there were not enough changes to keep it from being boring. We were very disappointed with this hotel.
The service and delivery of services from TravelChinaGuide.com not only met my expectations but exceeded them. Each of our tours in Beijing, Xi'an and Shanghai were fun, informative, had delicious meals and we felt well taken care of. I was most surprised that the entire invoice for what we received was as low as it was and thank my lucky stars that I contacted TravelChinaGuide.com to assist in planning and carrying out this trip. 
I would truly encourage anyone who is visiting China to take the headache out of the experience and leave all of the responsibilities to TravelChinaGuide.com and their capable staff. My memories include the ease to get to China, the experience and now I feel sad that it is over.
My daughter and my thanks forever.
 
Teresa
Clients: Mr. John Michael Milam, Mr. David Michael Milam, Ms. Pamela Dawnette Milam, Ms. Leah Nicole Milam & Ms. Hannah Danielle Milam
Country: United States
Email:
Hello Bruce and Nicole,
We had a very interesting and enjoyable visit to China with TravelChinaGuide.
Concerning the Meals:
The two lunch meals we had in Beijing were excellent. There was a performance in the restaurant during the second lunch, which we enjoyed very much. Gloria, our guide, was very helpful in assisting us with both orders.
Our third lunch meal was in the tiny village of the Zhuang people on the side of the mountain in Guilin. At first we were concerned about eating in a small restaurant in a tiny village. Like most Westerners, we have weak stomachs, and we were concerned about getting sick. We were not concerned about the tastes. We just did not want to get sick. Our guide Alice assured us that the food was safe to eat, so we ate and enjoyed the meal. Considering the effort that the restaurant had to go through to get food up to the mountain, the meal was quite good. Alice, our guide, called ahead to the restaurant and the restaurant did a good job in providing us what we requested.
The fourth lunch was on the river boat on the Li River. Your company advised us that this meal did not meet your standards. We thought this meant that the food might make us sick. Alice told us that the food was safe, but it might not be as tasty as the other meals. Some of our group ate the food and said that it was OK but not as good as the other meals. I only drank some beer.
Our last lunch meal was in city of Guilin and in a hotel. The meal was quite good, but it was a prearranged menu, so we would have not ordered some of the dishes if we had made the choices ourselves. We all had plenty of food to eat and it was good..
Note: Many Westerners read warnings, before visiting China, about not drinking certain water or eating food from some places that may not be as clean as what the Westerner is used to, or they may become sick to their stomach. None of us became sick at any time so that was very good. We have gotten sick from food or water in some other countries. You company did a very good job of picking good and safe restaurants. Thank you!
Concerning the Guides:
We thoroughly enjoyed the company of Gloria in Beijing and Alice in Guilin.
In Beijing, we were shown Tiananmen Square, the Forbidden City, a Hutong, the Drum Tower, the Temple of Heaven, the Summer Palace and a section of the Great Wall of China. Each of these places has much history associated with it and Gloria did a very good job of explaining the meaning and significance of these great places. We were very pleased with Gloria's English, with her knowledge and her pleasant personality. She was always smiling and seemed to be very happy.
In Guilin we saw more scenic sights than historic sights and this too was very interesting. Alice did a very good job of explaining the customs and distinctions of the minority peoples. The visit to the villages of the Yao people and the Zhuang people was very interesting. The weather was not great that day. It was cloudy with a light rain, but the visit was still quite good. The scenery during the Li River cruise was spectacular and this will be one of our greatest memories. Alice was good at explaining the resemblance of some of the mountains to different creatures or people. While we were in the town of Yangshuo, we invited Alice and our driver to eat dinner with us, and we were delighted to have Alice accept. We got to know Alice better and she was able to educate us on more of the Chinese customs. The restaurant she picked, "Cloud Nine" was excellent and very reasonably priced. We had heard about the "Light Show" performance during the river cruise, and decided to go. Alice efficiently arranged for the tickets and transportation. Even though there was not a word of English, the performance was just wonderful. During our tour of the Reed Flute Cave, we heard one of the other tour guides sing to her Chinese tourists. We asked Alice if she sang and she later sang a beautiful song to us in the van. Alice was charming. 
With both guides and the drivers, we always felt very very safe and under their control. 
Concerning the Drivers and Cars:
Both drivers were very polite and drove carefully. The vans were comfortable.
Concerning the Hotels:
The Marriott City Wall in Beijing was very good and met all of our expectations. The Shangri-La Hotel in Guilin was also very good. We had to request one room change because of a strong smoke smell in the original room, but the hotel quickly agreed. We sadly noticed that many Chinese men smoke. This is how it used to be in the United States, but we have now passed many laws which restrict smoking and Americans have now gotten used to clean non-smoking areas and rooms. I'm sure that, in the future, the Chinese will realize the dangers of smoking and start prohibiting smoking in many public places. If hotels want to provide rooms to Americans, they will have to firmly control smoking. The Green Lotus Hotel in Yangshuo was also quite good and met our expectations.
Thank you TravelChinaGuide for a memorable, interesting, enjoyable and education experience in China.
Michael Milam
Clients: Mr. Ian Davies
Country: Australia
Email: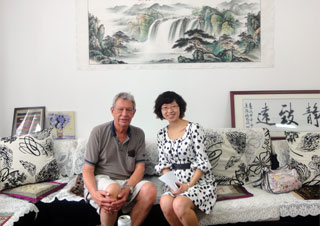 Hi Nicole/ Bruce,
Firstly apologies for the delay in responding to your email. I have been fairly busy since I returned to home.
All the meals were extremely good. For me the outstanding one was the meal in the private home in Xian because of the opportunity to meet someone in their own environment. It is a really outstanding part of the service you offer.
I did find that after a few days I really did not want a big lunch in a fancy restaurant each day. In Jiayuguan, the guide suggested we go to a dumpling restaurant not frequented by tourists, and I really enjoyed the laid back atmosphere of it, as well as the food. Also the little places we went to for lunch in Huanglong and on the way to the Bingling Caves were great as they gave an idea of where locals eat.
I would like to make a general comment about meals because towards the end of the trip I broke the rules and insisted the guides and drivers did as well sorry about that. I know you have different budgets for client meals and guide/driver meals, but I found two things: firstly, that the there was always way too much food served for one person, and secondly, that being a single traveler, it was always a bit lonely eating by yourself, especially when the guide and driver were often sitting at the next table. As a result you tend to eat quickly and not enjoy the meal as much as one would with a group. To overcome that I insisted that I, the guide and driver sit at the same table for meals and pool the three budgets. If we went over that I was happy to pay the balance. It made the meals much more enjoyable having company while eating. This would not be an issue for couples or groups, but perhaps it is something that you can consider allowing for single travelers in the future. 
I was very impressed with all the guides. They were all friendly, polite and knowledgeable. Also happy to be flexible. The level of English spoken by the guides was generally very good. The only one whose English was a little lacking was Orlando in Dunhuang, but not to the extent that it hampered normal communication. See comments below about individual guides.
Amy in Chengdu, after the visits we were scheduled to go for lunch. I was not hungry so she suggested we go to the main park where there was a lot of entertainment on in the afternoon. She took me to a traditional tea house in the park and we had a really enjoyable couple of hours sitting there talking life or generally about China, etc and drinking tea while we waited for the entertainment to commence.
Mandy (or Mindy I forget) in Jiuzhaigou. This girl was OUTSTANDING. Not only was she very patient with an old, unfit guy struggling up all those stairs, lol, but she went way beyond the call of duty.
Tracy in Xian. Excellent guide, very friendly and knowledgeable. I also enjoyed being able to have lunch with her in the private house.
Linda in Beijing. Also an excellent guide who went beyond what would be expected.
All the cars were spotlessly clean at all times. All the drivers were also very nice, but I must say I was not overly impressed with the driving skills of the driver in Lanzhou. If I had to pick one outstanding driver it would be the one in Beijing.
With one exception all the hotels were very nice. However, having said that, the air conditioning in the hotels in Shanghai and Guilin was inadequate. The exception was the Jiuzhaigou Resort. While the public areas of the hotel were very nice the room was a disgrace. Another comment I would make is that some of the hotels advertised Western restaurants which did not exist in Jiuzhaigou resort, Dunhuang Hotel. One comment I would make about the choice of hotels is that some of them (eg: Shanghai) were located quite a distance from the downtown/tourist areas of the cities. I appreciate hotels in the these areas will probably be more expensive, but perhaps in future it would be a good idea to offer clients a choice of hotels with some information on their locations and prices.
I must comment on how impressed I was with the staff in the hotels. Although in many cases they spoke little, or no, English, they were all very pleasant, and despite the language difficulties, they all tried very hard to help. Ironically, the most outstanding were at the Jiuzhaigou Resort.
I really enjoyed the whole tour. In fact I would rate it as probably the most enjoyable and fascinating overseas trip I have done.
Once again many thanks for all your help in organizing the vacation. I will certainly use TCG for future plans to China and will be happy to recommend TCG to friends.
Cheers,
Ian
Clients: Mr. Daniel Pierce & Mr. Andrew Balk
Country: United States
Email:
Hi,

Our guide in Guilin, Frank, was great. It was nice to be met at the airport and transported to the hotel. Frank's attitude was very helpful and his English was good. Frank volunteered information and answered our questions. He was also very knowledgeable.

Frank was very helpful the last night when our flight was canceled. Between him and your office you managed to get us on a flight which was important to us, even though we got to Shanghai rather late. We didn't have much interaction with the driver. He did a fine job of getting us where we needed to go and showed up where Frank told him to meet us.

One meal was arranged for us the last day of our stay in Guilin. It was a western meal at the Left Bank restaurant. The meal was sort of mediocre. It probably would have been better for us to eat a Chinese lunch with our guide. The service and environment of the restaurant were fine.

Guilin Bravo: Fine hotel. Western breakfast could have been better. For example, the orange juice was watery and the pancakes were watery. However, the eggs and bacon were good. Very pretty next to the lake.

Renaissance Shanghai Yu Garden: Breakfast was good. Great location.

The main thing I appreciate about TCG is ease of making these arrangements. Abbey and Carol always responded to our pretrip questions or concerns promptly and efficiently. This trip was added on to a physics conference a colleague and I attended in Shanghai and all went smoothly.

Daniel Pierce
Clients: Mr. Terence McKay (a group of 14 members)
Country: United States
Email: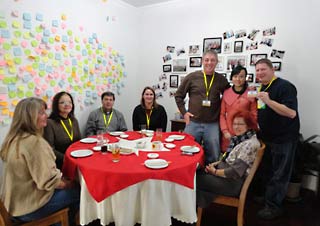 Hi Abbey,
All of the meals were very good, I don't think we can single out one as exceptionally better than the rest. The lunch in the home in Xian was very well appreciated by all the guests, it was a treat, very different, the food was very good, and the atmosphere was great, that was fun. The lunch the day before, the Cantonese restaurant was also enjoyed by everyone, this is the closest to what we see in North America for Chinese food, very good! The lunch on the cruise, as you warned everyone, was not the best, it was OK, everyone did as you said, had a big breakfast, so in our group very little lunch was eaten on the cruise. The lunch on the last day, I cannot remember the name of the restaurant, the Western style lunch, was also very good, that was enjoyed by everyone again.
Both guides were good, language was excellent, knowledge of the area was good, our second guide did not share as much information as the first, about the local area, etc. Our first guide in Xian offered a lot more information and answered questions. Also our second guide should learn a little more about what might be offensive to some people, he did not badly offend any of our people, but some of his jokes used some language that some people would not like.
Because no evening dinners were planned in the itinerary, I think it would have been nice if the guide offered some suggestions near the hotel for dinners, I am sure if we asked they would have helped but we ended up having dinners at the hotels and it would have been nice to see more outside the hotels.
Both drivers were excellent, friendly, knowledgeable about the area, and both busses were clean and comfortable.
Excellent hotels, no problem, clean, comfortable, good service.
The only small problem we had was the transportation issue to visit the farmhouse, we understood we would have the choice of riding bicycles or taking golf carts, and we understand that the rules have changed. It was a bit confusing, I think the new rules mean that the golf carts cannot go there anymore, but we never did understand why the bicycle option also was gone, then we walked a few hundred meters to get on the bus instead, this little walk was not needed, some of our group was a little older, and did not need that extra walk.
Overall, everything was excellent, we were all happy with the service again this time, the sights were all well chosen, and well shown by the guides. The transportation was excellent; we will be looking to arrange more trips with TCG in the future!
Terry McKay
Clients: Ms. Dianne Man, Ms. Shirleen Man, Ms. Yvonne Fokming, Ms. Queenie Toy, Mr. Winkin Leong & Ms. Denise Leong
Country: South Africa
Email: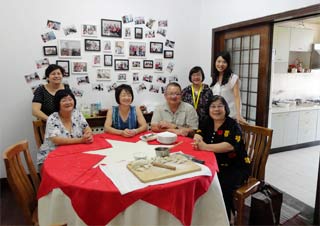 Hello,

We were impressed with all the restaurants which you had chosen for us. They were obviously chosen carefully because each one was very nicely decorated, clean and neat. The service was also good. The food was good and we were pleased with the generous allowance per person that you had allocated as we could choose the dishes that we wanted to eat and still come out within budget. Our guides helped us choose dishes which reflected the local cuisine of each city except for one meal in Beijing that had a set menu which we also enjoyed. The one restaurant that we would remember most was the one in Beijing where we had lunch on our first day. We sat outside in an enclosed garden area because there was a wedding inside but we really enjoyed the outside setting. We also had Peking duck there.

We had chosen female guides and we were happy with all of them. They were patient and helpful with airport transfers, check-ins at hotels and airports, etc. We arrived very late in Xian after our flight was delayed in Beijing for several hours, and our guide was waiting there patiently for us and checked us into the hotel. Our guides were knowledgeable, had good English language skills and were always cheerful and patient, as I mentioned above.

Even the guides that we met briefly in Chongqing (to take us to the boat) and in Yichang (to meet us after the boat) were very helpful and gave us details of each city in the bus. We certainly learned a lot about both cities.

Our guides in Beijing and Xian were particularly good with additional information and answering questions, as they had to cover the historical sites. Their knowledge of the history of the country was excellent and they could answer most if not all of our questions. Our guide in Shanghai was competent, but I think she could have provided us with more information about what to do on our free day. In the bus she chatted with the driver rather than with us, and responded to our specific questions rather than talked about the areas we were driving through. We would particularly like to commend our guides in Beijing and Xian for their excellent knowledge and competence. They are obviously experienced guides and could anticipate our needs and questions.

The vehicles were clean. Some were newer than others. The drivers were pleasant and certainly knew how to drive in the heavy and sometimes chaotic traffic.

We liked all our hotels. They were as we would expect 5-star hotels to be. They were centrally situated and we could walk around in the evenings. The breakfasts were very good and served both English and Chinese cuisine.

We were particularly pleased with the service from Linda on the Sunday when the boat could not sail to Yichang because of a land slide and we had to be taken to Yichang by bus. We were concerned that we would not be picked up in Yichang at the right place. We phoned the office and Linda responded with phone calls and SMS, and so did the guide in Yichang. We were very impressed with your service on that day.

Thank you for this photograph. It brings back happy memories. We were very pleased with the excellent service we received from your company with the reservations and throughout our trip.

Darryl
Clients: Ms. Michelle Thorpe, Mr. Richard Thorpe, Mr. Robert Matthiesen & Ms. Ella Matthiesen
Country: United States
Hi,

We had a great experience on our journey to Beijing thanks to TCG. Everything went exactly as described. The meals were extremely good starting with an amazing breakfast. More choices for breakfast than we could possibly try. The lunches were all very good and very tasty. Our guide, Doreena was very helpful in making suggestions on what to have. Everything she suggested was fantastic. The restaurants were all very nice inside and the service was excellent. We had a crunchy beef dish that was amazing, but everything we had was very good.

Our guide was Doreena and she was simply outstanding. She made our trip so enjoyable starting with greeting us upon our arrival. We were concerned because our plane arrived late and it was 2:00 am local Beijing time. But there she was waiting for us along with the driver. On the way back to the airport we had to modify our travel plans which required us to leave the hotel at 4:00 am. Again she was right on time with the driver waiting. Each day that we were on a tour it was the same. She told us a time and she and the driver were right there. Everything worked just like clockwork.

Doreena was an excellent guide. Her English was very good and she knew everything about the places we visited. She even knew where to stand to get the best pictures. Better yet, she would offer to take pictures of all of us and again because she knew right where to stand they all turned out fantastic. But most importantly, was her excellent descriptions of all the sites we visited. Another thing we liked about Doreena was that she was so helpful outside her duties as our guide. One evening we had scheduled a dinner and had no idea of how to get there. Doreena called the restaurant for us, confirmed our reservation and wrote down instructions to a taxi driver on how to get us to the restaurant. She also gave us her cell number in case we ran into problems getting back to our hotel. In fact she made it quite clear to call her anytime we needed her help while we were there. Knowing we could reach someone if we had problems really made our stay much more comfortable.

Our journey also included a driver and van. The driver was great. He knew his way around the city and was always there waiting for us after we were done with an event. The van was kept in very good condition and was extremely clean. Any trash that was left behind such as empty water bottles were gone when we returned.

We stayed at the Crowne Plaza Hotel. As I mentioned previously, the breakfast that was included each morning was simply amazing. Anything you could possibly think of was provided. There was even someone to cook you an omelet with your choice of ingredients if you so desired. The staffs at the hotel were very helpful. About the only thing that we found not up to four star standards were the rooms. They were on the well used side of things. Also, even tough it was in the winter, the rooms were very hot and you couldn't adjust the temperature.

All in all, our trip exceeded our expectations. TCG not only delivered on its promises, but did so with style. The tours and food made our visit to Beijing a truly memorable experience.

Sincerely,
Rick & Michelle Thorpe
Clients: Ms. Ingrid Paesch & Mr. Lucas Ng
Country: Netherland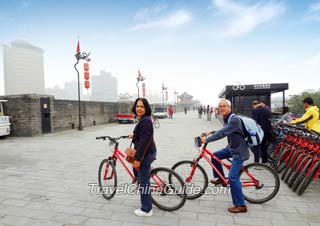 Dear Ms Kelly Wang/ Sophie Yang,
"Ni hao" from Aruba. First of all, thank you so very much for making our vacation a most memorable one.
Thank you for your prompt email responses from our first contact to our final communication, patience, advice and for assisting us to build the best itinerary possible. It was a very tight schedule, but worth it. The step by step itinerary was our second guide, it really helped us. In one word the tour was perfectly organized and everything went as planned. Wonderful! No complaints at all!
Meals:
The food was good, but not really our priority. A la carte gives you choices but still it remain difficult. Looking at the pictures doesn't tell you much about the taste. So the guides always had to help us. Everybody is different when it comes to eating so I guess a la carte is still the best option. The restaurants all looked very fancy and the services were good.
Definitely I would like to recommend the special roasted Peking Duck, more because of the way you have to prepare it and the way (wrap) you have to eat it. They give a little show to it which makes it much more special. The taste was very good!
Guides:
Because of the different cities we went, we had 6 guides during the whole visit and all were very polite and friendly. All guides were always punctual to pick us up at the hotels. They are all well-educated and very attentive. English was not a problem. Sometimes it felt like we knew each other for a long time. Knowledge of history of the visited sites was more than expected. English was more than sufficient to understand each other well. Nonetheless guides should always improve on their knowledge and language. We have nothing to complain about the guides, but praise for their services. We are very satisfied with their services and efforts to please us. Our special compliments for Linda in Beijing and Monica in Guilin. They are so special to us.
Drivers & Cars:
Drivers are not the least, they are very important concerning our safety in the difficult traffic. They have to drive safely and responsibly at all time in a very busy traffic. That's not so easy. But all drivers did a job well done. All cars were in good condition and very clean at all time. Water bottles were always available to us. It feels so good to be safe and sound back home.
Hotels:
The hotels were well chosen as 4 stars hotels and locations were good. The service in all hotels was excellent and the rooms were all clean. All breakfast were excellent.
Thank you so much for organizing such a wonderful trip for us. Happy clients is the essence of the tour and TravelChinaGuide made us happy. We truly enjoyed your services and will recommend this to our friends and perhaps we will return to your country in the near future.
Sincerely yours,
Ingrid Paesch