2006 Customer Reviews
Clients: Mr. Charles Thomas Collenberger & Ms. Eva Margarete Collenberger
Country: United States
Email:
Itinerary: 15 Days Small Group of Beijing - Xian - Guilin - Yangshuo - Guilin - Shanghai - Qingdao - Beijing
Shengdan Kuaile! Xinnian Kuaile!
It's that time of the year again. Time to bring our family and friends up to date on our vacations. And how we have traveled!
After Dad had died, Eva expressed a wish to see China where we had lived. I checked on the internet for tours of China. Finally we found one that allowed us to add cities not on the normal itinerary. We added Qingdao where I had my eleventh birthday.
So, on to China we went. Beijing (the capital city), Xian (the city of the terra cotta warriors), Guilin (down the Li River), Shanghai, and Qingdao. Beijing is everything that is said about it. Preparing for the Olympics, there was new building and repainting going on everywhere. Xian is not to be missed. The Li River is the free mountains of Chinese art, not some myths painted by artists high on something. Shanghai is huge, not to be seen in two days, like we tried.
Qingdao is as I remembered it. Many beautiful houses and buildings. We found the house that we had lived in. The Grandson of the original owner was still living in an apartment in it. With the help of our tour guide and we had a long conversation. More at the end.
We have top of the line rooms everywhere and good food, sometimes too much of it.
Next I went to Illinois to straighten up my Grandfather's farm and to see a grand niece get married. Had a good time!
Then in the fall, we went to Germany for a month. We rented an apartment in Eva's hometown. We used this to as a base to travel around Germany and surrounding countries. I have still not processed all the pictures. It is a good thing I went to digital camera!
Now we are resting up and waiting for the next trip.
Our new Chinese friends the grandson and his wife, Li Chuangang and Sun Qing, want to visit us next March. Because they do not speak English, we have been busy learning Chinese. Two classes down already and maybe enough time for one more. My brain is getting too old.
The Chinese spelling above is Merry Christmas and Happy New Year. From us to all of you!!!
Charles and Eva
Clients: Ms. Lynda Wade & Mr. Matthew Wade
Country: United States
Itinerary: 9 Days Super Deluxe of Beijing - Xian - Shanghai
Travel China Guide is a great way to explore China. All the staff are very knowledgable and they help you with every aspect of the tour. Efficient use of time with a relaxed attitude. Plenty of imperial experience of history with just enough urban bustle and shopping.
Overall our China travel is very good. The hotel in Beijing (Holiday Inn Central Plaza) is excellent! It will be hard for the next hotels to live up to those standards. Our guide Lily was excellent. She made the trip very easy and very special for us. She went far beyond her responsibilities and even bought a present and a cake for my stepmother's birthday. We thoroughly enjoyed her. Our driver was excellent as well. He was always early and made good suggestions in heavy traffic. He was very friendly, very happy and spoke some English very funny. I'd highly recommend both of them to my friends.
Xian is a wonderful city full of history. It is just amazing. The Terra-cotta Warriors was an amazing experience. I would recommend that all people travelling to China visit Xian. Our guide Lily was amazing! She was so knowledgable. She helped us find a beautiful local painting to bring home. She was very flexible with our schedule and allowed us plenty of time to see everything on our agenda, plus some extra sites. She was very kind and made sure we enjoyed our trip.
Our entire China trip was wonderful. Our guide in Shanghai was also very knowledagable and agreeable and made our stay in Shanghai very special. We will recommend Travel China Guide to our friends.
Clients: Mr. Robin Peyton Glancy & Mr. Michael McCoy Glancy
Country: United States
Email:
Itinerary: 7 Days Luxury of Beijing - Xian
Thanks again for a wonderful China trip. I have taken a moment to share the comments with you. Please find that below. Enjoy your winter, and we look forward to travelling with you again sometime soon.
All of the meals were fantastic! We thought we would enjoy the occasional opportunity to order on our own, however, it was very relaxing to have all of the food selected as part of the tour. We really enjoyed the Peking Duck dinner. As my father and I were travelling with just the two of us, we actually would have enjoyed eating with our guide and driver, though we understand that there were rules which required them to eat together and seperate from us. This might be a nice question to ask people, if they'd like to eat with their guide for further cultural exchange.
The guides were impressive, and we NEVER had any trouble understanding them. Each of them had a wide depth of information, and we were always pleasentlly surprised by their informative and entertaining explanations at each of the sites.
Both of our guides were FANTASTIC and exceeded our expectations in every way...In fact, the entire China travel experience from researching via the web, to fine tuning our itinerary and booking, to payment and pre-departure advice, and finally meeting our guides at the airport and enjoying every moment of our week in China, this has been a smooth and enjoyable experience. I would recommend TravelChinaGuide.com to any and all of my friends and family, and have been already! My family is already talking about looking to visiting Shanghai, Hong Kong and Tibet with our trusted guides from your company...Thank you for all the wonderful memories!
~Robin and Michael Glancy
Clients: Mr. Gheorghe Adrian Cornel & Ms. Popa Maria Cecilia
Country: Romania
Email:
Itinerary: 18 Days Luxury of Beijing - Lhasa - Xian - Guilin - Yangshuo - Guilin - Chongqing - Yangtze River Cruise - Wuhan - Shanghai
Dear Brenda and Cynthia,
Thank you for your efforts in making us a comfortable China trip. Please find our comments below:
The meals were excellent. Explanations are very important because the Chinese cuisine are far different and it will be better to learn something about the combinaions, the manners, and so on. The guides joining tourists to some meals will be welcomed.
The best we would like to recommend is the Beijing Duck we've enjoyed up to the last piece.
The cars were clean and the drivers's attitude was correct.
We want to convey our thanks to our lady guides in Guilin and Xian, who were very helpful and try to sort out with dilligence all our requests.
In short, here are some comments to each of the places we visited in China:
1. Beijing: One day more will be OK. Very interesting places, but not too much time by ourselves. Great Wall and Summer Palace were our favorites;
2. Xian: All city attractions we have visited were outstanding: The Terracotta Warriors, the Big Wild Goose Pagoda, the City Wall and the Muslim Quarter;
3. Guilin: The place we loved most - the Li River cruise and the picturesque Yangshuo countryside - better to stay more here;
4. Shanghai: Spectacular city - time was too short.
Once again thank you very much for the nice time we spent in your beautiful and interesting country.
Adrian and Cecilia
Clients: Mr. Bruce Gordon Simon
Country: United States
Email:
Itinerary: 4 Days Standard of Chengdu - Lhasa - Xining - Shanghai
Judy,
Your Tibet tour was very satisfying in many ways. Tensing was a great conscientious guide who spoke excellent English. His knowledge was great of Lhasa and Buddhism. The driver was also very good. He was not in a rush and took no driving risks, which is uncommon in China. That was relaxing and appreciated. Tourists don't want to get in a car wreck or run over someone while on vacation.
The hotel was good and the meals were also good.
Tensing was also willing to accommodate my specific interest in the tour. I was a little less interested the religious nature of Tibet and more interested in the people and we he actually took me to the dog market and the night market.
The train ride was great and relaxing too. Meals on train were very good.
I hope to return in the summer to see more of Tibet.
Bruce Simon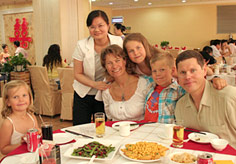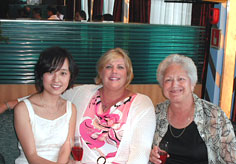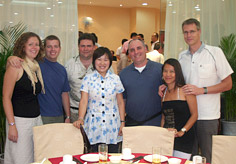 Our customers with our travel consultants