2010 Customer Reviews
Clients: Ms. Kyla Van Der Klauw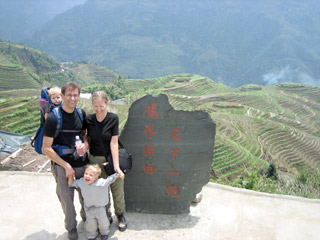 Photo offered by our client Ms. Kyla Rose Van Der Klauw, see her album
Reviews
of the first part!
Reviews
of the third part!
Dear Abbey Cheng/Ruby Zhao
I am so sorry that it has taken me so long to respond. This feedback will take a few days to complete, but to start:
1. Meals - Generally we loved the meals that you arranged for us. I have provided more details to each city below. If there was only one meal that we would like to recommend to our friends or family it would have to be the lunch that we had on the way down the mountain from the Longji Terraced Fields (the produce was so fresh and delicious and every flavour was amazing) or the lunch in Zhoucheng (a fantastic and huge range and variety of delicious dishes - we just kept eating and eating!)
2. Guides - Each guide was wonderful and very helpful as detailed below.
3. Drivers and cars - All of the drivers except for one were very helpful and pleasant while being excellent, safe drivers. More details below.
4. Hotels - all good - will detail further below.
I will send some photos separately.
Shanghai
Meals - We really enjoyed the lunch that we had in Shanghai. The atmosphere was great with the restaurant full of locals. We had the most delicious prawns. There was even a babychair (highchair) for Kieran. The dinner at Wang Bao He restaurant was fabulous. Unfortunately the children were very tired and so it wasn't the most relaxing meal. However the atmosphere and décor were lovely. We especially enjoyed the live traditional music. We had the best fish that we ate in the whole of China here - the Mandarin Fish. All of the food was delicious, of a very high quality. Again they had babychairs. Service at both restaurants was great.
Guides- John (who picked us up at the airport) was very helpful and informative. Leanne was wonderful. She was very friendly, helpful and knowledgeable. She gave us great insight into life in Shanghai. Her English was excellent. Leanne was very patient with the children. She also went to a lot of trouble to help us get our luggage to the train station, organizing to get it as close as possible and then physically helping to lug it to the platform.
Drivers & Cars - Our driver in Shanghai from the airport was helpful and a very good driver. The driver who took us around Shanghai was exceptionally helpful and pleasant while being a safe, careful driver.
Hotels - the Ya Fan Long Men Hotel was fantastic. The location was superb being a block away from the railway station and subway (great for our free day before the tour and leaving Shanghai). The room was magnificent for us - so spacious, with a great bathroom perfect for our 3 night stay. Room keeping was perfect. Service was great, including a change of sheets and plastic bags (to vomit into) in the middle of the night for our son after he vomited. As it was our first hotel in China it took a little while for us to get used to the communication and other little differences but once we became used to Chinese ways it was excellent. Breakfast was very good.
I'll have to continue this another day.
Kind Regards
Kyla
Clients: Ms. Kyla Rose Van Der Klauw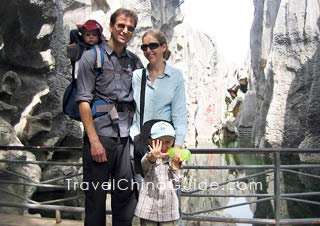 Photo offered by our client Ms. Kyla Rose Van Der Klauw, see her album
Reviews
of the first part!
Reviews
of the second part!
Dear Abbey Cheng/Ruby Zhao
Suzhou
1. Meals - the first lunch was ok, environment was fine. We were very late for lunch thanks to us taking a long time so the restaurant was empty which didn't make for a great atmosphere. The second lunch was delicious with lots of attention from the staff (they spent the whole meal taking pictures of the boys much to our amusement).
2. Guide - Benny was quite knowledgeable, helpful and patient.
3. Drivers & cars - The service attitude of the driver was great & very helpful. The car was clean and well maintained.
4. Hotels - The Holiday Inn Jasmine was very luxurious. The room was great. Service was excellent. The location was wonderful, we really enjoyed eating at the eat street behind the hotel. It would have been lovely to stay here longer (although in the context of our tour it wouldn't have worked). The breakfast was very good and well presented in an ultra clean restaurant. It was a bit disconcerting that there were no Chinese people there, only Westerners. We would usually prefer more contact with local people but it was ok for one night.
Hangzhou
1. Meals - The first lunch was very nice with good service and wonderful décor. We were the only customers (late as always thanks to frequent toilet stops for Taj) so the atmosphere wasn't what it would be with more people in it. The second lunch, at the hotel, was very nice, food very tasty with lots of locals making the atmosphere pleasant.
2. Guides - Yolanda was very nice. She was knowledgeable, helpful and patient.
3. Drivers & cars - Our driver in Hangzhou was not particularly helpful. He did not help Yolanda with anything, he just sat in the car (which may well be his job description but unusual when compared to our other drivers). He appeared unhappy which could be because the van was broken into on our first night. His driving was not very good. We found him to be very impatient with other drivers and his skills were not that good. No complaints about the car.
4. Hotel - the Lily Hotel was one of the best that we stayed at. The room was a bit threadbare and aging with no luxuries but the friendliness and helpfulness of the staff more than made up for it. The location was great, in an attractive street with lots of restaurants nearby and a large Walmart within easy walking distance. The hotel breakfast was easily the nicest breakfast buffet that we came across. The dining room was very clean with a huge range of delicious dishes, most of them Chinese which made us very happy. The fact that most customers were Chinese also made us happy because at least we felt like we were in China, not at home.
Guilin
1. Meals - The first lunch that we had was on the boat cruise down the Li River, which was fine. The second lunch was in the minority village near the Longji Terraced Fields. This was one of the best meals we had in China. The produce was so fresh and delicious. We also ate several vegetables that we hadn't tried before and were amazing. The atmosphere, views and service of the restaurant were fantastic. The third lunch was to a wonderful restaurant with a great atmosphere and service in Guilin. We had an amazing lunch with a great range of delicious foods, far too much to eat.
2. Guides - Jeff was our guide in Guilin. We found him to be very pleasant, informative and knowledgeable. He was lovely to talk to and we learnt a lot from him about China and her people, as well as the places that we were visiting.
3. Drivers and car - Our driver in Guilin was very helpful and a good driver. The car was kept clean. When there was a problem with the car on our 3rd full day in Guilin, a replacement car and driver were organized very swiftly with minimal disruption.
4. Hotels - The Guilin Bravo Hotel was a very nice, clean and rather flash hotel. The room was very nice. The breakfast was a bit too Western for us, minimal Chinese options so not really to our tastes. I can imagine that it would be very popular with many tourists. The hotel was in a nice location with pleasant walks for us along the lake as well as great restaurants nearby.
By the way, I forgot to mention that Benny in Suzhou was very helpful with getting us onto the train to Hangzhou (all that luggage of ours was a problem for us to carry!) Each of our guides were extremely helpful with checking in at airports and arrival with helping with our luggage.
Kunming
1. Meals - the one lunch that we had in Kunming was near the Stone Forest and understandably there is a limited choice of places to eat near there. It was a very touristy restaurant with only Western tourist groups, the food was cold and left sitting around with flies on it. Not our favourite restaurant, but as I say, I understand that the choices are limited there. For our two dinners in Kunming Catherine went to a lot of trouble to help us find nice restaurants near the hotel. Both nights she walked us to wonderful restaurants and helped us to order.
2. Guides - Catherine was a wonderful guide. She was so full of energy, fantastic with the kids, they both fell in love with her (and Taj is normally very shy). She was informative and helpful with great English skills. Catherine really went out of her way to make our stay pleasant and fun.
3. Drivers and cars - both were fine.
4. Hotel – The King World International was a fairly rundown hotel. An opening window in our room had a broken latch which concerned us a bit with the children (scared that they would climb out when we were on the 20 something floor). We could have contacted Catherine to help us to try and change rooms but by the time we noticed it, it was very late at night and we were to tired to deal with it. We did not find the staff at the hotel very helpful. The breakfast was the worst that we had in China. On the positive side there was a cook preparing eggs fresh to order, however it was very busy when we went to breakfast and I had to wait about 20 minutes to be served. The rest of the food had become cold but it was Chinese which is good. My main concern was that the plates and glasses which had been washed were very dirty with old food and bits stuck to them. I understand that they were very busy but it was not very pleasant or hygienic.
Please note that when I tell you negatives about our trip I am not complaining and it doesn't reflect badly on the fantastic tour that you organised for us. Part of travelling and life is taking the good with the bad and so called bad experiences can be one offs where maybe the next day the service would have been fantastic. Or maybe we were tired on a particular day and less able to cope. We really have come away from China with only good memories and admiration for how you and everyone else who we met helped us. I am only trying to help provide honest feedback.
Kind Regards
Kyla
Clients: Mr. Paul Ivanovic & Mrs. Janene Ivanovic
Country: Australia
Hi Sophie,
We had a fantastic time. We are very satisfied with the services provided by TCG and we will recommend you guys to all our friends.
Sophie, you were ultra quick to respond to all my emails and you always fully addressed all questions and requests I had. It was a pleasure to deal with you. Thank you for organizing the subway tickets for us on a short notice. Also, well done for quickly resolving the issue with cancelled flight from Xian to Shanghai. We were so happy with the outcome as it gave us a chance to experience the bullet train from Nanjing to Shanghai.
Sara, our Beijing guide, apart from being very knowledgeable and professional also had a beautiful personal touch added to her guide style. We loved her positive energy and especially the humor. She constantly brought smiles to our faces with her jokes and witty remarks. Sara was the best guide of the four we had. Say hi to her please :)
Marc (Nanjing), Lily (Xi-an) and Ryan (Shanghai) - all were very professional and knowledgeable. Great job.
All drivers were OK and transported us safely around the cities.
Hotels and food were fantastic, no complaints at all.
We will add our positive China tour small group reviews on Tripadvisor.
All the best Sophie,
Paul and Janene
Clients: Ms. Sandra Jirickova & Ms. Alexandra Jirickova
Country: Czech
Dear Nicole,
Many thanks to your agency for your professional attitude. We appreciate that you always tried to do your best for the best of your customer - to make us feel comfortable. We had a full and memorable China tour (Beijing - Xian - Shanghai) that we will always remember.
We enjoyed the meals at all. Also all restaurants chosen for us were nice and the services meet Chinese good standard. All guides were great and helpful. They possessed good knowledge of English and all have been talkative. We would like to point out that Linda in Beijing was really the best guide who possessed good knowledge of the site culture, history and who was very kind as all other our guides in China were. The services of all drivers were good and the driver in Beijing was excellent and very kind. All cars were clean.
Among all the hotels, our most favorites belong to the hotel Crowne Plaza in Beijing and Pan Pacific Suzhou where the accommodation and services met higher standards of five stars hotels.
Please pass our thanks to the guide Linda for her kindness.
I wish you all the best and will look forward to see you in the next tour in China.

Best Regards
Sandra
Clients: Mr. Mitesh Patel & Ms. Menaka Deepak Kulkarni
Country: UK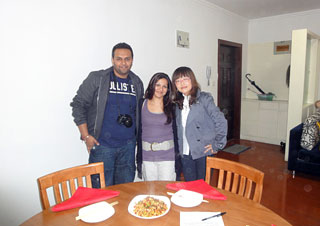 Hi Vicky,

I just wanted to send you a quick email to thank you for making our visit so comfortable.......everything was excellent. Most of our guides were brilliant in terms of their knowledge and grasp of the language. Even the drivers were always punctual and helpful. The hotels were first class and clean.

I would like to mention one guide in particular who was extremely friendly and helpful - KOKO in the city of Xian. We liked her very much; she is an asset to your organization.

Lastly about the food.............it was mostly very good and a lot at times which we couldn't eat.

Once again thank you for everything and we will definitely recommend your services to all our family and friends and if we were to visit China again we will use your services.

Many Thanks
Menaka Kulkarni Patel
United Kingdom
Clients: Mr. Wu Shih Tung & Mr. Chang Chung Lin ( a group of 15 persons)
Country: Brazil
Email:
Comments from Mr. Wu Shih Tung

Hi Kina & Flora,
I am already back home from China but Mr. Chang is still traveling in Europe so I will give you my personal comments about our trip first. I am certain that he will send you his comments later as well.
In general the meals were good and we had enough beer and soda to drink. The best meal that we had was the Pecking Duck dinner. All the hotels were very nice and comfortable.
All the guides had adequate knowledge of English to communicate with the group. Our best guides were Selina (Huangshan) and Yu Nan (Xishuangbanna). They went out of their way to ensure that we had a great time and arranged many things outside of the planned agenda. If it were not for the positive attitude of Yu Nan, our stay in Xishuangbanna would not have been so interesting.

Our drivers were very careful and driving safely. Especially the driver that took us from Lijiang to Dali, he was the best.
Huangshan and Jiuzhaigou were by far the most beautiful landscapes that we saw in this trip.
All in all we were satisfied with our trip and your arrangements. I would also like to mention that your services in preparing this trip were excellent.
Thank you,
Wu.
---------------------------------------------------
Comments from Mr. Chang Chung Lin

Hi Kina Lu/Flora Cu,
Sorry for my late answer. I had some unexpected problems to face after my return to Brazil.
Regarding to our tour, I'm sure that the Group had a good time in China and enjoyed all the excursions. We liked the guides, the drivers and all the hotels service.
China is a big country and we had a very good impression of everything, from its minority nationalities to its unique landscapes. China has thousands of places and wonders to be discovered by any tourist.
On our next tour to China we certainly will contact the TravelChinaGuide.
Sincerely,
Chang Chung Lin
Clients: Mr. James David Wahler & Mrs. Lisa Tichauer Wahler
Country: United States
Email: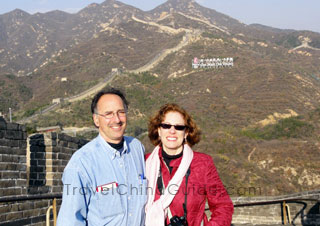 Photo offered by our client Mr. James David Wahler
Dear Flora,
Thank you for everything. We enjoyed our time very much!
All meals were excellent! The buffet breakfast at the hotel was first rate, the restaurants all had wonderful food and the portions were more than enough. Our meal on the last night at the fancy restaurant was the best!
Our guide Sara was GREAT! Her English was perfect! She was easy going and always willing to answer any and all of our questions. She provided a great deal of history and detail on the customs, the culture, and the society of China both from an historical as well as a modern perspective. Sara met us at the airport, came into the hotel and stood with us while we registered. When we were dropped off at the airport for our return flight home, Sara came into the terminal with us, made sure we found our airline check in and stood on line with us until our bags were checked in and our seat assignments provided. She stayed with us until we had to pass through security. We were so pleased with her skills and her attitude, and her warmth!
We were very pleased with the service of the driver Mr. Liu and the condition of his car. He always managed to find a parking space up close to whatever entrance we were at; he met us promptly when we were scheduled to meet up. He and Sara always held the car doors open for us; we were treated very well!
We stayed at the Crown Plaza Hotel. It was great! Room was very comfortable and spacious. The hotel staff all spoke English. No issues. Again... breakfast was wonderful!
I would be happy to receive emails from anyone curious about your services. At times it seemed like the package you offer is too good to be true! In this case you far exceeded all my expectations.
I will certainly recommend you TravelChinaGuide to anyone who asks and would use your company again the next time I travel to China.

Sincerely,
Jim Wahler
Clients: Mr.Ray L. Taylor, Ms.Greta Ann Taylor, Mr.Chris Angelich & Ms.Leann Taylor Angelich
Country: United States
Email:
Dear Lydia,
The tour that you arranged for my party of 4 on Oct 4, 2010 was excellent. We enjoyed it very much.

Upon arrival at Beijing airport on Oct 3rd, Selina met us and from then on our pleasures continued. Her idea for an early departure from the Peninsula hotel for the Great Wall due to the anticipated heavy holiday traffic made an impossible trip unhurried and relaxing but exciting. The Forbidden City was very informative. Lunch and the long trip to Tianjin port on October 4th was professionally handled so that our ship boarding was timely.

Selina was well informed, and an excellent choice. She should be complimented and we all four do so. October 4th 2010 is a day that will long be in the pleasant memory file of the Taylor's and the Angelich's , Please pass our thanks to Selina.
Thank you.
Ray Taylor
Clients: Ms. Lana Stevens (6 travelers)
Country: United States
Dear TCG,
We had a wonderful experience on our recent trip. Linda was our guide in Beijing, and she was exceptional. She has the ability to make each member of the group feel included and she has great diplomatic skills. She is very well informed and has a great sense of humor. When we traveled to Hutong, Victor was our guide. We really enjoyed visiting that area and the home visit. Victor did a wonderful job as well.
The hotel was very comfortable and the food was delicious. The only problem at the hotel was the limited elevators and the inaccessibility of the stairs. We waited for a long time to go up to our room or down to the lobby and there were no stairs that lead all the way down to the first floor without going through the kitchen.
We really had a wonderful time on our short visit and hope we can visit again in the future. We would certainly recommend your company to others who may be looking to visit your country. We will also add our positive China tour small group reviews on Tripadvisor.
Sincerely,
Lana Stevens
Clients: Ms. Lorraine Gorsche, Mr. Ronald Gorsche, Mr. Robin Rison & Ms. Barbara Rison
Country: Canada, UK
Email: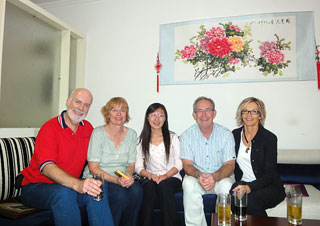 Dear Abbey,
Thanks for your wonderful arrangement. The meals were wonderful, especially in Beijing and the home visit we did in Xian with cooking class, so flavorful! The environment in Beijing restaurants was outstanding, have never seen such beautiful restaurants, so stylishly decorated before!
We would highly recommend the family visit with Ms. Stone in Xian, it was wonderful to see how some of the dishes were cooked and always a pleasure sharing it in someone's home....why is it "home cooking" always tastes the best! A home cooking class in Tibet would be a wonderful experience as well! Loved their Yak meat!
Our guides were all very good and helpful. It was interesting to see all the different personalities of the guides, some speaking quite perfect English, but we enjoyed them all.
Hotels were very good for the most part as well as their breakfasts. With the Sheraton hotels we were able to get an upgrade since we have points with them which made it even more enjoyable. The Green Lotus Hotel in Yangshuo was beautiful. The Howard Johnson in Shanghai was a nice hotel.
Tibet was definitely a highlight. The Li River cruise was spectacular and we almost liked it better than the Yangtze River cruise, but it was nice to relax on a small intimate boat and meet fellow travelers and the day in Yangshou was outstanding! Since we stayed a few days more in Shanghai we went to see the water city, Zhouzhuang which was incredible and wished we had a full day there, that's possibly something you could recommend seeing in the Shanghai area or adding into the itinerary!
We enjoyed our trip immensely!! We have recommended the trip to friends who are already looking at booking with TavelChinaGuide in the spring!
Sincerely,
Lorraine