Fish-Flavored Shredded Pork
Chinese name: 鱼香肉丝 (yú xiāng ròu sī)
Style:
Sichuan Cuisine
Characteristics: The eye-catching Fish-Flavored Shredded Pork tastes sweet, sour, salty, fresh and delicious. The mixture of seasonings makes the dish the fish flavor.
Fish-Flavored Shredded Pork (Yuxiang Rousi), also named Yu-Shiang Shredded Pork, is a famous dish of Sichuan Cuisine. It has fresh and fragrant fish flavor, but does not contain fish or fish sauce at all. The secret of its special taste is the blend of white sugar, salt, cooking wine, soy sauce and vinegar as well as garlic and ginger – a recipe that the local Sichuan people originally used to cook fish. The pork is stir-fried with the fish-flavored seasoning sauce, which can also be used to cook eggplant, eggs and other dishes. The recipe below is the regular way of cooking Yuxiang Rousi.
Recipe of Cooking Fish-Flavored Shredded Pork
lean pork, 200g
lettuce, 125g
3-5 dried agarics

ginger, garlic, cooking oil, white sugar, soy sauce, salt,
cooking wine
, broad bean paste, starch, egg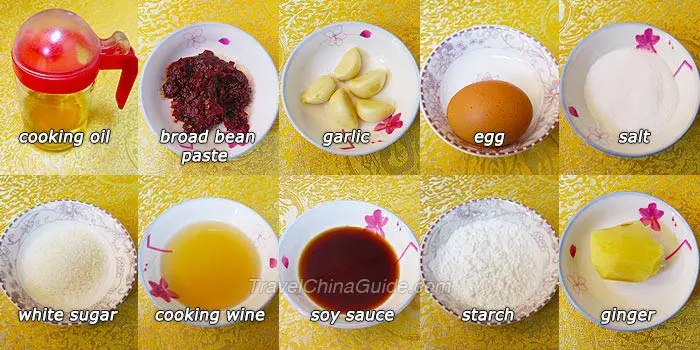 1. Clean and cut the lean pork into shreds. Add in salt, egg white, starch and cooking wine to preserve for 15min.
2. Soak the dried agarics for 10-15min. Then cut into shreds.
3. Shred the lettuce.
4. Chop the green onion, ginger and garlic.
5. Combine white sugar, vinegar, cooking wine, salt, soy sauce, starch and water to make a sauce.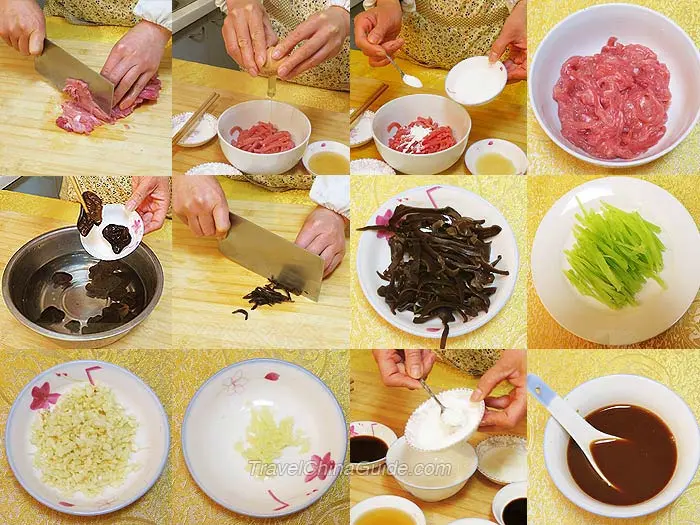 Methods:
STEP
1
Heat cooking oil and pour in the shredded pork. Stir-fry until the pork turns white-grey. Pick out and wait for use.

STEP
2
Add cooking oil. When it is hot, add in chopped ginger and garlic and stir-fry for 5-10 seconds. Add broad bean paste and fry for 10 -15 seconds.

STEP
3
Pour in lettuce and agarics. Fry for 2-3 minutes over high heat. Add in the fried pork and mix them all. Sprinkle the sauce into the mixture. When the sauce gets dense, turn off the heat and dish up.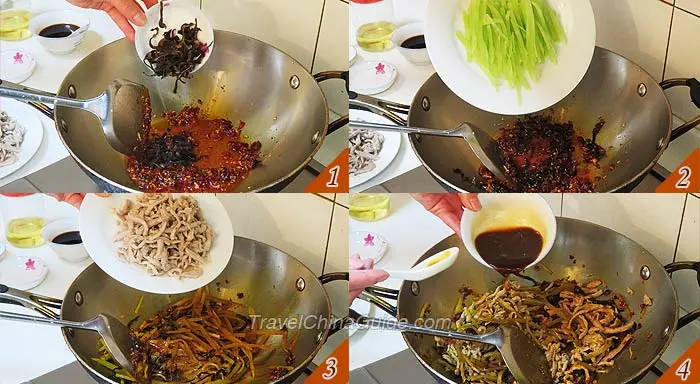 A plate of steaming and favorable Fish-Flavored Shredded Pork is ready.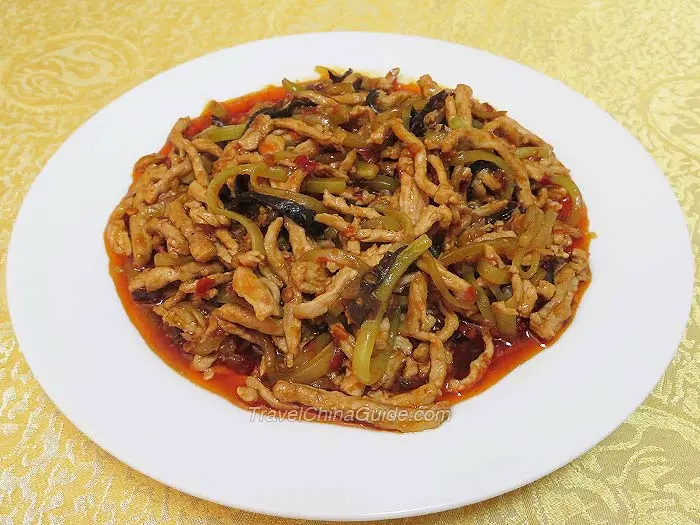 Origin of Fish-Flavored Shredded Pork
Legend has it that long ago there was a family in Sichuan who loved eating fish. They were very particular about cooking fish and would use green onion, ginger, garlic, wine, vinegar and soy sauce to get rid of the smell of fish while enhancing its taste. One night, the hostess put the leftover seasoning of the fish into another dish to avoid waste. When she finished, she felt a bit guilty, as she did not know whether the dish would be edible and how to explain this to her husband. While she was considering these things, her husband came back and ate the food on the table. To her surprise, her husband praised her cooking, saying that it was delicious. Later, her recipe, especially the seasonings, were spread and favored in folk. Since the dish was created with the seasonings used for cooking fish which have fish flavor, people classified it as fish-flavored dish. Considering that pork is used during cooking the dish, it is named Fish-Flavored Shredded Pork
Our Guests Attending Cooking Class
Our Guest Cooking Chinese Food


The Humphreys couple and the Scott couple from Australia had a special A la carte meal in a local Xi'an family under the management by TravelChinaGuide. Most dishes served were cooked by the skillful hostess, and some were prepared by our guests under step by step guidance of the hostess such as Fish-Flavored Shredded Pork and a famous staple food Yangzhou Fried Rice. They were so happy to take part in this cooking class and took many photos of the home cooked meal.

Our Guests Having Dinner in a Chinese Family

Ms. Alessandra, Mr. Riccardo, Mr. Alfredo and Ms. Karen from Italy had a private family visit to a Xi'an family because of great interest in Chinese people's daily life. They also had a memorable experience of having a home-cooked a lunch with the family they visited. What impressed them more was that they had learned to cook Fish-Flavored Shredded Pork and

Cola Chicken Wings

from the hostess.

Mr. Zoltan and His Family Having Meal with a Chinese Hostess

Mr. Zoltan, Ms. Beata & Mr. Barnabas from Hungary joined a family visit tour of Travelchinaguide in Xi'an. At the same time, they had an exciting cooking class in the local family through learning to cook

Braised Beef Fillet with Scallion

& Fish-Flavored Shredded Pork. They were so astonished to know that indeed there is no fish or seasoning made from fish used to produce the fish flavor when cooking Fish-Flavored Shredded Pork.

Further Reading
Top 10 Chinese Pork Recipes to Satisfy Your Taste Bud
Top 10 Chinese Dishes You Must Try

More popular meat dishes in China:
- Last updated on Nov. 28, 2019 -
Questions & Answers on Fish-Flavored Shredded Pork
Asked by Linda from UNITED STATES | May. 10, 2013 08:06

Reply
where did Fish-Flavored Shredded Pork orginate from? what dynasty? Where in Philadelphia can we find this dish, also?
Answers (1)
Answered by Adele from CHINA | May. 21, 2013 21:56

1

0

Reply
It is one of the most popular Sichuan Cuisine dishes, so it's recorded that it originated in Sichuan folk.

I heard the dish originated in the end of the Period of Three Kingdoms. As you are in Philadelphia, you can go and find it at the local Chinese restaurants, especially in China Town.