Diced Chicken with Chili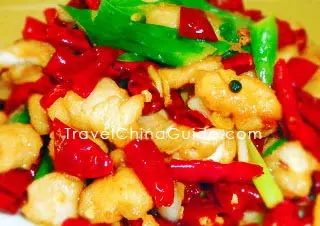 Chinese name: 辣子鸡丁 (là zi jī dīng)
Style:
Sichuan Cuisine
Characteristics: The diced chicken in this recipe tastes hot and smooth outside, tender and fresh inside, with bright golden color. The dry chili sections serve both as seasonings and decorations, making this dish spicier and more attractive.
Different from
Kung Pao Chicken
, Diced Chicken with Chili is mainly made of fried diced chicken and dry chili sections. To cook this dish well, more oil, high heat and quick-frying are especially important, which can help to keep the chicken's freshness and tenderness.
2 pieces of boneless, skinless chicken breast, 400-500g in total
10-20 dry chili peppers (the number depends on one's personal taste.)
A. Wash and clean the chicken breast, and then cut into diced pieces. Place onto a plate.
B. Wash and clean the dry chili peppers, and cut into 1-2 cm long sections. Place onto a separate plate.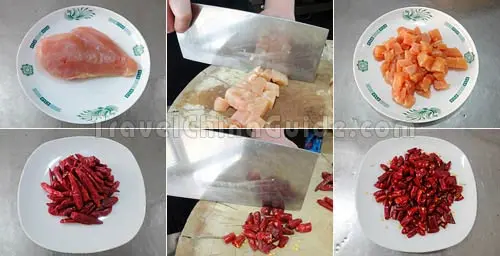 salt
white sugar
prickly ash seeds
egg
soy sauce
cooking wine
cornstarch
ginger slices
garlic slices
green onion pieces
Note: the amount of the seasonings listed above can be appropriately used according to one's personal taste.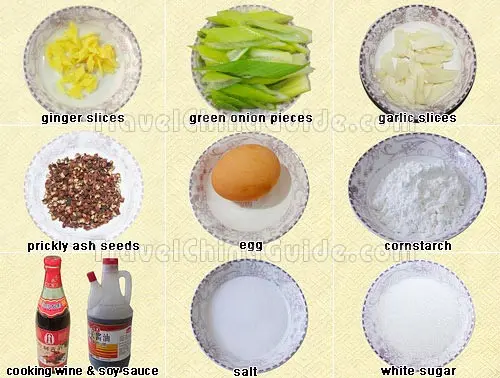 Methods:
STEP
1
Coat the diced chicken by adding cooking wine, salt, egg white and cornstarch. Stir it well until you feel it is a bit sticky with chopsticks. Leave to marinate for 15-20 minutes.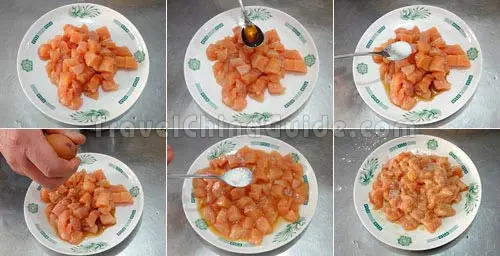 STEP
2
Prepare the seasoning juice by mixing salt, white sugar, soy sauce, cornstarch and cooking wine. Stir it well and leave aside for later use.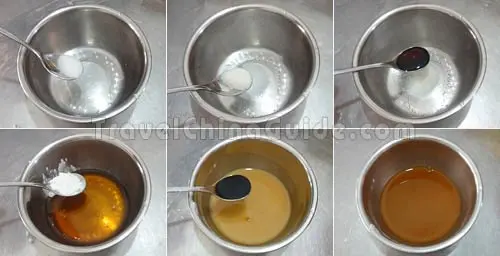 STEP
3
Place a wok over high heat until hot. Add some cooking oil, and add the processed chicken dices. Fry them when they turn golden, turn to low heat, remove from the wok through a colander and reserve.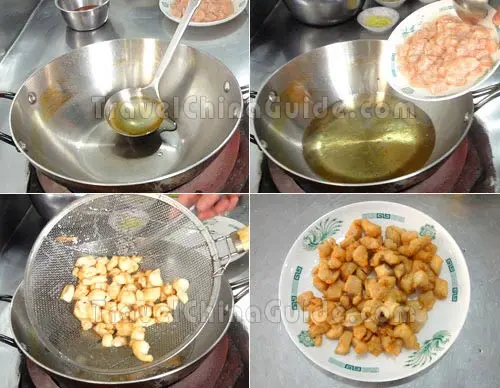 STEP
4
Leave some cooking oil in the wok, and turn to high heat. When the oil is hot, add the prickly ash seeds, green onion, ginger and garlic pieces and stir-fry for about 20 seconds until fragrant. Add the dry chili sections and stir-fry for 30 seconds. Add the fried chicken dices and stir-fry for about 1 minute. Pour in the seasoning juice prepared in step 2, and stir-fry for another 30 seconds.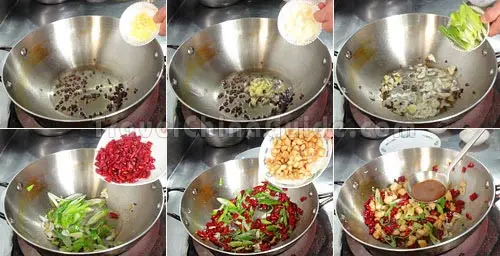 STEP
5
Now, turn off the heat, remove the cooked Diced Chicken with Chili from the wok, and serve in a porcelain plate.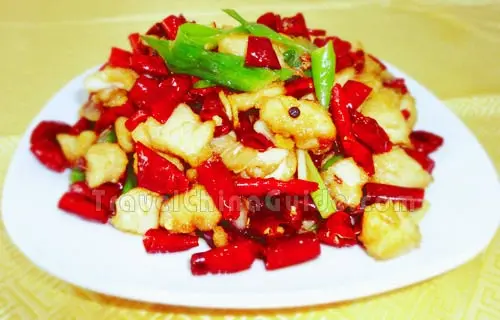 Our Guests Attending Cooking Class
Our Guest Cooking Chiense Food


On June 18, 2013, Mr. Scott, Ms. Julie, Mr. Raymond and Ms. Helen from Australia visit a local family in Xi'an and had a good time there. The ladies were too avid to walk into the Chinese kitchen after being told to learn Chinese cooking there. They not only took part in preparation of fresh vegetables and meat, but also cooked two dishes by themselves - Diced Chicken with Chili & Sweet and Sour Pork with Pineapple. Even the hostess praised them to be talented persons in cooking.

Mr. Mark's Family at the Dining Table

On Mar. 30, 2012, Mr. Mark, Ms. Laura & Ms. Emma from USA had a Chinese food cooking class in a local family in Xi'an. In addition to teaching them to cook Diced Chicken with Chili,

Sweet and Sour Pork with Pineapple

and

Black Pepper Beef

, the hospitable hostess also cooked many other home-style dishes to entertain them. They were so satisfied with the offer by our company that they said they would recommended our company to their freinds, colleagues and relatives.

Ms. Carla Bianca Ferreira & Mr. Armand Barnard in a Local Family



On Oct. 26, 2010, Ms. Carla & Mr. Armand from UK had a special family visit tour of TravelChinaGuide in Xi'an. They learned to cook Diced Chicken with Chili and had a true home-cooked lunch during their visit to a local family in Xi'an, which is a special service offered by Travelchinaguide for visitors to get involved with Chinese people's daily life.

Further Reading:
12 Best Chinese Chicken Recipes You Can Try
More popular meat dishes in China:
- Last updated on Dec. 09, 2022 -