Fried Chicken Legs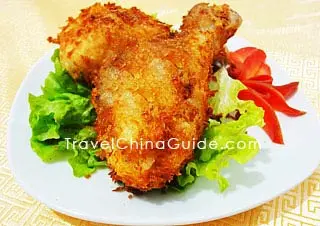 Chinese name: 脆炸鸡腿 (cuì zhá jī tuǐ)
Characteristics: The outer skin of the Fried Chicken Legs is crispy, golden and fragrant, while the meat inside tastes fresh, tender and smooth.
Chicken legs are with thick meat that contains much protein, vitamin A and iron. As the meat is tender when properly cooked, it is easily digestible.
How to cook pretty tasty Fried Chicken Legs? The recipe below is a strong recommendation. This really is a popular way in China that compares well with that in the western restaurants.
4-6 chicken legs
2-3 eggs
green onion sections
ginger slices
wheat flour
bread crumbs
prickly ash seeds
white sugar
cooking wine
salt
Note: the amount of the ingredients especially the seasonings listed above can be appropriately used according to one's personal taste.
Crack the egg into a plate. Beat well with chopsticks or a spatula.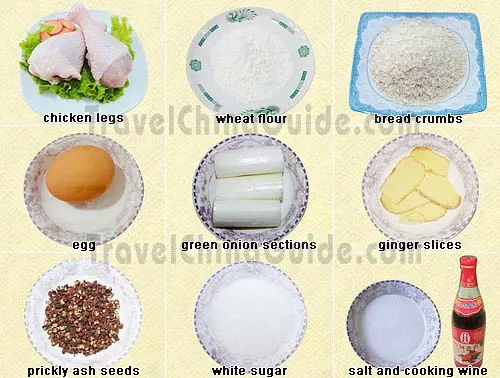 Methods:
STEP
1
Wash the chicken legs and put into a small basin. Add in cooking wine, green onion sections, ginger slices, white sugar, salt and prickly ash seeds. Mix them well and marinate for at least one hour.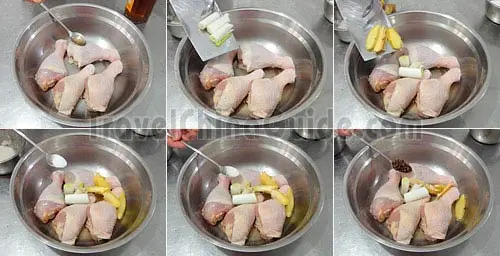 STEP
2
Place the steamer pot on the gas cooker. Fill 1/4 full of water and put the steamer basket in. Put the basin with marinated chicken legs on the basket and cover it. Turn on the heat to steam it for 20-30 minutes until the legs are 100% cooked. Turn off the heat and pick them out.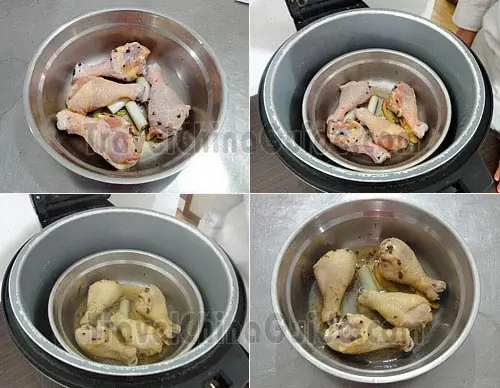 STEP
3
Remove the ginger slices, green onion sections and prickly ash seeds used for steaming. Stick some wheat flour, egg soup and bread crumbs around the steamed legs layer upon layer. Place into the basin again.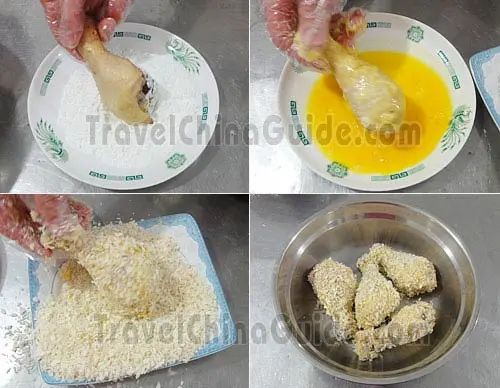 STEP
4
Remove the steamer pot and place a wok on the gas cooker instead. Add some coooking oil, and add in the processed chicken legs one by one with chopsticks or the cooking ladle. Turn to medium heat and fry them well until they turn golden. Turn off the heat. Remove them from the wok through a colander.

STEP
5
Serve them on a porcelain plate. Soon, this dish is ready. The chicken can be served with either a fresh green salad or stir-fried vegetables and rice.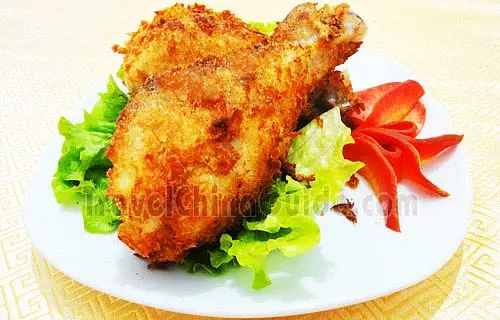 Our Guests Attending Cooking Class
Our Guests Learning to Make Dumplings


On July 25, 2013, Ms. Susan, Mr. Alan, Mr. James, Ms. Kate and Mr. Benjamin from the UK, Mr. Radu from Canada, and Ms. Deirdre and Mr. Cathal from Ireland had a family visit tour in Xi'an. They participated in our cooking class for the first time to learn how to make dumplings. It was a lovely part that they chatted with the hostess to know rich and varied staples in Chinese diet. Besides, they chose to learn Fried Chicken Legs – an easy dish with simple ingredients which they can also cook by themselves when they return home.

Mr. John & Ms. Tracey at a Local Xi'an Family

On Apr. 7, 2012, Mr. John from UK & Ms. Tracey from Australia had a special family visit tour to a local family in Xi'an. They had a nice time with the easygoing hostess through learning to cook

Kung Pao Chicken

,

Chinese Wonton

and Fried Chicken Legs. They said that they would recommend our service to anyone they hear of heading to China.

Ms. Sandra and Her Family Having Dinner with the Chinese Hostess

On May 17, 2011, Ms. Sandra, Mr. Colin & Mr. Matthew from Australia got a chance to approach a typical Chinese family in Xi'an under the disposition by TravelChinaGuide. Different from the other meals during their China tour, they had a self-help lunch at the home of the family they visited. In other words, they had not only the lunch with the family, but also cooked the Fried Chicken Legs and

Chinese dumplings

in person.

Further Reading:
12 Best Chinese Chicken Recipes You Can Try
More popular meat dishes in China:
- Last updated on Aug. 30, 2019 -