Moo Shu Pork (Mu Xu Rou)
Chinese Name: 木须肉 (mù xū ròu)
Style: Shandong Cuisine
Characteristics: Moo Shu Pork (Mu Xu Rou) tastes mild with scant seasonings added. Its ingredients like cucumber, black fungus, daylily and eggs make a good color collocation so that the dish looks bright. Frying method makes the dish fresh, soft and tender.

Moo Shu Pork (Sautéed Sliced Pork, Eggs and Black Fungus) is a typical dish in northern China. It belongs to Shandong Cuisine. It's said that the dish was called Mu Xi Rou in the past, meaning osmanthus fragrans liked pork, as the combination of egg chunks, lean pork and other ingredients looks like this plant. As time passes by, people call it Mu Xu Rou due to the similar pronunciation. The dish contains rich protein, calcium and phosphorus but little fat and cholesterol, hence suitable for general consumption. Thanks to the light flavor, Mu Xu Rou particularly attracts many children and senior diners.

Recipe of Cooking Moo Shu Pork:
lean pork, 100g; two eggs; cucumber; dry black fungus; dry daylily; green onion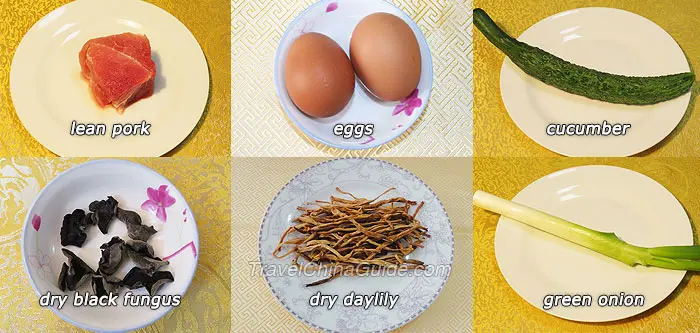 cooking oil; salt;
cooking wine
; starch
Note: The amount of the ingredients and seasonings above can be appropriately used according to one's personal taste.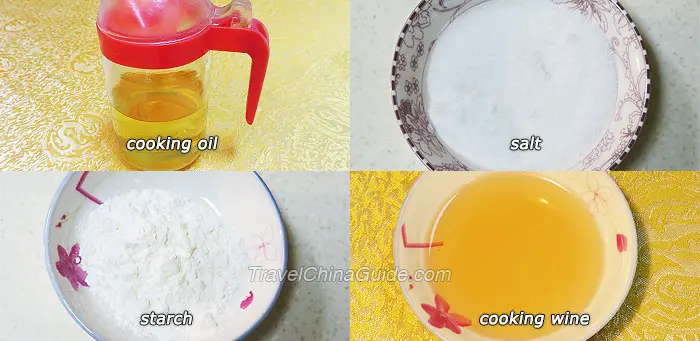 1. Clean the pork and cut into thin slices.
2. Crack an egg into a bowl. Completely beat it and add a little salt. Mix well.
3. Clean the cucumber and cut into diamond-shaped slices.
4. Soak the dry black fungus and daylily for 10-15 minutes. Tear the black fungus into slices and cut the daylily into sections.
5. Clean the green onion and cut into sections.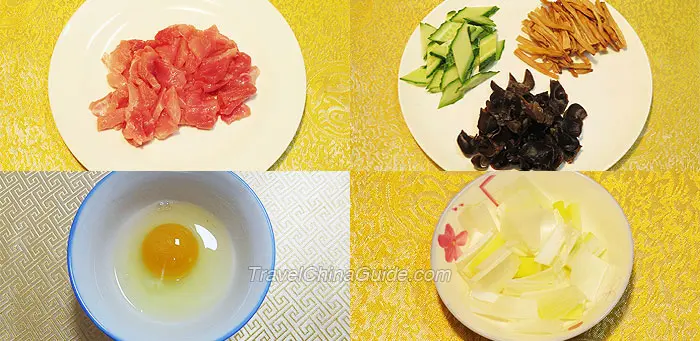 Methods:
STEP
1
Preserve the pork: Combine the pork slices with egg white, salt, starch and cooking wine. Let it stand for 15-20 minutes.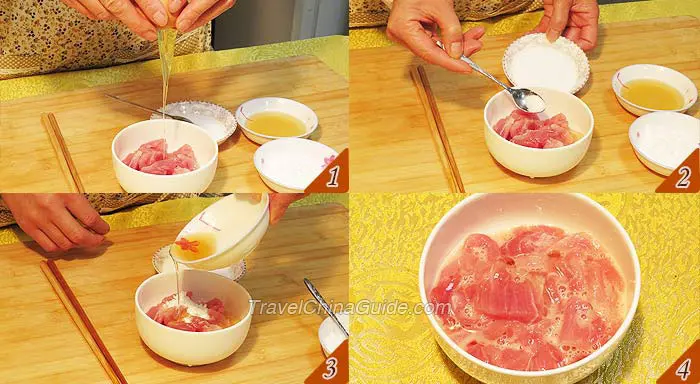 STEP
2
Stir-fry the egg: Pour enough cooking oil in a wok. Heat it to 180

C (360

F). Add in the cracked egg and fry until it becomes solid. Turn off the heat. Cut into small chunks with kitchen shovel.

STEP
3
Fry the pork: Add a little bit more cooking oil in the wok. Heat it until hot. Pour in the preserved pork slices and fry until yellowish-white. Pick out and drain off the oil.

STEP
4
Add more cooking oil. Heat over medium fire. Add in the green onion. Stir-fry for 10 seconds until fragrant. Pour in daylily and processed black fungus. Stir-fry for 20 seconds. Add in the cucumber and fry for 1-2 minutes.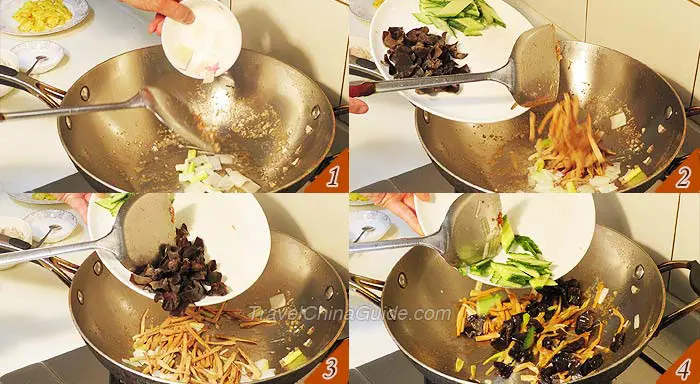 STEP
5
Add in pork slices and egg chunks. Then add salt. Mix thoroughly with other ingredients. Turn off the heat.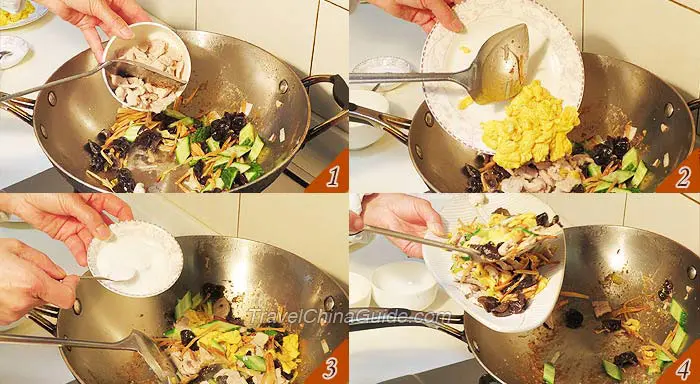 The Moo Shu Pork is done. The dish looks colorful and smells good.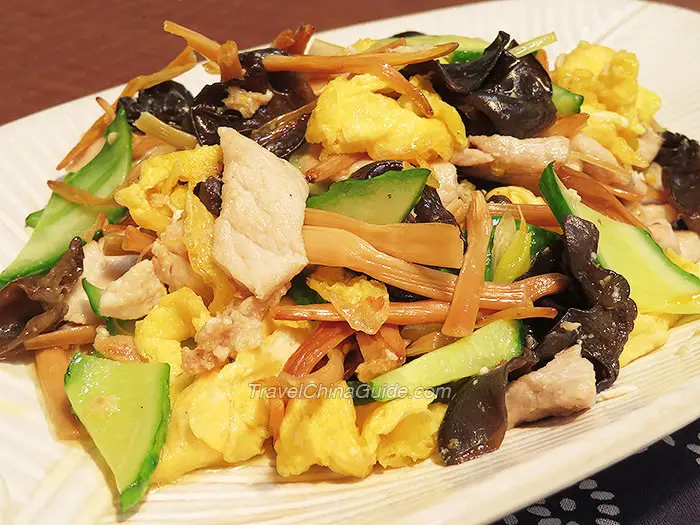 Tips on Food Interactions:
1. Lean pork: Don't eat it together with crucian, shrimp, escargots, almond and buckwheat. After eating lean pork, it is advised not to drink a lot of tea.
2. Black fungus: Ecargots, pheasant and wild duck should be avoided while eating black fungus.
3. Egg: Consumption of egg with goose will do harm to spleen and stomach. Having it with rabbit meat or persimmon may cause diarrhea. In addition, it is not suggested to eat egg together with carp and much tea.
The Ingredients' Development of Moo Shu Pork
The main ingredients of the original Moo Shu Pork included lean pork, egg, black fungus and dried slices of tender bamboo shoots. Because the Shandong Cuisine became more and more popular, the royal families during the Ming and Qing Dynasties (1368 - 1911) would like to taste the dish. The royal chefs applied local Beijing ingredients to imitate the dish, so the cucumber and daylily took the place of the slices of tender bamboo shoots. This match of lean pork, cucumber, black fungus, daylily and egg was spread widely and has been the standard of the present Moo Shu Pork.
Our Guests Attending Cooking Class
Our Guests Having Cooking Class


Mr. Robert and Ms. Linda from USA, Ms. Laura and Ms. Leonie from UK, and Mr. Neil, Ms. Bronwyn and Ms. Alexandra from Australia had a family visit in Xi'an and enjoyed a big lunch there. Learning Chinese food cooking with the hostess was one of the highlights. They learnt to make dumplings and a dish named Moo Shu Pork with abundant diversity of ingredients. The course was fun but really a great opportunity to know China better.

Fred and Elizabeth Dining at a Local Family

Mr. Fred & Ms. Elizabeth from the United States joined our family visit tour in Xi'an through the recommendation by a friend. They selected

Braised Pomfret

& Moo Shu Pork as the subjects of their cooking class. After the lunch, they accepted a short interview by our consultant, during which they praised that it was really a wonderful and marvelous experience.

Mr. Fawaz in the Kitchen

Mr. Fawaz from Saudi Arabia had a special family tour under the arrangement of TravelChinaGuide, through which he had a close contact to the local Chinese to know more about their daily life, and learned to cook two popular Chinese dishes - Moo Shu Pork and

Kung Pao Chicken

.

Further Reading:
Top 10 Chinese Pork Recipes to Satisfy Your Taste Bud
More popular meat dishes in China:
- Last modified on Nov. 28, 2019 -