Braised Spare Ribs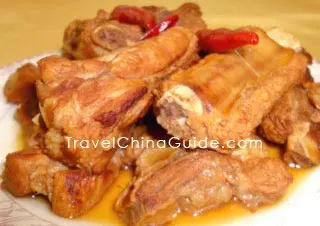 Chinese name: 红烧排骨 (hóng shāo pái gǔ)
Characteristics: Braised Spare Ribs are salty, fresh and fragrant. The meat is crispy and tender, bathed in an attractive golden red color.
Braised Spare Ribs have been well-known dish in China for a long time. What makes them a temptation are their bright color and fragrant scent. Spare ribs can not only provide human body with protein, fat and vitamins which are necessary for physiological activities, but they also contain a large amount of calcium phosphate and collagen. They are especially rich in calcium which can maintain bone health and enrich the blood.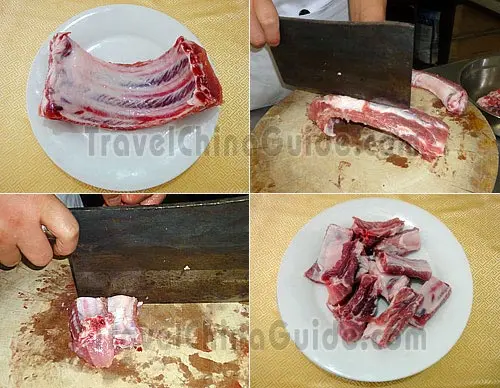 cooking wine
ginger slices
green onion sections
prickly ash seeds (or Sichuan pepper, if you can't find them in a store, you may use fennel seeds instead)
dry chili peppers
cinnamons sticks
bay leaves
cardamom pods
star anises
white sugar
salt
pepper powder
Note: the amount of the seasonings listed above can be appropriately used according to one's personal taste. Meanwhile, most of the seasonings used whole above can't be ate, but just used as spices, including cinnamon, bay leaf, star anise, cardamom, dried pimiento, prickly ash seeds.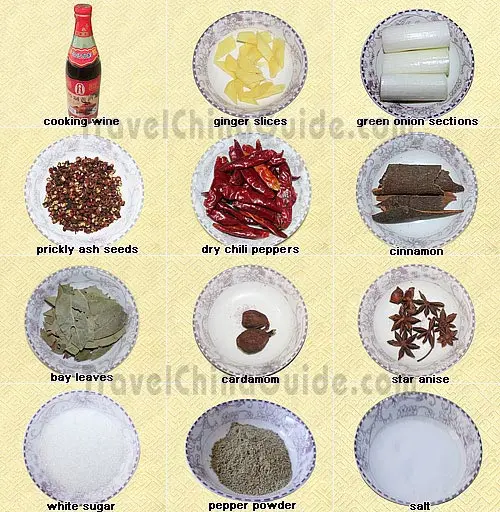 Methods:
STEP
1
Fill a wok with 6 bowls of water and turn on the heat. Slowly add the spare rib sections, and cover them. Once the water is boiling, add in the cooking wine. Boil for 3-5 minutes until they turn yellowish white. Remove them to a colander, and place on a plate.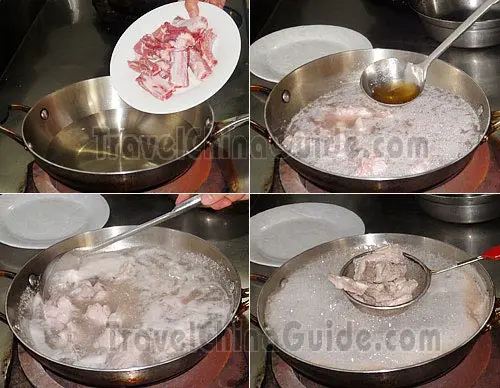 STEP
2
Pour out the water in the wok, and place it over high heat until hot. Add some cooking oil, and add in the white sugar and stir-fry for 40-60 seconds until it turns reddish-brown and bubbles. Put in the boiled spare rib sections carefully, and stir-fry them for 2 minutes until well mixed.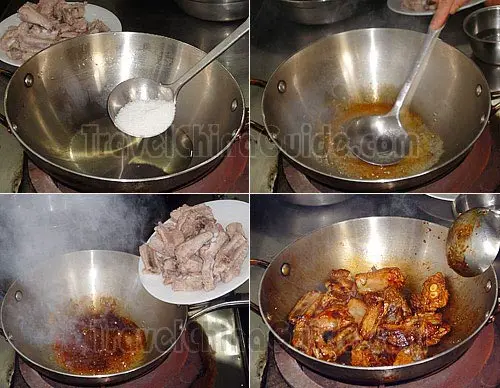 STEP
3
Add some water to the wok until the spare rib sections are completely immersed. Add in the star anises, dry chili peppers, prickly ash seeds, bay leaves, cardamoms, cinnamons, green onion sections, and ginger slices. Cover and boil it for 3-5 minutes over high heat until fragrant, then change to medium heat, and stew for about 40 minutes.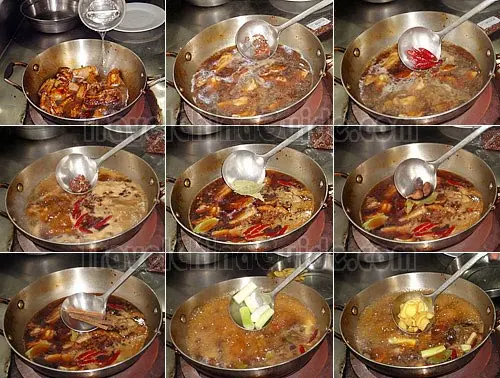 STEP
4
Remove the cover, and add in the salt and pepper powder, and boil for another 3-5 minutes over low heat until the juice is almost absorbed by the spare rib sections.

STEP
5
Remove them from the wok and serve in a plate. The Braised Spare Ribs is ready.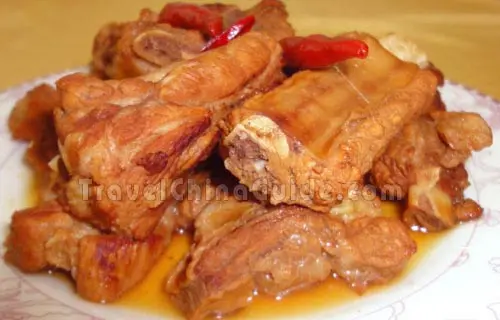 Notice for Our Guests:
At present, this dish is not applicable for the family visit cooking class in our tour service. The recipe is just for your reference for cooking at home.
Our Guests Attending Cooking Class
Our Guests Enjoying Meal in a Local Familly

On Oct.9, 2012, a small tour group including Mr. Joseph and Ms. Trudy from USA, Mr. TERENCE and Ms. CORINNE from UK, and other guests from Australia, New Zealand and Mexico joined our private tour to a native family in Xi'an and attended cooking class there. They really enjoyed the meal, especially the Braised Spare Ribs cooked by themselves. Although it was their first time to cook in a Chinese kitchen, this made them felt at home during their journey in China.

Our Guest Learn to Cook Braised Spare Ribs

On March 28, 2012, Mr.Fawaz from Saudi Arabia was brought into a local Xi'an family by our guide, where he learnt to cook Braised Spare Ribs and

Kung Pao Chicken

from the hostess and then enjoyed a home-cooked meal with the family. Fawaz praised it a fantastic experience and said he would try to cook it for his family when he went back home.

Ms. Dianne Learning to Make Dumplings

On Oct. 20, 2010, Mr. Leslie & Ms. Dianne from Australia experienced our special offered

Chinese family tour

in Xi'an, and learned to cook Braised Spare Ribs and

Chinese dumplings

from the hostess. For the first time, they got to know there are so many seasonings for getting rid of the fishy smell of the meat, and they also got the secret for making the meat appear golden red.

Further Reading:
Top 10 Chinese Pork Recipes to Satisfy Your Taste Bud
More popular meat dishes in China:
- Last updated on Aug. 30, 2019 -
Questions & Answers on Braised Spare Ribs
Asked by Mrs.Sigrid Boudreau from USA | Feb. 07, 2011 09:25

Reply
What spices should I use in my pork spare-rib boiled dinner?
Answers (1)
Answered by Mrs.Linda | Feb. 07, 2011 20:59

2

0

Reply
I think the following are necessary:
cooking wine
ginger slices
green onion sections
prickly ash seeds
dry chili peppers
bay leaves
salt