Sichuan Dry-fried Shredded Beef
Style:
Sichuan Cuisine
Flavor: Spicy
Characteristics: This dish tastes hot and spicy. The mouthwatering beef looks red and is very tender.

As one of the most well-known Sichuan dishes, the Dry-fried Shredded Beef attracts many diners. Not only its appearance and flavor, but also the beneficial nutrition makes it a popular dish. It helps to strengthen the spleen and stimulate the appetite. Due to its easy cooking method, it has been one of the most common home-made dishes.
beef, 150g
celery, 80g
3-5 cloves of garlic
ginger, 3g
processed sesame, 10g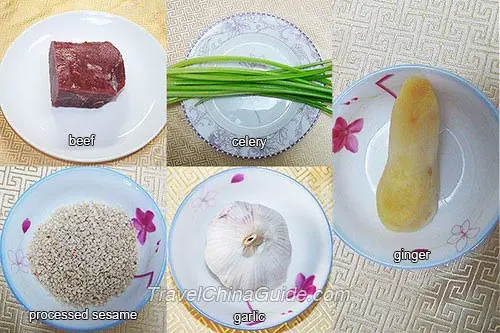 cooking oil
light soy sauce
5-10 dried chili peppers
salt
cooking wine
pepper powder
broad bean paste, 5g
prickly ash seeds, 10g
starch
Note: The amount of the ingredients and seasonings listed above can be changed according to one's personal taste.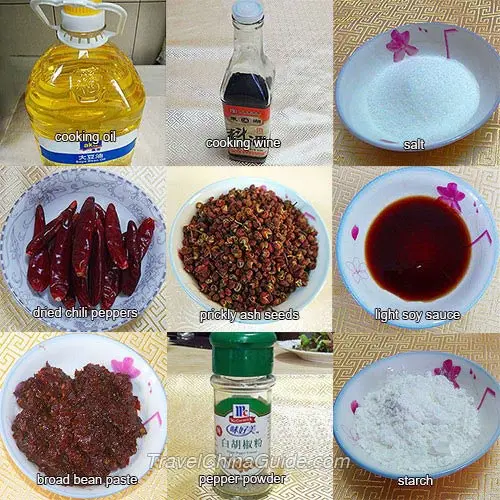 1. Clean the beef and cut into 5cm shreds. Place them onto a plate.
2. Clean the celery and cut into 2-3cm strips.
3. Clean dried chili peppers and cut into small slices.
4. Remove the husk of the garlic and peel the ginger. Clean and cut finely.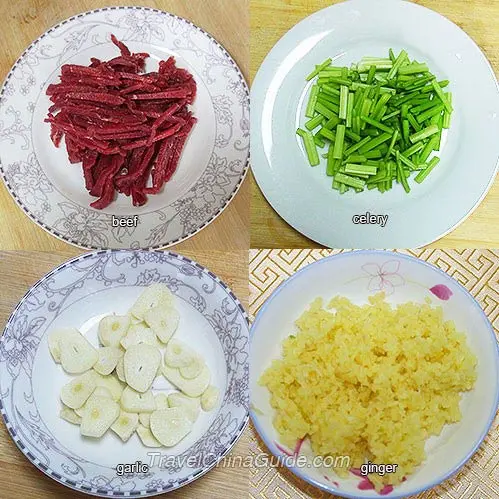 Methods:
STEP
1
Put beef slices into a large bowl. Add cooking wine, starch, pepper powder and a little cooking oil. Stir and mix well, and then let stand for 10-15 minutes.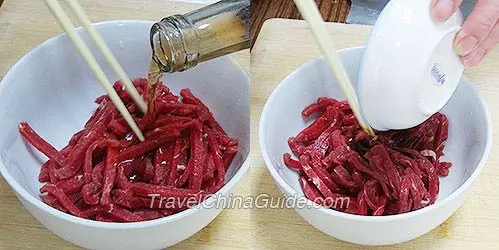 STEP
2
Place a wok over high heat and add cooking oil until hot. Add beef slices and stir-fry for 2-3 minutes until they turn yellowish-white.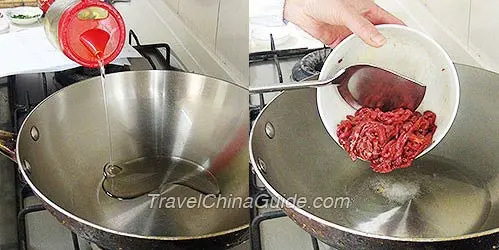 STEP
3
In sequence, add in dried chili pepper slices, broad bean paste and prickly ash seeds. Stir and fry for 30 seconds.
STEP
4
Add minced ginger, garlic and a little light soy sauce. Fry the beef further for 2-3 minutes until all juice vanishes.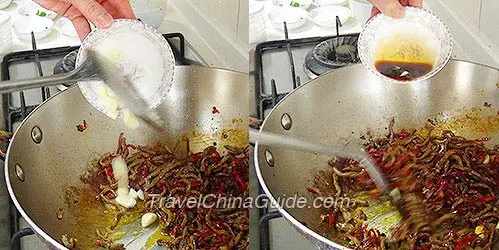 STEP
5
Add celery and stir for 30 seconds more. Then add in the processed sesame and a little salt. Fry for another 1-2 minutes.
STEP
6
Turn off the heat. Pour the mixture onto a plate. The Sichuan Dry-fried Shredded Beef is ready.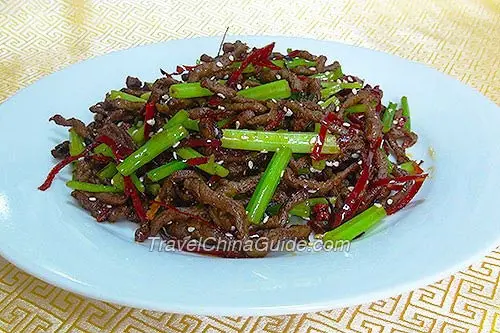 Tips:
1. It is suggested to cut the beef against the grain in this recipe so that the beef becomes much tender.
2. As the broad bean paste contains salt, please note that it is not necessary to add salt or just add a little during cooking. The exact flavor depends on one's personal taste.
Health Benefits:
The beef in this dish is good for strengthening spleen, bones and muscles. Pepper powder protects people's teeth and bones.

Further Reading:
12 Best Chinese Beef Recipes to Whet Your Appetite
Learn to make more Chinese dishes:
- Last updated on Nov. 22, 2019 -