West Lake Beef Soup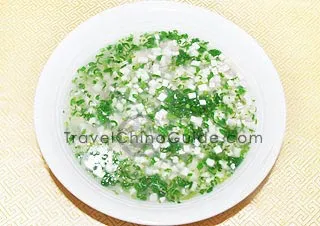 Chinese name: 西湖牛肉羹 (xī hú niú ròu gēng)
Style:
Zhejiang Cuisine
Characteristics: West Lake Beef Soup tastes rich, mellow, fresh and smooth and has an attractive color. It is served as an appetizer before the main meal.
A well-known soup on the Chinese dining table, West Lake Beef Soup is a local Zhejiang dish. It seems like the lake water by the added cornstarch and it originates from Zhejiang, where the famous West Lake is, hence its name. Although its name is shocking, but its ingredients are very common and it is really simple to cook.
150g beef
150g tofu
parsley
chicken essence (chicken stock/bouillon)
salt
wet cornstarch
Note: the amount of the ingredients especially the seasonings listed above can be appropriately used according to one's personal taste.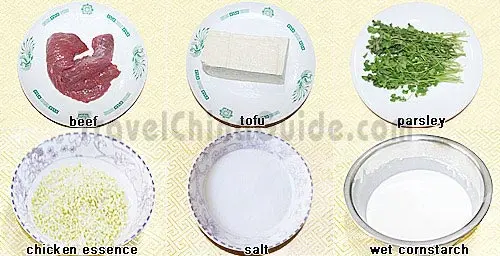 1. Wash and chop the beef. Put on a plate.
2. Wash the tofu and cut into thick slices, then dice very finely. Put on a separate plate.
3. Wash and chop the parsley. Put on another plate.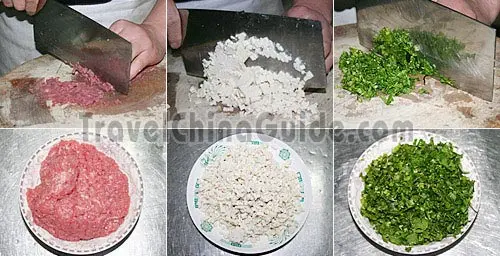 Methods:
STEP
1
Fill the wok with one bowl of water. Turn on the heat. Add the chopped beef when the water is boiling and stir it slowly with the cooking ladle. Turn off the heat and remove the beef when it turns to yellowish white, using a colander.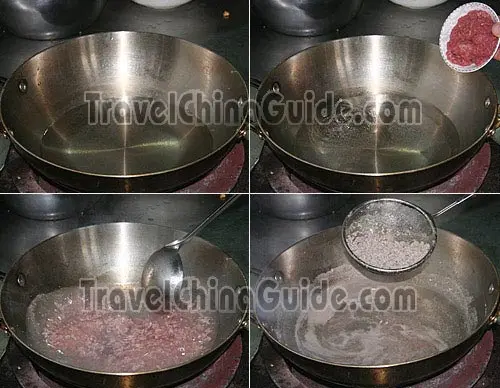 STEP
2
Pour the boiled water out of the wok and clean the wok. Add in one bowl of water and turn on the heat again. Add the boiled beef and diced tofu when the water is boiling, and boil it for about 2 minutes. Add the salt, chicken essence and wet cornstarch. Stir well and turn off the heat. Sprinkle the chopped parsley in the soup.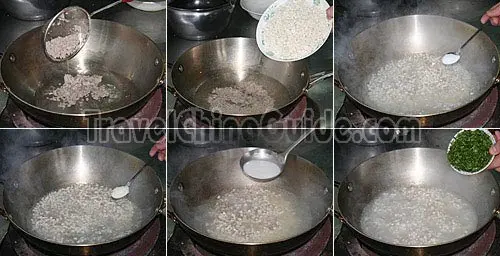 By following the recipe, West Lake Beef Soup is now cooked. Spoon it into a soup bowl and serve.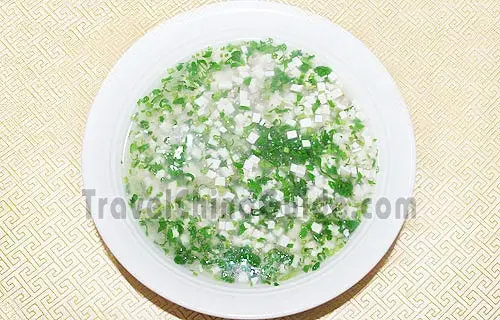 Our Guests Attending Cooking Class
Ms. Carol and the Hostess

On Feb. 21, 2013, Ms. Carol from the United States followed our tour guide to a local family in Xi'an, where a cooking class was offered to her carefully prepared by our company. She not only learnt from the hostess to make dumplings but also successfully cooked the dish Shredded Pork with Sweet Bean Sauce and West Lake Beef Soup. She told us that as Chinese cuisine has gone through thousands of years of refinement and development, it was really a good experience to better know China culture by getting an insight into the Chinese way of cooking.

William Learn to Cook West Lake Beef Soup

On May 18, 2012, Mr. William from USA had a special Chinese food cooking class in a local family in Xi'an when taking part in our China food tour. Although he only ordered to learn to cook

Shredded Pork With Sweet Bean Sauce

& West Lake Beef Soup only, he actually participated in all the dishes the hospitable hostess made for him. He said that the cooking class was a bit fast for his liking, but it was a great experience which he really enjoyed.

Mrs. Zambrano Learning to Cook West Lake Beef Soup

On July 13, 2010, Mr. Jorge and his wife from Mexico made a family tour arranged by TravelChinaGuide in Xi'an. At the local Xi'an family, the friendly hostess didn't only give detailed answers to the couple's questions about China, but she also taught Mrs. Zambrano to cook

Chow Mein

, West Lake Beef Soup &

Black Pepper Beef

patiently.

Further Reading:
12 Best Chinese Beef Recipes to Whet Your Appetite
More popular soups in China:
- Last modified on Nov. 22, 2019 -