Seaweed and Egg Soup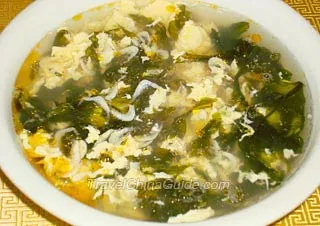 Chinese name: 紫菜蛋花汤 (zǐ cài dàn huā tāng)
Characteristics: Seaweed and egg soup has attractive color, refreshing taste and delicious, fragrant and yet not oily.
One of the common soups in any Chinese family, the seaweed (laver) and egg soup is a simple but delicious soup with salty but yet fresh taste.
It is mainly made of seaweed and egg; some dried shrimps may be added to make it more appetizing.
dried seaweed, 10 g
1 egg
dried shrimps, 5 g
Crack the egg into a bowl or a small basin and add a little bit salt. Beat it up.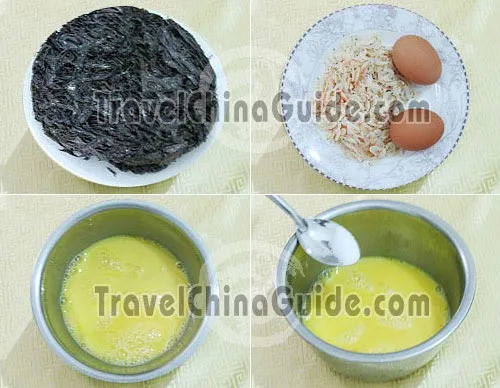 salt
sesame oil
chicken essence (chicken stock/bouillon) or monosodium glutamate
Note: the amount of the seasonings listed above can be appropriately used according to one's personal taste.

Methods:
STEP
1
Fill the wok with one bowl of water. Turn on the heat. Pour in the beaten egg slowly when the water is boiling.

STEP
2
Add in the seaweed and the dried shrimps once the beaten eggs turn into yellowish flower floating about. Boil it for 30 seconds. Then add in salt and chicken essence.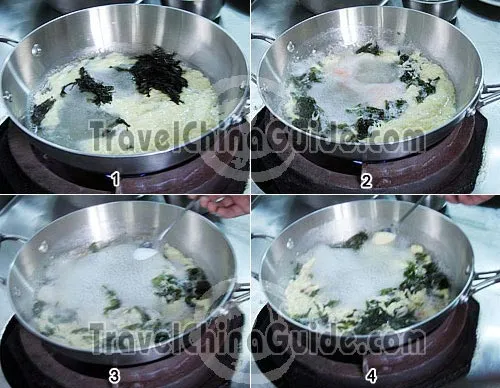 STEP
3
Now, turn off the fire, pour the seaweed and egg soup into a fine porcelain bowl. Add in the sesame oil and stir it lightly until well mixed.

Cooking as what the recipe written, a plate of fresh and delicious seaweed and egg soup is completed, especially nutritious and healthy to your body.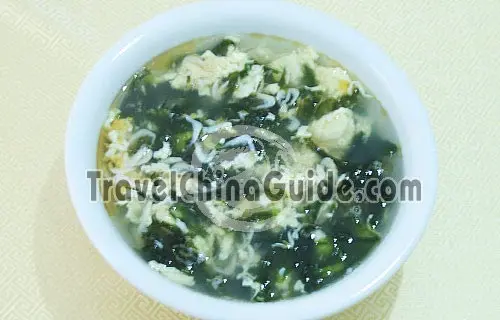 Our Guests Attending Cooking Class
Our Guests Making Dumplings


On August 11, 2013, Ms. Jami and Mr. David from Australia paid a private visit to a local family in Xi'an, where they also took part in a Chinese cooking class offered by the host. Making dumpling was fun and the Seaweed and Egg Soup cooked by them was delicious as well. They also loved to see how other dishes were prepared. We appreciated that they deemed this visit an amazing experience because the host was kind enough to share her superior cooking skills with them.

Mr. Kociolek and the Hostess in the Kitchen

On Apr. 15, 2013, Mr. Dariusz and Ms. Katarzyna from Poland had a truly home-cooked meal in a Xi'an family well-chosen by our company. All of the dishes were prepared and cooked by themselves and the warm-hearted hostess, especially that the Seaweed and Egg Soup and the

Black Pepper Beef

were completely made by Mr. Kociolek himself under the careful directions of the hostess. Mr. Kociolek said that it was very interesting and enjoyable.

Our Clients in a Private Apartment in Xi'an

On July 26, 2012, Mr. Charles, Ms. Joanne, Ms. Kaitlin, Ms. Ericka & Mr. James from Jamaica had a truly home-made lunch in a private apartment in Xi'an. All the dishes were cooked by them and the host together, especially that

Kung Pao Chicken

, Seaweed and Egg Soup and

Pan Fried Dumplings

were made by Joanne and Ericka themselves under the instructions of the host. They said that it was a great experience and was lots of fun.
More popular soups in China:
- Last modified on Apr. 30, 2019 -
Questions & Answers on Seaweed and Egg Soup
Asked by Tian Mei from UNITED STATES | Aug. 06, 2011 15:01

Reply
How big is a "bowl" in your recipes? Thank you - I will try making soups soon!
Answers (1)
Answered by Cindy from CHINA | Aug. 06, 2011 22:09

2

0

Reply
Usually the bowl for soup is big, diameter 20-25cm. If you try at home, it is okay to put the soup in each small bowl.
Asked by Ms.WMCHEN | Jan. 03, 2011 00:56

Reply
hi all,

I love beef,any recipe and how to tenderize them

please. thank you in advance.
Answers (1)
Answered by Mrs.Sara | Jan. 03, 2011 02:35

0

0

Reply
if you like beef, you may try Black Pepper Beef(https://www.travelchinaguide.com/tour/food/chinese-cooking/black-pepper-beef.htm) or Braised Beef Fillet with Scallion (https://www.travelchinaguide.com/tour/food/chinese-cooking/scallion-braised-beef.htm). To tenderize the beef, you may marinate it with some starch or baking soda for a while before your cook it.