Chinese Food Recipes - Soup
Popular Soups in China:
Sweet Corn Soup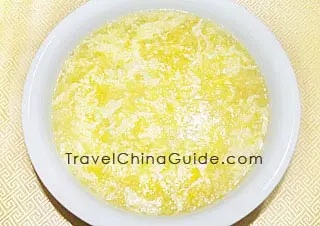 Chinese name: 粟米羹 (sù mǐ gēng)
Characteristics: Sweet Corn Soup tastes sweet and smooth and provides rich nutrition.
Sweet Corn Soup is basically just corn and egg. Corn is rich in starch, protein, minerals, vitamins and fiber. It whets one's appetite, protects against cancer and strengthens the brain. With the addition of the egg, it is really nutritious.
1 can corn or 150 g fresh corn kernels
1 egg
wet corn starch (the proportion of cornstarch and water is ususally 1:2)
chicken essence (chicken stock/bouillon)
salt
white sugar
Note: the amount of the ingredients especially the seasonings listed above can be appropriately used according to one's personal taste.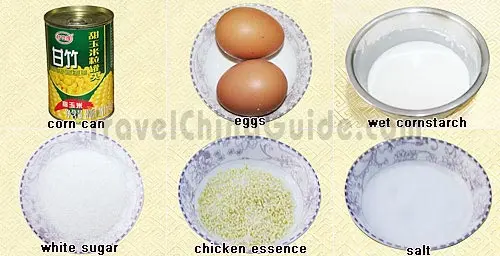 Methods:
STEP
1
Place a wok over high heat. Add half a wok of water. Pour in the corn kernels when the water is boiling. Stir and boil for 2 minutes. Turn off the heat and drain the corn through a colander. Put into a plate or a bowl.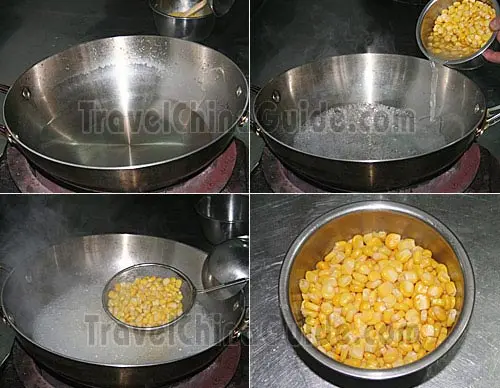 STEP
2
Crack eggs into a bowl and beat. Pour the boiled corn kernels on the chopping board and chop well. Put back into the bowl.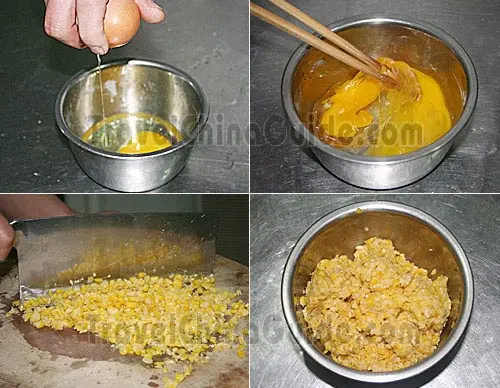 STEP
3
Place the wok over high heat and add in 2 cups of water. Pour in the chopped corn. Add in white sugar, salt and chicken essence, and boil for 10-15 minutes. Then add in the wet cornstarch to thicken it. Pour in the beaten egg. Turn off the heat when the egg turns into yellowish flower floating about.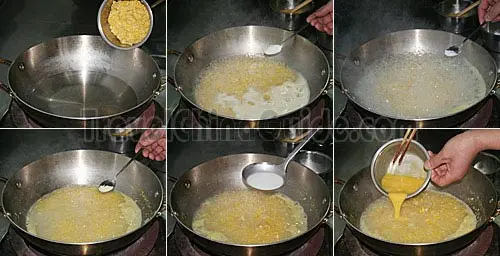 Follow this Sweet Corn Soup recipe, you will finish your soup easily. Spoon it out of the wok and serve it in a soup bowl.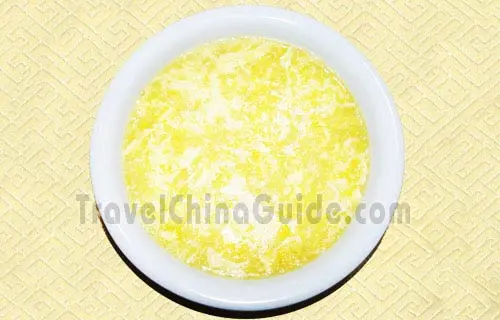 Our Guests Attending Cooking Class
Our Guest Cooking the Soup


On June 18, 2013, a small group from Australia including Mr. Scott, Ms. Julie, Mr. Raymond and Ms. Helen joined our cooking class during the private family visit with us in Xi'an. Chatted with the hostess to know Chinese people's life, they also learnt to cook Sweet Corn Soup and Sweet and Sour Pork with Pineapple. The process of cooking was fun and it was really an interesting group activity to introduce foreigners to Chinese basic home food.

Our Guests Learn to Make Dumplings

On Feb. 24, 2013, a small tour group including the Bolands from Ireland, Mr. Russell and Ms. Janet from USA, and other guests from UK, Canada, Australia, etc. had an enthusiastic reception when they visited a local family in Xi'an specially selected by TravelChinaGuide. At the family, they knew more about Chinese people's eating habits and learned a few tricks of Chinese cooking while learning to cook Sweet Corn Soup and Chinese Dumplings from the hostess. The Bolands wrote in their feedback letter "Without hesitation, I would advise anyone in a similar situation to use your company…We were amused by the 'delicious meals in a posh restaurant' … the meals were absolutely delicious! ".

Our Guests in a Native Xi'an Family

On Apr. 16, 2012, Mr. Carroll & Ms. Jane from USA were taken into a native Xi'an family's home to know about the Chinese people's life and to learn their favorite Chinese dishes, including Shredded Pork with Sweet Bean Sauce, Sweet Corn Soup & Cold Sesame Spinach. Ms. Jane, being a cooking lover, said that it was a great experience for her.
- Last updated on May. 09, 2019 -
Questions & Answers on Sweet Corn Soup
Asked by Selvam from MALAYSIA | Jun. 20, 2015 01:02

Reply
Can we prepare without chicken essence and egg. I am a vegeterian
Answers (1)
Answered by Ana from UAE | Jun. 28, 2015 02:01

1

0

Reply
Of course. Without adding the chicken essence and egg, the flavor won't be influenced a lot and it still tastes good. Just give it a try.
Asked by Shannon | Feb. 17, 2014 21:42

Reply
baseline measurements
There are no measurements for the ingredients other than 150g of corn kernels and 2 eggs. Can you give, approximately, a minimum measurement for the sugar, salt, chicken essence, and cornstarch?
Answers (1)
Answered by Phil from PRC | Feb. 19, 2014 01:36

3

2

Reply
Honestly, it's difficult to give the exact amount of the seasonings. People can decide how much to add according to their taste. If you prefer sweetness, you might add more sugar. If you like salty food, then you can add more salt. But I think that many foreigners don't like chicken essence. It functions like MSG. Unfortunately, foreigners don't like MSG.
Asked by Grisela from MALAYSIA | Sep. 15, 2013 22:54

Reply
How much copper in the corn soup, Oh .. It's because I have liver problems
Answers (1)
Answered by Emily from USA | Sep. 22, 2013 03:15

2

0

Reply
I tasted it. It is delicious and sweet. As the corn and eggs both contains CU (Corn 0.35mg/100g, around 0.3mg/100g), it may cause your liver problem. Thus it is suggested to just have a little or not have it at all.
Asked by AndreA from UNITED STATES | Jun. 17, 2011 13:47

Reply
Can this be made with fresh corn and chicken consume?
Answers (1)
Answered by Jack from CHINA | Jun. 17, 2011 22:13

4

3

Reply
I think so, but the soup made with fresh corn and chicken consume may be another flavor.