Chinese Food Recipes - Meat & Poultry
In Ancient China, meat dishes referred to the dishes with pungent ingredients such as onion, ginger, garlic and leek that were considered to influence one's temperament and desire in religious. Until to the Tang Dynasty (618-907), meat dishes were given the new definition which is the dishes cooked by animal ingredients. They always contain too much fat, but they are indispensable in people's daily life, for different ingredients have different nutritious elements. For example, goose and duck meat benefits heart, chicken soup is helpful for cold and bronchitis, and pork liver benefits the eyes. The materials of meat dishes can be cooked just after cutting into necessary shapes or through initial processing. However, most of them have fishy smells, so spices are necessary for cooking meat dishes, such as prickly ash seeds, cardamom (cao guo) and star anise (da hui xiang).


Read more:
12 Best Chinese Beef Recipes to Whet Your Appetite
12 Best Chinese Chicken Recipes You Can Try
Top 10 Chinese Pork Recipes to Satisfy Your Taste Bud
10 Tasty Chinese Lamb Recipes to Spice up Your Dinner
Stewed Chicken with Mushroom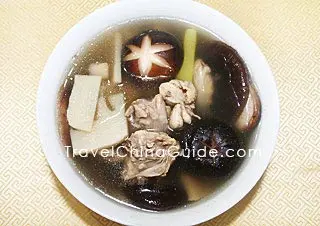 Chinese name: 香菇炖鸡 (xiāng gū dùn jī)
Style:
Jiangsu Cuisine
Characteristics: The dish is characterized by smooth and tender chicken and its clear and fresh soup.
Stewed Chicken with Mushroom is famous for its fresh and delicious taste, and especially for its rich nutrition. It is commonly thought to preserve health. It can also help ease cold symptoms and improve your immunity.
1/2 small chicken, 500 g
fresh mushrooms, 100 g
bamboo shoot (or carrot), 50 g
A. Clean and cut the chicken into chunks. Place on a plate.
B. Clean the mushrooms. Cut some patterns on the top with a kitchen knife to make it beautiful. Place on a plate.
C. Clean and cut the bamboo shoots into thin slices. Place on a plate.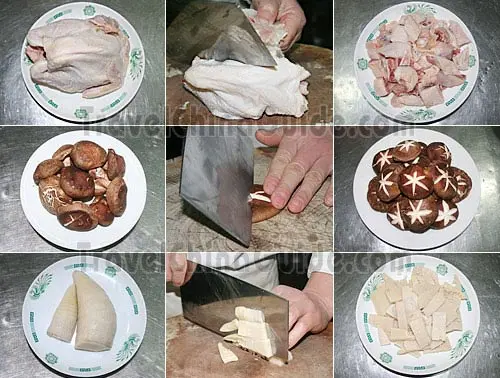 green onion sections
ginger slices
dry chili peppers
salt
chicken essence
cooking wine
Note: the amount of the seasonings listed above can be appropriately used according to one's personal taste.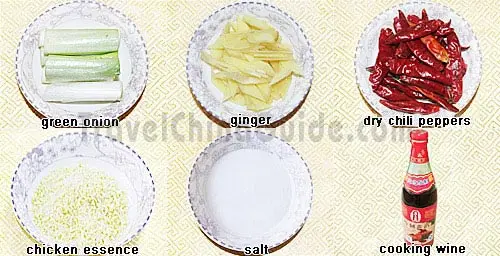 Methods:
STEP
1
Fill a wok half-full of water and bring to a boil. Pour in the chicken chunks. Add in half of the green onion sections, ginger slices, dry chili peppers, and coooking wine. Boil for 2-3 minutes until chunks turns white. Turn off the heat and pick them out of the wok, removing excess water through a colander.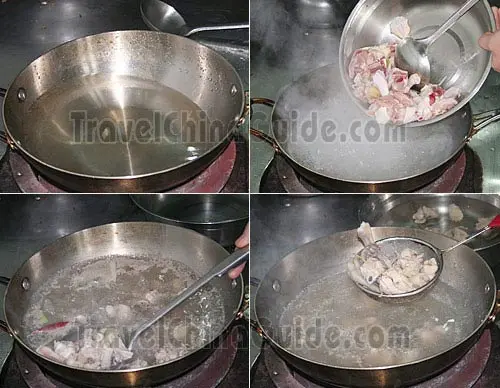 STEP
2
Empty the wok and fill one and a half bowls of water again. Turn on the heat and pour in the boiled chunks. Add in the leftover green onion sections, ginger slices and dry chili peppers, and the cooking wine, salt, and chicken essence. Cover and stew it for 30-40 minutes over medium heat until the chunks turn soft. Add in the bamboo shoots slices and the mushrooms. Stew for another 10-20 minutes.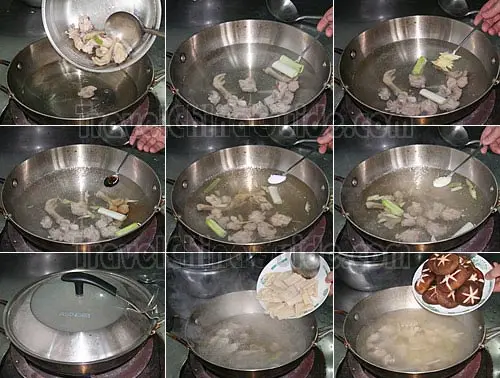 STEP
3
Remove from heat and ladle into a soup bowl. With the helpful recipe, this dish is ready. It tastes fairly good.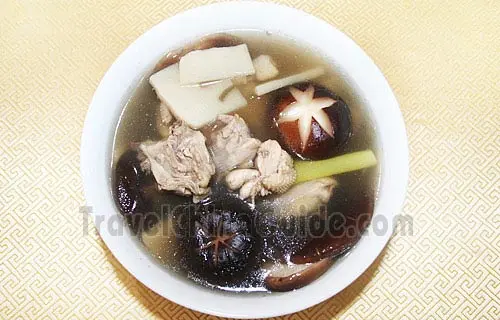 Cooking Class Videos:Braised Beef with Radish
More Chinese Food Recipes:
Vegetables & Eggs

Cold Dishes

Seafood

Staple Food

Our Guests Attending Cooking Class
Dinner in a Local Family

On July 25, 2013, Mr. Radu from Canada, Ms. Carmel, Mr. Michael, Ms. Fabienne, Mr. Andrew and Mr. Thomas from the UK, and Mr. Francisco, Ms. Josephine from the US joined our family visit in Xi'an which they were excited to know that a Chinese cooking class is offered there. They challenged themselves to cook Stewed Chicken with Mushroom - a very nourishing dish under the guidance of the skillful hostess. We were glad to know that they really enjoyed learning to make Chinese dishes in a local family.

Our Guests in a Local Chinese Family

On Sep. 20, 2011, Mr. Mark, Ms. Theresa & Mr. Carl from USA joined our family visit tour in Xi'an. Thanks to the kindness of the hostess and the good interpretation of our guide, they had a wonderful time in the family through learning to cook

Pan Fried Dumplings

(Guo Tie) and Stewed Chicken with Mushroom.

Our Guest Learning to Make Dumplings

On Aug. 10, 2010, Mr. Nenad, Ms. Natasa & Mr. Eugen from Croatia paid a private family visit to a personal apartment of a typical family when joining our tour package in Xi'an. They were very impressed by such special service especially the cooking class by the hostess. Although they learned to cook three dishes -

Chinese dumplings

,

Braised Beef Fillet with Scallion

& Stewed Chicken with Mushroom at a time, the hostess showed much enthusiasm and patience all the time.
- Last updated on Dec. 02, 2019 -
Questions & Answers on Meat & Poultry
Asked by sari from CANADA | Mar. 07, 2015 09:52

Reply
I have ate cooked seaweed at a sushi buffet and it is delicious.
it tastes sweet and might be also made with soya sauce. any recipes
Answers (1)
Answered by Mike from MALAYSIA | Mar. 12, 2015 21:25

1

0

Reply
Sari, I found two recipes. It is not ordinary seaweed. After checking on the internet, I found that it was undaria pinnatifida.

1. Materials and ingredients: three red peppers, 3g sesame oil, 2 tablespoons of rice vinegar, 1 tablespoon of soy sauce, 1/2 tablespoon of white sugar and 5 cloves of garlic.

Steps:
A. wash undaria pinnatifida carefully and then soak it in water for 20 minutes
B. chop garlic cloves and red pepper and the cut undaria pinnatifida into very lean stripes. .
C. mix soy sauce, white sugar, rice vinegar and sesame oil very well in a bowl.
D. quick-boil undaria pinnatifida in boiling water for a second.
F. wash quick-boiled undaria pinnatifida under the tap water again and then drain the water out.
F. put undaria pinnatifida stripes in a bowl and then pour mixed sauce over them.
G. put the bowl in the fridge for 10 minutes and then you can enjoy it.

It tastes sweet, sour and a bit spicy due to the red pepper.

2. Materials: dry undaria pinnatifida, sesame seeds, sesame oil, rice vinegar, seasoned soy sauce for seafood and sugar.

The process is almost the same. Soak undaria pinnatifida in water for a while, cut it into very lean stripes, quick-boil the strips in boiling water, drain the water out and then put the stripes in a bowl. Then add rice vinegar, sesame oil, soy sauce and sugar to flavor and then put the bowl in the fridge for 2 hours. Finally, take the bowl out of the fridge and spread sesame seeds before you enjoy it.

This recipe requires that the cook master the skill of seasoning Chinese dishes very well. Seriously, there is no specific requirement on how much vinegar, sauce, sugar and sesame oil you should add. You just season the dish according to your taste.

Wish you could succeed making this dish on your own.