Sweet and Sour Pork with Pineapple
Style:
Cantonese Cuisine
Characteristics: Sweet and Sour Pork with Pineapple is bright in color as pineapple, pork, green and red peppers are used. It tastes sweet and a little sour. The pork is crispy outside and extremely tender inside.
The Sweet and Sour Pork with Pineapple, Gu Lao Rou in Chinese, is one of the most well-known Cantonese dishes. Many foreigners are fond of its distinctive flavor which is quite similar with another famous Chinese dish – Sweet and Sour Pork Fillet. The dish can be found on the menus in most Chinese restaurants around the world. As the recipe below shows, pork is fried in advance, so that the dish is not oily. Meanwhile, the pineapple betters the flavor and improves people's appetite.
Recipe of Cooking Sweet and Sour Pork with Pineapple
lean pork, 200g; pineapple, 100g; one red pepper; one green pepper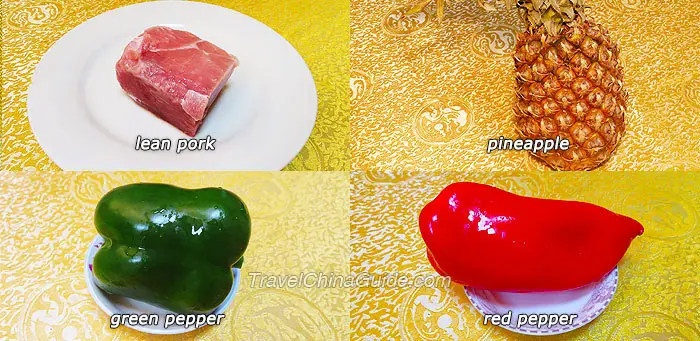 cooking oil; light soy sauce;
cooking wine
; egg;salt;
tomato ketchup; white vinegar; white sugar; starch
Note: The amounts of the ingredients and seasonings listed above can be appropriately adjusted according to one's personal taste.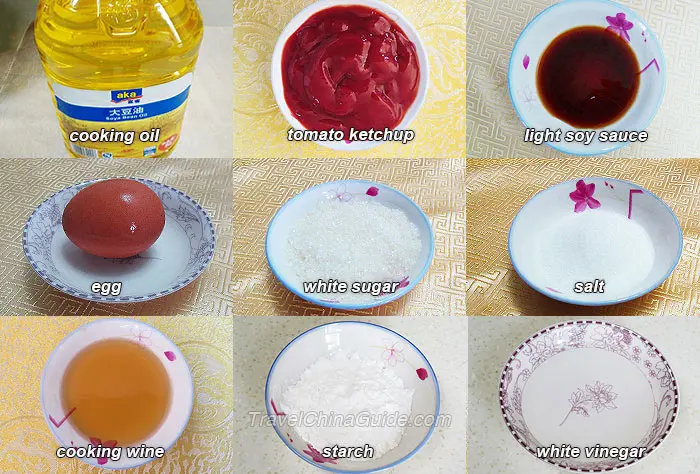 1. Cut the pork and preserve it: Clean pork and cut into 1.5cm cubes. Add in salt, cooking wine and dry starch and combine with pork thoroughly. Let it stand for 20-30 minutes. Then crack an egg in and mix with the preserved pork. Roll the pork cubes in starch one by one until all of them are well coated.
2. Peel the pineapple. Dice into 1.5-2cm cube and soak in light salt brine for 20 minutes. Pick out and drain off water.
3. Make the sweet and sour sauce: Combine tomato ketchup, white vinegar, light soy sauce, white sugar and water.
4. Prepare water starch.
5. Discard the seeds of red and green peppers. Clean and cut into chunks.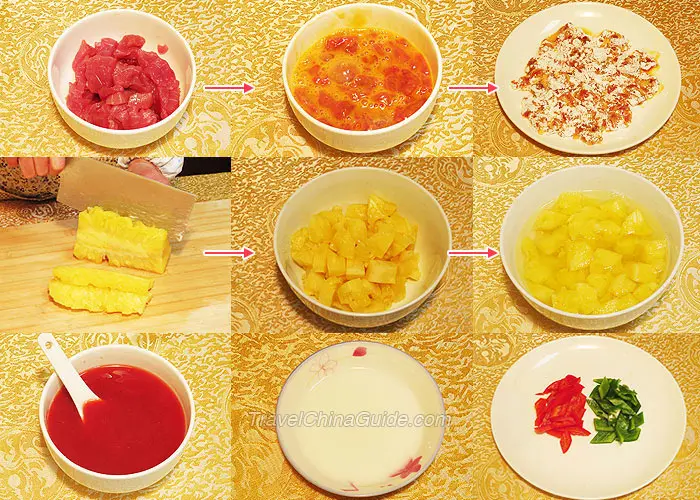 Methods:
STEP
1
Fry the pork: Pour enough cooking oil into a wok and heat it. When the oil is heated to 150℃ (300

F), put in the pork cubes one by one. Fry until yellowish-white after around 3 minutes. Pick out the pork for later use.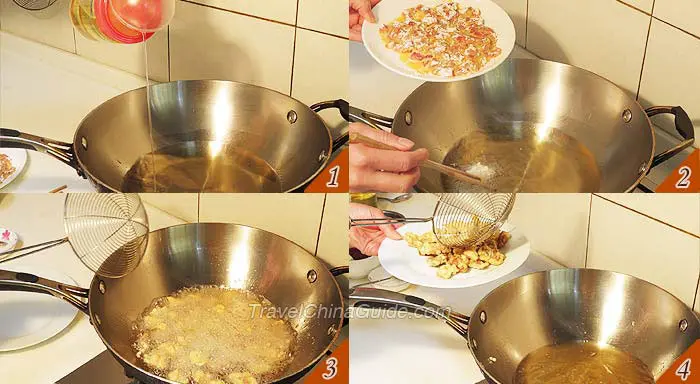 STEP
2
Refry the pork: Heat the cooking oil over big fire until hot. Pour the pork in and refry. After around 1 minute when the pork turns golden, scoop out and drain off the oil.

STEP
3
Fry red and green peppers: Preheat the wok and pour in some cooking oil. Heat it and add in the red and green peppers. Fry for 30 seconds.

STEP
4
Pour in the prepared sauce. Keep stirring for 10-20 seconds. Add in pineapple cubes. Then pour the water starch in and thoroughly mix with the peppers and pineapple.

STEP
5
Add in the fried pork when the sauce gets sticky. Stir to mix them all. Turn off the heat and serve on a plate.

The Sweet and Sour Pork with Pineapple is finished. The mouthwatering dish looks yellowish and reddish.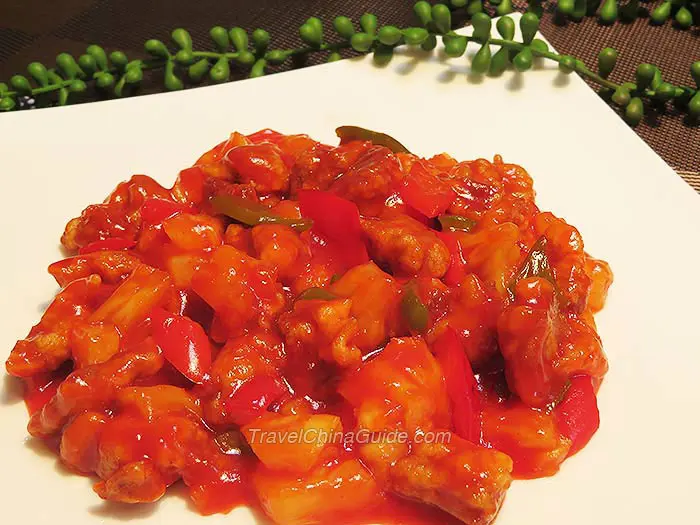 Story about the Sweet and Sour Pork with Pineapple
It is said that the dish can be originated back to the Qing Dynasty (1644-1911). At that time, many foreigners in Guangzhou liked to have Chinese dishes, especially the Sweet and Sour Spare Ribs. However, they were not used to spit bones. Local chefs coated the lean pork with starch or flour, fried it until crispy and mixed with sweet and sour sauce. The method successfully achieved the similar flavor; hence the dish gradually became welcomed. Later, the chefs added pineapple into the pork in order to better the flavor.
Useful Tips
1. Pineapple can also be used as a container. Remove the pulp and serve rice, meat or vegetables in.
2. Consumption of the Sweet and Sour Pork with Pineapple should be controlled for people suffering from periodontitis and gastrohelcosis. In addition, pineapple is better to be avoided for those suffering from high blood pressure, coronary heart disease, obesity and diabetes.
Our Guests Attending Cooking Class
Our Guests Having Lunch in a Local Family

Ms. Teresa, Mr. John and Mr. John from the United States paid a private visit to a local family in Xi'an. They chatted with the host to know Chinese people's life and had lot of fun there. They did try a lot of Chinese dishes while traveling and got very interested in Chinese way of cooking. With the proposal by Ann to learn one of the dishes prepared for lunch, the host taught her to cook Sweet and Sour Pork with Pineapple and it tasted great.

Mr. Roald & Ms. Astrid Learn to Cook Chinese Food


Mr. Roald & Ms. Astrid from Norway joined our family tour in Xi'an, during which they had a Chinese food cooking class in a true Chinese environment by learning to cook Sweet and Sour Pork with Pineapple. After the tour, they especially praised the meal at the local Xi'an family in their feedback:"...Two meals stand out as special; the Tang Dinner show and the family lunch in Xi'an..."

Our Guest Learning to Cook Dumplings

Ms. Amy & Mr. Allyn from USA had a distinguishing Chinese food cooking class during their private China tour in Xi'an through TravelChinaGuide. Liking Chinese food a lot, they learned to cook three dishes from the hostess once, including Braised Shaanxi Pasta, Shredded Pork With Sweet Bean Sauce, Chinese Dumplings, and Sweet and Sour Pork with Pineapple. After the tour, they especially praised it one of the most memorable part of their China tour in their letter of thanks.

Further Reading:
Top 10 Chinese Pork Recipes to Satisfy Your Taste Bud
More popular meat dishes in China:
- Last updated on Nov. 28, 2019 -
Questions & Answers on Sweet and Sour Pork with Pineapple
Asked by John Rey from PHILIPPINES | Oct. 05, 2015 10:47

Reply
what is the characteristic of Sweet and Sour Pork with Pineapple?
Answers (1)
Answered by Leo | Oct. 06, 2015 01:27

2

0

Reply
It's sweet and sour in taste, crisp on the outside and tender inside. It is one of the a few Chinese dishes cooked with fruites. Girls like it very much.
Asked by Dong from PHILIPPINES | Nov. 04, 2013 03:23

Reply
Hello, I would really love to make this dish. However, I am not good at estimating measurements.
Can you please provide the amounts required for each ingredient?
Answers (1)
Answered by Amir from GERMANY | Nov. 19, 2013 21:42

5

0

Reply
As I know, the ratio or amount of the ingredients is hard to tell for Chinese dish. They usually don't cook in certain measurement or ratio. Just refer to the pictures in this page to choose the ingredient according to your taste.