Sweet and Sour Spare Ribs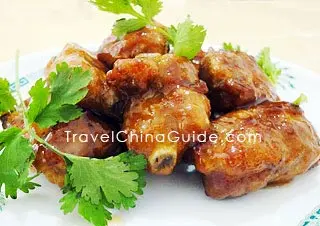 Chinese name: 糖醋排骨 (tang cù pái gǔ)
Style:
Zhejiang Cuisine
Characteristics: it is reddish in color, sweet and sour, and just a little salty.
This dish epitomizes the sweet and sour dishes of China. It is made from fresh pork ribs, which appear shiny and red after being cooked. It originated in Wuxi City of Jiangsu Province and has been popular in Jiangsu, Zhejiang and Sichuan provinces.
The recipe below shows the regular cooking method of the dish. Cannot wait to have a try?
spare ribs 600 - 800g
1 egg
green onion sections
cooking wine
soy sauce
salt
white vinegar
cornstarch
white sugar
wheat flour
Note: the amount of the ingredients especially the seasonings listed above can be appropriately used according to one's personal taste.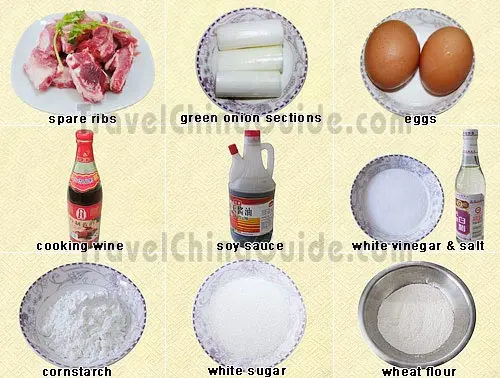 Methods:
STEP
1
Fill a wok with half-full of water and turn on the heat. Slowly add the spare rib sections, and cover them. Once the water is boiling, add in the cooking wine. Boil for 15-20 minutes until the spare rib sections is 70% cooked. Remove them to a colander, and place in a small basin. Add the salt, white vinegar and wheat flour. Crack the egg into it and stir well with a spatula or chopsticks. Let it marinate for 10-15 minutes.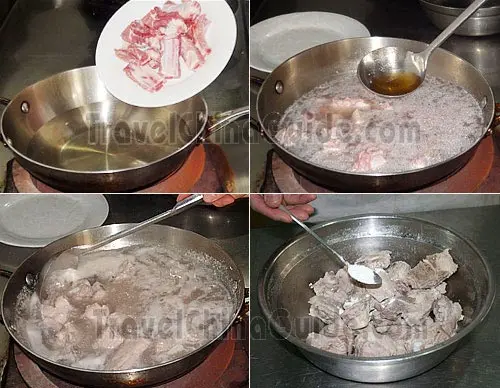 STEP
2
In another bowl or small basin combine the white sugar, white vinegar, cooking wine, soy sauce, and cornstarch. Stir well.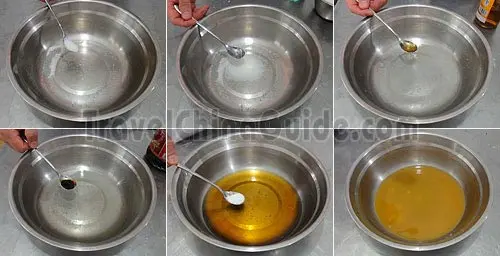 STEP
3
Place a wok over high heat until hot. Add some coooking oil, and add in the processed spare ribs one by one with chopsticks. Turn off the fire and remove them when they look yellowish-white and put them in a colander quickly. Remove the broken bits, and add the fried spare ribs back in to be fired again when the temperature of the oil in the wok is heated back up to 70 centigrade (158 Fahrenheit). Fry the spare ribs well until they turn golden. Then, remove them from the wok.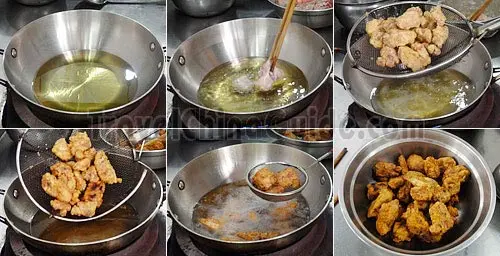 STEP
4
Leave some cooking oil in the wok, swirling to coat the sides. Add in the green onion sections and prepared seasoning sauce from step 2, and stir-fry over high heat for about 20 seconds. Then, add in the fried spare ribs and fry and stew for 2-3 minutes over high heat until the seasoning sauce coats the outside skin of the fried spare ribs.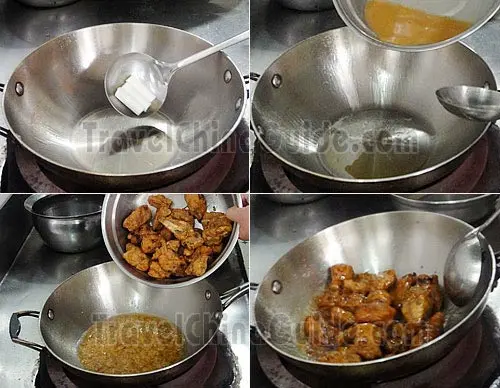 STEP
5
Now, turn off the fire, pick the delicious sweet and sour spare ribs out of the wok, and serve. A plate of delicious sweet and sour spare ribs is ready for you to enjoy.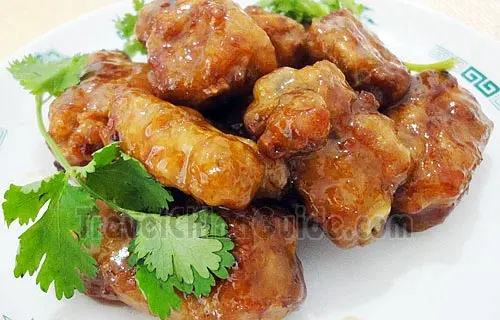 Notice for Our Guests:
At present, this dish is not applicable for the family visit cooking class in our tour service.
Our Guests Attending Cooking Class
Our Guests Cooking Chinese Food



On August 26, 2013, Mr. Michael and his family members including Ms. Dilys, Ms. Alexandria and Ms. Frances from the USA joined our private tour to a local family in Xi'an. They were welcomed by the friendly hostess with delicious home-made Chinese dishes. They were interested in Chinese cooking a lot, so they chose to learn Sweet and Sour Spare Ribs - a hard dish actually by themselves. They enjoyed the meal very much and had a lot of fun there.

Our Guests Learn to Cook Chinese Food

On Apr. 24, 2012, Mr. Scott from Australia & Ms. Teresa from UK visited a typical family in Xi'an through joining our China food tour. In the family, they had an on-spot Chinese food cooking class by learning to cook

Kung Pao Chicken

,

Sweet and Sour Pork with Pineapple

& Sweet and Sour Spare Ribs, and then they enjoyed the dishes made by themselves with the family together. They especially mentioned this in their feedback:"...In regard to which one meal would we recommend - we would have to say the "home visit" meal, given the freshness of the food..."

Mr. Philippe Having Dinner with the Chinese Hostess

On Nov. 12, 2010, Mr. Philippe from Brazil paid a family visit to a local Xi'an Family arranged by Travelchinaguide. He enjoyed the first home-cooked a la carte meal in the home of a Chinese family. What's more impressive was that he had a rare chance to learn to cook his favorite Chinese dishes Sweet and Sour Spare Ribs &

Cola Chicken Wings

from the Chinese housewife step by step.

Further Reading:
Top 10 Chinese Pork Recipes to Satisfy Your Taste Bud
10 Quick and Easy Chinese Food Recipes for Beginners

More popular meat dishes in China:
- Last updated on Dec. 02, 2019 -
Questions & Answers on Sweet and Sour Spare Ribs
Asked by Grace from CANADA | Nov. 20, 2016 16:49

Reply
How much salt vinegars and flour for measuring for the sweet and sour spareribs?
Answers (1)
Answered by Katrina from NEW ZEALAND | Nov. 20, 2016 21:04

2

0

Reply
If you want to cook 500g ribs, half teaspoon of salt is enough (at most 3g). You should be careful with the amount of salt for the soy sauce can also add salty flavor. So, it is suggested to taste the sauce and make adjustment.
Vinegar should be added twice and 1~1.5 spoons (about 10g for each) each time is acceptable.
The flour is required to be enough to evenly cover the ribs.