Pine Nuts with Sweet Corn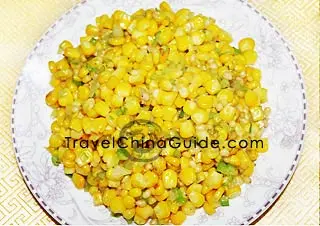 Chinese name: 松仁玉米 (sōng rén yù mǐ)
Characteristics: The pine nuts in 'Pine Nuts with Sweet Corn' taste fragrant, while the corn kernels are crispy and sweetish.
A representative dish in northeast China, Pine Nuts with Sweet Corn is good for both young and old, and is especially welcome among women. Corn is rich in vitamins and lutein which can help enhance memory and resist the aging of the outer layers of the eye and skin. Pine Nuts are rich for unsaturated fatty acids and minerals which can help strengthen the muscles and bones and are beneficial for brain and nerves. If you are tired of sweet boiled corns, you are highly recommended to make this dish with the following recipe.
300-350g fresh sweet corn kernels
50-80g pine nuts
50-80g celery stem
green onion
salt
white sugar
Note: the amount of the ingredients especially the seasonings listed above can be appropriately used according to one's personal taste.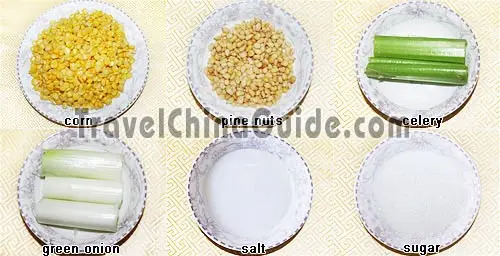 1. Clean the corn kernels, pine nuts, and put into separate plates.
2. Clean the celery stem and green onion. Cut into diced pieces. Put into saucers.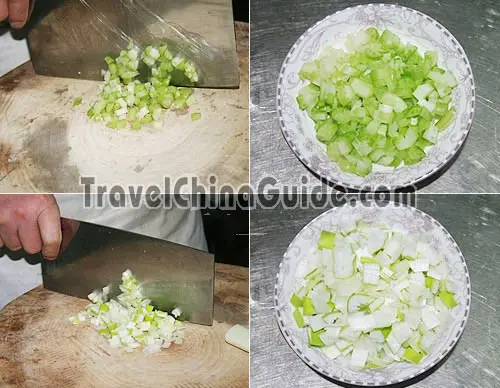 Methods:
STEP
1
Place a wok over high heat. Add in half a wok of water. Pour in the corn kernels when the water is boiling. Stir and Boil it for 2-3 minutes. Turn off the heat and drain the corn through a colander. Put into the plate again.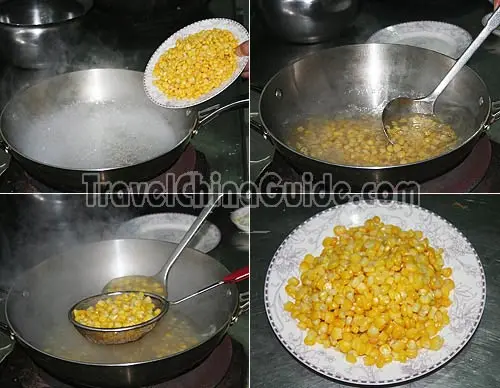 STEP
2
Pour out the water, and place over high heat until hot. Add some cooking oil, swirling to coat all sides. Add in the diced celery and green onion, and stir-fry it for 30 seconds. Add the pine nuts and stir-fry for a furthur 30 seconds. Pour in the boiled corn kernels, and stir-fry for 2 minutes. Add some salt and white sugar. Stir-fry for 30 seconds more.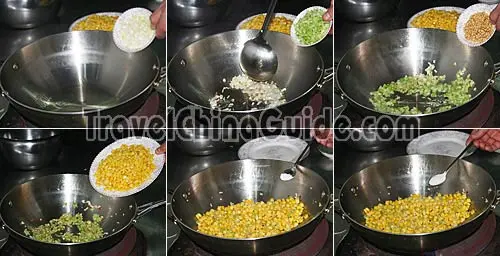 STEP
3
Your Pine Nuts with Sweet Corn are ready to eat. Turn off the heat and pour onto a prepared porcelain plate.
Our Guests Attending Cooking Class
Carlos & Maria at the Dining Table in a Chinese Family

On Aug. 24, 2012, Mr. Jesus & Ms. Ana from Mexico were taken into a local family in Xi'an to know about what a true Chinese family is like, to have a cooking class with the hostess, and to have a home-made meal at the family. In addition to

Sweet and Sour Pork with Pineapple

& Pine Nuts with Sweet Corn they ordered to learn to cook, the hostess prepared three other dishes to express her hospitality, including dumplings, Kung Pao Chicken and Braised Spare Ribs.

Our Guests at the Dining Table in a Chinese Family

On Jun. 15, 2012, Mr. Fabian, Ms. Michele, Mr. Jake & Ms. Mackenzie from USA got an opportunity to have a Chinese food cooking class in the kitchen of a typical family in Xi'an arranged by our company. They learned to cook three dishes -

Yangzhou Fried Rice

,

Stir-fried Shaanxi Pasta

(mashi) & Pine Nuts with Sweet Corn, during which they knew much about the Chinese people's life from the talkative hostess. They commented it very wonderful and educational.

Mr. & Mrs. Hayman with a Chinese Housewife

On Sep. 27, 2010, Ms. Susane, Mr. John & Mr. Thomas from Canada made a private family tour through Travelchinaguide in a typical family in Xi'an, which is, of course, the most impressive experience of their China tour. Being Chinese food lovers, they'd tried to learn to cook Chinese food for long, but all were according to online recipes. After much failure, they had the chance to have a face-to-face cooking class especially in a Chinese kitchen of a Chinese family, so they grasped the oportunity to learn to cook three dishes once, including

Kung Pao Chicken

, Pine Nuts with Sweet Corn as well as

Braised Shaanxi Pasta

.
More popular vegetable dishes in China:
- Last updated on Jul. 22, 2019 -