Sautéed Potato, Green Pepper and Eggplant
Chinese name: 地三鲜 (dì sān xiān)
Characteristics:
Sautéed Potato, Green Pepper and Eggplant is a fresh, salty dish with a touch of sweetness. If you follow this recipe to cook, the potato and eggplant would taste soft inside but crispy outside, while the green pepper adds extra color.
Sautéed Potato, Green Pepper and Eggplant is a home-style dish, representative northeastern Chinese. The Chinese name Di San Xi'an translates to 'earth three fresh', namely the 3 fresh ingredients - potato, green pepper and eggplant.
1 eggplant (250g)
1 potato (200g)
2 green peppers (100g)
chopped green onion
chopped ginger
chopped garlic
white sugar
salt
soy sauce
wet cornstarch (the proportion of the cornstarch and water should be 1:2)
Note: the amount of the ingredients especially the seasonings listed above can be appropriately used according to one's personal taste.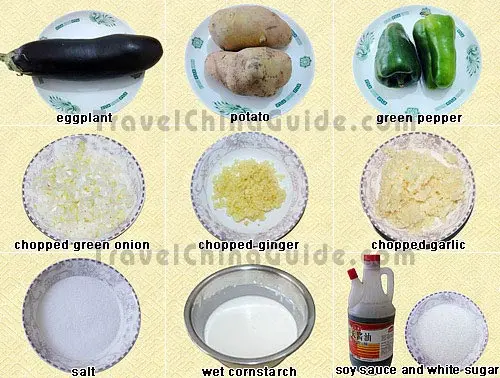 A. Peel and dice the washed potatoes. Place onto a plate.
B. Wash and dice the eggplant. Place onto a separate plate.
C. Discard seeds from the green peppers, wash, clean and dice as well. Place onto a plate.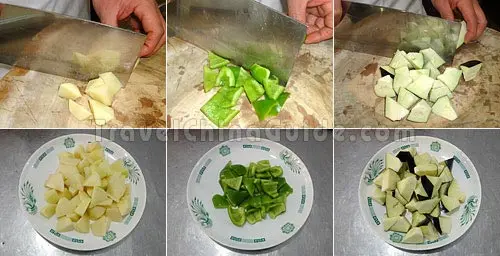 Methods:
STEP
1
Place a wok over high heat. Add some cooking oil and heat to 70 degrees centigrade (158 degrees Fahrenheit). Add the potato pieces and stir well until they turn golden and appear a little transparent. Remove them from the wok and reserve. Add the eggplant and fry until turn golden. Remove and reserve. Add the green pepper, stir-fry it for 2-3 seconds, remove and reserve.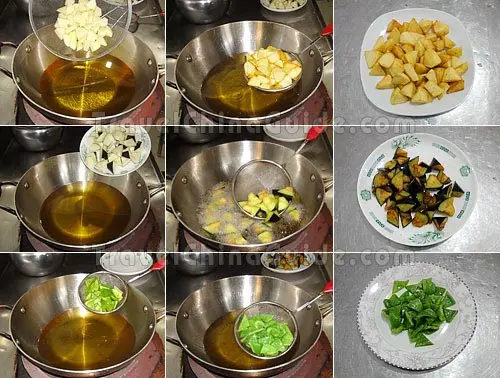 STEP
2
Leave some cooking oil in the wok, swirling to coat the sides. Add in the chopped green onion, ginger and garlic and stir-fry for 10 seconds until fragrant. Add the fried potato, green pepper and eggplant, and stir-fry them for 2-3 minutes.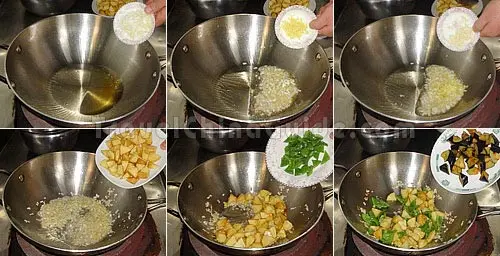 STEP
3
Add salt, white sugar, soy sauce and wet cornstarch, and stir-fry them for a further 20-30 seconds.
STEP
4
Turn off the heat and serve.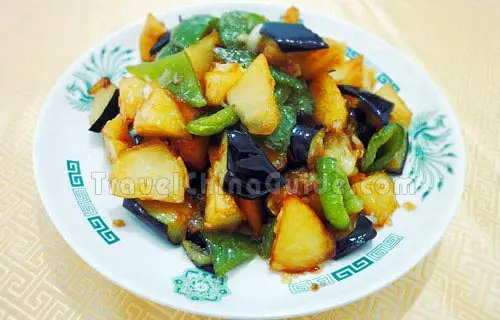 Our Guests Attending Cooking Class
Andrew & Marilyn Dining in a Local Family


Mr. Andrew & Ms. Marilyn from Canada had a family visit in Xi'an. The hostess was open and friendly. They both enjoyed the visit and the opportunity to learn how to make dumplings and cook Sautéed Potato, Green Pepper and Eggplant, and then had an amazing meal offered by the hostess. They sent feedback to us saying that this home visit made their trip different from any other, and it was a great chance to see inside the life of an ordinary family in China.

Mr. Robert & Ms. Deardra with the Chinese Hostess

Guests of TravelChinaGuide, Mr. Robert & Ms. Deardra from Canada visited a typical local family in Xi'an privately. They gave high comment for the special visit which provided a rare chance to enjoy the peculiarities of a Chinese home, to talk with the hospitable Chinese family, and even to learn to cook their favorite Chinese dishes - Sautéed Potato, Green Pepper and Eggplant &

Pan Fried Dumplings

from the hostess on spot.

Ms. Nola Learning to Cook Chinese Food

Mr. Geoffrey & Ms. Nola from Australia had a particular a la carte meal in the home of a local family they visited in Xi'an during their China tour arranged by us. What's special was that all the dishes they ate were home-cooked, and three of them (

Kung Pao Chicken

,

Hot and Sour Soup

& Sautéed Potato, Green Pepper & Eggplant) were cooked by Geoffrey & Nola themselves.

Further Reading:
Top 15 Vegetarian Chinese Food Recipes
More popular vegetable dishes in China:
- Last updated on Dec. 02, 2019 -